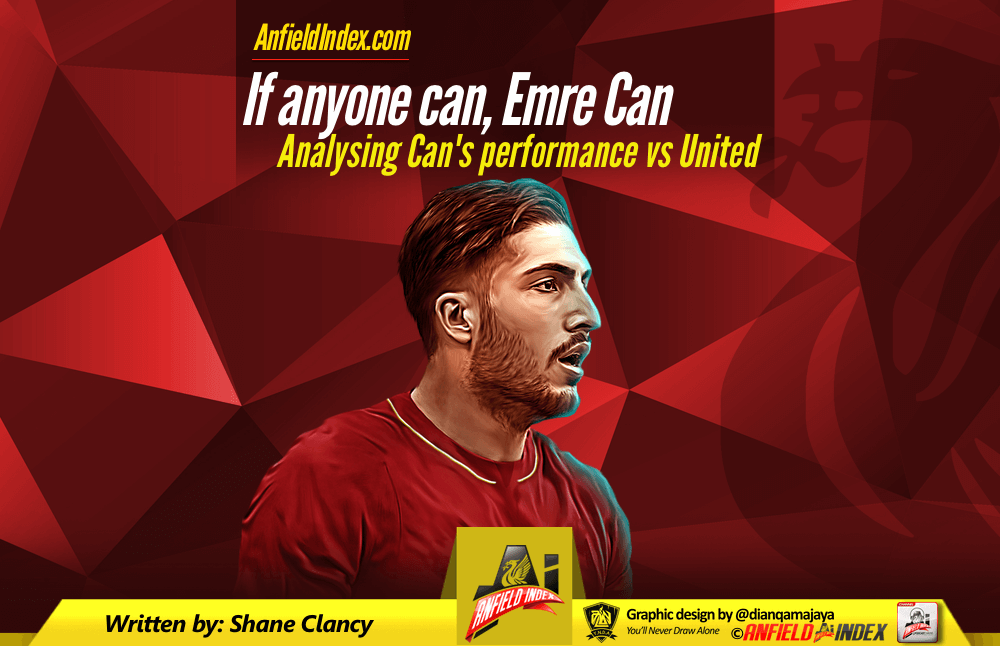 If anyone can, Emre Can - Analysing Can's performance vs United
Against United, we saw the perfect example of why player performance needs to be analysed from two sides – 'on the ball' plus 'off the ball'.
Emre Can's display at Anfield on Saturday was outstanding. If you don't believe me, then please read on.
On the Ball
Can had 72 touches against United. This was the 5th highest number of 'on the ball' possessions after Henderson, Lovren, Matip and Moreno. For all of his involvement, Can was only dispossessed twice in the whole game, plus he only displayed what could be classed as 'poor' control on one occasion.

He had his only attempt at goal in the second half after a late surge into the box to get on the end of Gomez's cross. In all honesty, Can should have scored but he put his effort over.
Can made 58 passes during the game, which again, was the 5th highest of all players. However, his pass accuracy was an excellent 91.4%, behind only Joel Matip, whose 93.2% accuracy rating would be hugely influenced by the fact that almost all of his passes would be considered to be 'safer' and in areas where United were just not putting pressure on the backline. Matip, therefore, would have had plenty of time to pick out his teammates. In contrast, 31 of Can's 58 passes were forward, 23 of them were in the attacking third and only 9 were in Liverpool's defensive third. His average pass accuracy for the season before the visit of United was 85% so he made a clear improvement in this area of his game on Saturday. Can also remained influential throughout the game, dividing his 58 passes evenly between the two halves with 29 in each.
As you can see in the below image from 11tegen11, Can's main outlets were Henderson and Wijnaldum. It's also noticeable how Henderson's line to Wijnaldum is significantly weaker. So, Can effectively acted as the link between Henderson and Wijnaldum on several occasions, taking the ball from Henderson and offering a 'safe' outlet to the captain when necessary. Interestingly, Can didn't have much direct interaction with Coutinho. However, his connection with the also impressive Gini Wijnaldum is what is most important here as it does seem like Klopp will be regularly pairing those two together in midfield, along with Henderson, for the remainder of this season.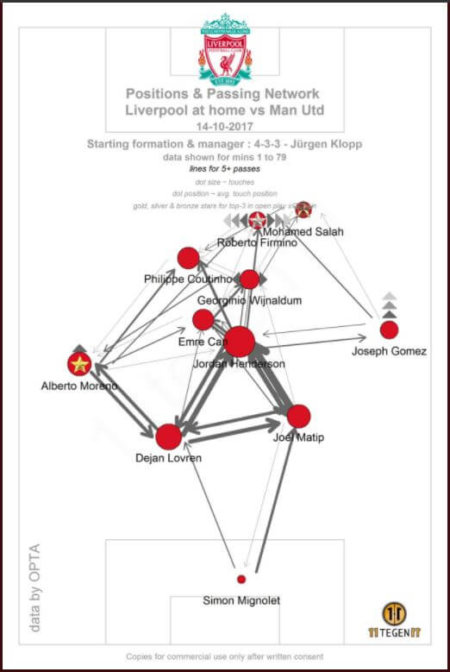 For a visual idea of Can's role against United, you can compare his heat map from last weekend's game to his heat map for the same fixture last season.
Emre Can's heat map from United fixture at Anfield in 16/17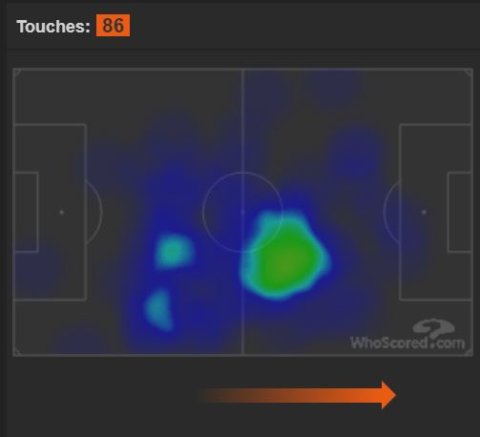 Emre Can's heat map from last weekend's fixture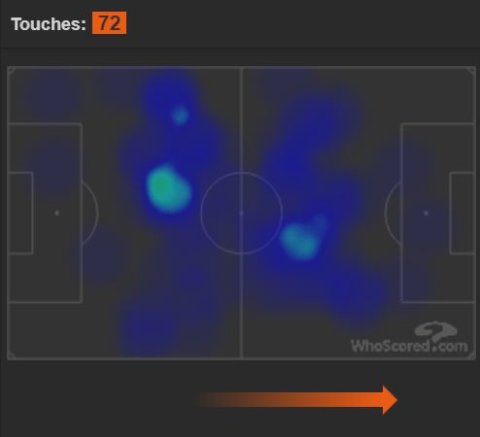 Last season, Can was pushed forward and concentrating his efforts in United's half. It actually looks like he was performing the 'Gini' role from this weekend in that game back in last October. The focus of his game twelve months ago was in United's half and mostly to the right. This season, his coverage area spreads right across the width of the pitch and is more evenly.
Can very much seemed to be the enforcer for this game. He put in four tackles during the game, more than any other player, plus he made nine recoveries for the Reds during the game, breaking up many of United's futile attacking threats.
Anytime Henderson was dragged wide to help out then Emre Can just dropped in and covered Henderson's area with the minimum of fuss. Very rarely was Gini called upon to perform this task. He was clearly given the freedom to concentrate on the United end and let Can help Henderson out if necessary.
Can's intelligence plus his tactical and spatial awareness were clearly evident on numerous occasions throughout the game. He knew when Henderson needed help and he also knew when to surge into a press (that must be terrifying if you see Emre Can storming towards you).
A hugely important factor, especially in huge games like the United one, was the fact that Emre Can never shied away from his duties. He always made himself available for a pass. Matip, Lovren, Moreno and Henderson consistently depended on Can for the safe 'out' and he rarely, if ever, let them down.
That wasn't all though. Guess who received the most passes in the attacking third?! No, it was Firmino, with 20 received passes, but Emre Can was a close second, taking in 19 passes in United's defensive zone.
Off the Ball
The hidden class of Emre Can's performance was in his off the ball endeavours. I don't just mean that in the sense where we could see that he worked his socks off for the team, but it was very much a case of showing his impressive brains over his equally impressive brawn.
As mentioned above, he provided a ready-made replacement or assistant to Henderson when called upon. Having watched the game back, the number of times Can dropped back to complement Henderson in the deeper midfield area is fascinating. Klopp had his men line up in a 4-2-2-2 for much of the game, with Can and Henderson the base of a midfield which had Coutinho and Wijnaldum in the advanced roles. When we get to the pressing stats, in the next section, you can see just how much Can eased the workload that was on Henderson, Wijnaldum, Coutinho and Firmino (basically, anyone around him). With a mobile player such as Can, Klopp's midfield can vary from a 1-2 to a 2-1 in seconds and Can has the kind of physical presence that makes the opposition sit up and take notice when he drops back to help out or breaks forward with momentum.
Pressing
Here's where it gets beautiful. Okay, in a super-nerdy kinda way, but beautiful all the same.
Can completed 37 pressing actions against United. This is the highest number of presses by any Liverpool player in a single game so far this season. The previous highest had been Henderson's 27 against Palace. Can's own previous highest was just 15 in the win against Arsenal. 21 of Can's 37 pressing actions against United were in the second half so he actually increased the intensity of his off the ball game after the half-time break.
Can didn't just blindly run at United, however. He had an 89% efficiency* rating from his 37 presses, winning possession back 11 times for Liverpool. Not only was this the highest amount of possession wins by any player on Saturday, but it was also the highest amount by any player since the beginning of the 2016/17 season! Also, backing up the point about his increased intensity after the interval, 7 of those possession wins were in the first fifteen minutes of the second half. Can participated in 6 group presses during the game. Yes, that was also the highest level of group press involvement by any player.
Can pressed an average of once every 2.5 minutes against United, a higher rate than any other player (Henderson and Firmino were next with an average press of once every 4.9 minutes).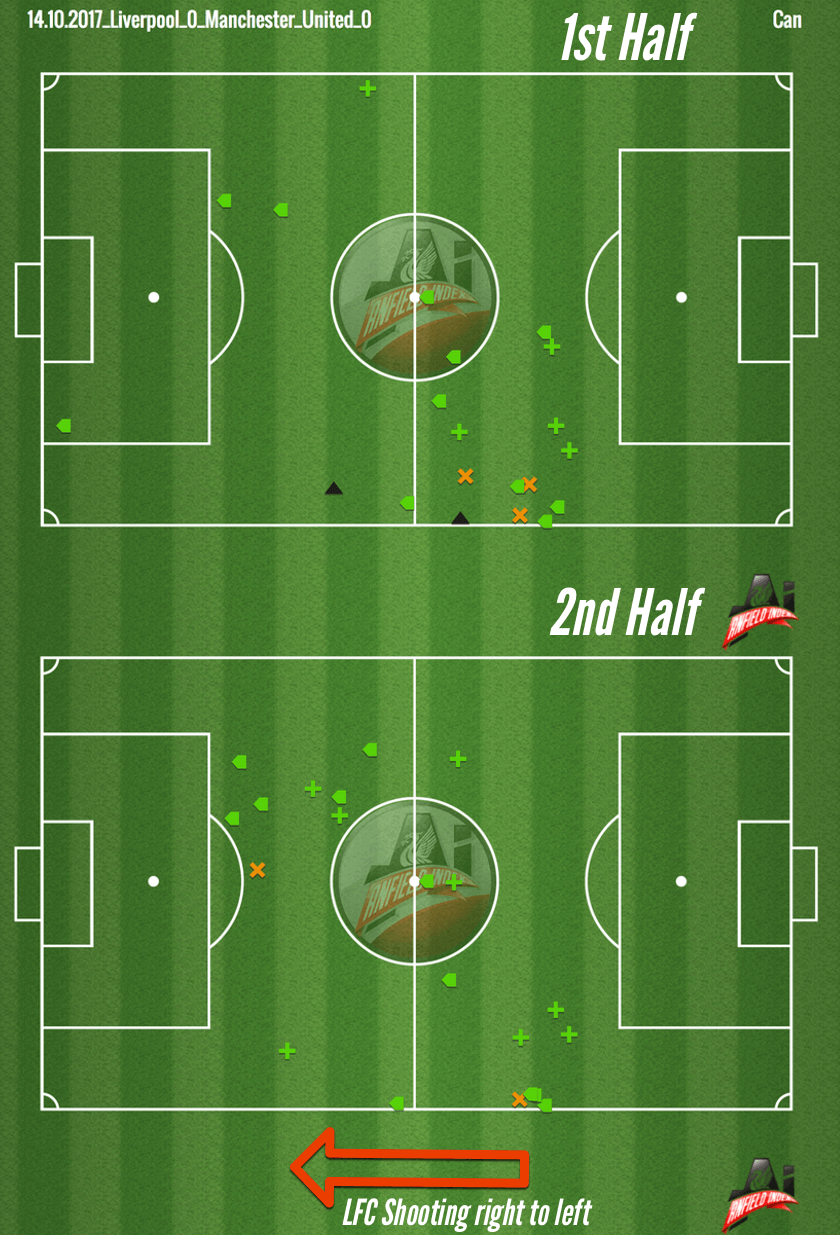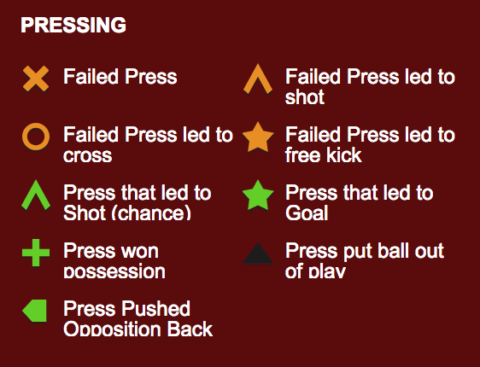 To see what a step up this was for Emre Can in terms of performance we just have to compare his stats to the averages from his previous five league appearances this term.
A reminder – against United, Emre Can pressed every 2.5 minutes with 89% efficiency. The average from his previous five league appearances was a press every 9.9 minutes with 81% efficiency. So, not only did he do it a hell of a lot more, he did it a hell of a lot better.
Against Arsenal, he had averaged a press every 5.6 minutes (his previous best this season) but his efficiency had been down at just 73%.
Simply put, a pressing rate of one every 2.5 minutes with 89% efficiency is bordering on heroic!
Emre Can is still only 23. That's insane. The sooner those contract negotiations get sorted the better (they will get sorted, won't they?).
* Efficiency in Pressing is when the player's action causes any of the following:
pushing the opposition team back
the opposition put the ball out of play
the player wins possession back for his team
Thanks to AI Under Pressure (Pressing Stats), 11tegen11, and WhoScored.com