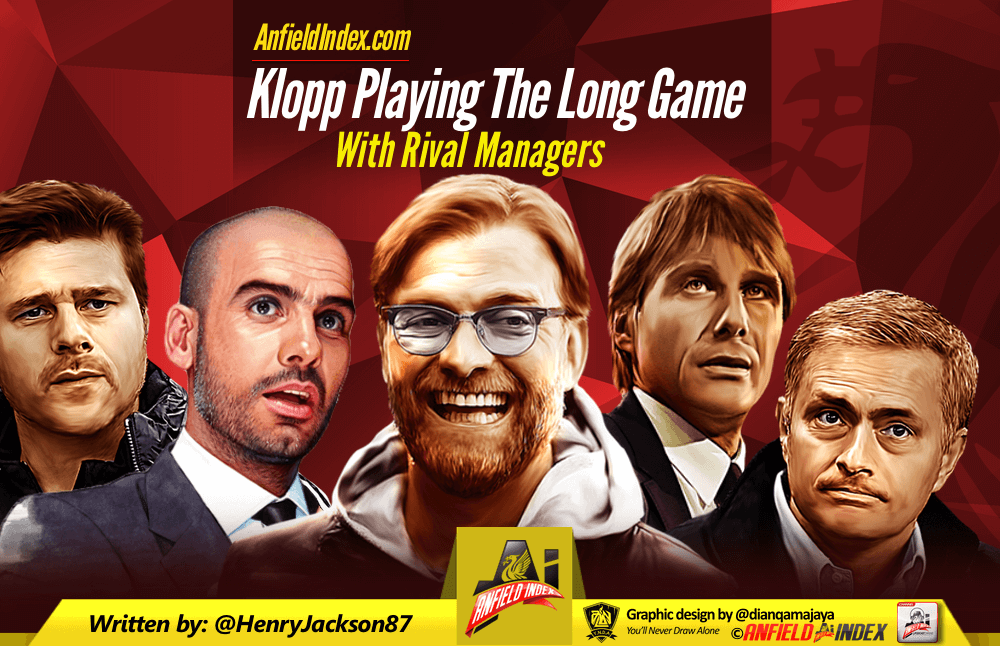 Klopp Playing The Long Game With Rival Managers
Jurgen Klopp isn't as universally fashionable as he was when he became Liverpool manager back in October 2015 – I think we can all agree on that.
When Klopp arrived on our shores he was treated like a God by Reds supporters – something we love to do with our managers – and his appointment was widely seen as one of the most significant in the club's great history.
We all believed he was the man to take Liverpool back to the top of English football and deliver us that long-awaited title that we so crave more than anything.

The 50-year-old has now been at Anfield for just over two years, and while he has done a very good job, regardless of certain negativity, his reputation has suffered in comparison to those in charge at four of Liverpool's five main English rivals.
Arsene Wenger is excused in that respect, with the Frenchman continuing to grow stagnant at Arsenal, despite still managing to grind out results here and there.
The quartet of heavyweight bosses battling with Klopp at the top of the Premier League, Pep Guardiola, Jose Mourinho, Antonio Conte and Mauricio Pochettino, are in a better place at the moment, in terms of the plaudits being aimed in their direction.
Guardiola's genius was lazily questioned a few times during his first year at Man City, but we are now seeing him click at the Etihad, with no team in Europe looking more devastating going forward.
Mourinho, much as he may be a loathsome individual, won two trophies in his maiden season at Man United, and will continue to earn success as long as he is there. He is a born winner.
Conte, meanwhile, may not be cutting the happiest of figures at the moment, but he immediately guided Chelsea to the title in 2016/17, and his tactical nous has been praised to the hilt. He has also got a huge amount out of some limited footballers, most notably Victor Moses.
Then there's Pochettino, who is doing as good a job as almost any manager around right now, when it comes to the talent at his disposal.
He has turned Tottenham from a much-mocked club into the most balanced side in the country, and Tuesday's 1-1 draw away to Real Madrid was a sign of how far they have come.
Klopp has not worked the absolute magic that many hoped he would in the last 24 months, perhaps due to us expecting too much too quickly, and because of it, his stock has fallen slightly.
There have even been some parts of the English media questioning whether he should be in the job at all now, which is beyond nonsensical.
Klopp has always been a manager who takes time to fully flourish, with his past spells proof of that. He is playing the long game rather than being a quick fix, and has total faith in his own ability.
It was three years before he guided Mainz into the Bundesliga for the first time in their history, and he also didn't make a flying start to life at Borussia Dortmund, with his first Bundesliga title coming at the end of his third campaign as manager.
It takes time for his style of play to be fully adhered to, and the fitness levels he requires of his players is also something that doesn't become perfected overnight.
Admittedly, it is frustrating to see certain aspects of his management falling short, particularly not improving Liverpool's constant defensive issues, but he is the undisputed right man for the job.
Were Mainz and Dortmund fans losing faith with the likeable German two years into his reign? Absolutely not.
Call it a bold prediction, but once the reigns of all these current top Premier League managers are over, Klopp will be the one who has outlasted them all, and we will be able to look back and see how wonderfully things have progressed over time.
Neither Guardiola and Mourinho are managers who stay in a job for long. The duo like new challenges rather than remaining at a club for a genuinely lengthy period, and it won't take too long before they grow bored.
Mourinho, in particular, often enjoys his most fruitful period in his second season at a club, with two spells at Chelsea and another at Real Madrid falling apart in year number three. He has no longevity.
Conte has already hinted that this season will be his last at Chelsea – regardless of his title success in 2016/17, will his reign be seen as any greater than the likes of Carlo Ancelotti and Roberto Di Matteo who came before him?
Pochettino is actually the biggest threat when it comes to competing with Klopp over a long period, with the brilliant Argentine reportedly keen on a long stay in north London.
His head is sure to be turned when one of Europe's true powerhouses inevitably come calling one day, though, which cannot be too far around the corner.
The key to all of this is patience, much as that be frustrating to accept when rival clubs are spending ridiculous sums of money and winning trophies almost as soon as their new managers arrive.
Alex Ferguson is always the perfect example to harp back to in the patience debate, with the United legend taking almost four years to win his first trophy at Old Trafford, and nearly seven to seal his first English league title.
Perhaps longevity doesn't mean that much anymore, with supporters happier having a manager in charge for a couple of years, winning a few things and then disappearing off into the sunset. If that is the case, what a shame.
Liverpool are a romantic club, though. Their managers enjoy long-term relationships with the club rather than brief affairs, and it would be a crying shame if they went against their traditions and copied Chelsea, City and even United's current model.
If Klopp sees out his seven-year contract on Merseyside, we should have complete and utter faith in him being the Reds' greatest manager since Kenny Dalglish in the late 1980s.
No trophy in two years and plenty of bad results may not be the greatest evidence for such a bold claim, but this team will keep improving until Klopp builds his perfect side.
He will outlast Guardiola, Mourinho, Conte and Pochettino in England, and while the quartet may enjoy more success and receive more acclaim in the near future, he will have the last laugh.