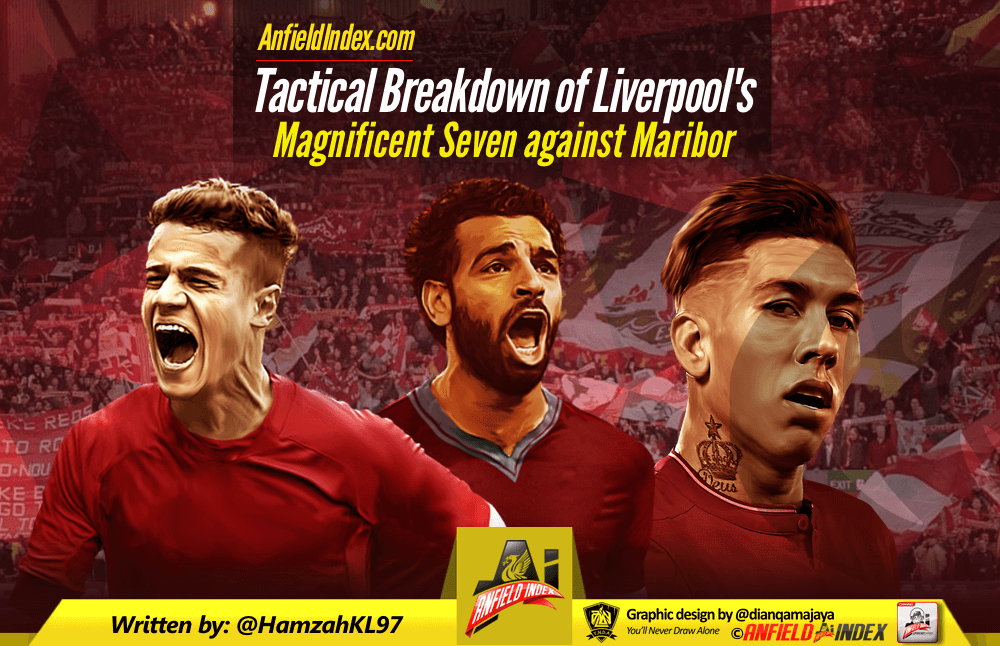 Tactical Breakdown of Liverpool's Magnificent Seven against Maribor
For several weeks, Liverpool's results have not quite reflected their performances, and even I was beginning to wonder whether persisting with the same approach would be the best route to a confidence-restoring win, after some disappointing results. It seems that more of the same really was the best medicine though, as Liverpool utterly trounced Maribor, away from home in the Champions League.
Shots (on target)
MAR: 5 (2)
LIV: 26 (14) 26pc conversion rate
(Six-yard box/18-yard box/ outside box) 12/62/27
Unlike in recent games, Burnley in particular, in which Liverpool have had a high volume of shots, Liverpool actually took a sizeable proportion of them from inside the six-yard box i.e. where convertibility rates/xG is highest – and the team reaped the benefits of close-range finishing.
xG
MAR: 0.39
LIV: 4.39

Passmaps & xGplot for Maribor against Liverpool. #passmap #xGplot #autotweet pic.twitter.com/i6VGEnjYPC

— 11tegen11 (@11tegen11) October 17, 2017
Possession:
MAR: 30pc
LIV: 70pc
Touches
MAR: 499
LIV: 958
Milner (120), Lovren (113), Moreno (111), Matip (107), Coutinho (107)
Passes:
MAR: 335 (74pc)
LIV: 775 (90pc)
Lovren (110), Matip (104), Milner (95), Moreno (85), Can (80)
Key Passes:
MAR: 4
LIV: 18
Coutinho (6), Milner (3), Wijnaldum & Firmino (2)
Dribbles (success rate)
MAR: 10 (71pc)
LIV: 20 (83pc)
Coutinho (7), Milner (4), Can (3), Salah & Firmino (2)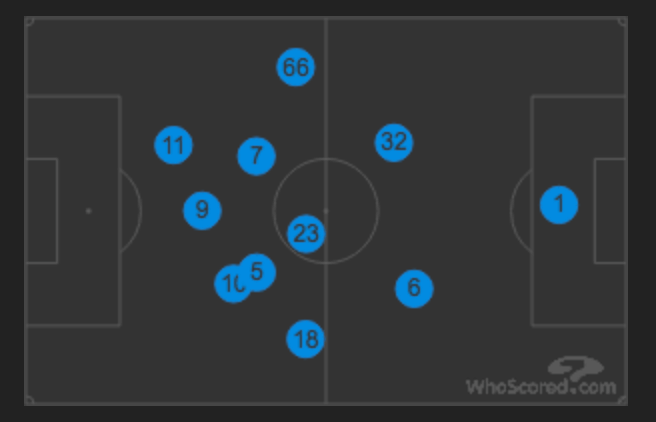 Unlike the Manchester United fixture – Liverpool's fullbacks were really allowed to get forward, and their average position was beyond the half-way line. The only concern for Liverpool may be that they are not effectively exploiting space out wide enough over the course of games, instead focussing excessively down the middle – which was why Manchester United were able to secure a 0-0 draw, through a central block. Indeed, 69pc of all of Liverpool's shots came from the middle of the pitch, and whilst the action areas in terms of attacking spread was 32/36/32 (left/right/middle), Liverpool will need more than Moreno and Alexander-Arnold's simple overlaps when trying to break down better teams, and should be targeting runs just inside the sides of the box, six-yards away from the touch-line in particular for cut-backs.
The Goals
0-1, Liverpool, Firmino 4′
In recent games, Liverpool's ability to be clinical and take chances has come into question – Salah and Firmino appeared to endeavour to dispel that narrative, with this swift attack, which Salah sprung, after chasing a loose pass.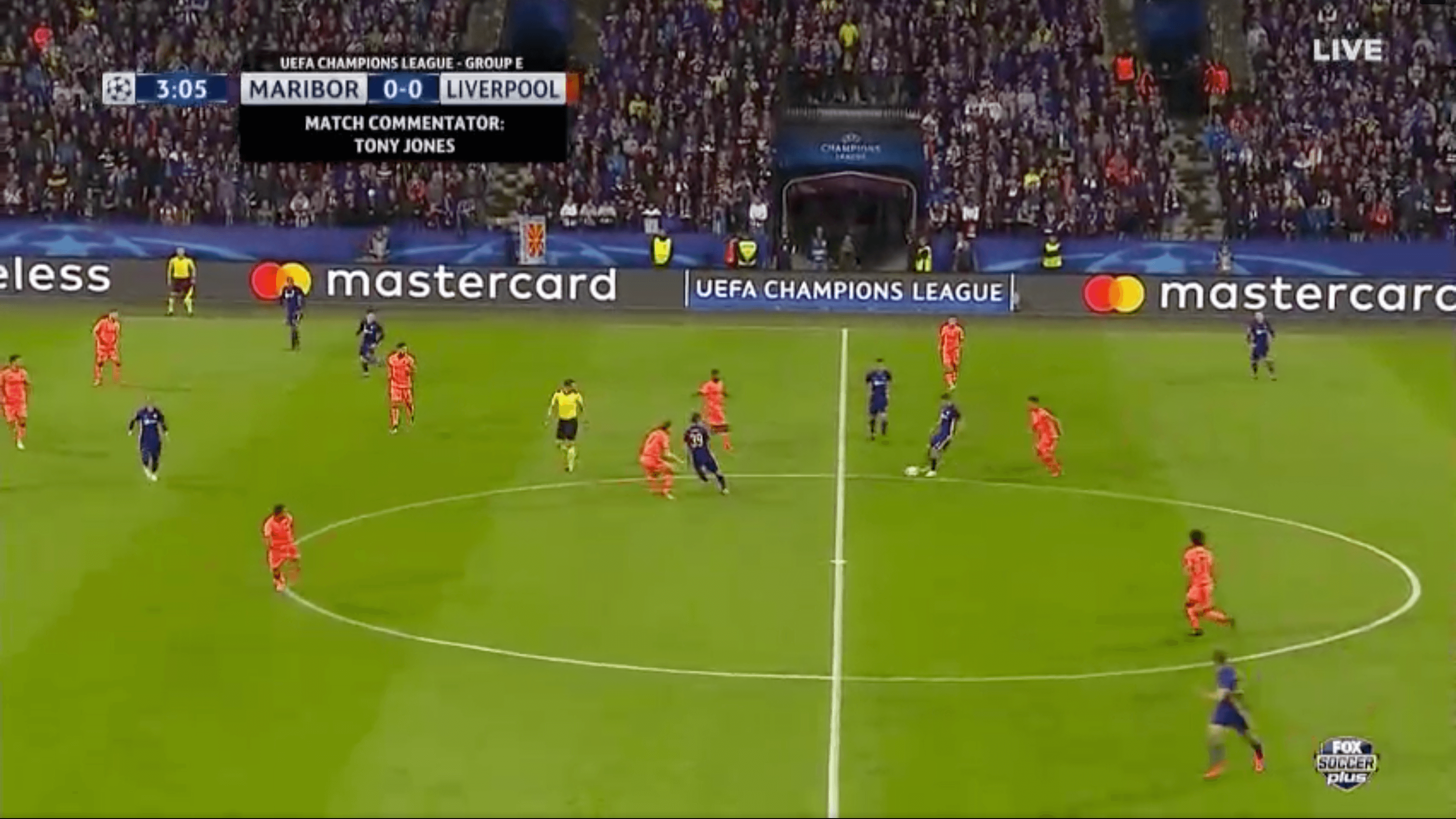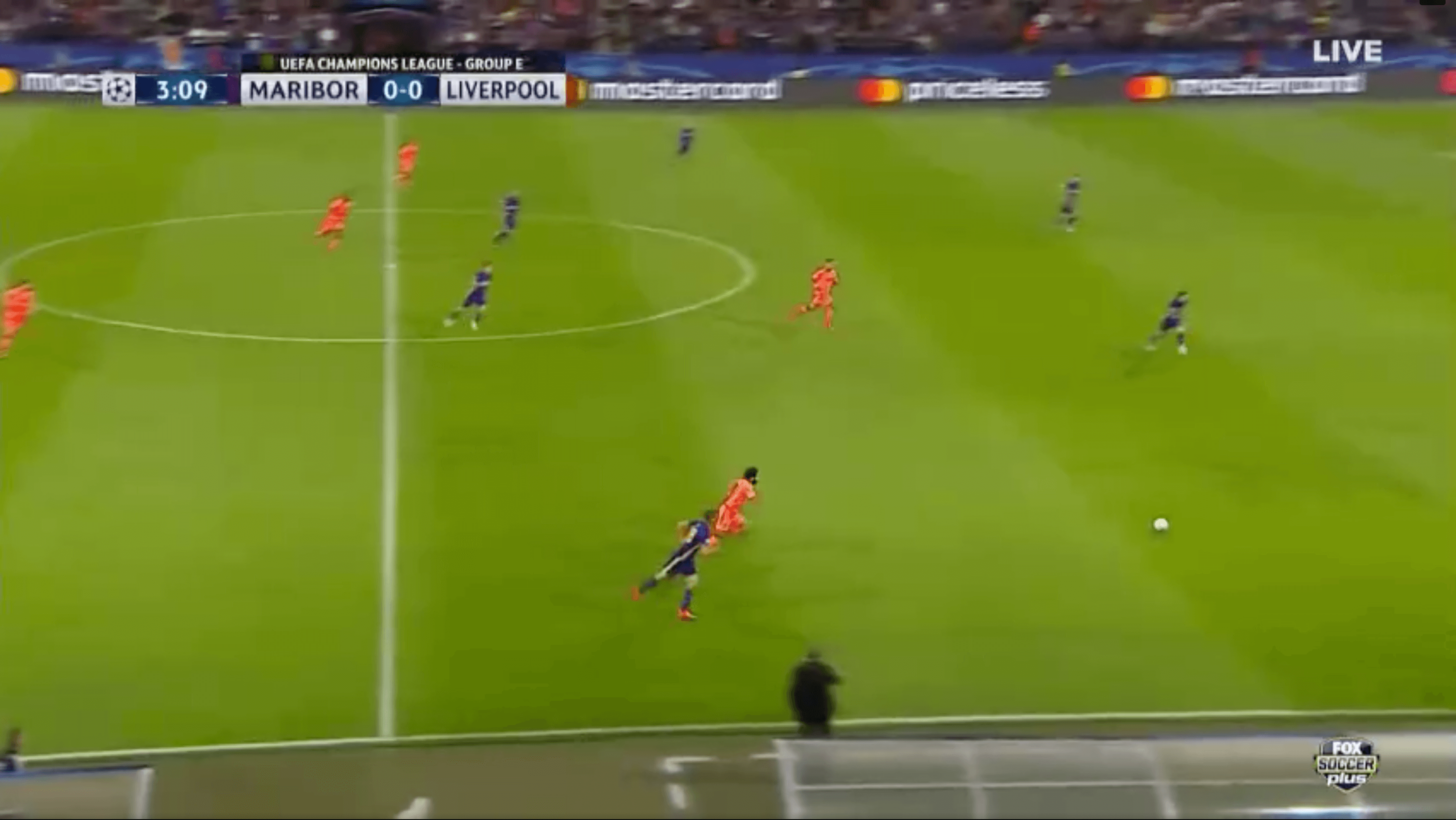 Perhaps the most significant point within this move was when the Maribor centre-back moved over, to attempt to win the ball, with a slide tackle. From this point, the pressing opportunity developed into a goalscoring one, as Salah rode the tackle, with the ball.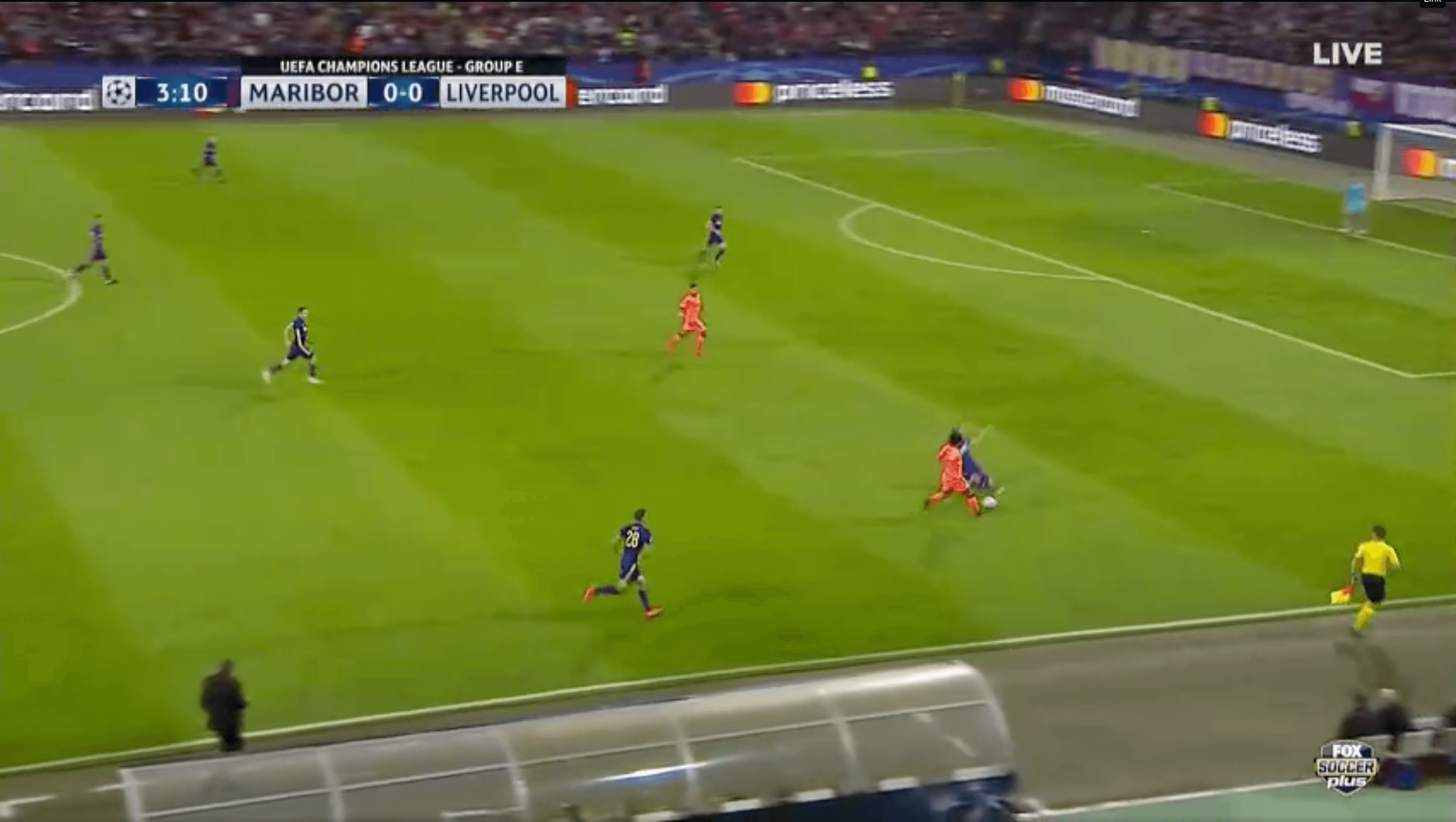 From here, we would expect Liverpool to score, but the Maribor defender has actually got across Firmino well – however, Salah's pass is perfect – the Maribor defender could easily score an own goal, and having driven so close to the six-yard box, it becomes a much easier finish for Firmino – who does well considering the ball is actually behind him.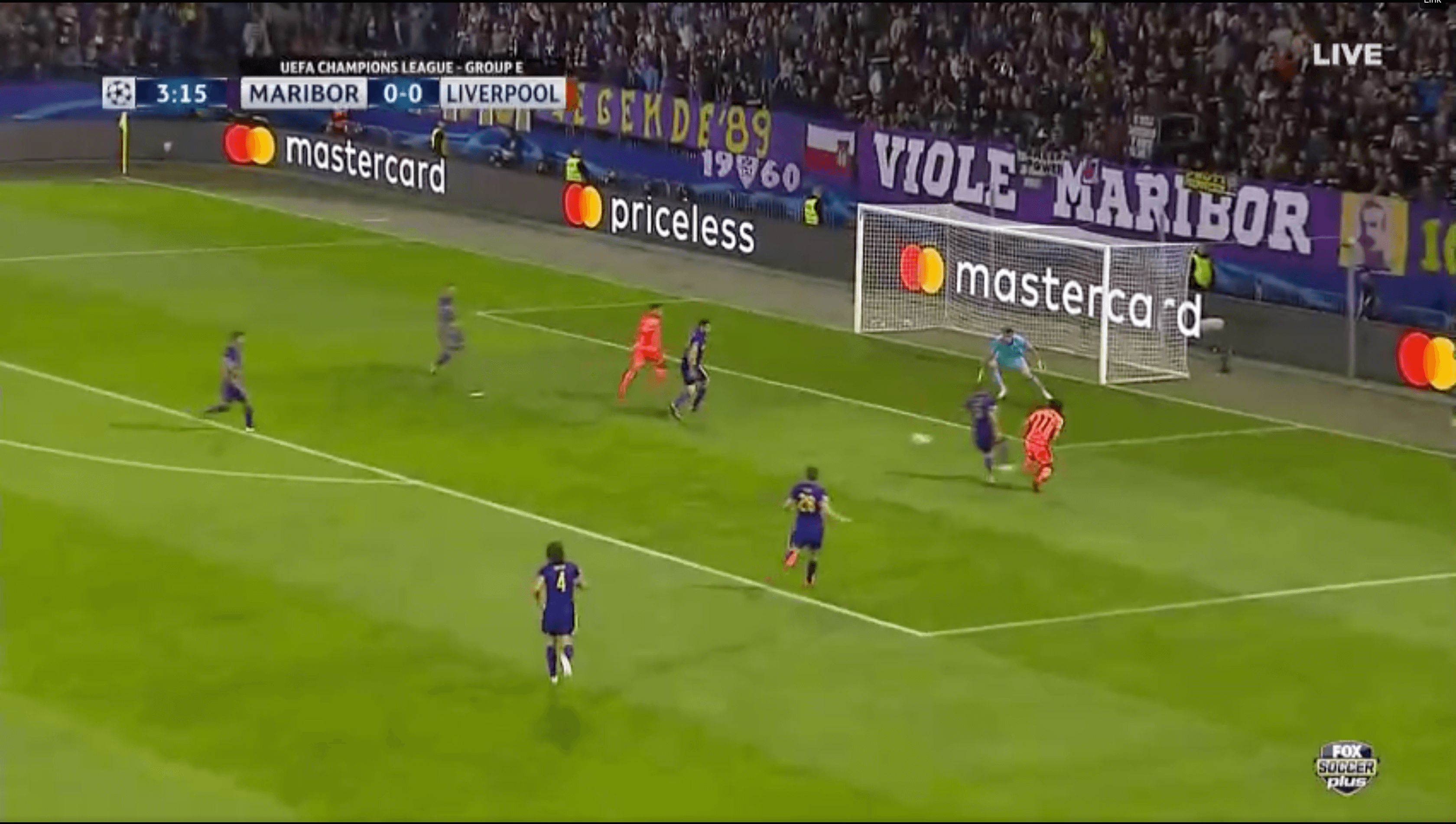 A simple, but clinical goal – finally correcting some of the ills of previous matches.
0-2, Liverpool, Coutinho, 13′
Liverpool's second goal started with an unforced error, as Lovren miscued a clearance, from there though Coutinho recovered the ball and drove forward with it.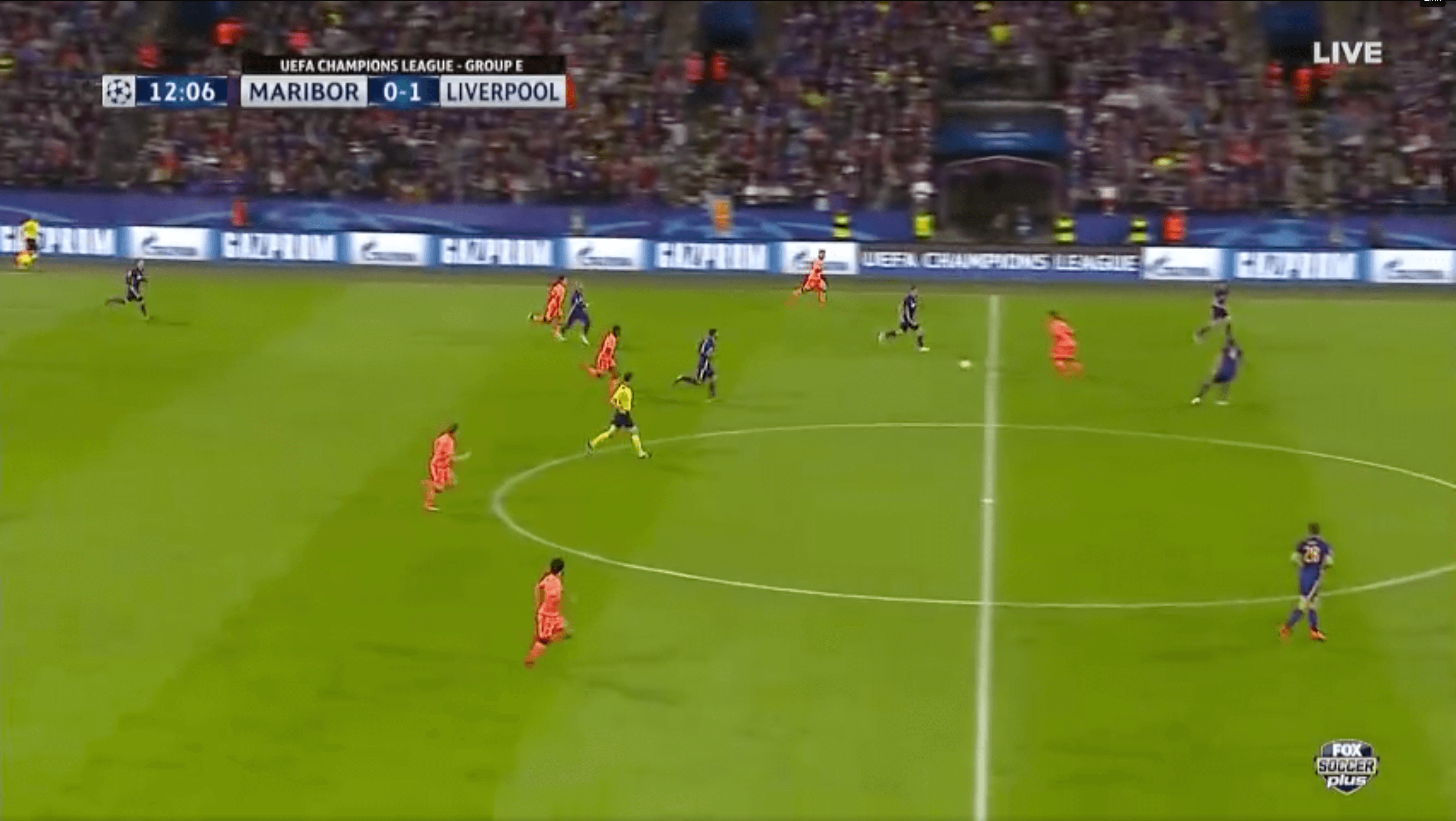 Coutinho plays it into Firmino, and Liverpool break at speed, in an almost Manchester City-esque fashion, Liverpool have five players ahead of the ball, running different lines, but if we were to be picky, they should be running different horizontal lines too, instead of Firmino, Milner and Wijnaldum all running a similar one – although, as the move progresses that changes: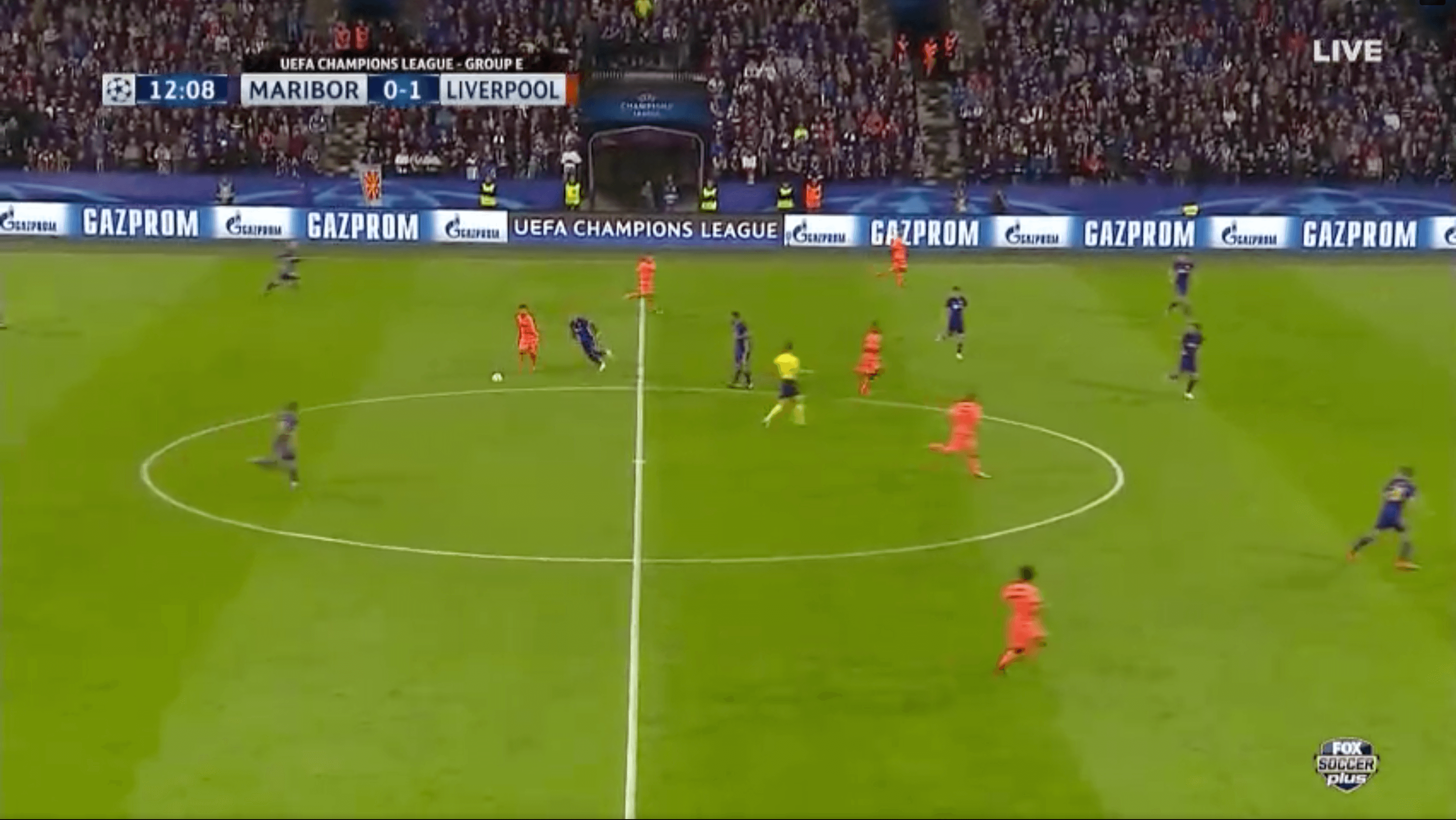 Milner and Wijnaldum play an essential part in this goal, as Salah moves inwards: as Milner runs diagonally, drawing his marker, and creating space in the centre of the box, the Maribor players expect Wijnaldum to exploit it. Instead, though, Salah plays it into Milner: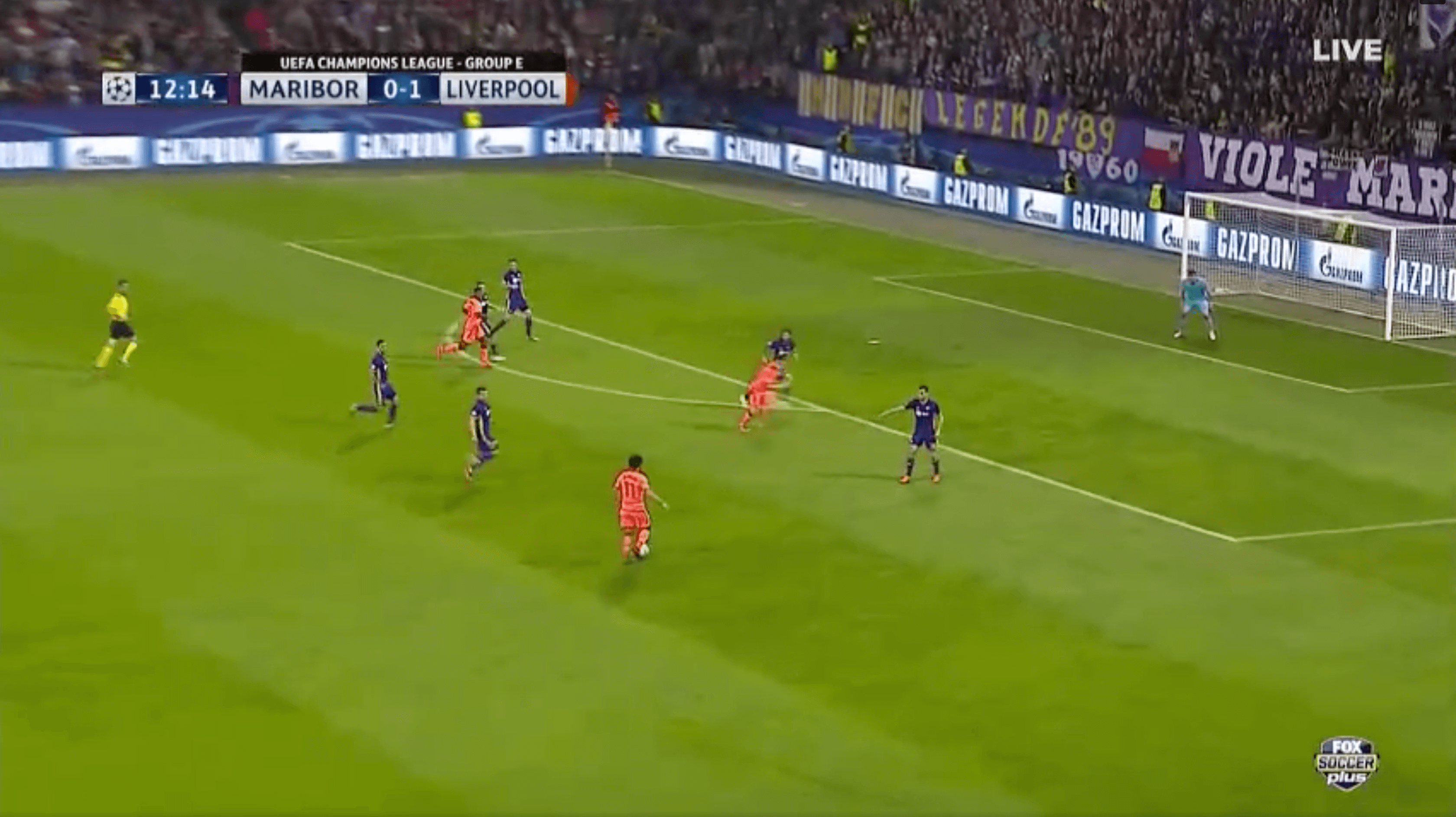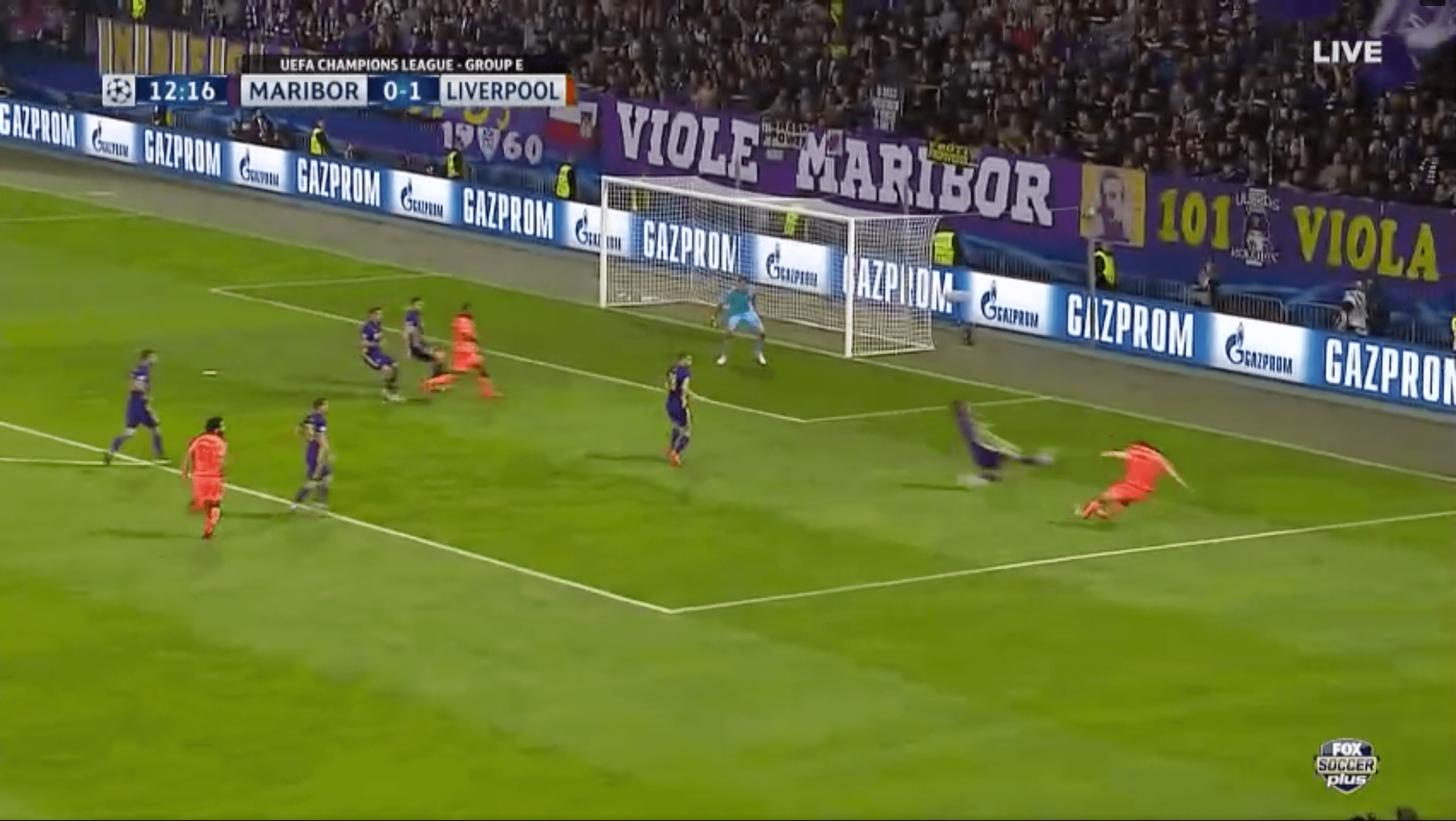 Milner's pass is superb, and Coutinho makes a late run, as he did against Newcastle, from deep, to exploit the space Wijnaldum vacated on the edge of the box.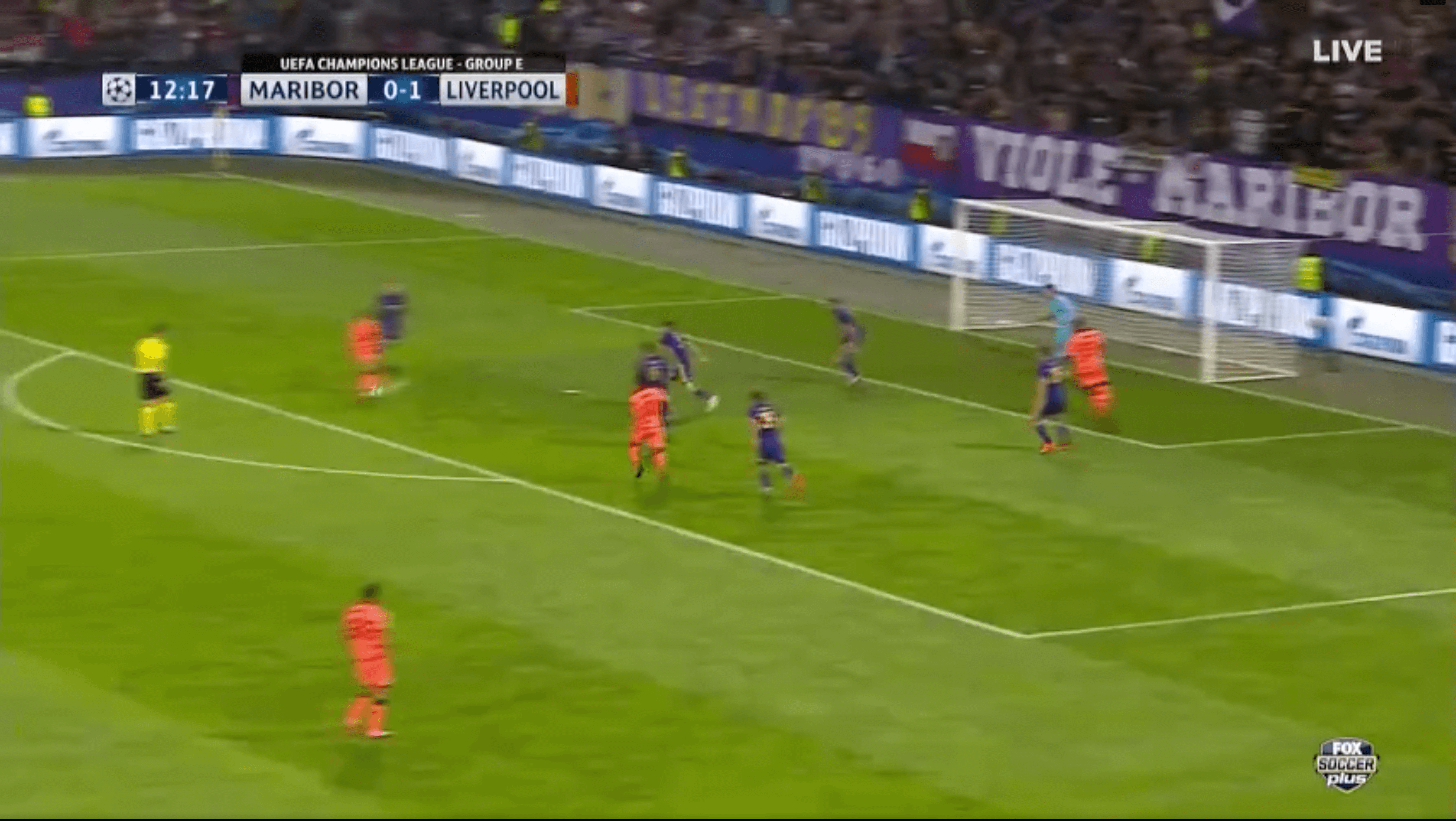 0-3, Liverpool, Salah, 19′
Can – while other Liverpool players are retreating, counter-presses, and intercepts a pass on the edge of the opposition third, which falls to Firmino.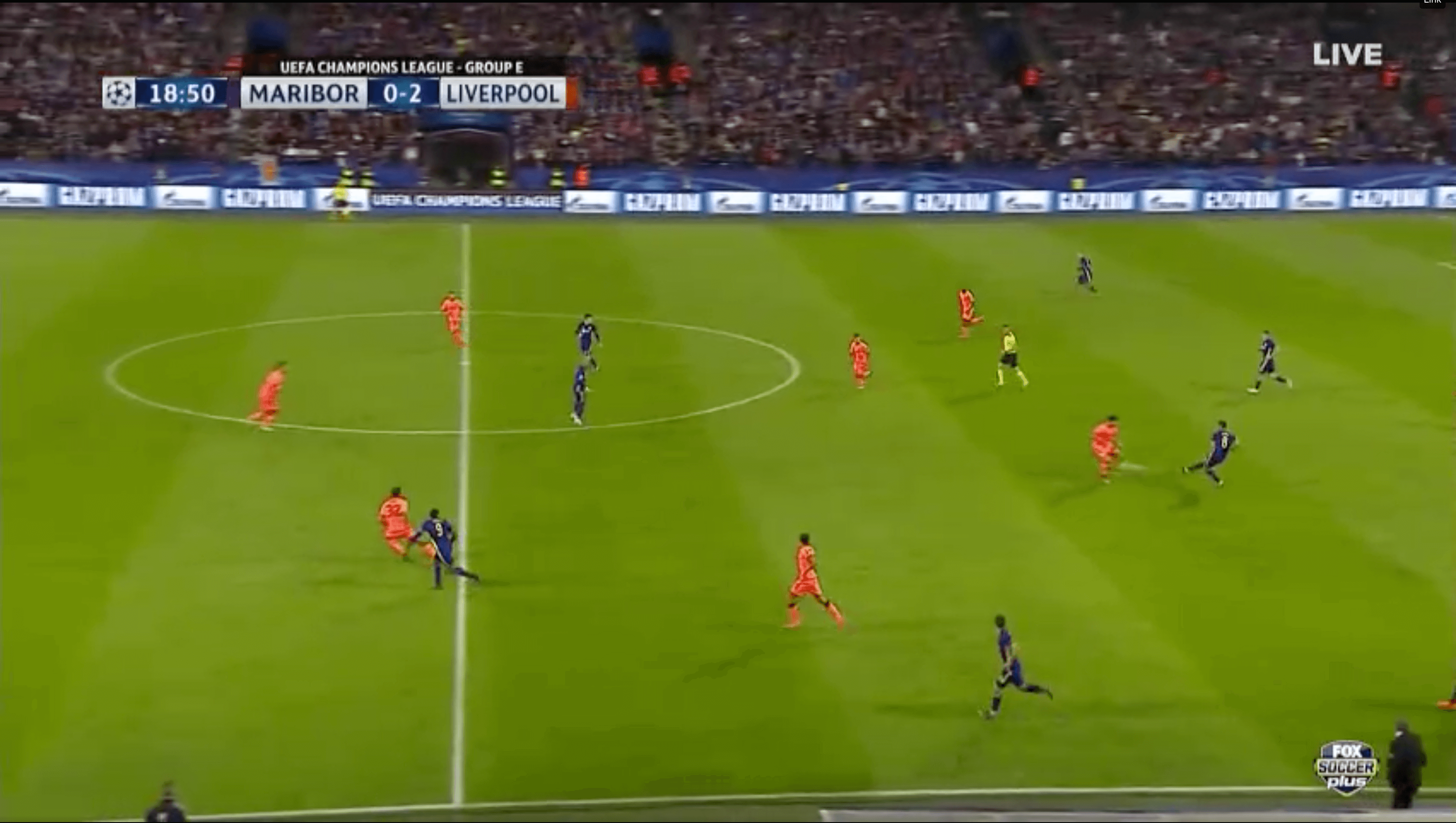 Firmino jinks his way through two defenders, and draws out the third, while Salah acts as a perfect inside forward – coming inside at the right moment.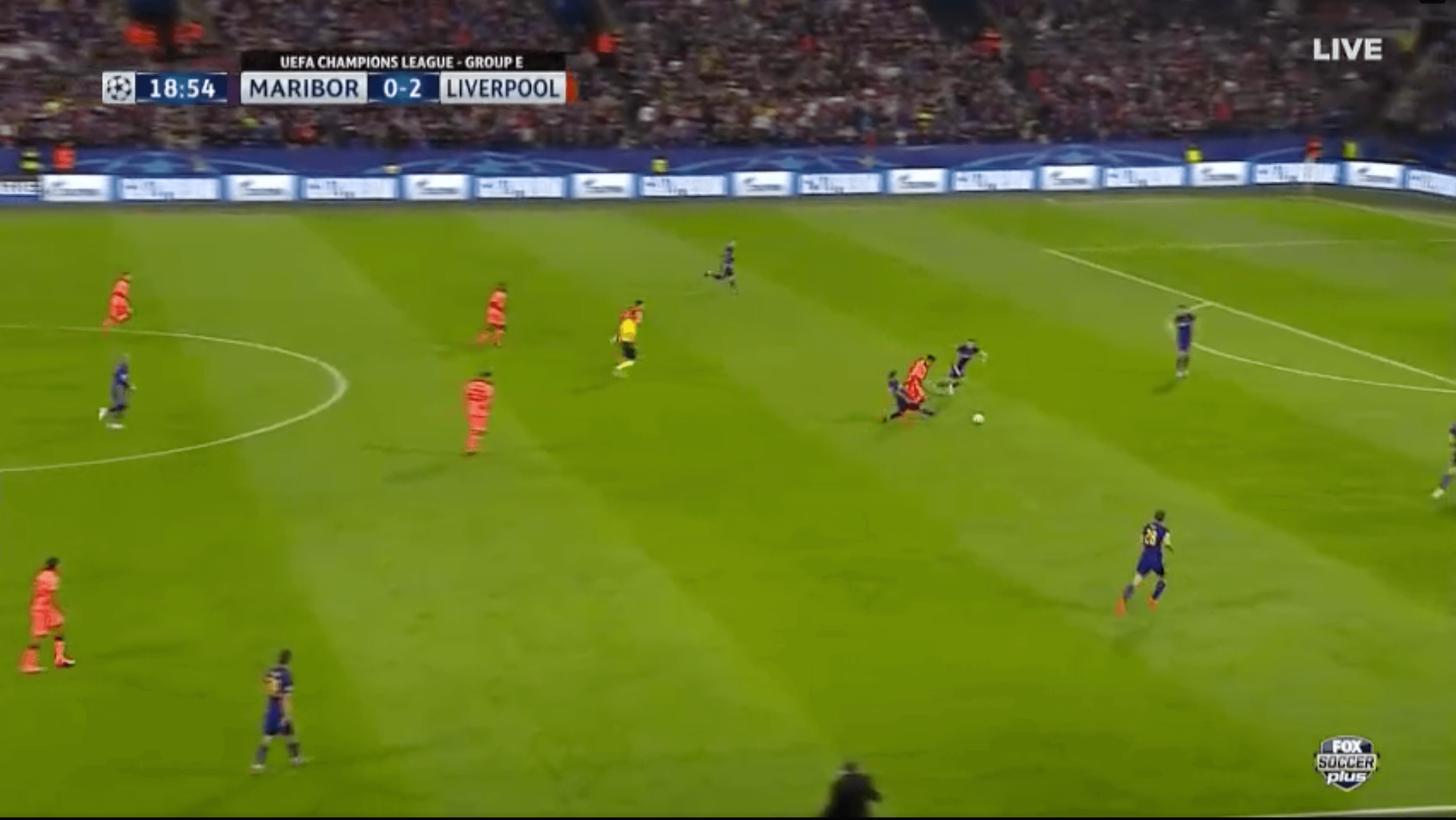 A beautifully slick goal, displaying the best of Firmino's dribbling skills, Can's tactical awareness and risk-taking, and Salah's coolness.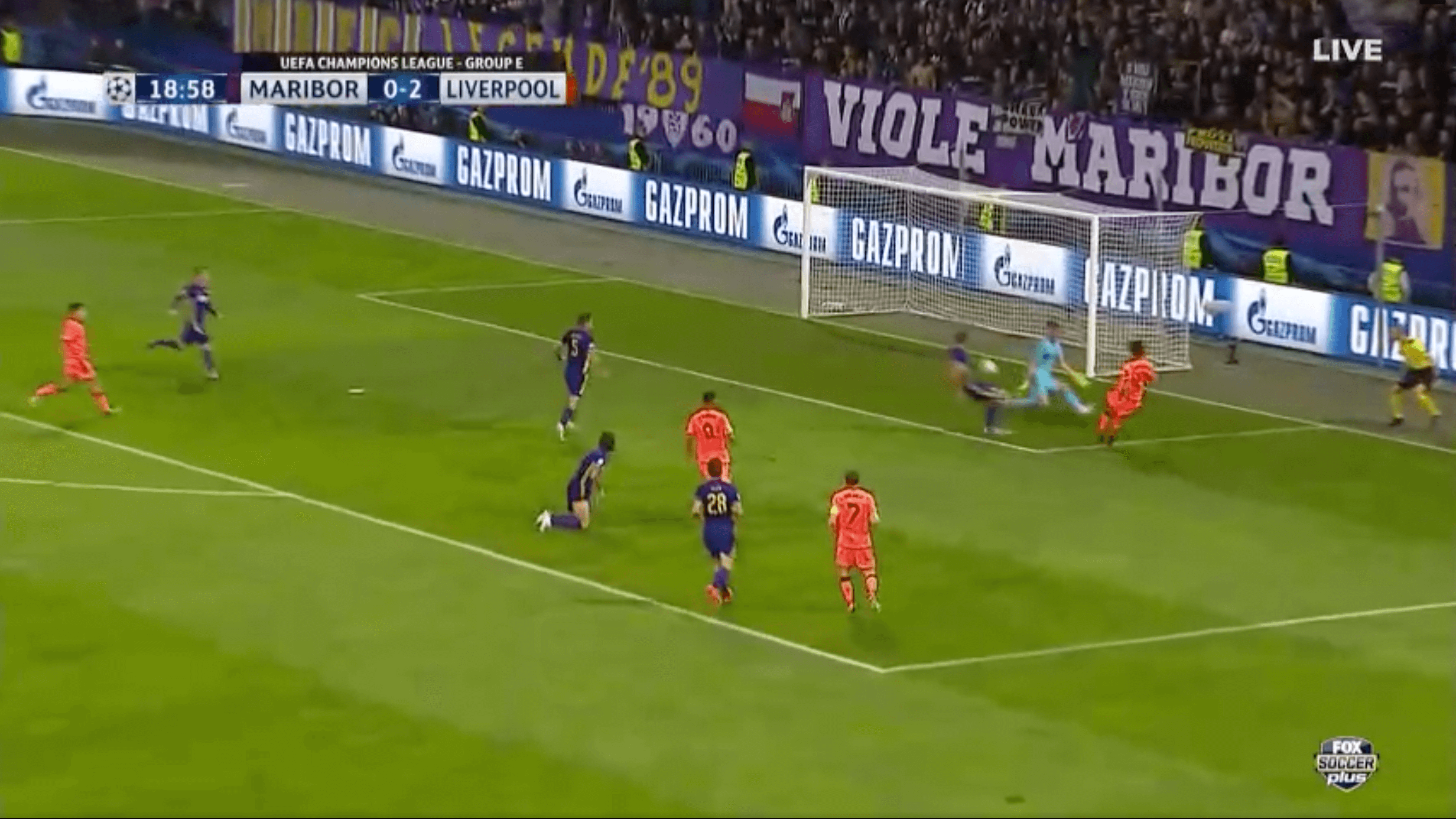 0-4, Liverpool, Salah (?), 39′
When it rains, it pours. Liverpool, who struggled for goals for several games simply carved through Maribor like cake.
This time, Can recovered the ball further up the pitch, on the edge of the box, before playing it into Coutinho.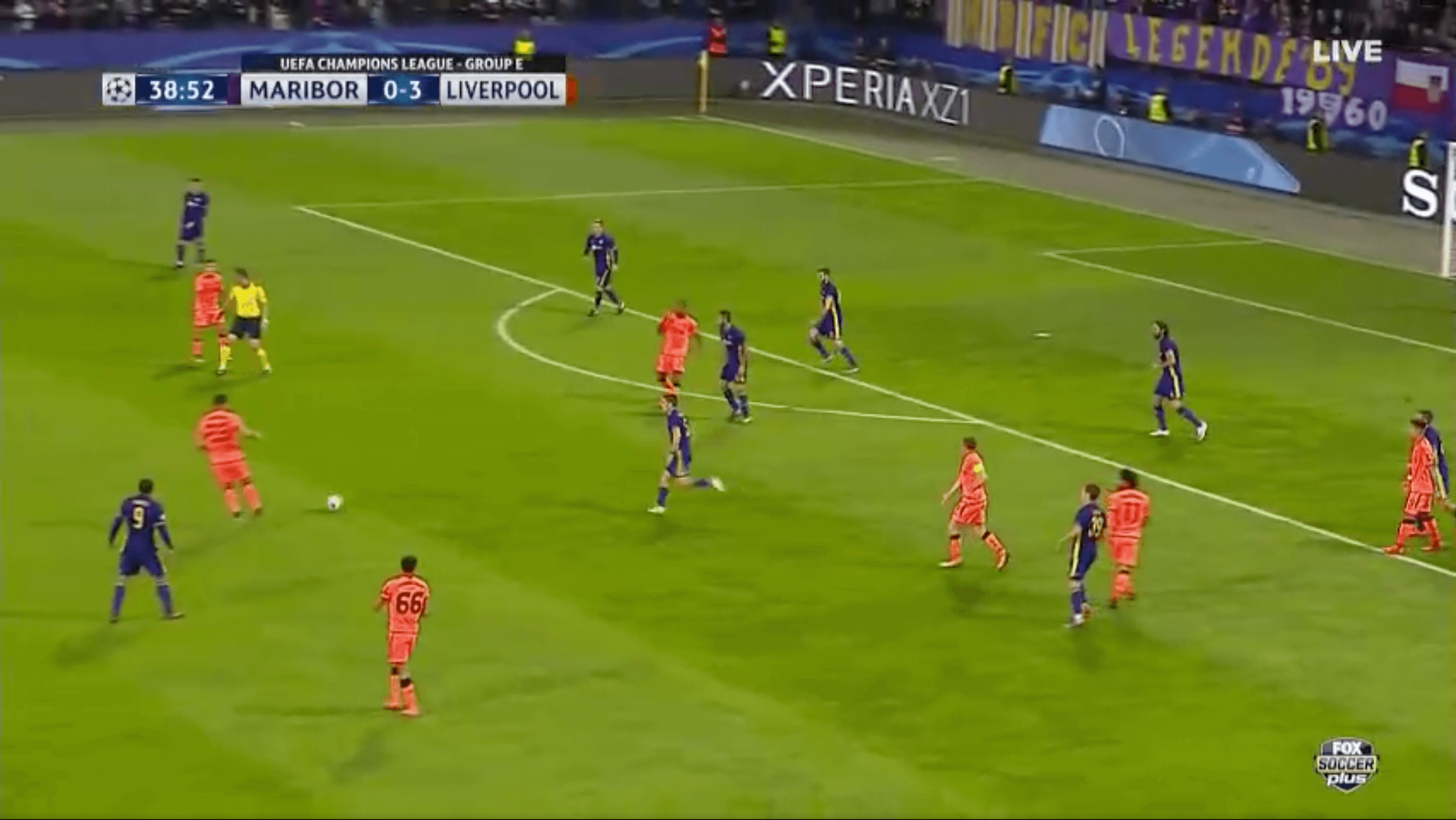 With Coutinho deeper, Wijnaldum moves up and makes himself a presence in the box, as he did before against United when Coutinho dropped into midfield.
Moreno's late run pierces the Maribor line, in a region which they previously felt safe, and brings Wijnaldum, Firmino and Salah into play.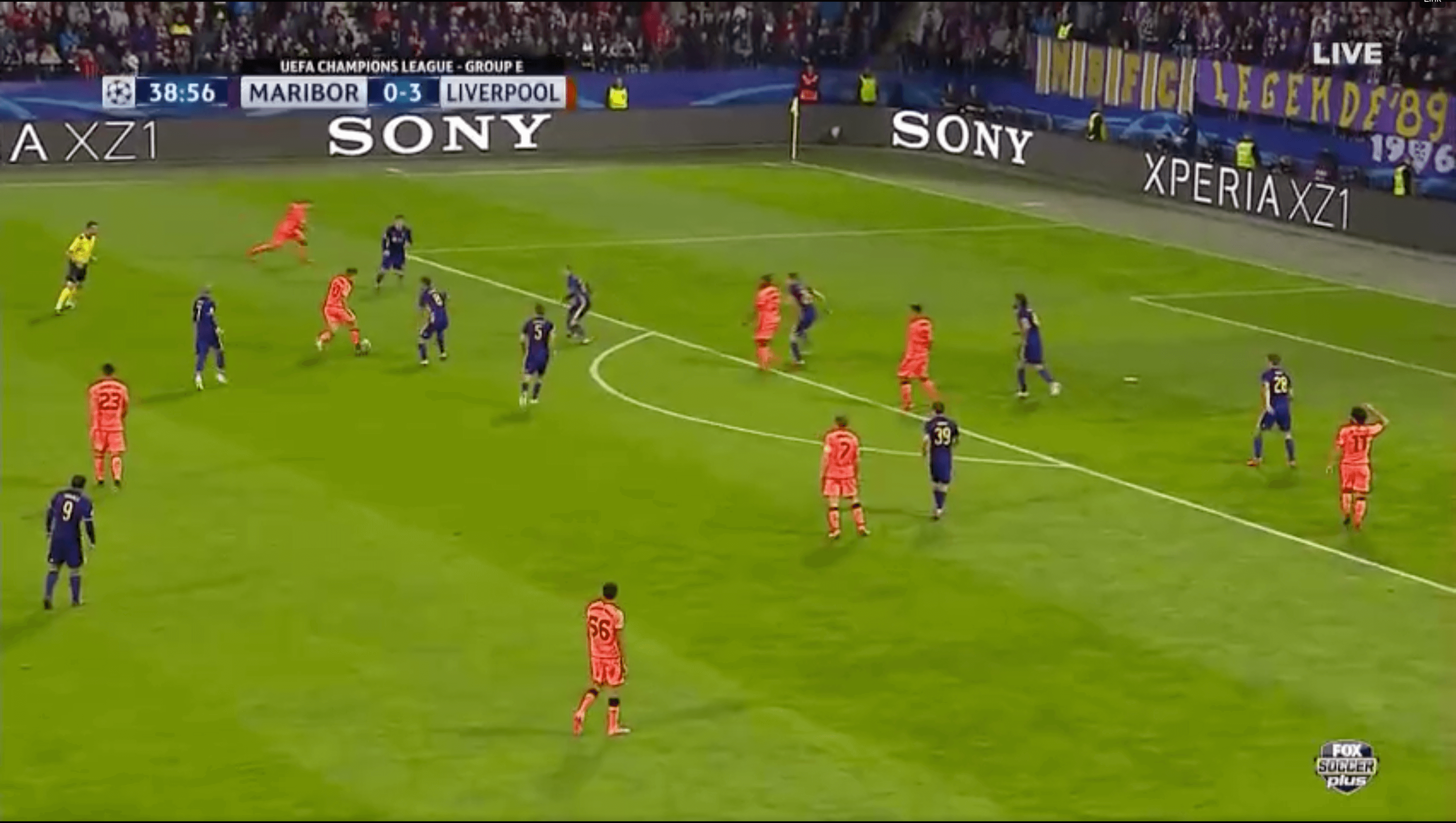 Moreno, Wijnaldum and Firmino draw the Maribor line over to the left side, giving Salah more space to work with, as he bursts across to beat Firmino to the ball.
The sheer number of players in the box completely overwhelms Maribor, who are usually a side with a respectable defensive setup. At the point at which Moreno releases the ball, any one of Wijnaldum, Salah and Firmino can receive a pass, and score. It's a well-worked move that transitioned to walking speed to sprint in less than a second after Coutinho played his pass.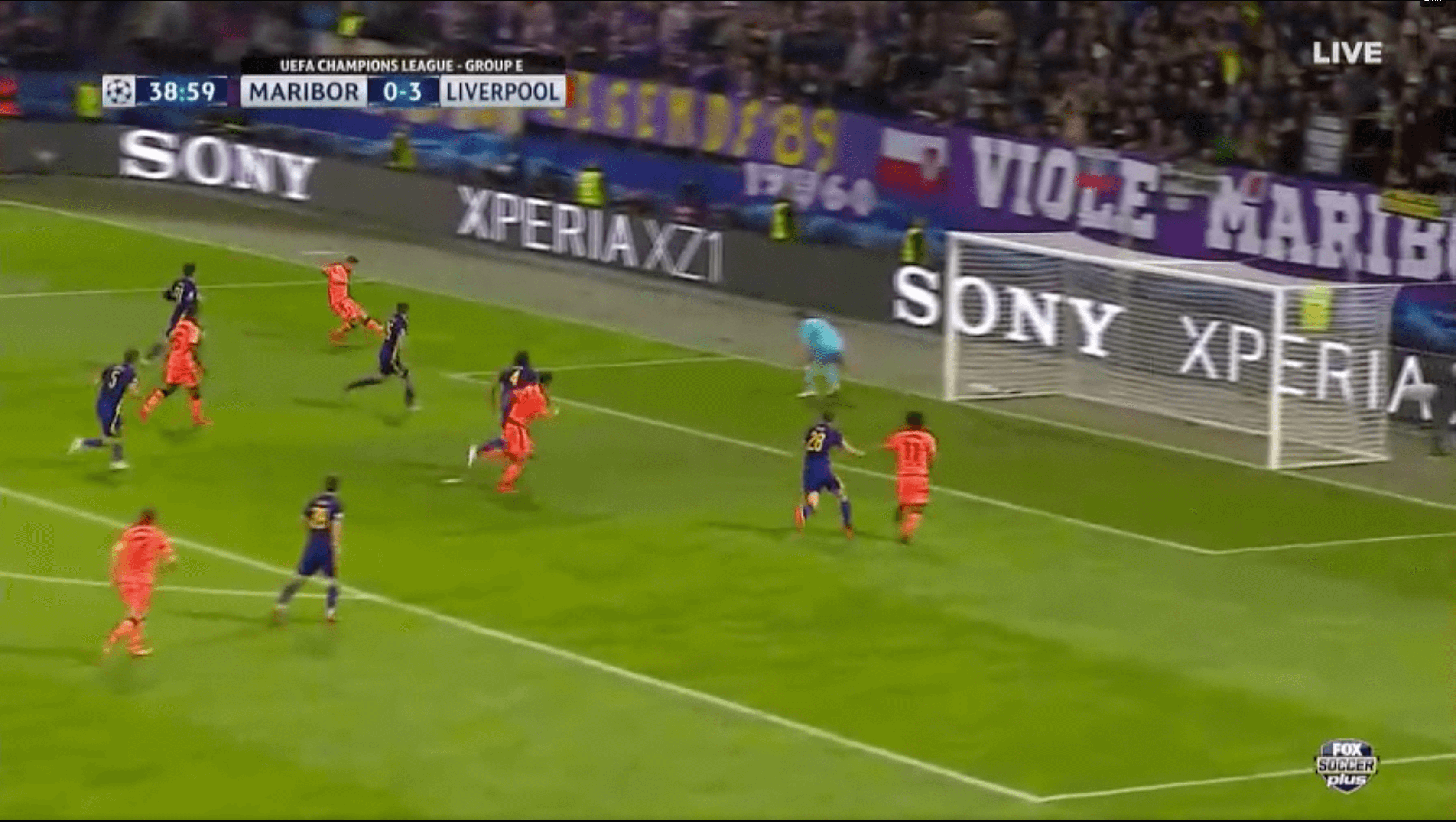 0-5, Liverpool, Firmino, 54′
Just as Firmino's place in the starting XI was beginning to be questioned, he responded, adding to his tally for the game, with a rare LFC set-piece goal.
Coutinho capitalised on confusion amongst the Maribor defence, as they attempted to organise themselves, and were not focusing on the ball.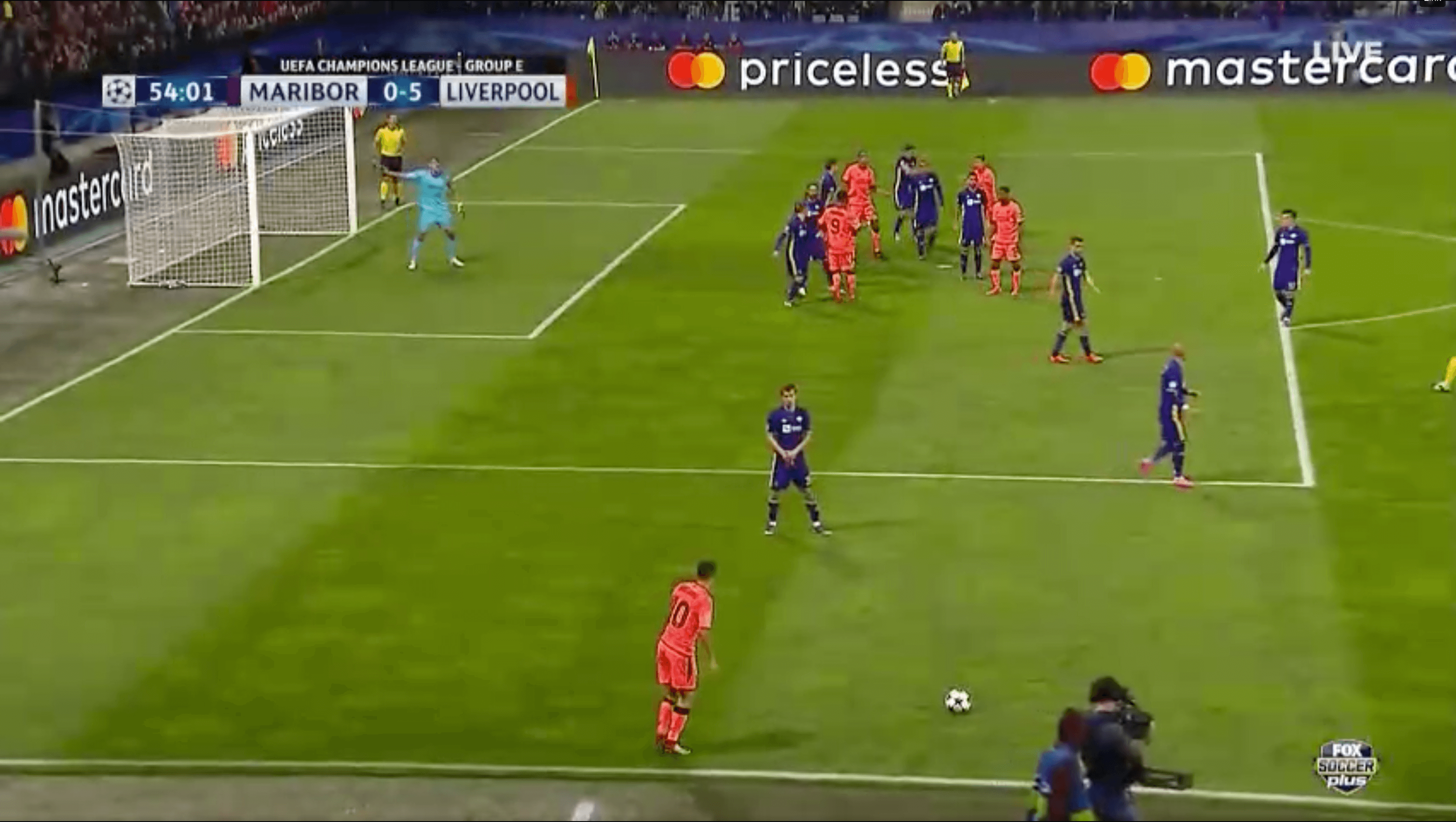 Firmino himself actually has his back to the ball initially, but it's a simple matter of simply being in the right zone, and in front of his man – and from there he delicately nods home.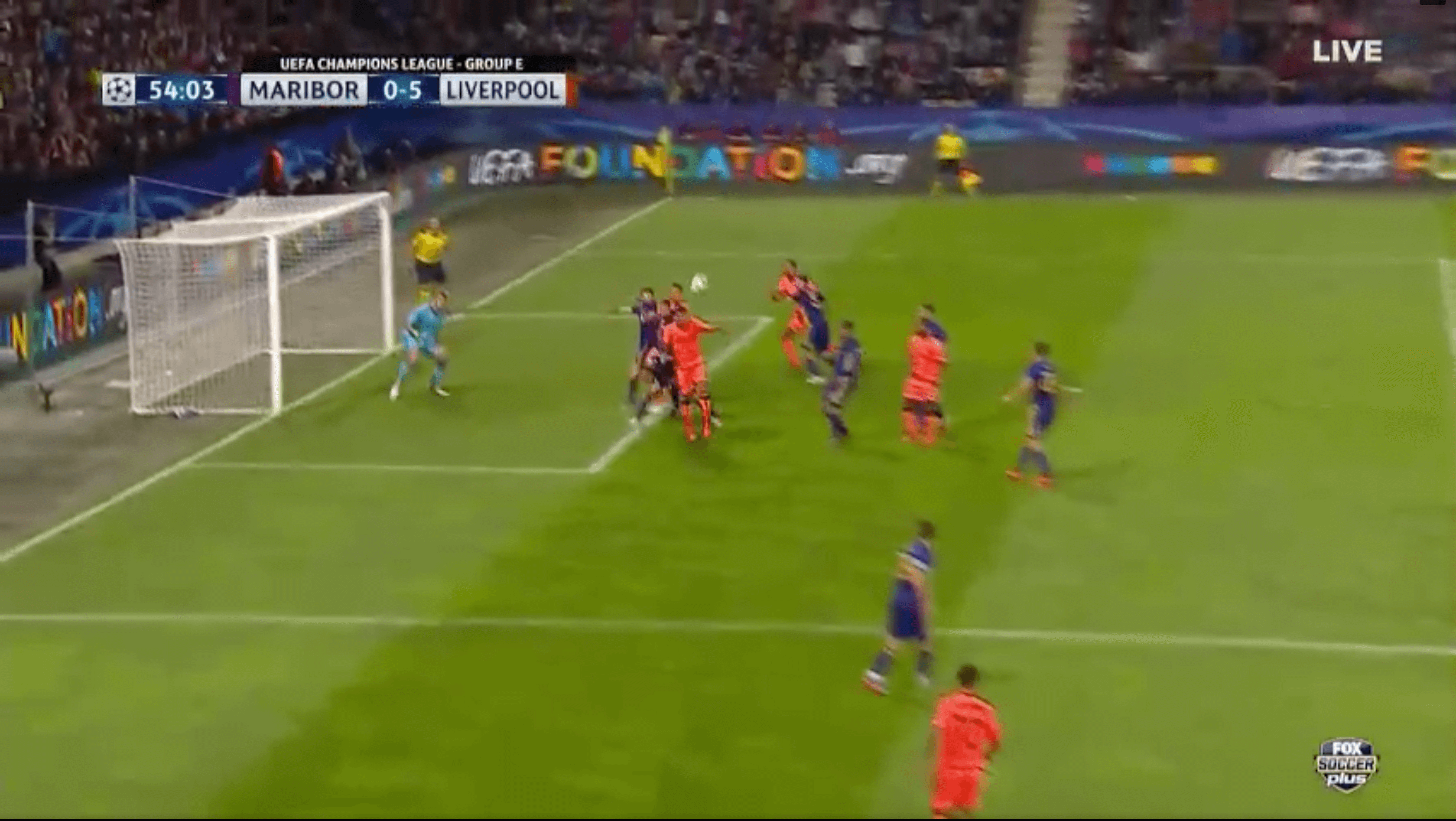 0-6, Liverpool, Chamberlain, 86′
Liverpool's substitutions linked wonderfully for this goal, with Sturridge pressing from the centre-circle, and then winning the ball.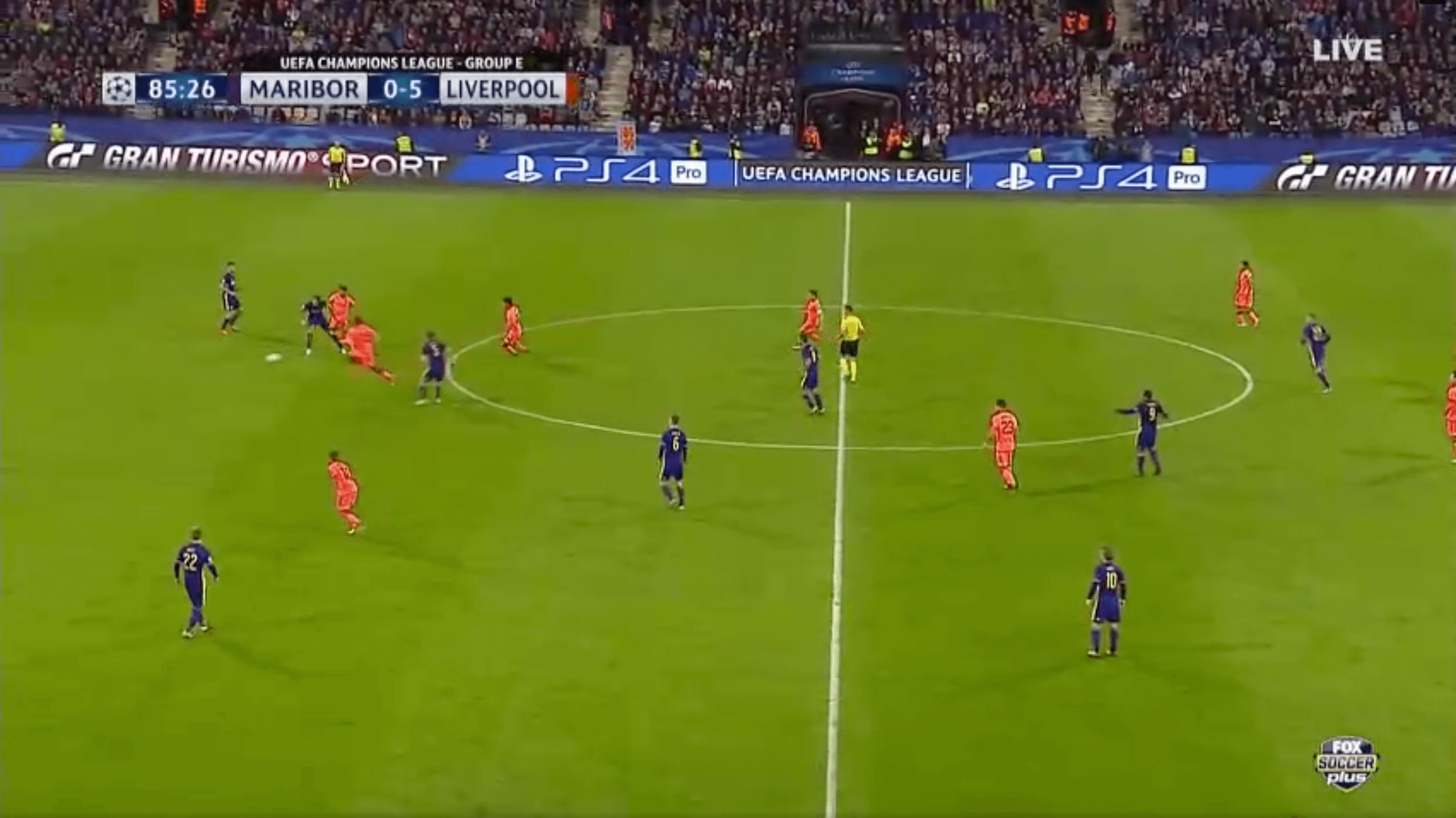 Sturridge draws two defenders and unselfishly plays Chamberlain through. Like before, Liverpool attack at pace and with numbers, simply overwhelming the opposition, with a  4 vs. 3 situation developing, just before Sturridge plays the pass.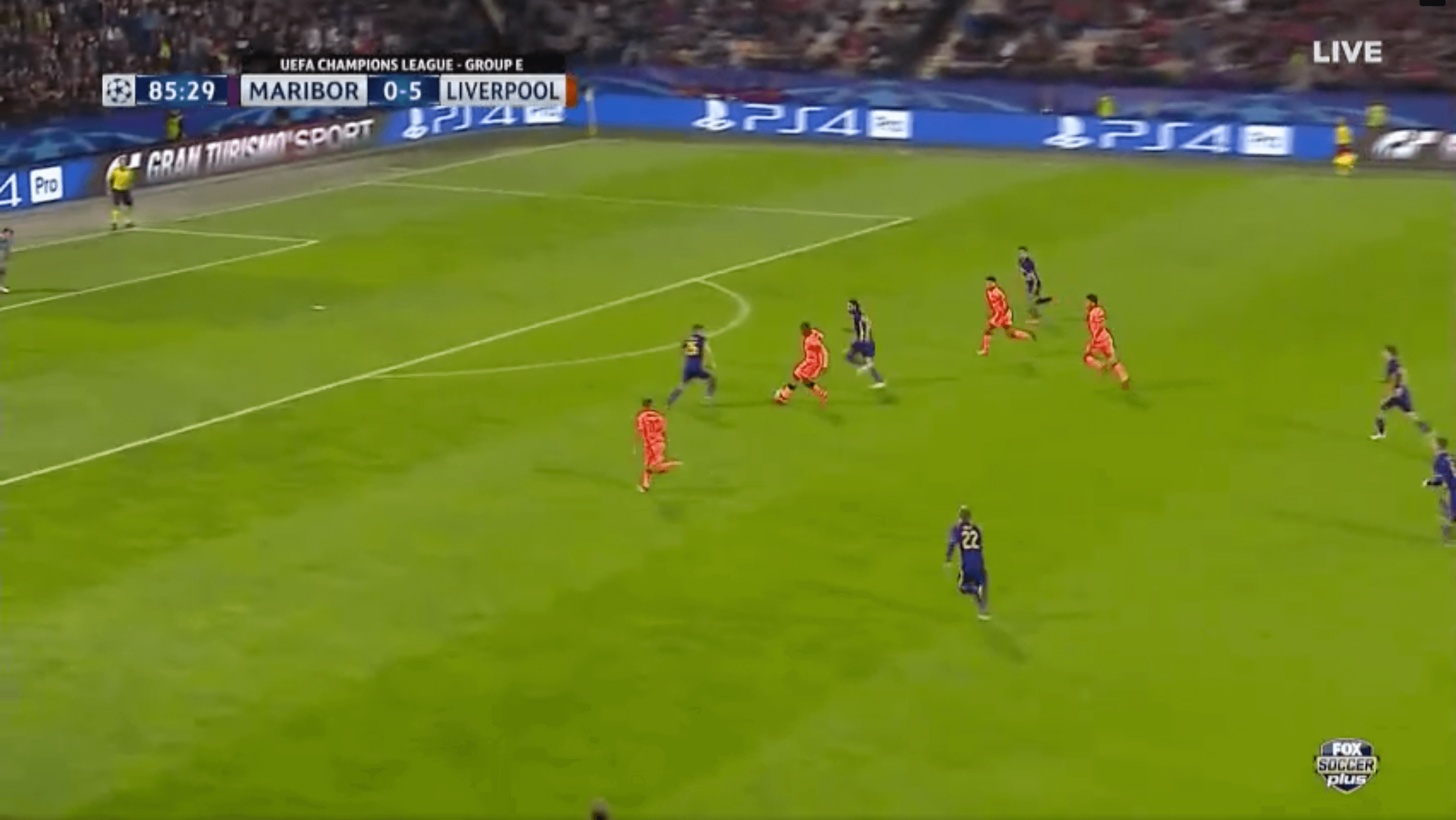 The counter-press to force Maribor back, late on in the game, and the numerical commitment is stunning, considering the team are 0-5 up, away from home, and it's the 86th minute of the game.
This goal is not because Maribor are poor, it's because Liverpool were tactically better, and had a point to prove. The attitude that this goal exemplifies is admirable and exactly what every fan should hope to see from their team.
Chamberlain finished with aplomb, scoring his first, of what we hope will be many for Liverpool.
0-7, Liverpool, Alexander-Arnold, 90′
Trent's goal in itself may not be particularly remarkable, but the sustained, unrelenting probing pressure with the ball preceding the goal was seriously impressive, with Liverpool still hunting for more goals – the sign of a mentally aggressive and determined team.
The goal came about from a loose Maribor header, following a clearance, which Coutinho, in his central role, picked up.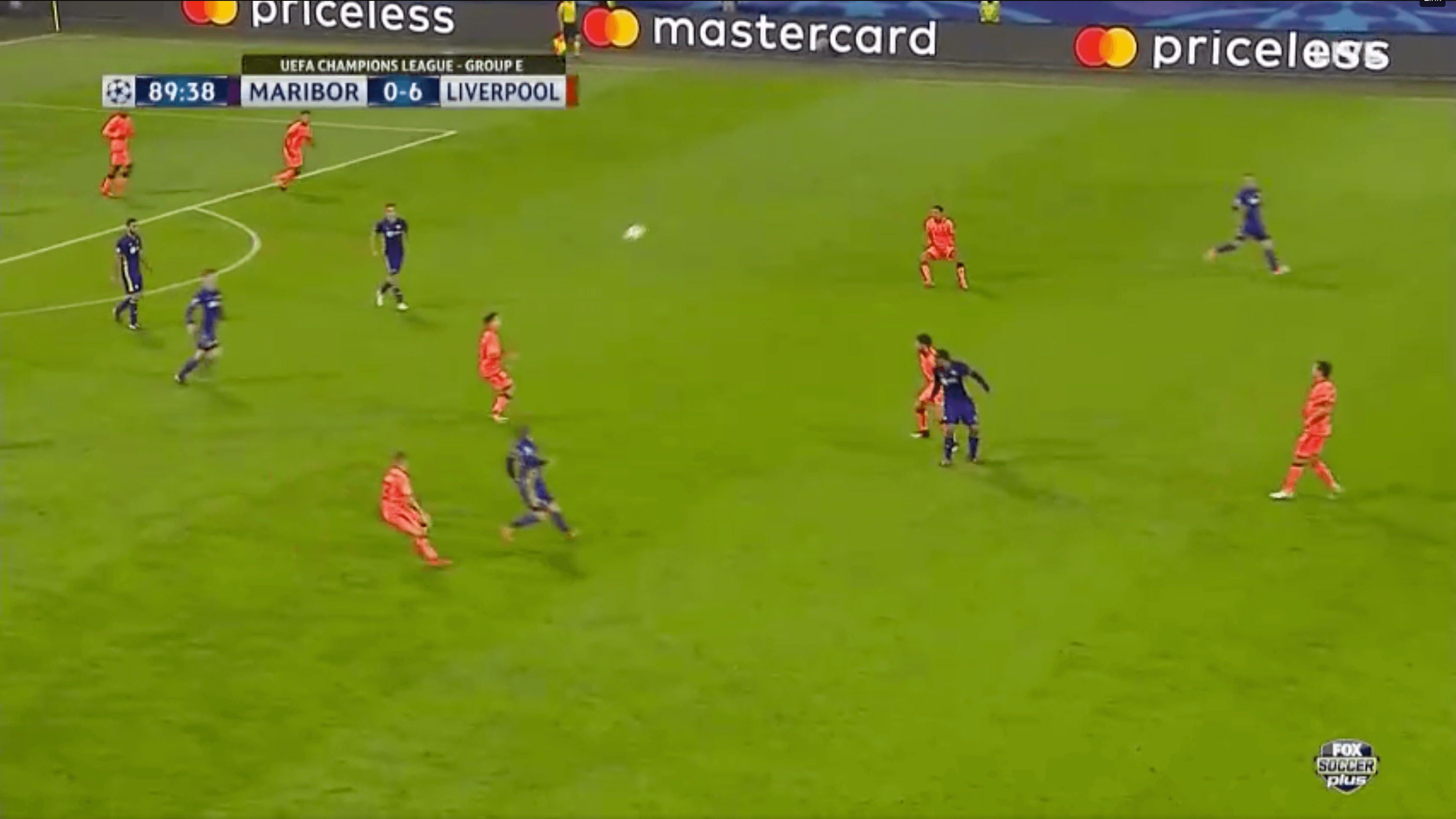 One thing we can note here is the positions of the players – with Solanke taking up a classic '9' position, Milner pushing forward, in a wide position on the edge of the box, and Sturridge just inside the box. All three players are meant to displace or draw out defenders from the back line, and the presence of Sturridge in particular, provides Alexander-Arnold with the space to shoot, and he gets a fortunate deflection. But as the saying goes, if you don't buy a ticket, you won't win the raffle. And Alexander-Arnold certainly won the raffle with this strike.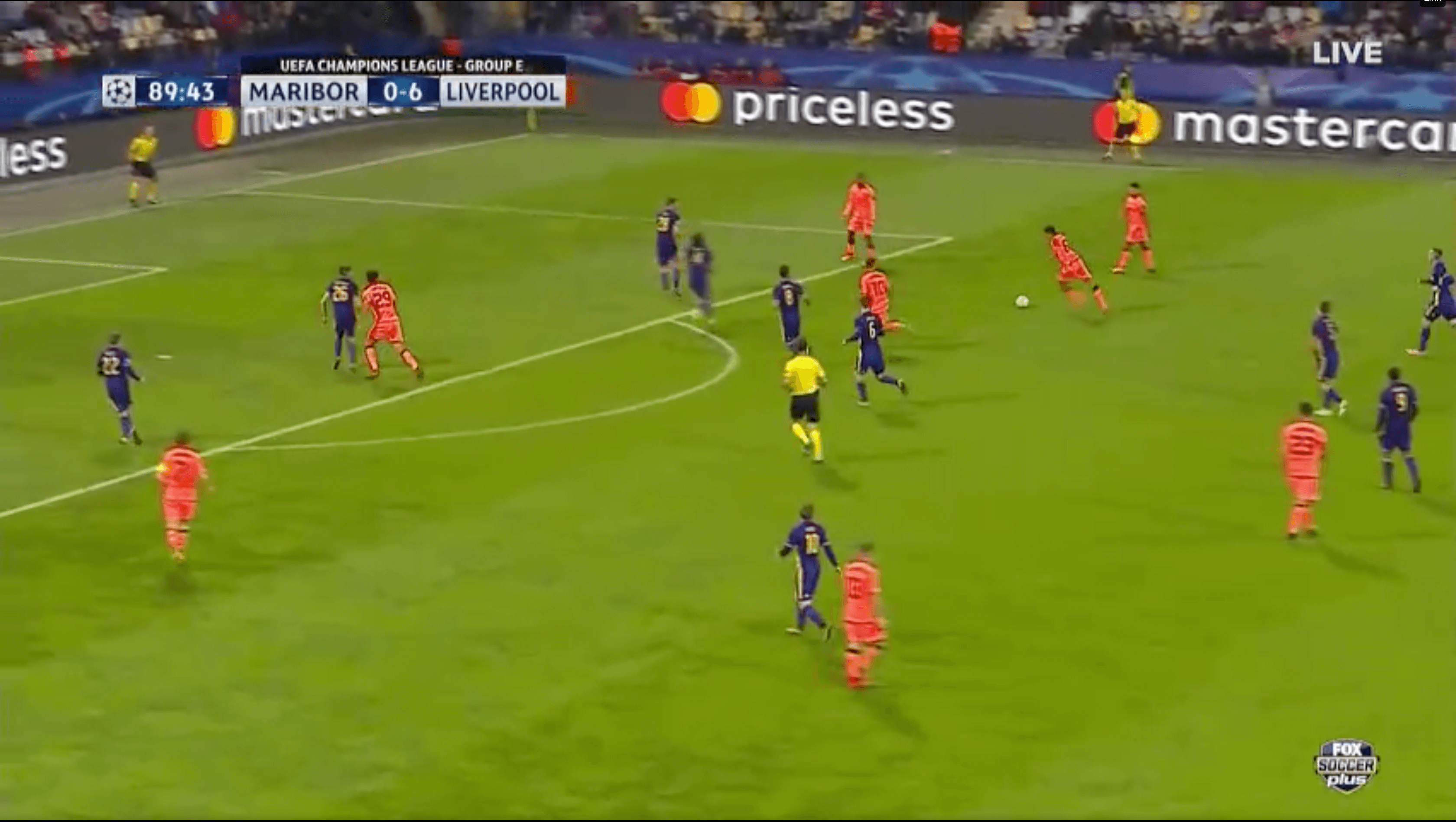 Final thoughts
After a disappointing run of results that did not wholly reflect Liverpool's performances, over September, this win was a welcome one. Admittedly, Maribor are not qualitatively of the level that are expected to challenge Liverpool, but whilst Liverpool did score seven goals, most important was the effectiveness of the tactics and the mentality of the team. The success of the tactics illustrated that what Liverpool have been doing over the past month is still the best approach going forward, and will pay off, whilst the unremitting attitude of the team, and commitment to hit seven past Maribor, where other teams would have relented is truly commendable for a team that looked bereft of confidence.
If Liverpool can show the same level of tactical awareness, aggression and commitment against Spurs, Liverpool will certainly be on their way to three points, and the same is true of any other game this season.