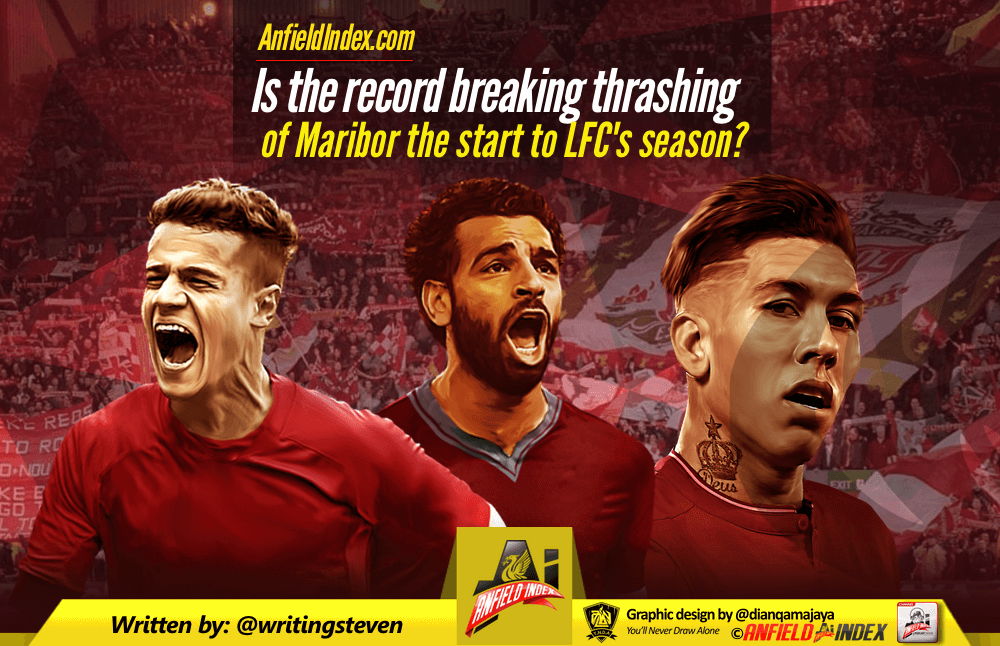 Is the record-breaking thrashing of Maribor the start to Liverpool's season?

It was coming. Somebody was due a thrashing from the twenty-odd shots a game Redmen. Unfortunately for Liverpool's Champions League opponents Maribor, they were the unlucky recipients. They were well and truly put to the torch. Liverpool's 7-0 victory the highest away score of any English team in Europe, in history.
The tonking/smashing/beatdown/destruction (insert word of choice for 'tearing apart of opposition') of Slovenia's champions was a result long coming. Liverpool have felt on the verge of this – this being completely turning over an opponent – for some time now. Despite what the detractors may have told you.
They will have keenly pointed to 1 win from 8 as proof that the team was failing. As evidence of profligate forward players failing to convert chances and error-prone defenders knocking off when it mattered. As a stick with which to beat a club that failed to sign its biggest summer transfer target.
Taken in isolation, the evidence supplied by those who knocked Jurgen Klopp and his team held validity. They did indeed miss chances. They gave away sloppy goals. They started this season – Arsenal aside, in stark contrast to the blistering early form of last season. They ran/sprinted/pressed less. There was smoke, but no fire. The evidence was clear. However, in isolation, is where that evidence should remain.
Yes, Liverpool only had 1 win in 8 coming into this game. But they also only had 1 loss in 7. Manchester City and all of its mitigating circumstances aside, Liverpool had dominated every game in which they had played this season. Sure, they were missing chances, but they were creating shedloads.
If you thought about it, the whole 'running around less' thing seemed intentional too. Did anybody really believe that Jurgen Klopp would be completely unaware that it was happening? Or aware but unable to do anything about it? Liverpool's exhaustive pressing last season seemed to leave them, well, exhausted.
With this in mind, it could be argued that Jurgen Klopp has in actual fact learnt his lesson from last season and has been building towards this very moment. Because Liverpool have started this season in similar fashion to how they ended last season; they just haven't caught the breaks along the way.
They've been more considered, more deliberate, less free-flowing and all action as at other times in the German's tenure. If you ask me, they've been conserving energy. Trying to avoid the winter crash of last season. Trying to avoid blowing themselves out early. Trying to peak at the right time. That time appears to be now.
The international breaks for games of meaning are now out of the way. A couple of friendlies aside, we now see a consistent period in which domestic football dominates. A time where Klopp can do what Klopp does best, coach his team on the training pitch. Now is the time to hit a run of form, rolling from game to game almost uninterrupted.
It feels like the season started against Manchester United. The real Liverpool turned up for that game, and then again on Tuesday night against Maribor. Two clean sheets in a row, seven goals scored; red (well, orange) shirts running rampant. The defenders have kept a £90 million striker in check. The midfield has dominated and Bobby Firmino's knocked in a couple of goals. Sadio Mane has not been missed.
The spark has finally been ignited. Now it's time to fan the flames and burn the rest of this season to the ground.