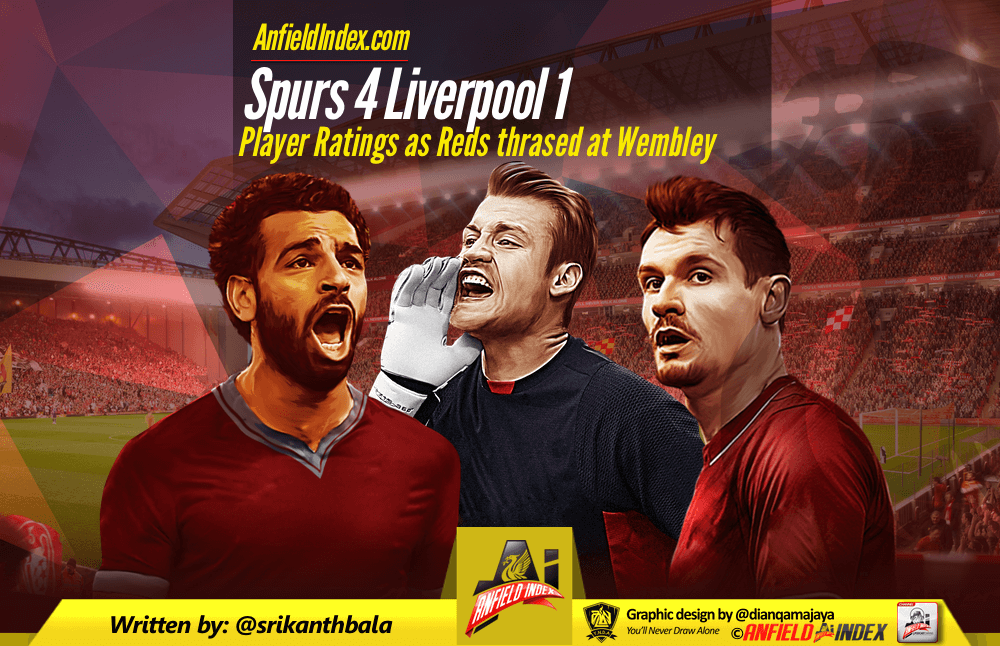 Player Ratings as Liverpool are thrashed at Wembley
On a day where Premier League records were set for attendance and fixture with the most goals, Liverpool were beaten, and beaten hollow by an enterprising Spurs team. The error-filled Liverpool's defence gifted goals like charity and paid for it.
Read below if you care about ratings after such a performance.
Simon Mignolet (2) – Really poor decision making for the first goal. As a keeper, if you make a decision to charge out, you need to win the ball, else you are in real trouble. He was constantly put in trouble by his shambolic defence through that entertaining first half; not what you want as a nervous keeper. The second half was not much different with yet another Mignolet error leading to a goal. Time for Karius?

Joe Gomez (4) – Started at right back, but midway through the first half had moved to centre-back. He struggled to cope up with the incisive attacks from Spurs and with the centre-backs having a torrid beginning, he was put under undue stress. Gomez seemed to understand the basics of defending though, often using his body strength, positioning and pace.
Joel Matip (2) – In an ideal world, the Liverpool centre-backs go unrated, but hey, the world is not ideal. Stood appealing for offside for the first goal instead of covering Harry Kane. Was left isolated on a 2-on-1 attack for the second goal and incredulously decides to head the ball back into the danger area for Spurs' third goal. The centre-back was nowhere in the picture as the ball moved from one Spurs player to another in the box for their 4th goal.
Dejan Lovren (0) – Possibly the beginning of the end for Lovren as he suffered the most horrendous half an hour of his Liverpool career. Constantly attacked the ball and missed it. His errors led to the first two goals and led to Klopp making his earliest sub in living memory.
Alberto Moreno (5) – Had a decent game, considering the result and performance. Was available to attack always and enjoyed his wing-back role considering his natural flair to attack. His crossing was way below his usual standards though.
Jordan Henderson (4) – Very poor defensively, especially in the first 20 minutes as Spurs by-passed the midfield with ridiculous ease. Redeemed himself partly with his great pass for Salah's goal. Was pretty average post-Liverpool's goal.
Emre Can (4) – Can started in the midfield, and had his very common slow start as Spurs waltzed into a two-goal lead. Can then switched to the right-hand side of the back three. Gave away the ball far too easily on a couple of occasions and his clumsy foul at the stroke of half-time resulted in Spurs restoring their two-goal lead.
James Milner (4) – Peripheral on the night, to the extent of not being noticed. The whole midfield put out a poor performance, and Milner was no exception.
Philippe Coutinho (6) – Had a decent night and deserved a goal, if not for Lloris' brilliant goalkeeping. Always looked to release Salah at every instance. Lost the ball on a few occasions but at least he kept his head up.
Roberto Firmino (5) – Another off-day leading the line for Liverpool as Firmino struggled to have any impact on the game. Firmino often went wide as Salah moved into the middle. Questions remain if Firmino is indeed the answer
Mohammed Salah (7) – Salah continues to be Liverpool's beacon of hope game after game, week after week. Every team has struggled to cope up with his pace and directness and Salah delivered yet again against the run of play. Spurs often had 2 or 3 players marking Salah, and that should be a compliment.
Substitutes
Oxlade Chamberlain (5) – Brought into a tough situation yet again, as he played on the left side of the attacking three. Showed incisive pace and drive to carry the ball into dangerous areas, but his final ball let him down. Deserves starts now after the bedding-in period.
Daniel Sturridge (N/A) – Heard his name once.
Marko Grujic (N/A)