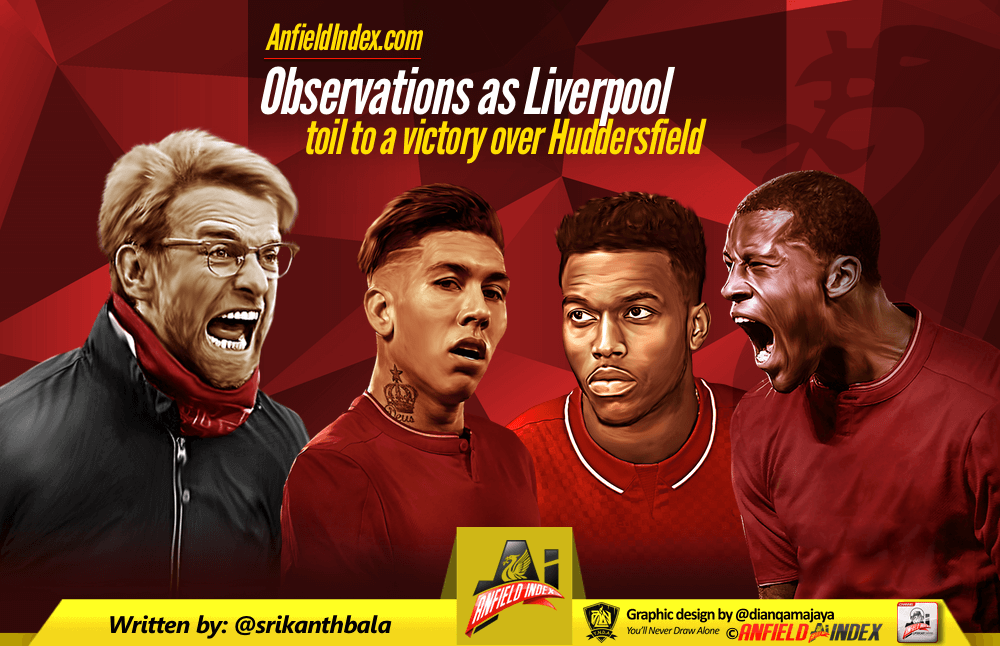 Observations as Liverpool toil to a victory over Huddersfield
Liverpool toiled hard but eventually came out with much needed 3 points. The key takeaway moments from today's game.
The Team Sheet
The Liverpool fanbase were waiting with bated breath to see how many changes would be affected by Klopp. Ultimately it turned out to be not many, especially in the hotly debated positions. There would be a late twist in the tale though, with Lovren pulling out the last moment to be replaced by Klavan. Not the start Liverpool would have hoped for.
Lack of Tempo in first half
Huddersfield were very content to sit back and absorb the expected early pressure from the home side. Liverpool were very slow and flat, to begin with, and that only got worse as the half wore on. There was no intent from Liverpool, especially from midfield. The midfielders, especially Henderson passed the ball without any idea in mind and with zero width Liverpool struggled to carve Huddersfield open. Liverpool got a lucky break with the penalty but that was saved quite easily. The half ended with a scoreline which no Liverpool supporter wanted. 0-0.
Some stern words from the Manager?
It was interesting to observe how Liverpool started the second half as there was an immediate difference in tempo. The ball was moved quickly and the attackers made attempts to prise open spaces and Liverpool were rewarded with an early goal from an icy cool Sturridge, who was in the right position yet again and calmly dinked it over the keeper. The floodgates were opened and one led to another as Firmino headed Liverpool into a two-goal advantage.
18 Home Goals, 0 Away
Liverpool scored the third goal from the Premier League's hometown hero. A thunderous shot cannoned into the goal off the crossbar as Gini Wijnaldum extended his unique record of scoring home goals in Premier League. 18 home goals, none away. Maybe one for Guardian's Knowledge page?
The Week Ahead
With Liverpool recovering from the mauling at Wembley, it will be an interesting watch as to what lies ahead for the Reds this week. Liverpool play Maribor at home, which they should be winning followed by a visit to the Olympic Stadium to play a yo-yo-ing West Ham who just dropped points after controlling the game against Crystal Palace with a two-goal lead. Liverpool have a solid chance of ending the week with 3 consecutive wins. Will they? I hope so!