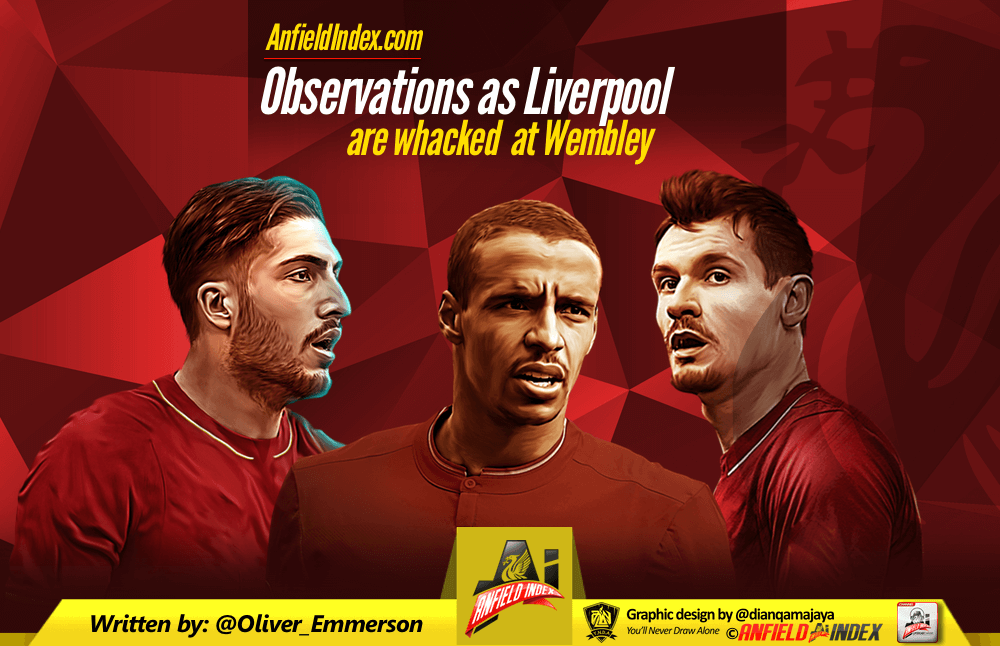 Observations as Liverpool are whacked at Wembley

I'm going to level with you all, in my good honest way.
Racing back from Goodison (at least we can laugh at Everton) to watch this one, with the rain lashing down on my phone screen until I got in for the last 30 minutes on a telly, my analysis of this drubbing may not be as detailed as on another occasion.
However, when you lose 4-1 to a team that you're meant to be 'at least as good as', certain observations aren't so hard to make. Here are mine, summed up in 10 short points. (Or the 10 big points that if Liverpool had extra, we still wouldn't be top).
Dejan Lovren: Where do you begin? Probably with those two shocking mistakes. How anyone can justify his place at the club, let alone in the team, is absurd. Dragged off after 30, we'll probably be told it's through injury. I suppose having no defensive brain could be classed as a head injury.
Poor Alberto Moreno: The poor lad. Worked so hard has our Albie, to finally be a left-back that cannot only attack but also defend. And all of a sudden, everyone else around him seems to drop down another level as if it were possible.
Admiring Harry Kane: I love Roberto Firmino but as the weeks go by I am increasingly moving over to the 'proper striker' club. There are players out there that can fit Liverpool's style and score 30 a season, the two things aren't mutually exclusive. Liverpool were bad but Kane capitalised in his typical ruthless way.
Twelve points: Twelve points off the leaders. Twelve. Manchester City were running away with it anyway, but twelve points off and it's not even November yet. Come on lads. Top four and a cup is probably the best Liverpool can hope for, apologies if that's a bit too 'Arsenal' for your personal desires, I feel the pain too.
Emre Can isn't a right-back: Never has been, never will be. The 'send him to Juve lads are extremely wrong' but it's hard to argue against them when Klopp sends the German to a position that, when he last played in it, we lost 6-1 to Stoke. Milner could have gone there, Gomez could have stayed there with Can at centre-back. Bizarre.
Missing players: Maybe we shouldn't overreact. This is me trying to be calm about it. No Clyne, no Lallana, no Mane. But especially after Manchester City, defeats like these can't be forgiven.
Joel Matip: Don't worry, I wasn't going to give Lovren both barrels without mentioning the other chuckle brother. On his day Matip is a lovely footballer, but he crumbles under pressure like a soft dessert. Poor against Spurs, but there's nobody to come in for him. Unless 56-year-old Estonian's are your kinda' thing.
What's the point?: What's the point in anything if we're not going to win the league! What's the point in winning games and enjoying football! Okay, sarcasm over. But seriously, what is the point in this magical attack if the players behind the attack are mush? Liverpool won't go anywhere fast until the defence is fixed, but we knew that already. The question is, does Klopp know how to fix it?
A change in formation: Is it worth it, will Klopp try it? Who knows. I'd take a diamond formation or five at the back over the 4-0-3 midfield we're playing at the moment, midfielder's disappearing all over the place.
221: A positive one to finish. 221 days until Naby Keita becomes a Liverpool player and we win the Premier League, Champions League, World Cup, Who Wants to be a Millionaire, A game of Monopoly and perhaps the Nobel Peace Prize.
Roll on Huddersfield.