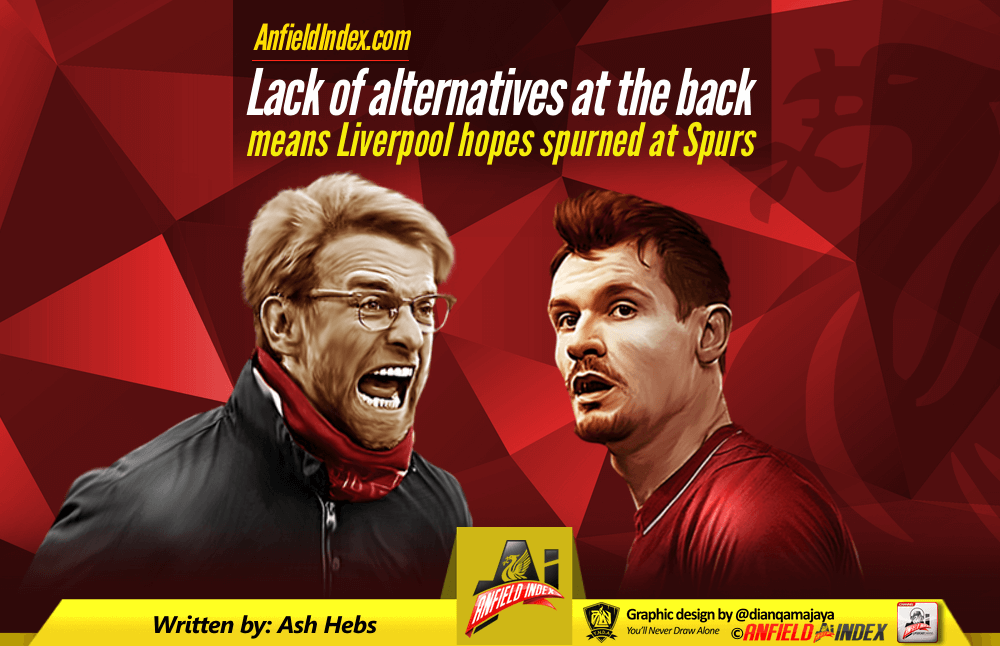 Lack of alternatives at the back means Liverpool hopes spurned at Spurs
Coming into this big game hope was renewed for Liverpool supporters after a thumping win at Maribor, with Spurs coming in heavy legged after a tough clash in Madrid in midweek. But within 5 minutes of kick-off, it felt like this was going to be another one of those days and so it proved.
To make things worse Spurs didn't have to play that well to dismantle us as most of the damage was self-inflicted from totally innocuous situations. Once again too many players showed their poor in-game decision making and switched off at the wrong moments. The game turned into a canter for Spurs.
The chief culprit today, not for the first time, was clearly Lovren who was rightly hooked before halftime. When he reverts to type it makes Klopp's decision to go into this campaign with Klavan and Gomez as backups look naive at best.

Only Klopp knows what really happened in the summer. But with each passing week, the dropped points due to sloppy defensive errors, compounded with our inability to kill off teams, is resulting in too many dropped points and making the summer defensive transfer (in)activity look negligent. Clearly, Klopp has to show faith in his players so cannot hang them out to dry, but rest assured he will be as livid as the fans right now.
What Klopp perhaps didn't reckon with was that our players' limitations are now so well known by the opposition and even the big teams know how to get around our game plan to expose our poor defensive structure, as we have seen against City and Spurs.
What is also becoming evident is that the form we showed between August and December of 2016-17 was not a true representation of this team's level. It set an unrealistic expectation to soon and this is now hurting Klopp.
With weak links like Mignolet and Lovren in this team, a mistake is never too far away and when that happens it affects the whole team. We have too many players who make the wrong decision at the key moments and from Klopp's perspective, I sense that the time for patience is over. No amount of coaching is going to improve certain members of this squad. It's now about mitigating for their weaknesses.
Lovren, for example, was signed based on his form at Southampton which was so good virtue of the protection he received from two deep-lying midfielders in Wanyama and Schneiderlin. He simply cannot perform consistently in a fluid 433. Maybe the manager needs to modify the system as he did in last season's run-in.
Whatever he does, I think Klopp has to now pull through as best he can until January and use the winter window to start bringing in the calibre of player he was looking for in the summer. He also needs to make this team more solid to stand a chance of attracting the future players to push us to that next level. Otherwise, he risks several existing key players casting their eyes to greener pastures.