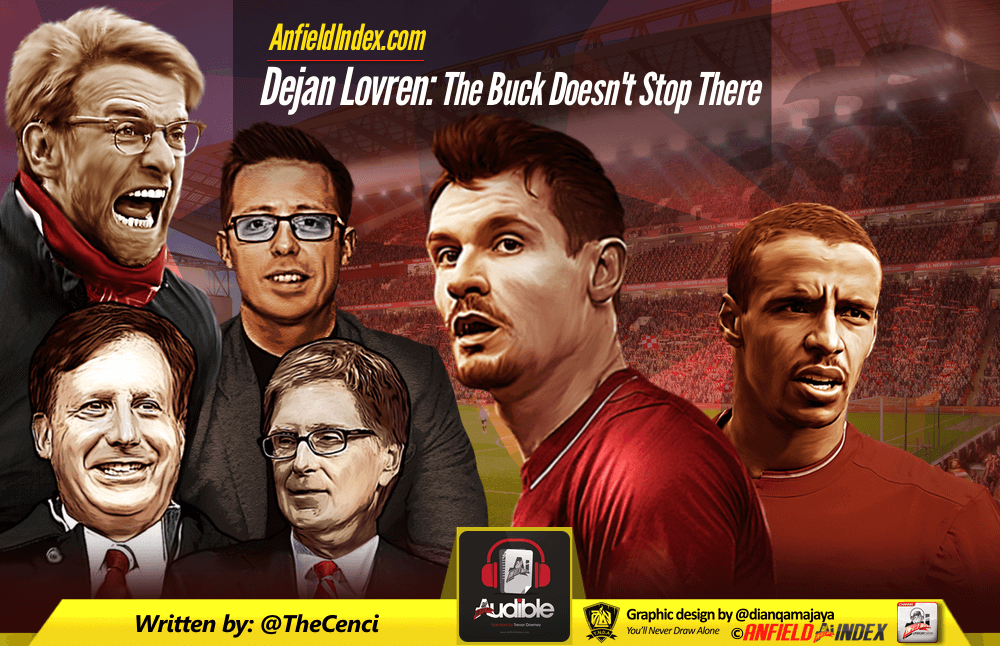 Dejan Lovren: The Buck Doesn't Stop There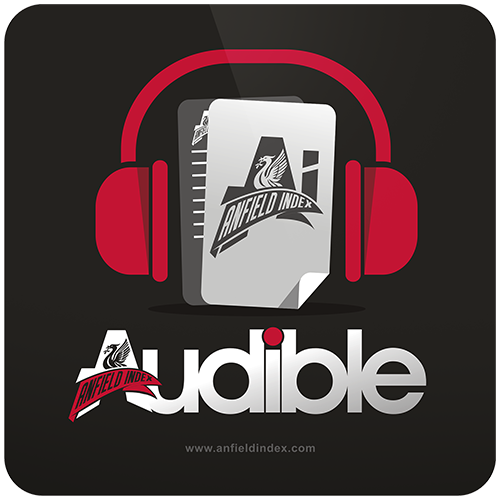 Listen to this article via @AIAudible !
Sometime after 4.15pm yesterday, a collection of mumbles, conversations and downright vitriol ran around the away section at Wembley.
'He's got to take him off.'
'We're going to get battered here. Fuck's sake, Jurgen.'

'Get that useless twat off now!'
Later on some people speculated that Dejan Lovren's was the worst performance ever given by a Liverpool player. That got me thinking. My mind flew to a John Arne Riise display at Craven Cottage years ago when I seriously wondered if he were deliberately passing to his mates in the crowd. His compatriot Bjorn Tore Kvarme was equally woeful in the Goodison derby of October 1997 and gave them the game before doing the same for United a week later. Then there's Jon Flanagan's at Blackburn Rovers in 2012 though that did come with some comic value. Dishonourable mentions go to the corner dropping Adam Bogdan at Watford away and Emre Can's first-half performance at the 6-1 Stoke game which should have ended Brendan Rodgers' tenure as Liverpool boss but didn't.
Dejan Lovren may well have topped that list had he been allowed to remain on the pitch longer than his allotted 32 minutes. His manager said that he could have taken off anyone and it wouldn't have made any difference as we conceded two more without him on the pitch, but that's just him protecting a player whose confidence was already on the floor. Even Dejan would admit that he stank the ground out yesterday. You could see it in his face as he made the walk of shame.
It's since been written that this is the end of the line for the Croatian and now that the manager has all but said that defensive places are up for grabs, particularly as Joe Gomez has settled in quickly despite being fourth choice as of only a few months ago, it looks like we may not see him until the FA Cup begins in January. He's been injured, of course, so this may be the time to fully recover rather than patching him up and shoving him onto the pitch again.
Some have even suggested that there were too many painkillers in his body and that somehow got into his mind and affected his reason. This is surely unlikely. The first team are subject to a rigorous medical overview before stepping onto the turf and there's no way they would allow a hopped up, heavily insured asset onto the pitch if he was out of it. If they did, then there are more to blame than the man himself.
Of course, this is not the first time Lovren has gifted goals. In a heavy home defeat to West Ham in August 2015, he tried to be cute in a challenge near the corner flag with Manuel Lanzini when putting the ball out for a corner would have been the better option. Instead, he lost the challenge and, one square ball later, Liverpool were 2-0 down and on their way to their first home defeat to the Hammers since the early 60s. This is just one example in a list of crimes.
That said, the manager has a point when he says that Matip was no better. The header for the third goal was a ridiculous error for a man of his standing to make. Every schoolboy and amateur player knows that you do not head a ball out towards the attack in that position. You either play it wide or sacrifice a corner. Instead, with his head at a ludicrous angle to even attempt such a clearance, he nodded it down to a gleeful Dele Alli. We can also add the goalkeeper to complete this triumvirate of mediocrity. What he's doing for the first and fourth goal is anyone's guess, but back to Dejan.
When Liverpool captured his signature there were plenty of pundits applauding the deal while celebrating the fact that the pro-am wrestling days of Martin Skrtel were finally at an end. However, it quickly became obvious that for Lovren to excel in his position –as he did for Southampton- he needed Morgan Schneiderlin in front and a shouter alongside him. Lovren came to a club with neither. Slaven Bilic, who gave him his first international caps, has pointed out that there are two Lovrens – the player and the leader – and he is incapable of performing both roles simultaneously. He is either a centre back or a captain. At the moment he is neither.
Some blame has to be levelled at those higher up in the Anfield hierarchy. His manager claimed that he was happy with the four centre-halves he had at his disposal back in August when the club characteristically failed to tie up the signing of Virgil van Dijk. Well, those birds have come home to roost and the realisation of that error showed in Jurgen's face yesterday as the calamity continued in front of him. If his second best centre back can collapse like that and Ragnar Klavan is persona non grata, then the intervening months between now and the January transfer window are seriously going to hurt this season and may even destroy it.
But we can go even further. Since Jurgen Klopp took over just over two years ago, 'he' has spent just £12m on defenders for a side with woeful options. That can be levelled at the manager if we are to believe that he alone is in charge of the transfer policy though that is open to question. That player, incidentally, has barely played for the first team despite performing well.
Is this just a blind spot or does it point to a more serious flaw within the club? Well, I've read an email from a key figure at FSG claiming that there were no defenders available in the market. There were plenty. That email was sent four years ago. Someone somewhere is being given duff advice and, more worryingly, the other partner believes it. That appears not to have changed. The disconnect remains.
And just what is Michael Edwards doing about this? He too would have seen Lovren's performance and – being in charge of transfers – must have acknowledged that the Liverpool players are simply not good enough to challenge for major honours as yet another League campaign fizzles out to nothing. Where was he when the boos and catcalls were meted out at Wembley?
Dejan Lovren may never play a serious game for this side again but he alone is not to blame for this current cavalcade of shittery. He alone cannot be blamed for the lack of attention span amongst the back four and keeper. He cannot be blamed for a midfield who have no idea how to protect those behind them as evidenced by that third goal yesterday when not one player went out to block Alli's shot and he cannot be blamed for a transfer structure so inept that it would be dismissed by other clubs in weeks yet is allowed to continue at one of the biggest clubs in the world.
One final thing and it's something that angered me even more than that display on Sunday. Yes, Dejan Lovren is a poor player and, no, I don't want to see him anywhere near the first team ever again, but hounding him on social media to such an extent where he changed his Instagram settings is as childish as it unbecoming. We should be better than that. I don't like him as a player in my time but I admire how he has picked up his life from his days as a refugee when his home village of Kraljeva Sutjeska was bombed mercilessly so he deserves better than that. Criticism is fair but witch hunts are for crass and imbecilic.
Protest at Dejan Lovren all you want, but sometimes fingers have to pointed in more than one direction. Personally, I'm pointing at those who put him on the pitch and those who decided not to replace him or put better options at his side.
Wembley highlighted a club-wide problem, not just the shortcomings of one man.