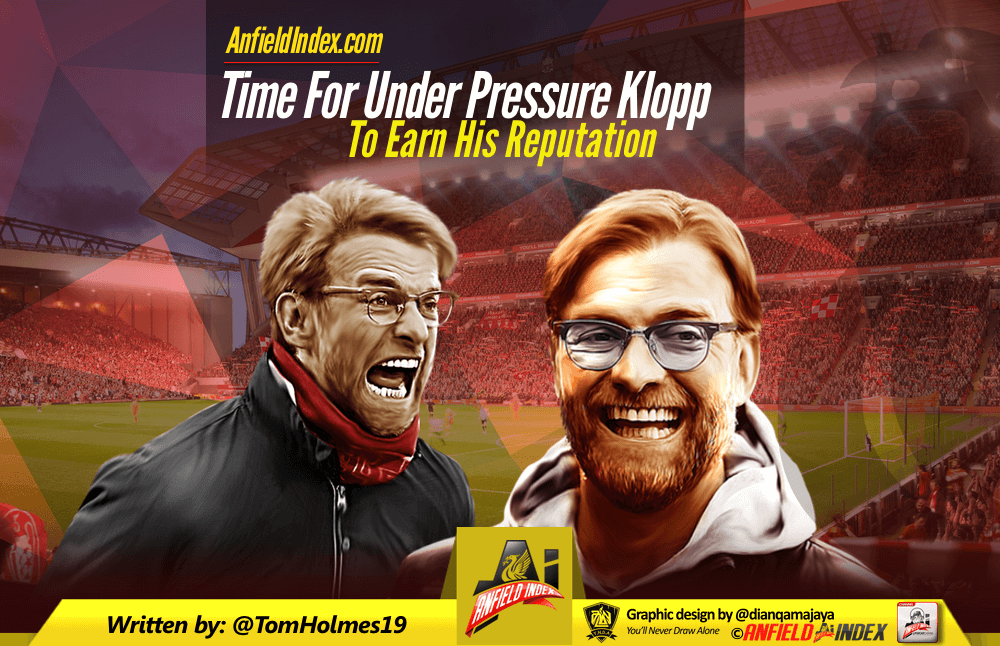 Time For Under Pressure Klopp To Earn His Reputation
Liverpool's lacklustre start to the season has threatened to escalate into a serious issue. The Reds have won just three of their opening nine league games, and just one of their opening three Champions League fixtures. The situation remains far from disastrous, they're still in pole position to top their group in the UCL and securing Champions League football for next season remains very much on the cards in the league, but two heavy defeats to rivals Spurs and Man City have ensured that the Reds are on the back foot. And for the first time, Jürgen Klopp is under pressure.
To clarify, Klopp certainly isn't in danger of losing his job at this stage. It would be a big surprise if the German wasn't in charge of Liverpool in 12 months' time and he remains very much the man for the job. But his honeymoon period is well and truly over. His second season at the club was a success, but not a massive success, and he remains trophy-less heading into his third season. Having secured Champions League last season, anything less than a top four finish and a decent Champions League run has to be considered a step backwards, even with the squad looking healthier after each transfer window.
But the painful truth is that at this moment Liverpool are not moving forwards. After a great league finish last year, and a decent summer, the hard work simply isn't paying off and there remain serious concerns about Klopp's team. Sunday's battering at the hands of Spurs is being seen by many as a watershed moment, and for Klopp's sake it simply has to be.
Dejan Lovren and Simon Mignolet showed once again that they are not fit for purpose and whilst both players have fought hard for their spots under Klopp, with Mignolet in particular having an excellent six months at the back end of last season, both of them have regressed at the start of 2017/18. Whilst they are not the only issues in this team, they are the most obvious ones that need fixing, particularly with the spectre of Naby Keita looming to fix Liverpool's midfield issues by being the best central midfielder Liverpool or indeed the Premier League has seen since … well Gerrard.
But the crux is this: questions are now being asked of Jürgen Klopp, serious questions, and they are questions that need to be answered. Liverpool are conceding too many goals, not scoring enough, not pressing properly and look tired. The team is short on individual quality and has lost the fantastic team dynamism that worked wonders for them last year.
Up until now, Klopp has had two possible options: get the system working the way he wants it to, or try something different. At this point, it's fair to say that the issues aren't going away, so the pressure to change the way he's playing will just grow until either Klopp does change something, or the system starts to click again. So what are Klopp's solutions right now?
Well the first thing to note is that I don't think anything that's happening changes Klopp's plans for January. I find pointing out that we need a CB tedious since it's obvious that Liverpool will make another move for Virgil Van Dijk as soon as they possibly can and probably one of the various central defenders available on a free next summer. It's frustrating that they aren't already playing in red now, but we can't sign them now so people might as well shut up about it, especially since it's been obvious to everyone with a pair of eyes for months now that we're a centre-back short.
Whilst it's clear that signing a centre-back doesn't entirely fix the majority of Liverpool's issues, it certainly solves the main one and that allows Klopp some time to assess the other problems and their magnitude. Our attack hasn't been at full throttle but it's hard to gauge how big a problem that was against Spurs because Lovren and Mignolet were shambolic and Liverpool conceded four awful goals.
So what can Klopp do until then, and what should he be doing to try to mitigate the damage?
Well the first thing that Liverpool need to do is to get the press functioning again. Whether it's a tactical choice by Klopp, or whether the team is just dead on their feet it's difficult to say, but certainly there has been a significant drop in pressing and that has had a very negative effect on the pitch. When pressing is the cornerstone of both your attacking and defensive game and it goes missing, everything else has to function better, and right now it isn't.
The second thing that needs to happen is that Liverpool need to tighten up at the back. If our vibrant, attacking style can't function properly then we need to find a way to go the other way. Whilst we were not particularly great in the back end of last season for large swathes, there's no denying that we were able to grind out results, and we have the quality in Salah and Coutinho to unpick any defence.
One thing that will help both of these things is the return of both Adam Lallana and Sadio Mane. Whilst it's fair to point out that two injuries to key players shouldn't be enough to cripple Liverpool, it's also academic. Having these two back in the side, as they hopefully will be before the busy Christmas period, will be a huge boost for Klopp.
And finally, Klopp needs to bite the bullet and drop Mignolet. I still think that Lovren, if he's fit, is Liverpool's best centre-back option until January. I also think that right now it's obvious Lovren isn't capable either physically or mentally of playing for us, so either Klavan or Gomez needs to fill the gap until either January rolls around or Lovren is in a state to play.
As for goalkeeper however, Loris Karius simply has to be given time. Dropped after making a couple of big errors early last season, Karius has played a bit part role for the club, but is a young keeper and the only way he's going to improve is by spending time in the middle with his defence. Perhaps Klopp was trying to build his experience and confidence slowly in the UCL, but the time for that is over. Karius may not be an immediate improvement on Mignolet, but by the summer he should have made significant progress.
Ultimately, these are all suggestions, albeit to me logical ones, as to how Klopp can improve this Liverpool team but truthfully it doesn't matter what he does as long as it works. The big issue for Liverpool at the moment is the results, and whilst I don't think there need to be drastic changes in order to improve this team, there certainly needs to be an improvement and quickly. Klopp has had more than enough time to address Liverpool's issues but he has put his faith in mediocrity and unless he changes that, he will not be winning trophies with Liverpool.
The rub is this. Liverpool are now 12 points behind Man City after nine games, which means that Klopp is facing an almost impossible task to win the title this year and it's only October. Klopp wanted time and promised results if we give him that time. I am a firm believer that Klopp should have the time that he desires and that if he is given it he will deliver trophies, but that has to be predicated on clear signs of improvement. Right now, Liverpool are in a spiral, a rut, a hole. And it's up to Jürgen Klopp to prove that he's the manager Liverpool fans think he is. He has to earn his reputation. And get us out of it.