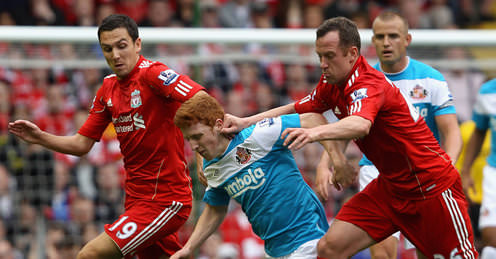 Season Opener Statistics | Liverpool FC
There was so much optimism, so much positivity preceding the  2011/2012 season opener at Anfield. Everyone was expecting a good performance and because it was an opening game at Anfield, everyone expected a win. Well we didn't get it, although it wasn't all bad, there was some superb pass and move football in the first half which made the second half even worse.
In the end if felt like the ice cream that you'd dropped on a hot summers day after the first taste. We were left wanting more however we shouldn't be disheartened. The first forty five minutes showed the type of football that Liverpool FC can play and will play once their squad is fully fit.
Now onto the stats – the stats below (a note of caution, some of these stats aren't good reading for some players but please do not judge players on one performance and give them a chance) we've split the stats up as usual with Passing, Duels and Shots etc. Take a look and drop us some comments with your views on them!

As you can see the top passer for the day was Jordan Henderson with a completion rate of 88%. However his total passes was quite low in comparison with Jose Enrique who hit 70 passes with a completion rate of 76%. Daniel Agger and Flanagan also had very good pass completions but the pass completion is not always an accurate indicator of how a player has played in the game. It can usually give you an idea if the player kept the ball well or not and these are more impressive if the total number of passes are high like however even that sometimes deceives.
If you take a look at how the players have done in ground possession duels (usually an indicator of how often they are challenging other players and winning) and then combining these results with the passing will give you a little more context in how the player performed.
The table shows that the weak performances when challenging for 50-50's were from youngsters Flanagan and Henderson. It's not something that makes them bad players overnight as both Henderson and Flanagan put in amazing performances last season and also had impressive stats last year. However they did seem off the boil today. Flanagan and Henderson were both left ball watching for the goal when one of them should have been a little closer to Larrson. They also didn't defend together very well in the second half and you could tell as it seemed like total strangers playing on the right hand side for Liverpool, an area which is usually very strong.
The left hand side was a totally different story. Jose Enrique performed well today, well going by the statistics he did. 100% ground duels won, 100% aerial duels won, 100% tackles won and a 76% pass completion. It shows solidarity and strength and to be honest Sunderland may have crossed the ball from the left for the goal but the fault was totally in the marking of the scorer of the goal. Enrique didn't put a foot wrong and even shielded the ball out of play of five occasions today. Andy Carroll and
A few players had good stats in the air on the first day of the season with Carraghar, Enrique (again), Adam, and Carroll shining. Carroll's stats were the most impressive as he won all nine of his aerial duels! John Flanagan lost his only one whilst Dirk Kuyt failed with all three aerial duels in his brief performance.
In the tackling stakes both Charlie Adam and Jose Enrique made 3 tackles each and both won all three.
The shooting stats are pretty depressing really. Only three shots on target at home? Crazy, the first half promised much more but I guess the fatigue factor came into play. We definitely knew what we had to do, the first half proved that but as Suarez tired in the game it seemed Liverpool's chances of winning also were stretched. Andy Carroll's 6 attempts off target were the most by any player from the 2010/11 season (credit to @OptaJoe).
So what do you think about the stats above? Leave a comment below with your thoughts and context. They are always open to interpretation so let us know! Follow us on @AnfieldIndex – all stats courtesy of @EPLIndex (http://www.eplindex.com)