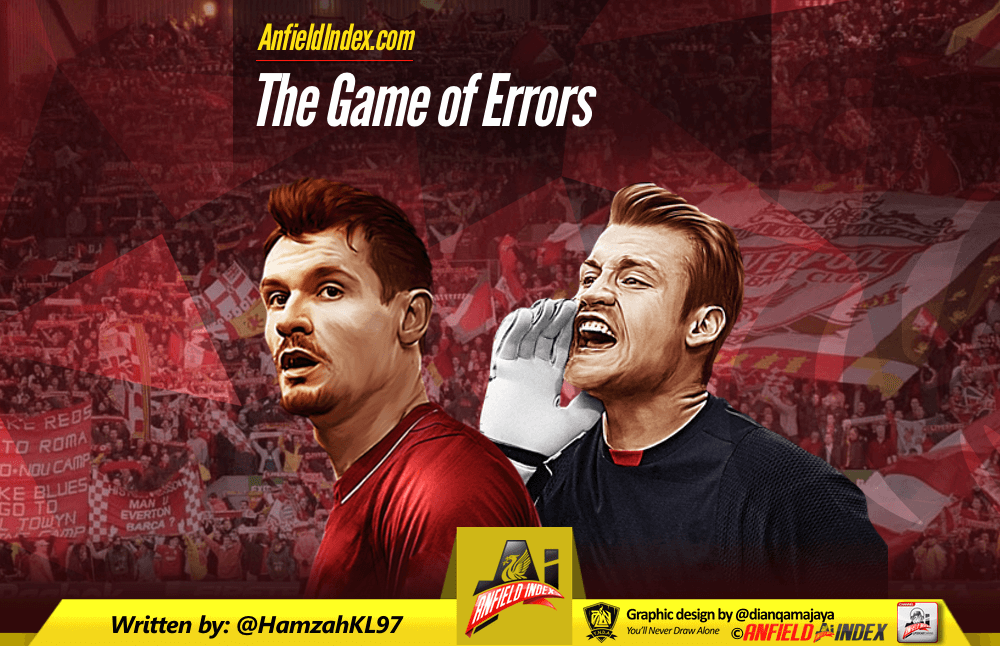 The Game of Errors - Spurs 4-1 Liverpool
I could scarcely believe my eyes, indeed, I was predisposed to turn off the television and hide. Yet even then, I couldn't bear to even cover my eyes, and instead watched in shock as Liverpool fell apart inside 20 minutes.
Twenty minutes later though, and Liverpool were a few mere minutes away from somehow getting through to half-time a single goal down, despite Spurs' early dominance, then came the killer blow; the goal that ended the match before the second-half had even started.
It's utterly unbelievable and unacceptable: every week I look at the Liverpool goals, and it's the same old story each time – an individual error costing Liverpool the points. I was sure it could not go on, but despite the odds suggesting otherwise, it still happens.
I really do feel for Klopp – how can you accommodate for the errors that characterise all four of Spurs' goals? There is no way Lovren is instructed to charge for a ball, on the half-way line, of which the overall offensive impact to Liverpool is marginal, and the threat to Liverpool defensively is total.
Here we are again though, and whilst the stats below are not totally reflective of the scoreline, I do feel there is a point at which I can stop giving players the benefit of the doubt, nonetheless, we'll be looking at the five goals from the game, and just how Liverpool managed to lose 4-1, to a team that they've had so much success against in recent years.
Stats:
xG
THFC: 2.63 (tegen), 3.0 (Caley)
LFC: 0.7 (tegen), 0.6 (Caley)
Shots (on target)
THFC: 14 (6)
LFC: 12 (7)
Possession
THFC: 36.2
LFC: 63.8
Touches
THFC: 560
LFC: 830
Passes (success rate)
THFC: 359 (87pc)
LFC: 629 (629)
Key passes
THFC: 7
LFC: 8
Passmaps & xGplot for Spurs against Liverpool. #passmap #xGplot #autotweet pic.twitter.com/LHdMYzLb1M

— 11tegen11 (@11tegen11) October 22, 2017

The passing and positional map tell a story in themselves, with Liverpool's midfield presence completely different to that against Maribor. Whilst only Salah pushed Spurs' defensive line, which sat deep with a base of 5, without possession, and was protected by three midfielders in front of that.
The Goals
1-0, Spurs, Kane,
To understand the first goal, we need to first look at the build-up: Lovren is deeper, as you would expect him to be, as Spurs have a throw-in, and a player cannot be offside from a throw.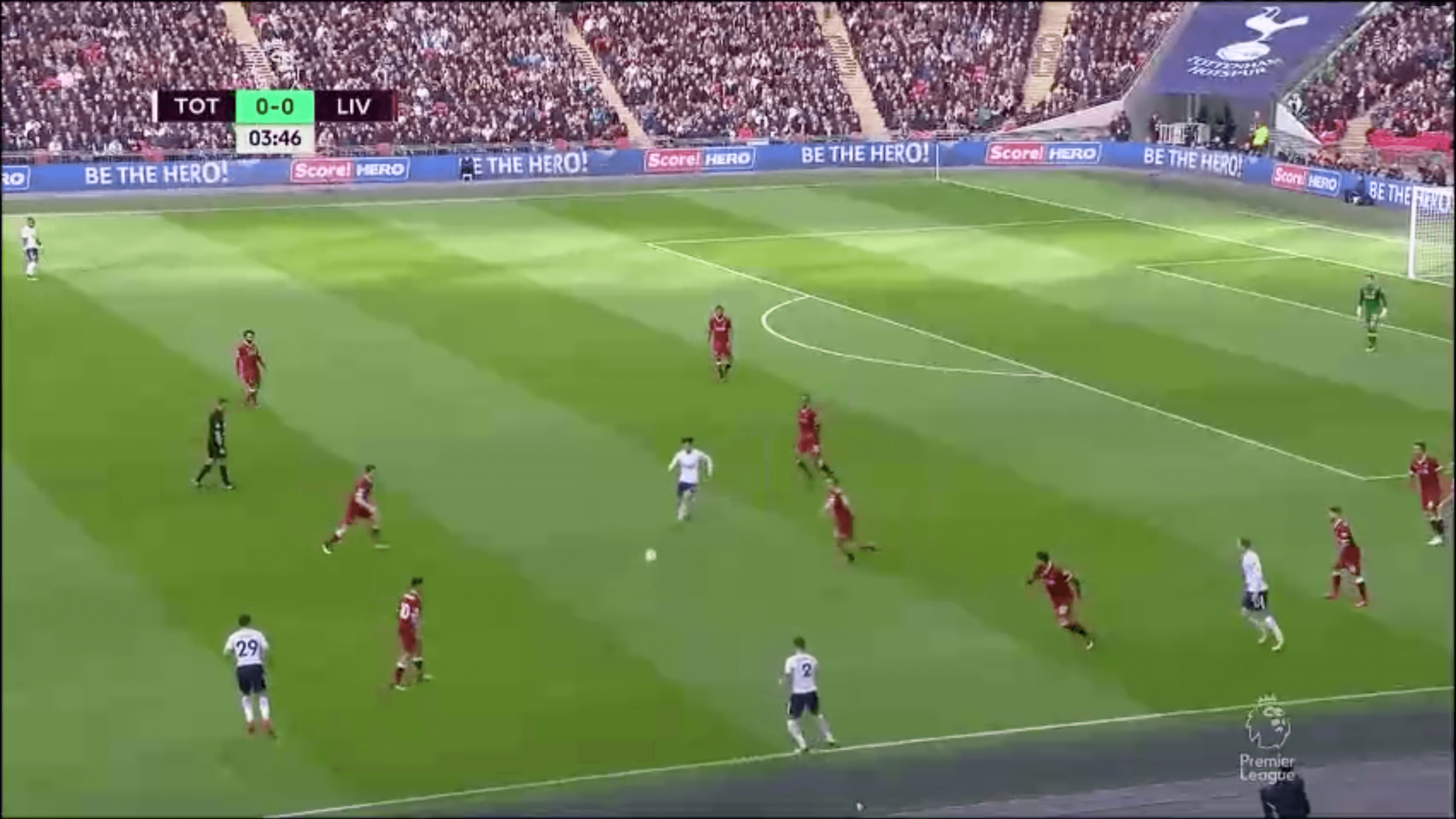 Lovren then moves up, and leaves Kane – with Kane now in an offside position.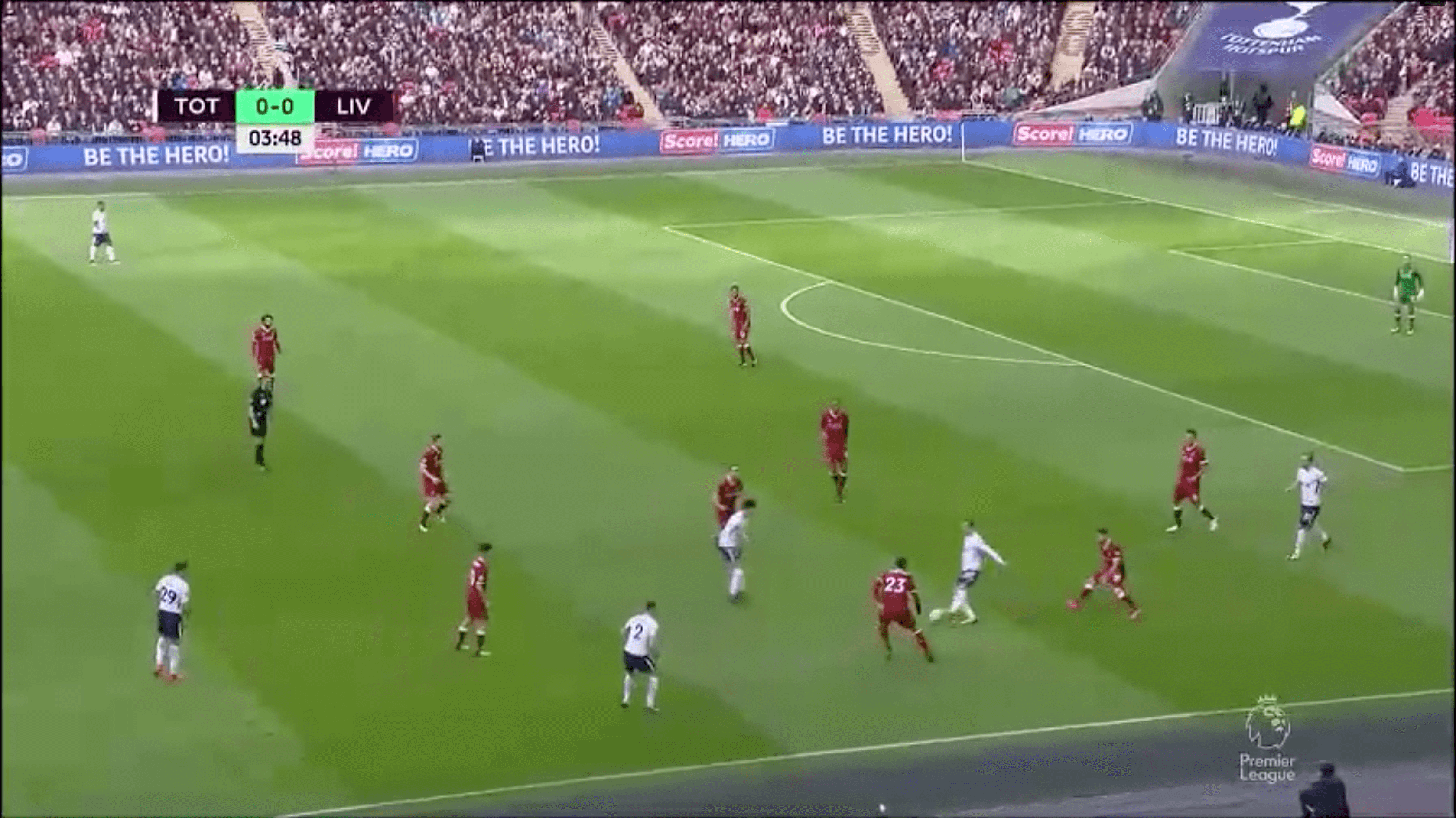 Initially, I was confused as to what Lovren was attempting to do in this goal situation – however, as we can see in the frame below, he makes a step forward – attempting to play Kane offside.
However, Gomez, on the far side does not step up, and it's not communicated effectively by either of the two senior centre-backs to him.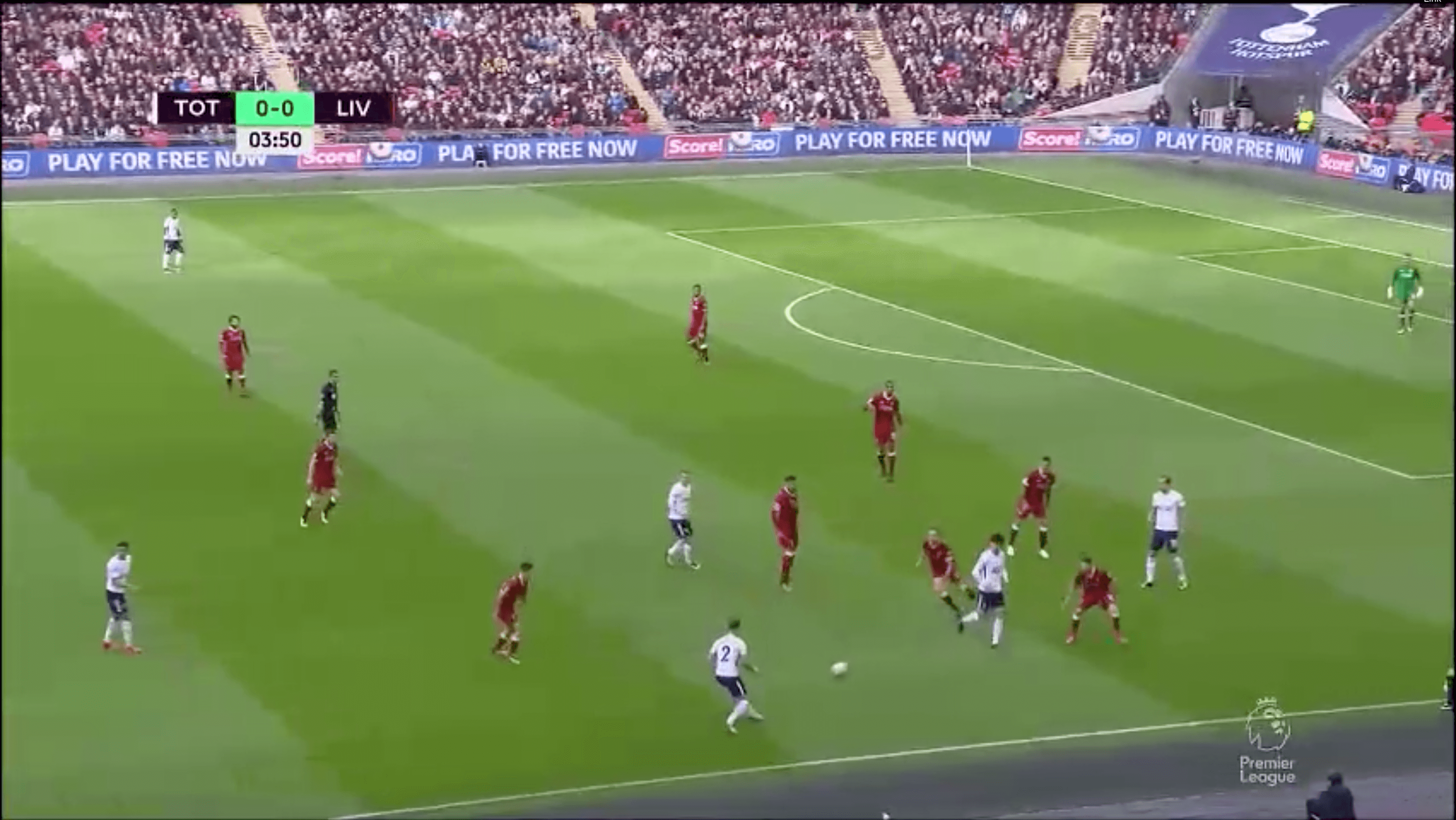 Whilst Lovren's decision to play Kane offside is not an error in itself, the actual error is the product of inaction, as Lovren watches the ball go over his head, but does not act.
Lovren expects the linesman to raise his flag, but even if Kane was offside, Lovren should be attempting to header clear in case the official does not call it. And if Kane was offside, and the linesman realised, Liverpool would have been awarded a free-kick, instead of conceding possession, if Lovren cleared with a header,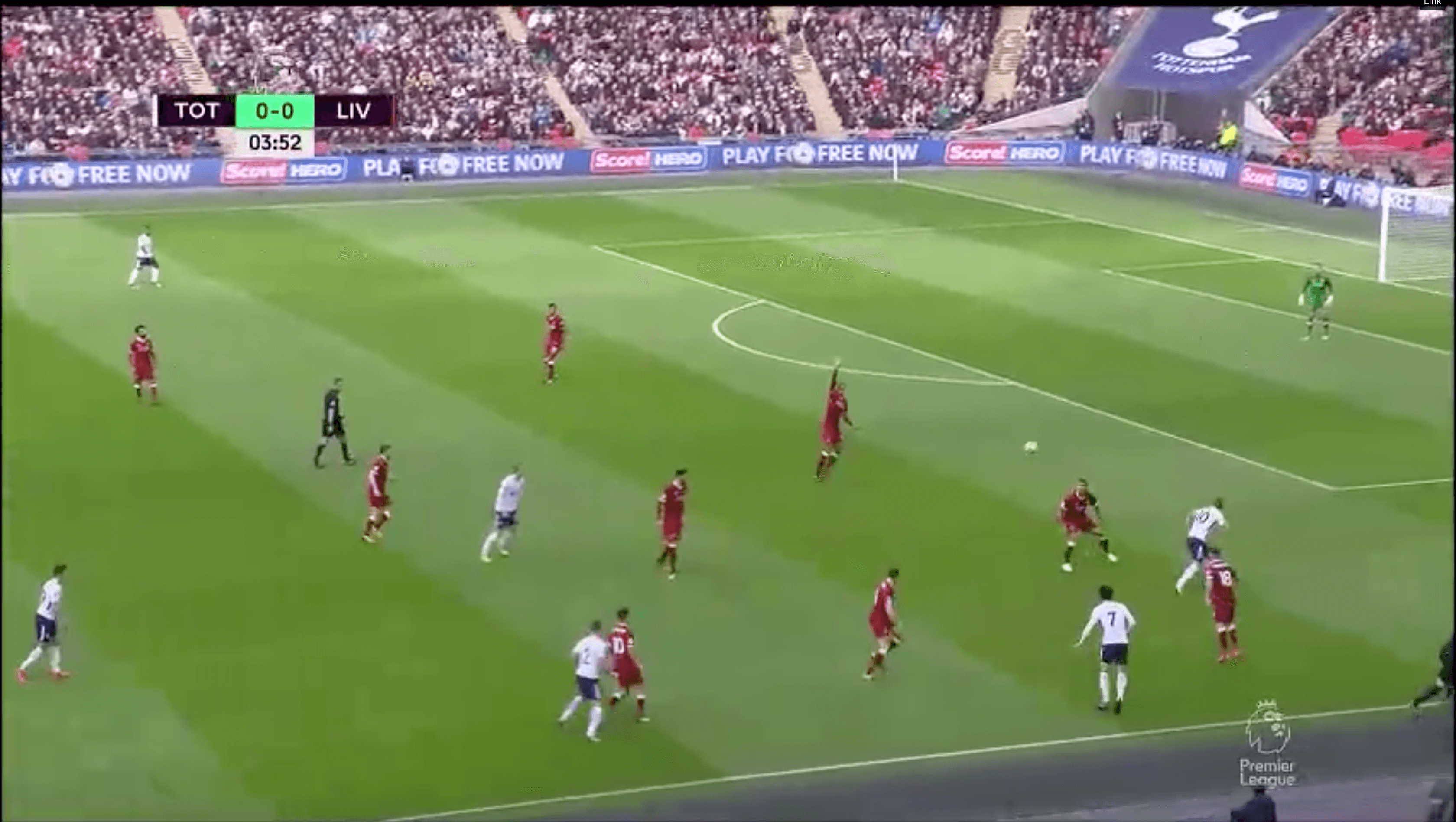 Mignolet recieved considerable criticism for his performance, but in fairness, it appears he tried to make the right decision – coming out to attempt to win the ball.
In situations such as these, you should not expect the goalkeeper to succeed in the majority of instances, and it was a fantastic touch by Kane on his right foot, to lift it over Mignolet's challenge which contributed to the goal – and that piece of ingenuity should be applauded. Naturally we would hope Mignolet claims the ball cleanly, but there is not much he can do when Lovren misses a routine header – expecting Joe Gomez to step up.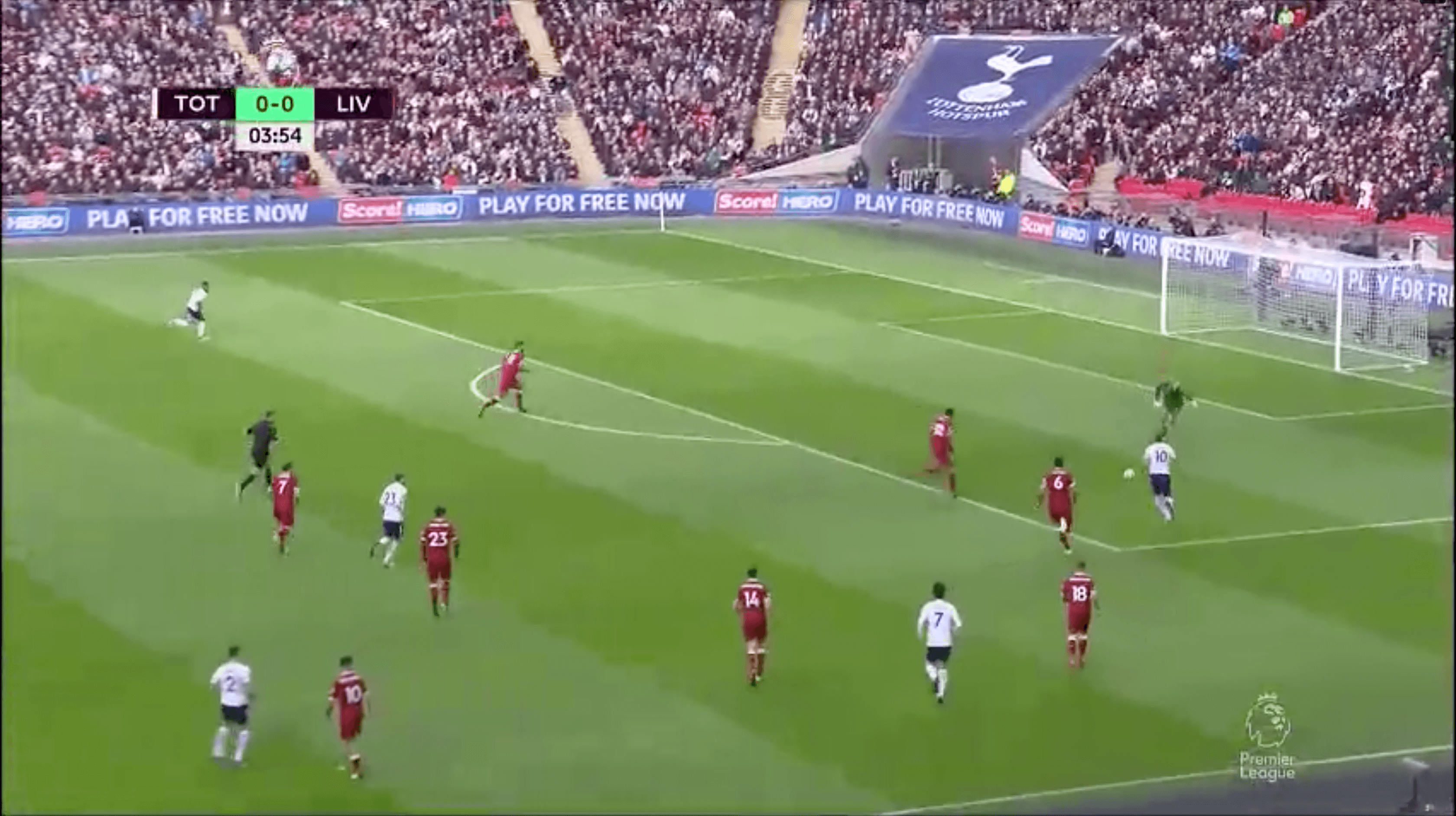 2-0, Spurs, Son
Four touches. It took four touches from the ball being in Hugo Lloris' hands, to being in the back of the Liverpool net, in a swift counter-attack by Spurs. But this goal boils down to one key moment: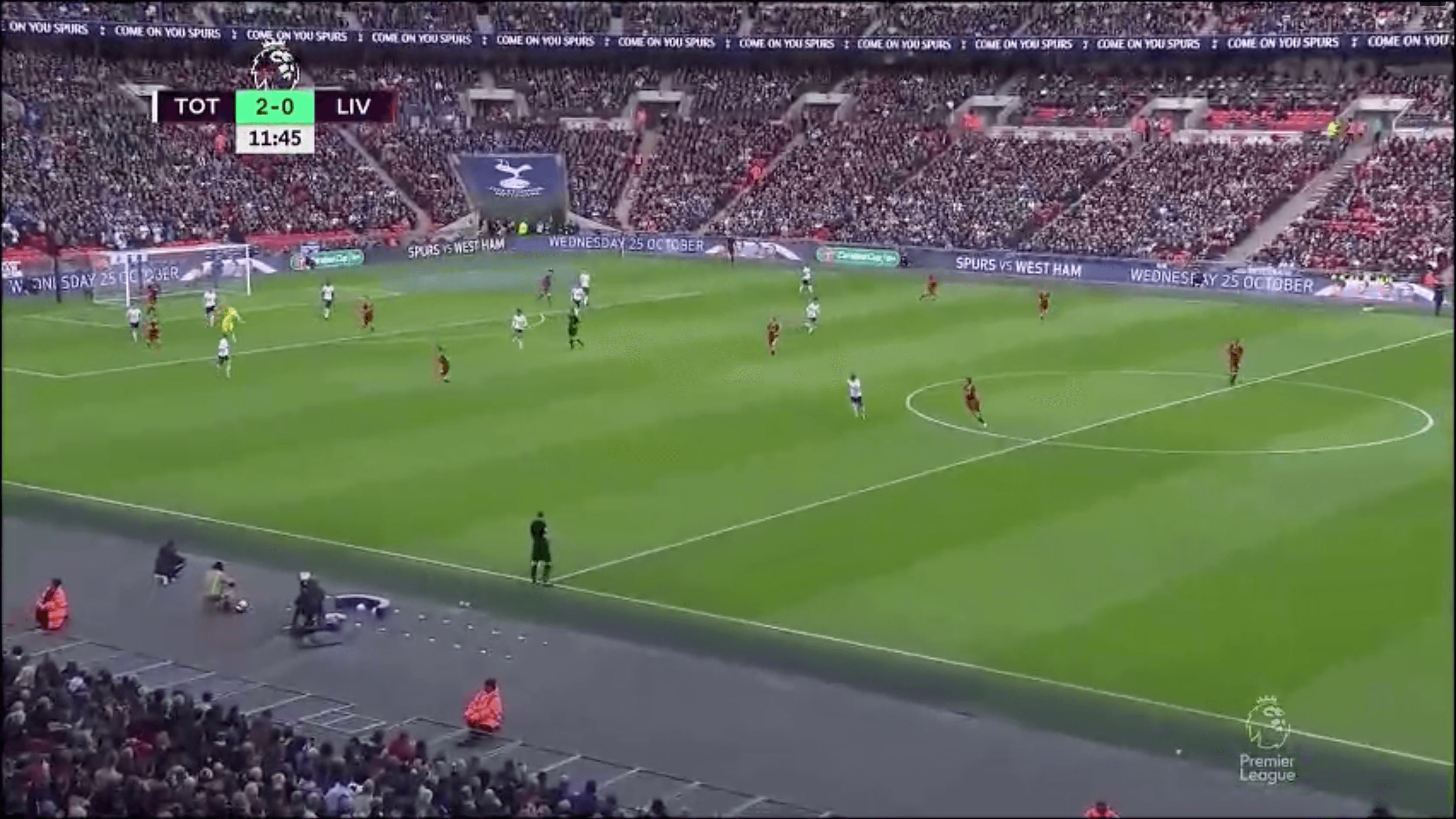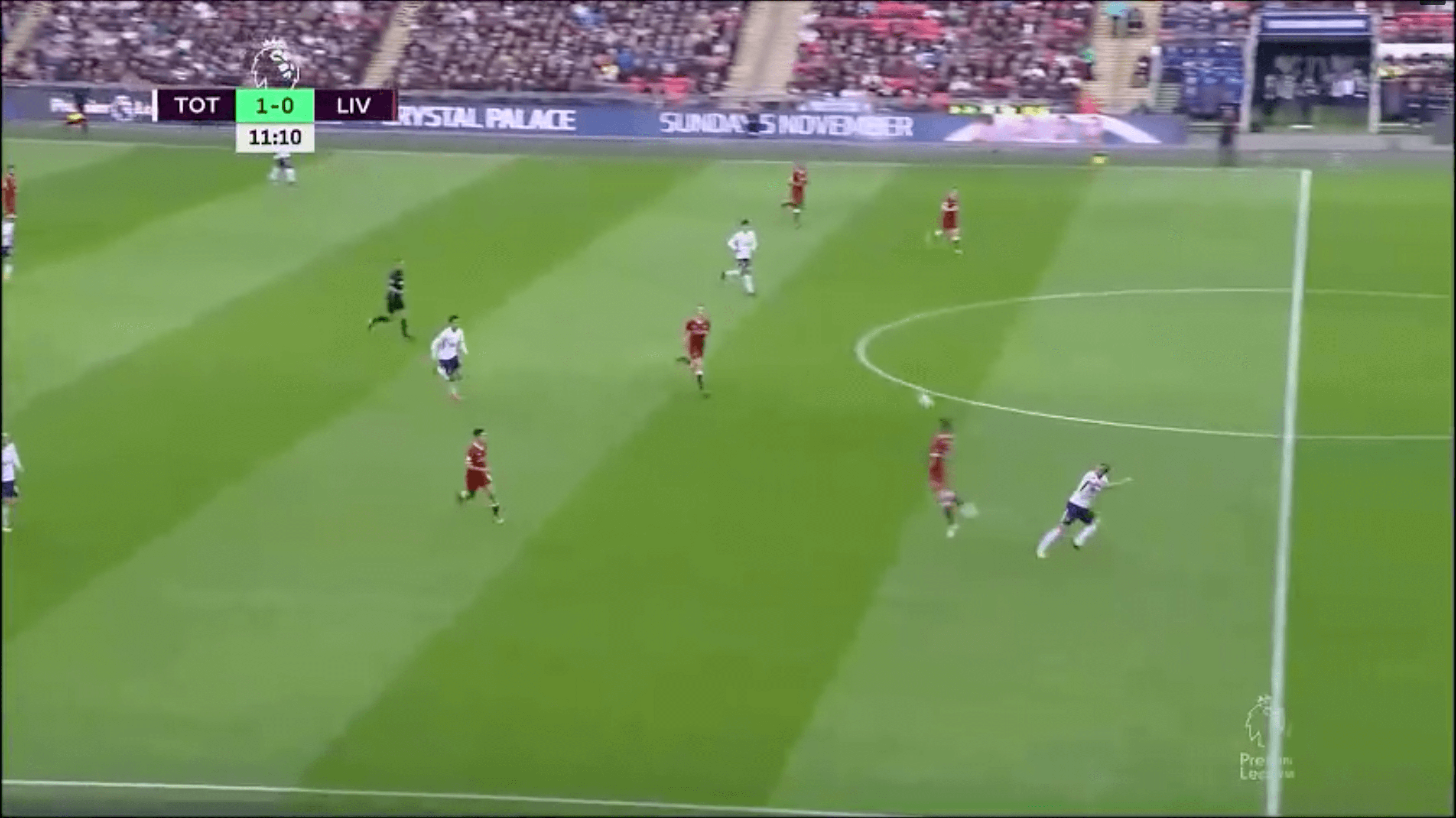 Lovren rushes out, and attempts to challenge for a ball several yards inside the Spurs half, and completely misjudges Lloris' throw.
It's an inexcusable error, as Kane races through, and goes onto pass into Son, who scores the goal.
With the ball in the air though, Lovren should assess the value of winning the ball in such a situation – he clearly feels he could affect Liverpool's play, and sustain pressure, but with Spurs playing two strikers, it plays into their hands perfectly, as Kane goes onto attract the remaining centre-back Matip – creating space for Son, who escapes Milner, and finishes very well.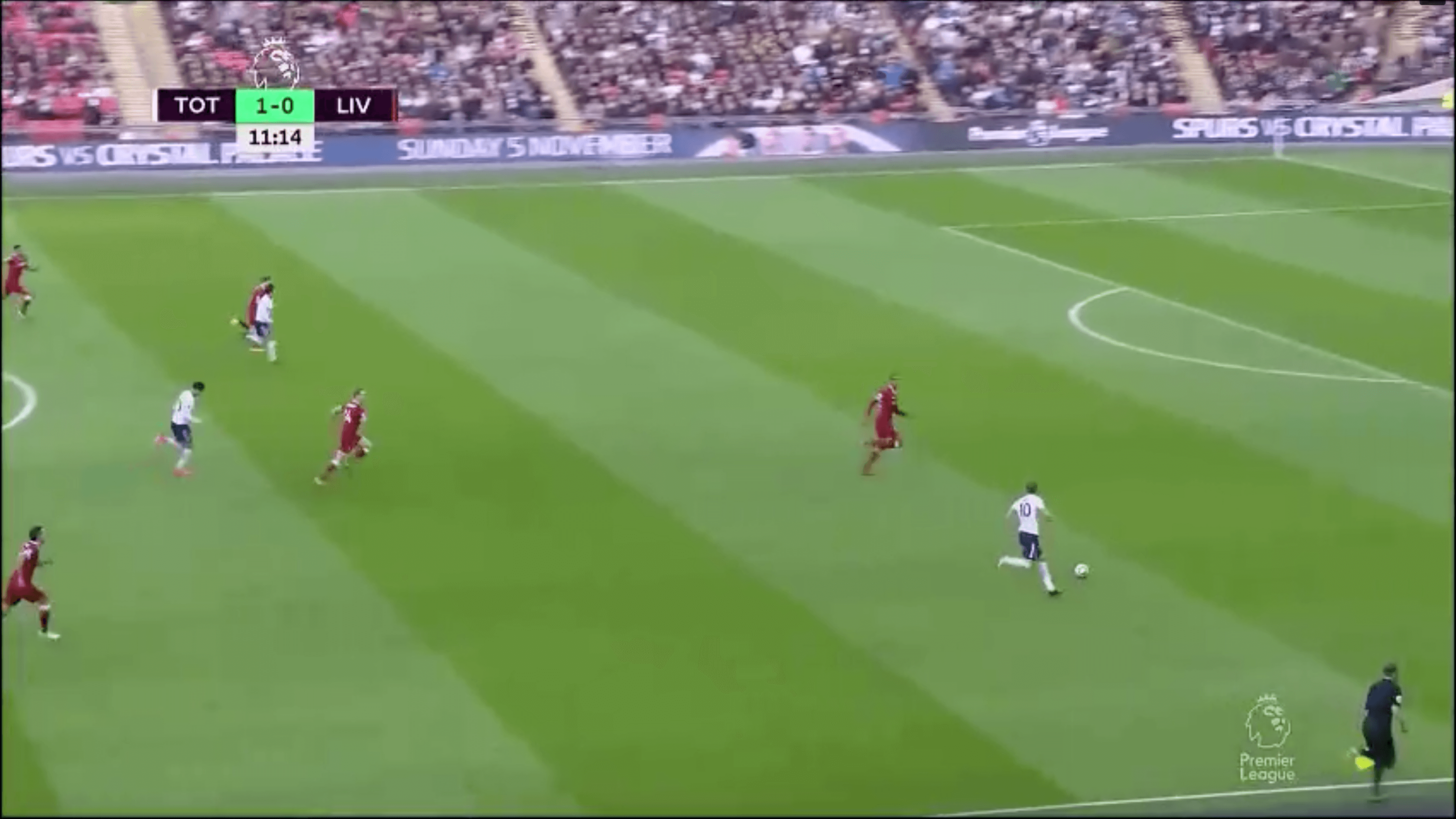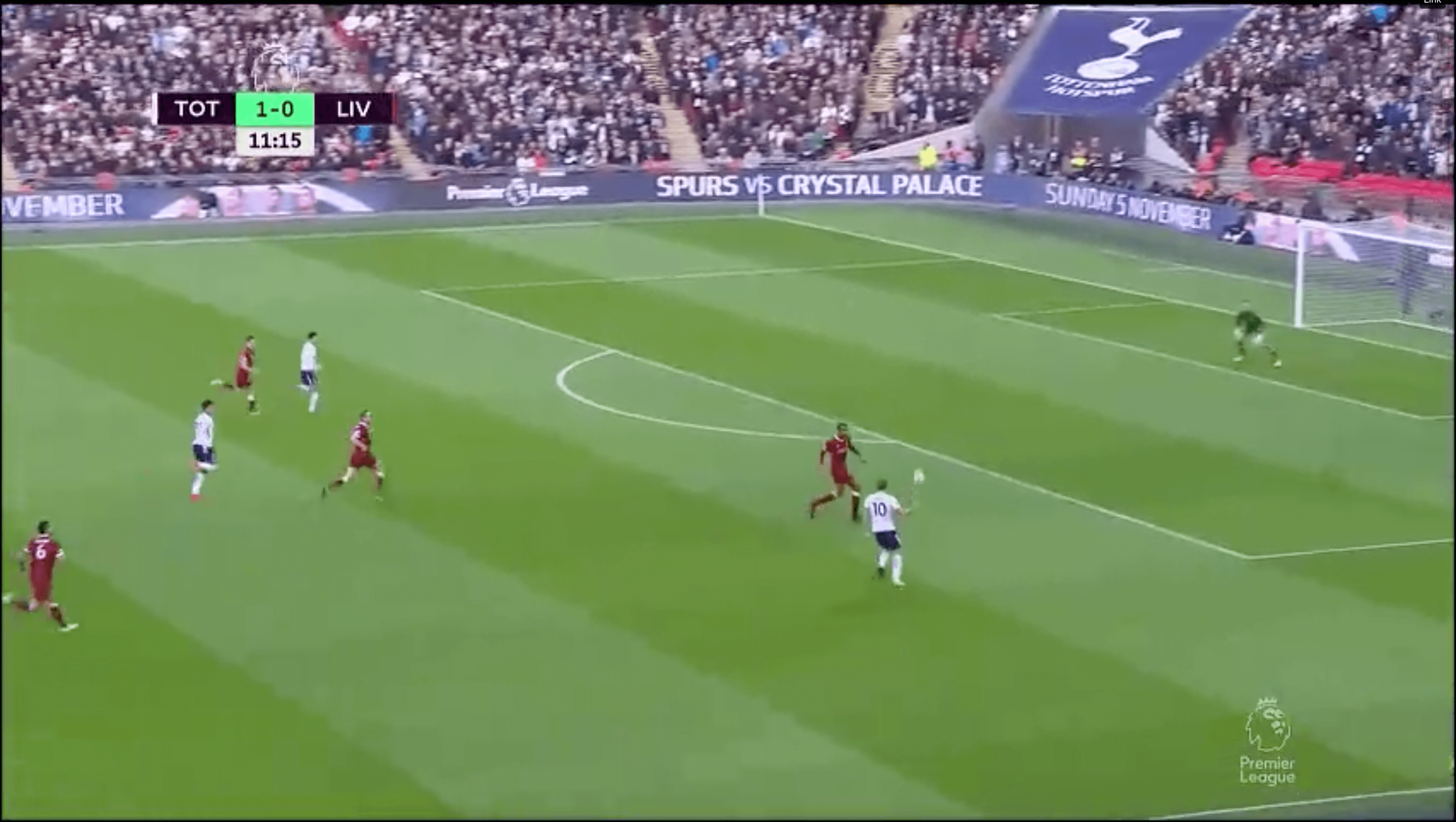 So far, we're a mere 12 minutes into the game, and without two errors, it would likely still be 0-0. Nonetheless, Liverpool were soon to benefit from a bit of luck, as Salah scored, and Liverpool were suddenly back into a game that they seemed knocked out of.
2-1, Liverpool, Salah
Liverpool target and press Kane, turning over the ball – but key to this is the quick release by Henderson – which takes full advantage of Salah's run, and does not allow Spurs' back five to settle into shape, or Spurs' midfield to assemble in front of it.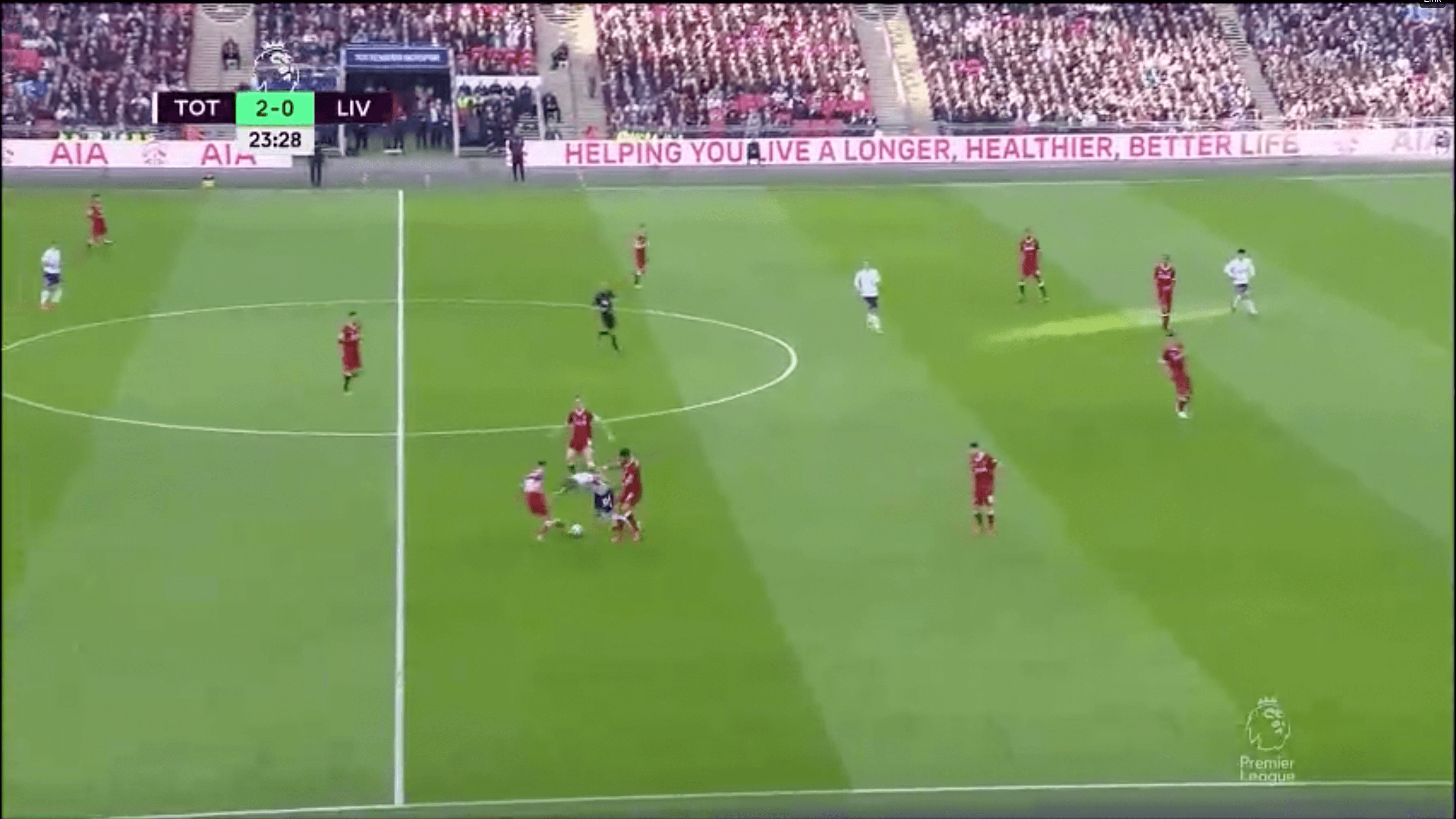 The gap between Vertonghen and Sánchez is unnecessarily large, and Henderson takes advantage of it, as Salah targets that gap.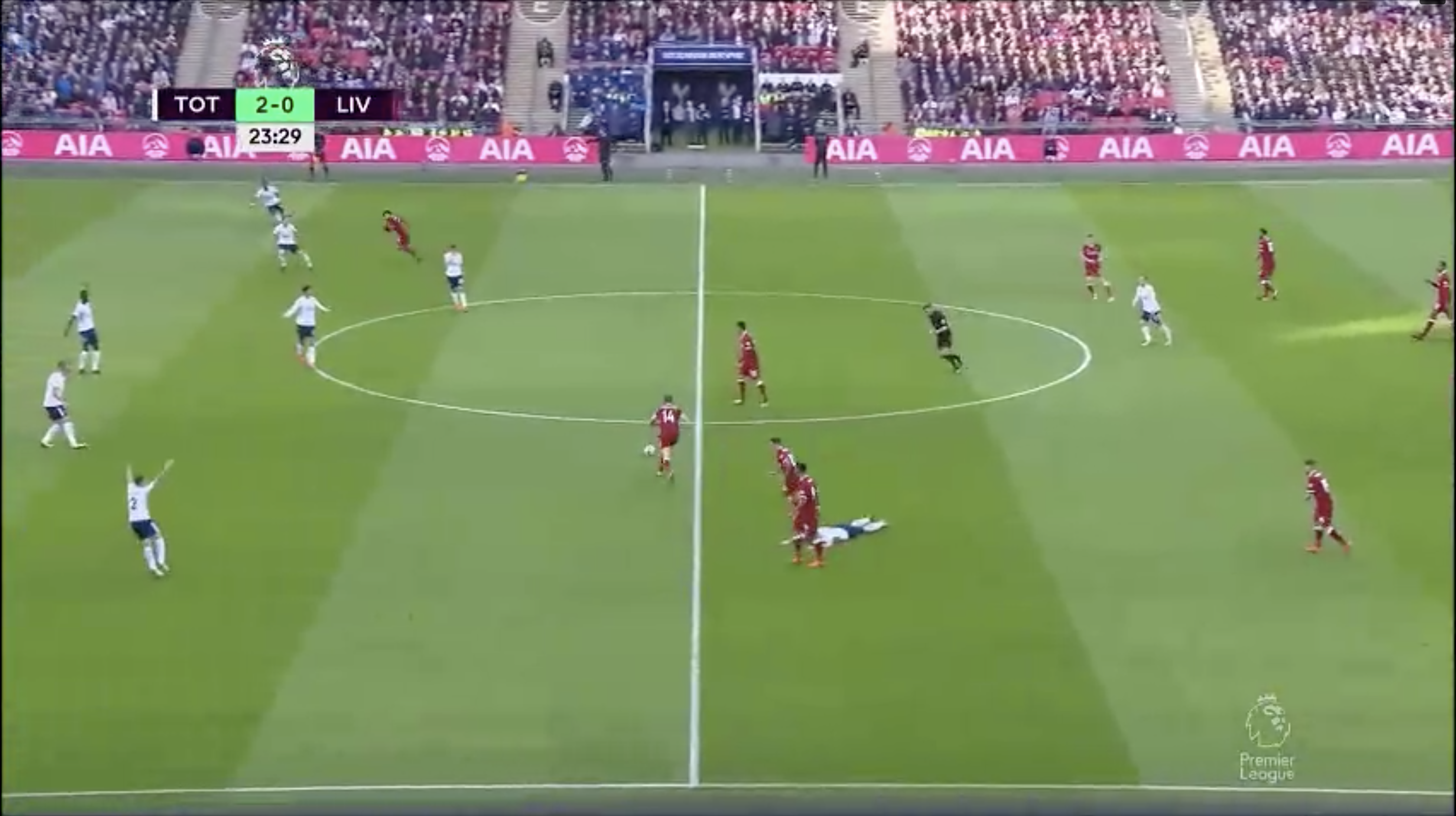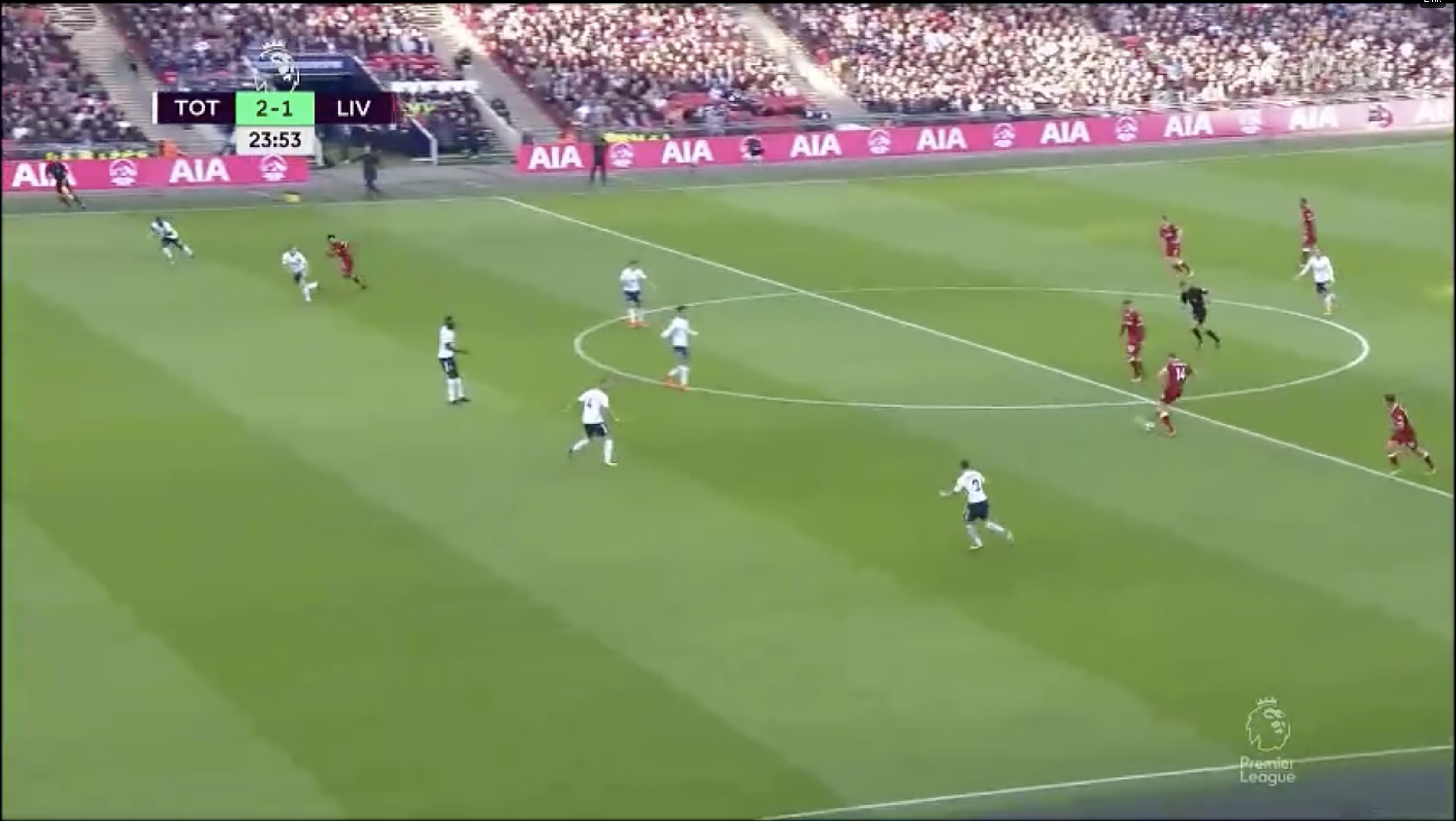 Henderson and Salah are perhaps a tad fortunate though, as the ball deflects off Alli's head, and offsets Lloris, who instead backtracks, as it falls nicely for Salah.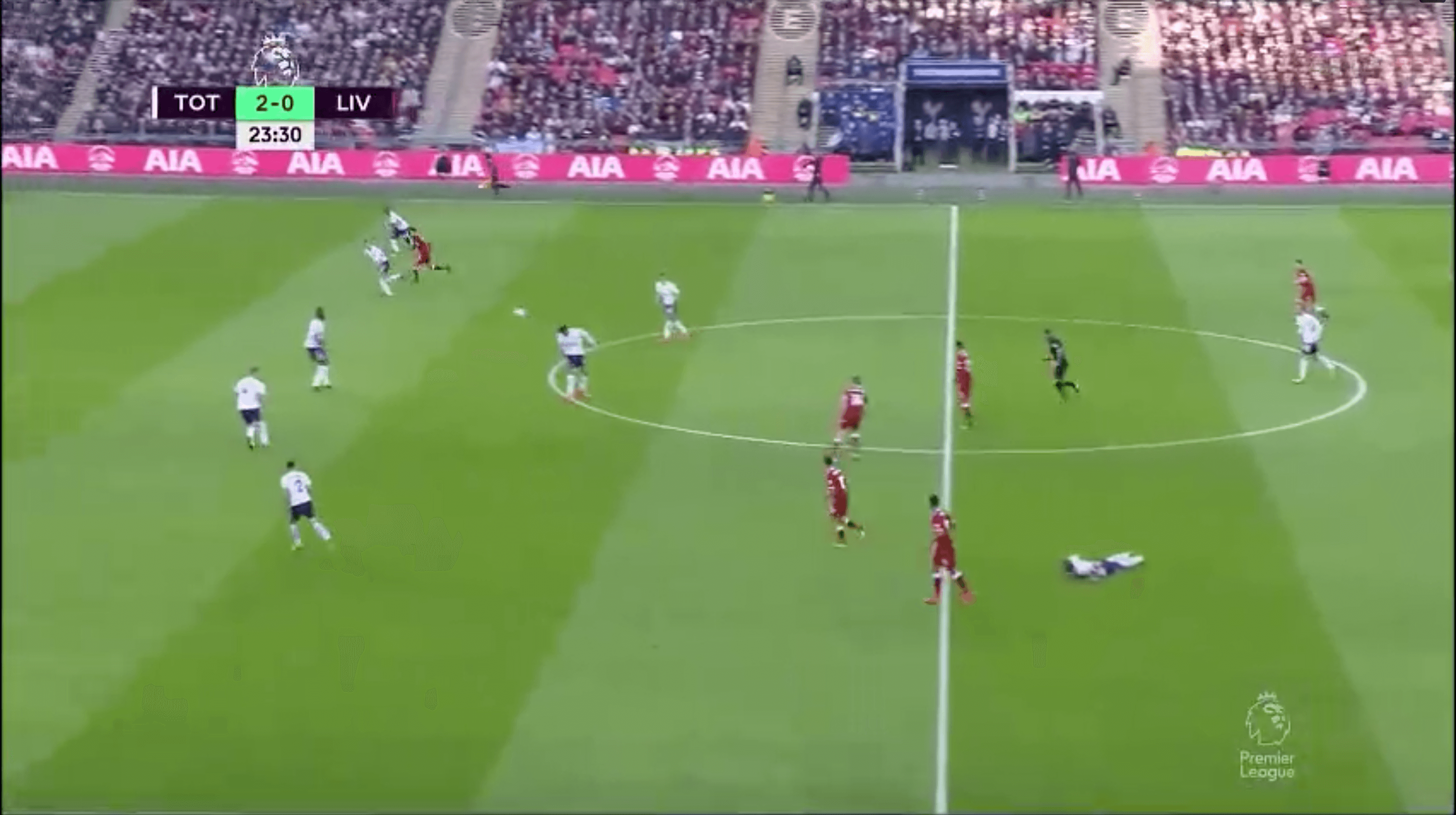 Salah's finish bobbles its way onto the far-post and in, and suddenly Liverpool are back in the game. Many a time I've seen games in which one team has been dominant in the first-half, but did not take full advantage, only to lose or draw the game after the opposition responded in the second-half, but paramount to these performances is going into the half-time break within touching distance of the opposition – Liverpool let this opportunity get away from them with some careless and brainless work.
3-1, Spurs, Alli
Liverpool's lifeline was thrown away, with a needless foul given away by Emre Can: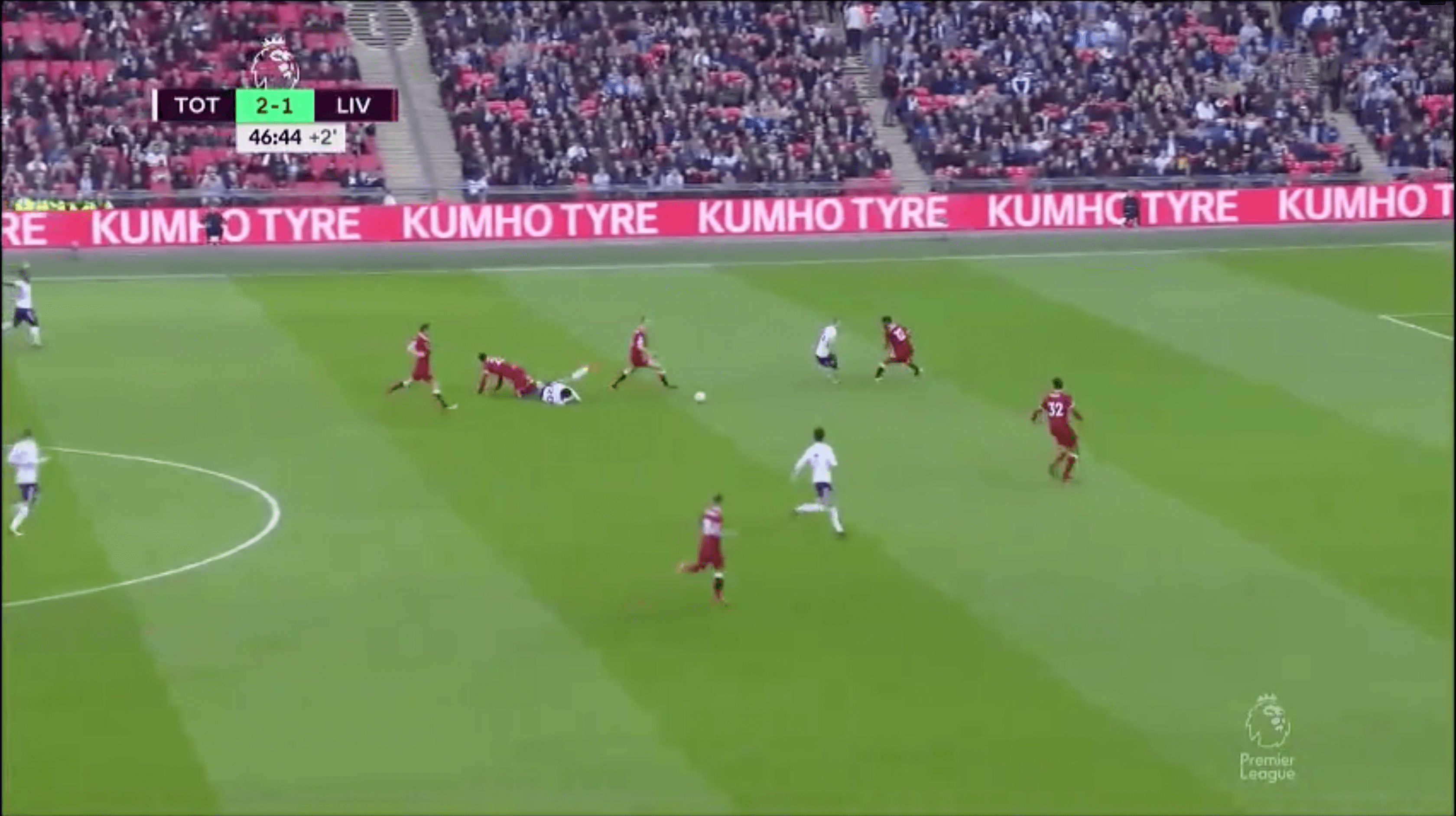 Liverpool's setup from the subsequent free kick seemed fine initially, but that soon dissipated.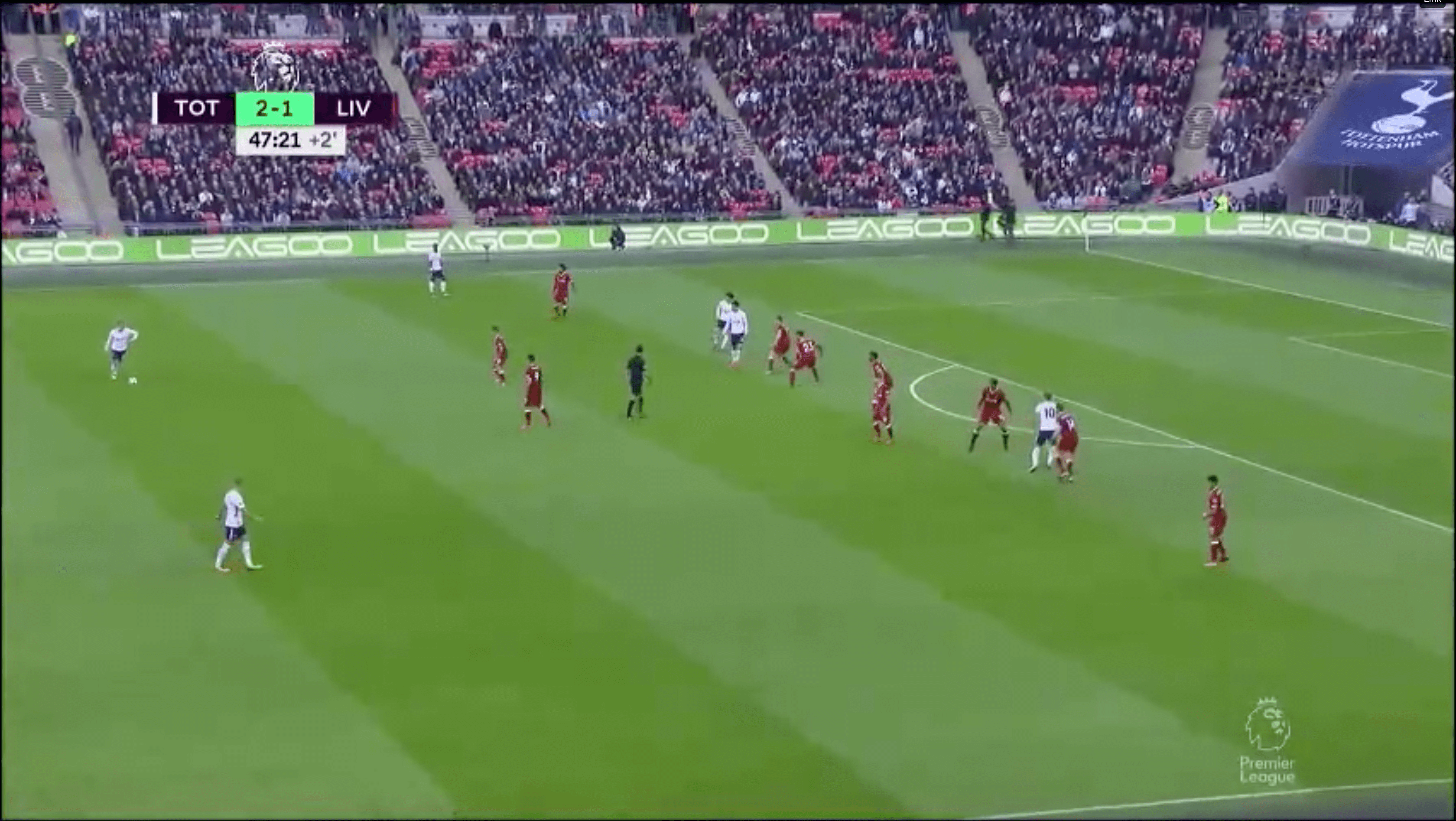 Matip wins the header, but blindly heads back into the danger zone, on the edge of the box. Additionally, Liverpool's players have all dropped to a non-existent threat, with no players around them – with the goalscorer, Alli, actually outside the box.
Yet Mignolet also has a role in this too – he could well come and claim the ball, and relieve pressure from the defence.
The fault here though lies both with Matip, and the defenders that neglected All and Son. With seven LFC outfield players, and three Spurs players in the frame, conceding is simply unacceptable and inexcusable.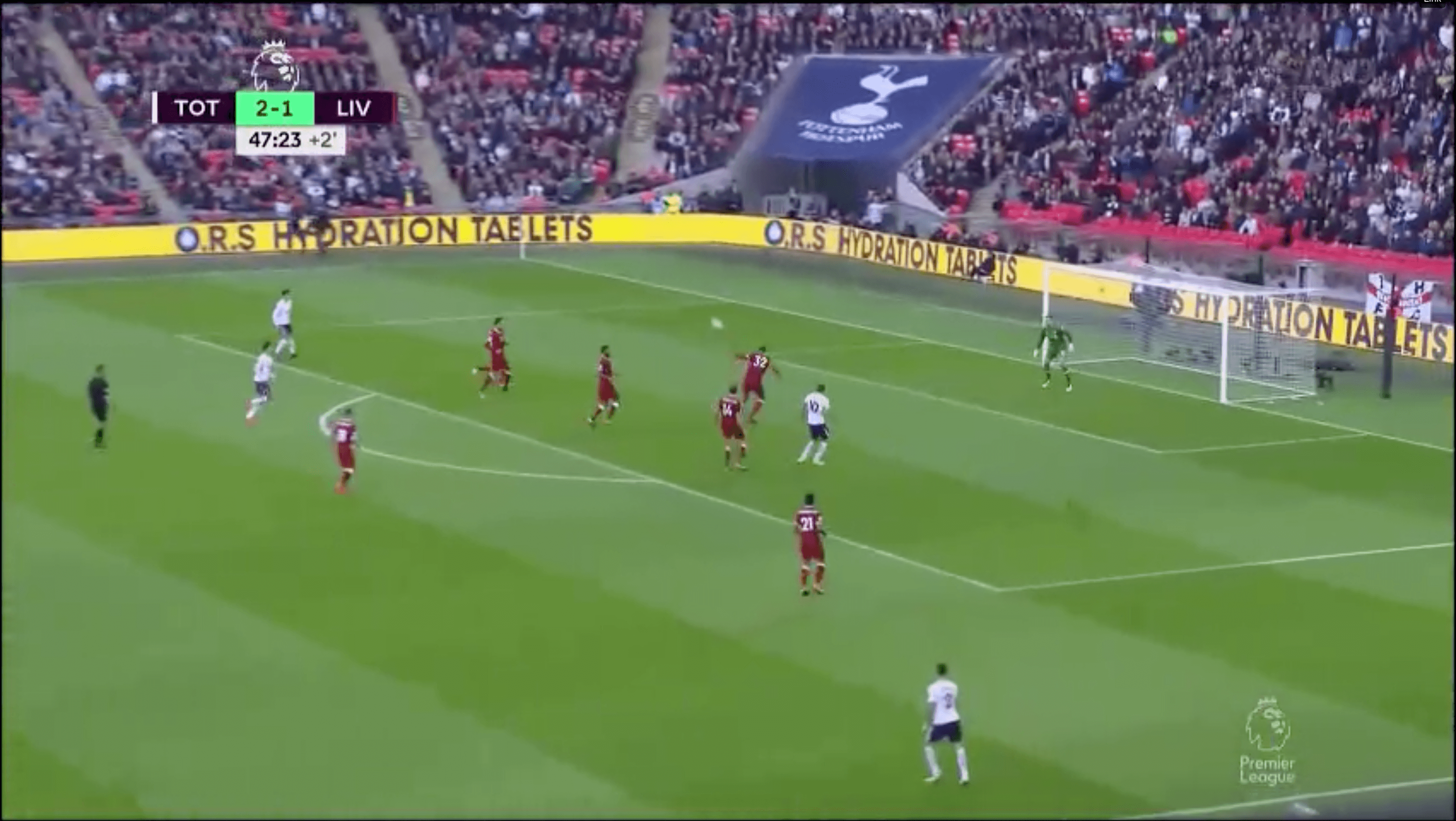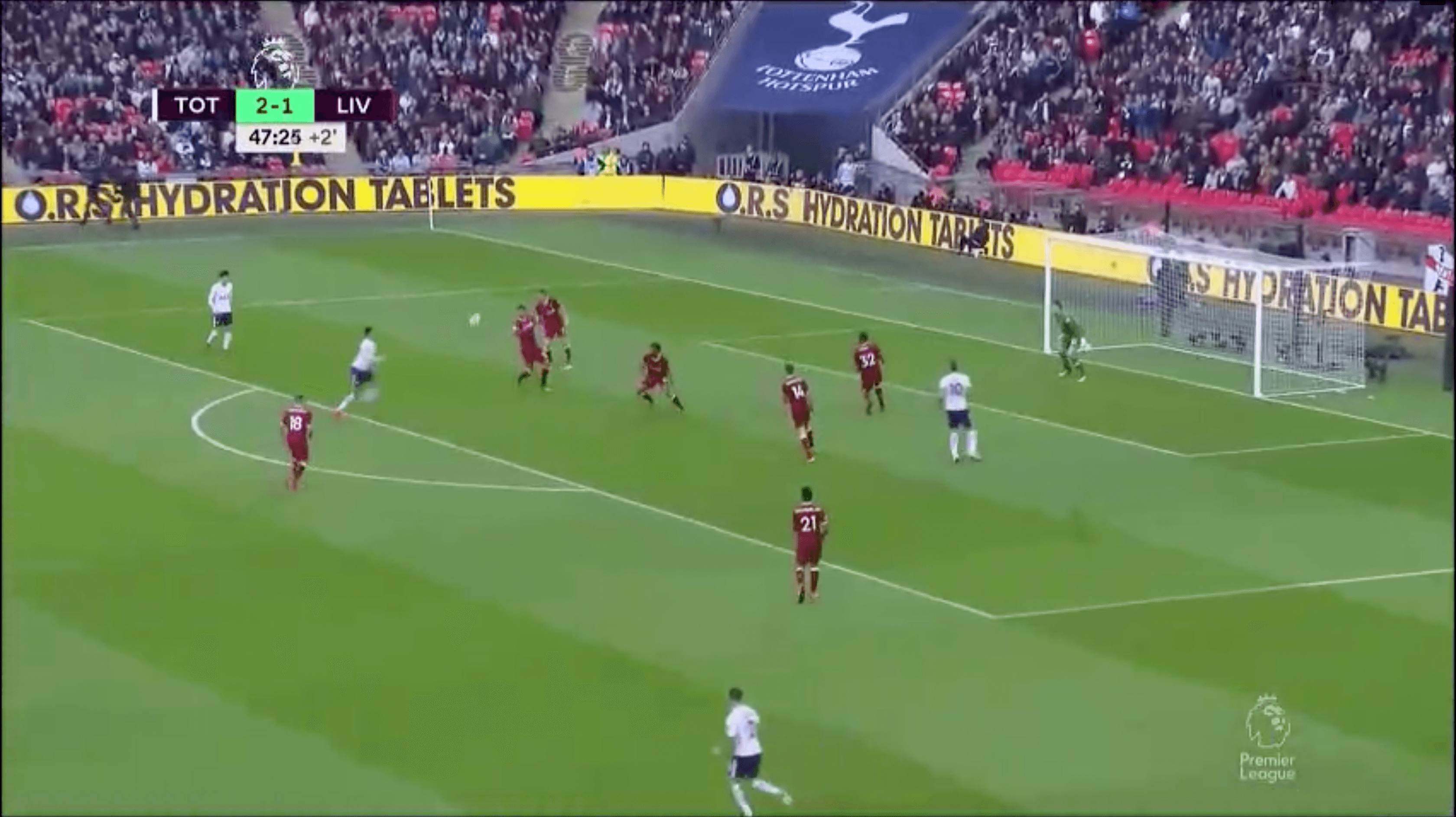 The final nail in the coffin, and Liverpool hammered it in themselves.
4-1, Spurs, Kane
Liverpool's setup seems acceptable here too, if not negligent of the threat on the edge of the box though.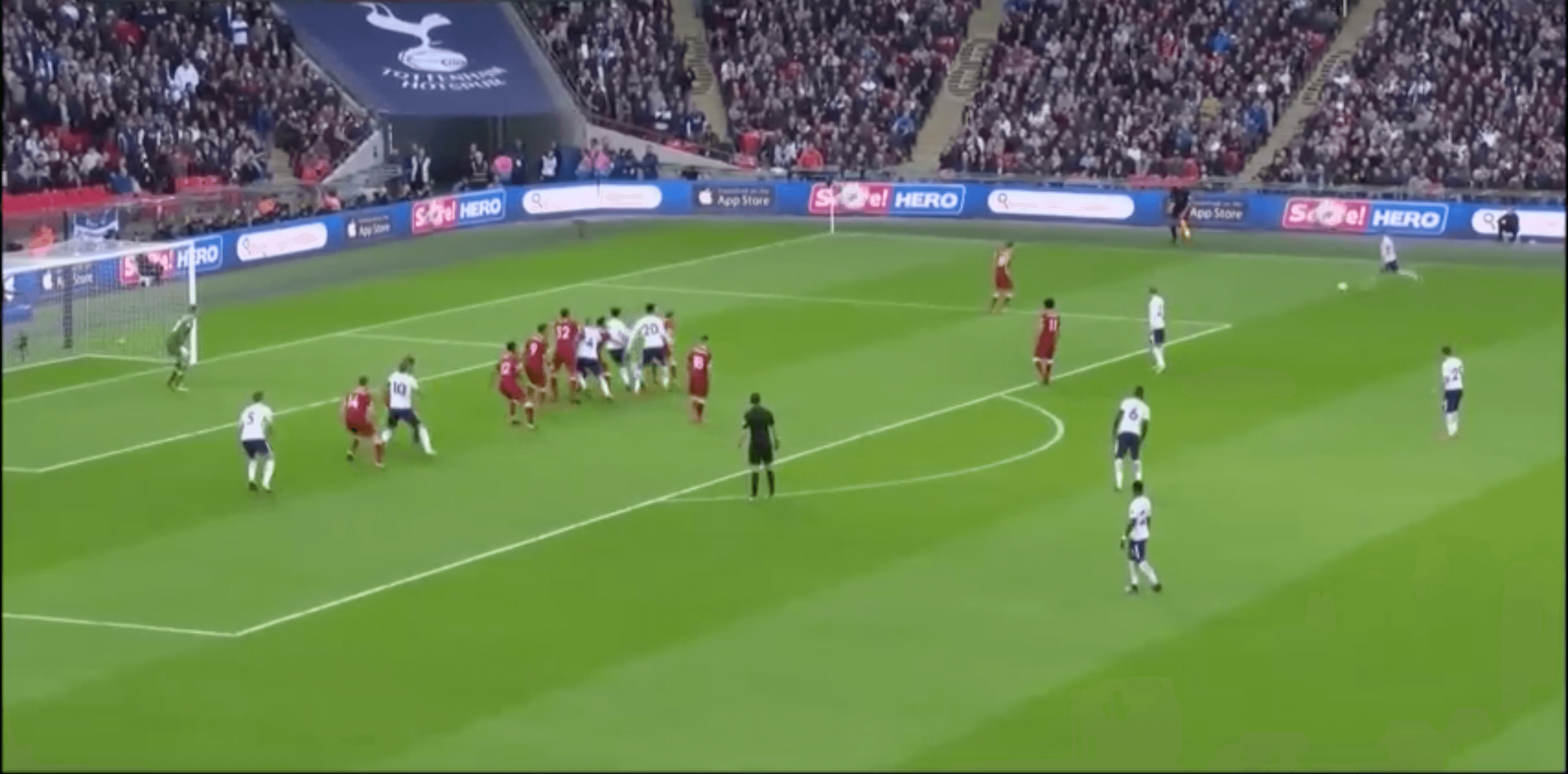 Mignolet has to be held culpable for this goal though, although Gomez does not help, by not getting out of the way – nonetheless it's a communication error between the keeper and centre-backs, and Mignolet does not take the catch cleanly. Even here though, Liverpool are fortunate, as Firmino stops the subsequent shot, resulting from the fumble.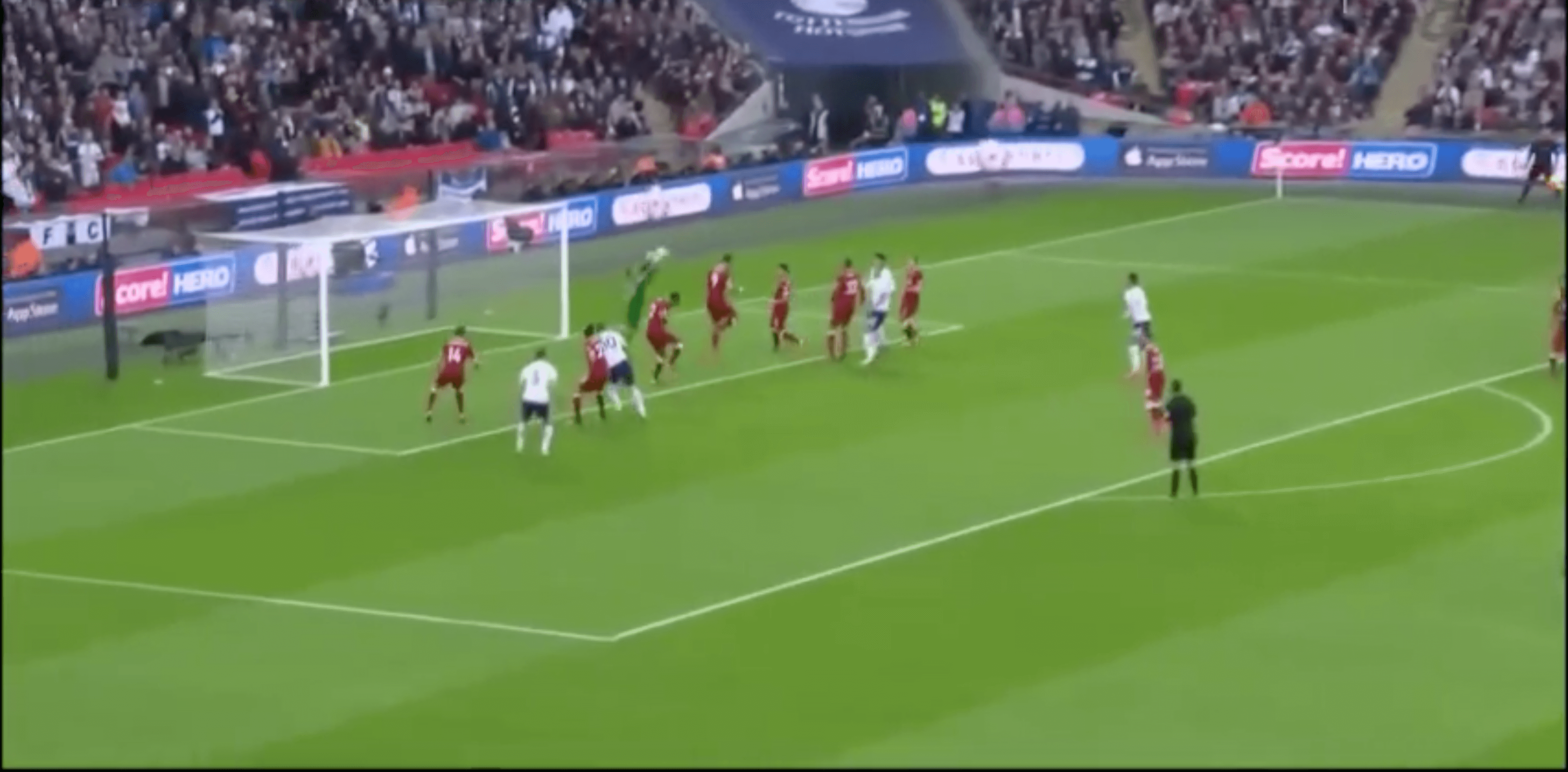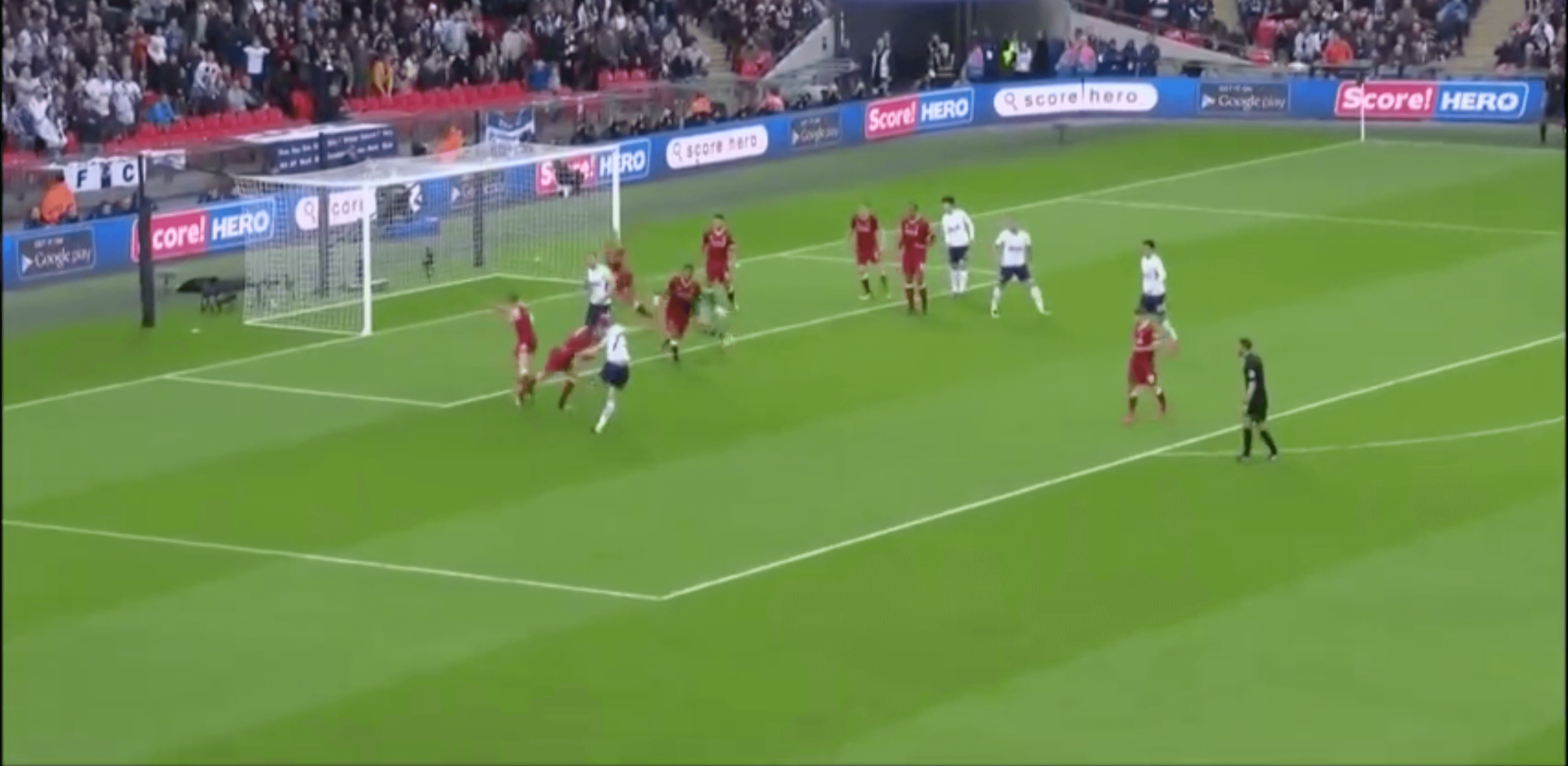 Even with this stroke of luck, the defence and goalkeeper have failed to recover and react to the 'third' ball, with it falling to Kane, on the edge of the six-yard box, who goes relatively unchallenged.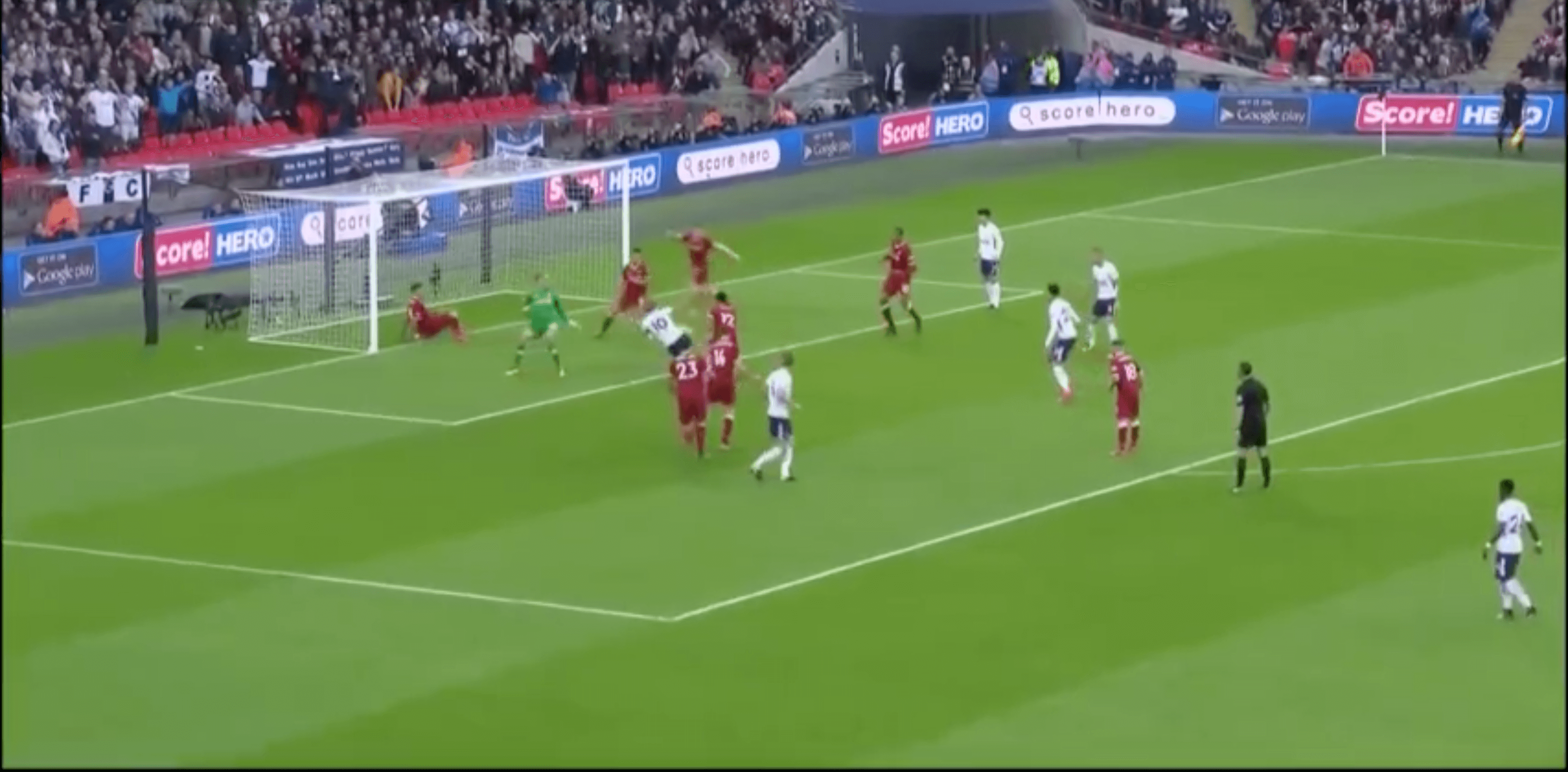 Four goals. Four utterly baffling errors.
'This game wasn't really down to tactics as it was to errors in key moments.' – Paul Dalgish
How then do Liverpool stop games like this happening again? At this point it seems clear that Mignolet and Lovren struggle when exposed or challenged (which, in fairness, only the very best defenders and goalkeepers do not), and instead of persisting with this approach, maybe it's time for Liverpool to employ a second defensive midfielder, or a third centre-back, or to play defensively tighter and further back to minimise the propensity of both Lovren and Mignolet to get exposed.
Beyond that there really is not much to take from this game. I hope I can shed some light on some better performances and Liverpool goals in the matches to come.