We're a quarter of the way through another frustrating season following Liverpool FC. Some stalwarts of the first team are proving they are not of the standard needed for the team to kick on and others have spent the first three months recovering from injury.
Circumstance and last season's form have led to the rise of Trent Alexander-Arnold. Injuries have forced Jurgen Klopp to rely on Joe Gomez much more than expected in pre-season. Marco Grujic looks to have put last season's injuries behind him and Ben Woodburn has looked a future starter in the few minutes he's played.
The question is, with fans calling for these players and many others – Harry Wilson's stock seems to be growing – which players are ready to make the grade? In a team not living up to expectations, how many games can they play? And where lies the breaking point between developing in the first team exposing players to more minutes than their bodies are ready for.

Had Clyne and Lallana been fit and had Lovren and Matip's partnership been up to even average Premier League standards we wouldn't be so desperate for some of these young players to step up.
In a world of instant news, Football Manager and FIFA we expect players to instantly become heroes. We forget Fowler cut his teeth as a teenager in the reserves and had a top class striker in Rush to learn from. We forget Gerrard, now part of the club's DNA, was a raw but physically powerful talent until his mid-twenties.
The two players making the biggest steps this season are Trent Alexander-Arnold and Joe Gomez.
Trent Alexander-Arnold became Clyne's understudy last season, playing 550 minutes in the first team and showcasing his potential. Due to his mature performances last season and Clyne's injury he's played serious minutes this season.
Mainly playing in the Champions League, and with a couple of well-taken goals to his name, he's looking like a player for the future. His passing and vision resembles that of a centre midfielder, but with the pace and natural ability to develop as a top class full back.
But, before we throw caution to the wind overplaying him could easily happen and undermine his development. Going by career averages and expected development he should be looking at 800-900 minutes this season. The reality is he'll play close to 20 games so we have to hope he's ready for the huge increase in minutes.
Joe Gomez is an interesting one. Following on from a couple of horrid knee injuries we've been waiting some time to see how he develops.
Initially thrust into the first team as an emergency left-back under Rodgers his combination of composure, strengths and ability led to fans calling him the next Maldini! With Clyne's injury he's played several games at right back this season and is beginning to build on that form.
With Lovren being brutally substituted (deservedly so) after 30 mins at the weekend, and Ragnar Klavan failing to impress, Gomez could finally be called at to move into his natural position at centre back.
Though, with Gomez's average minutes at 1075 anything over 1500 would be big risk. He's already undergone knee surgery in his career and was even called out in pre-season for turning up with too much muscle mass – though he's looking much leaner again.
Both defenders are going to be essential at an early age as Gerrard, Owen and Fowler all were. But we need to hope their minutes and fitness is managed and pray that Clyne returns to action sooner than later. Klopp bringing in centre-half reinforcements in January is also a must. We can't afford to burn these bright talents out. Two young players who are excelling for the under 23s are Ben Woodburn and Marco Grujic. Both have made fleeting appearances this year, with Woodburn also making an impact on the international scene for Wales.
After Marco Grujic's performance against Utd's under 23s this week there have been calls for his immediate promotion to the first team. Wijnaldum and Henderson are not performing consistently this season and Can's contract issues are leading to people wanting to know more about the young Serbian.
Tall, strong, willing to shoot and not scared to have the ball at his feet it's easy to see why fans want to see more of him. His physical and raw skills certainly look ready-made for the Premier League. After a season blighted by injury, he looks ready for more football.
Luckily Liverpool have plenty of options in the centre of the park, whether or not the fans unanimously rate the players or not. At an average of a little over 9 games a season a natural progression for him would be to play 12 – 15 games mixing upstarts and sub appearances.
Ben Woodburn is one of the most exciting forward talents to come out of Liverpool Football Club since the '90s. With the potential to surpass the likes of Steve McManaman it's easy to see why fans and coaches love the talk him up.
Again, with Liverpool strong in the wide forward positions and Woodburn not having the stature to play in Firmino's role yet, his minutes have been well managed. He's averaged a little under 600 minutes a season and should be looking at a similar amount in the first team this year, plus plenty of action in the under 23s.
After this week's performance from Rhian Brewster in the under 17s World Cup, it's hard to ignore him. Gerrard, Lijnders and Klopp have all talked about his talent. But as Fowler was given time amount senior players in the reserves, hopefully, more time among the likes of Gerrard in the under 18s and Woodburn in the under 23s is where he needs to spend the next season or so.
All in all Liverpool FC have some very talented and exciting prospects in the squad. Looking at this chart kindly supplied by Simon Brundish (along with the minutes played above), you can see that Klopp, Buvac and Lijnders are managing the younger players as well as you can hope, with two exceptions.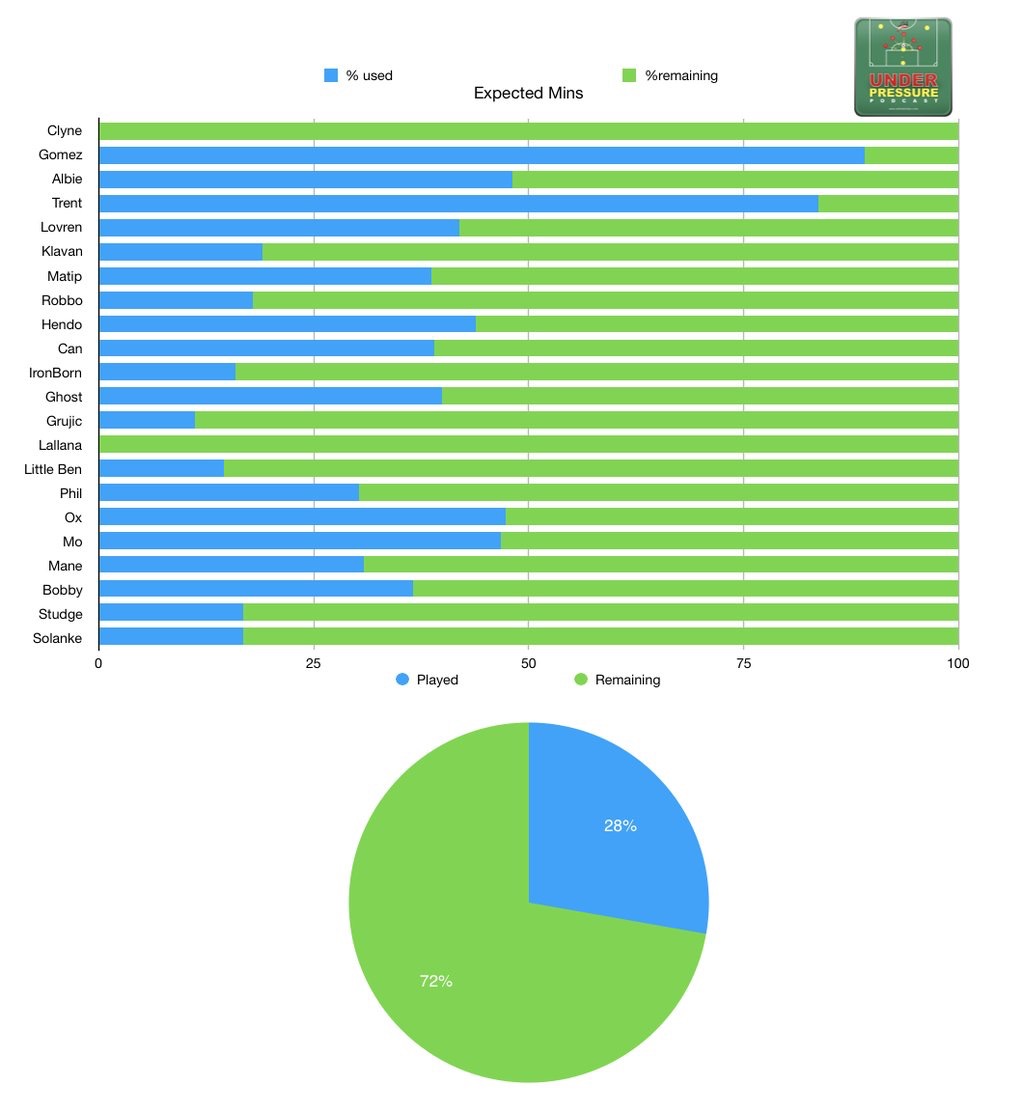 Hopefully, with Clyne's return and some new faces in January will help bring Alexander-Arnold and Joe Gomez's minutes back in line with where they belong at this point in their development. Klopp needs to protect the long-term development of two players who could be around for the first team for a decade.
I'm no sports scientist, but I'm a keen fan of developing young players without overburdening them. We've all seen the likes of Torres, Owen and Rooney's careers tail off sooner then they should. Hopefully, LFC have the next Maldini or Ibrahimovic in their ranks and we'll see them playing week in week out well into their 30s.