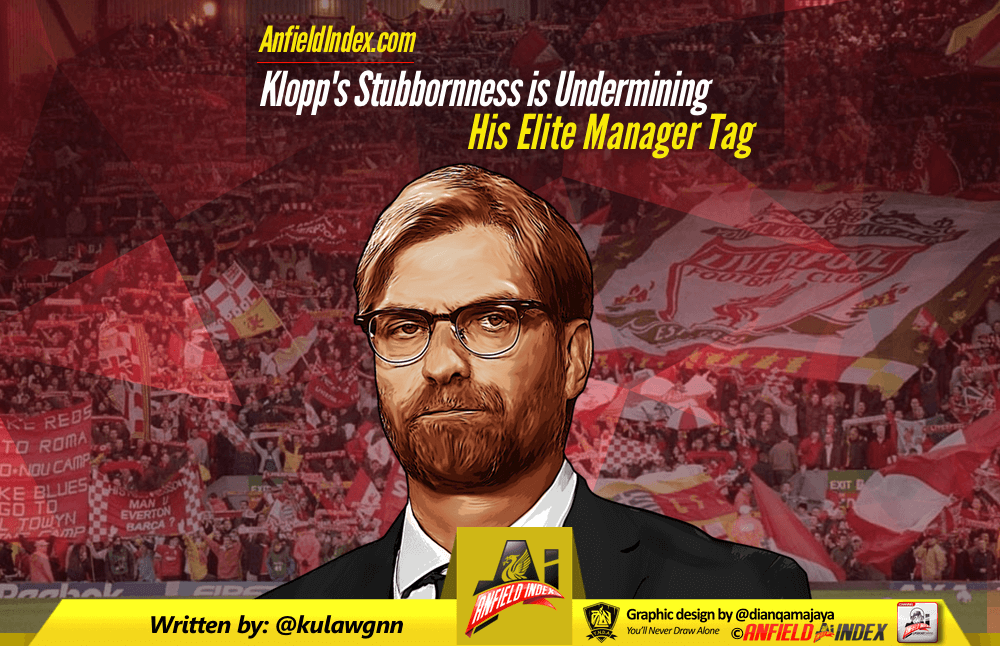 Klopp's Stubbornness is Undermining His Elite Manager Tag
A regular feature anytime Klopp's Liverpool are in some form of a slump is the Rodgers-Klopp points comparison after so and so matches. It is a favourite whipping stick of a section of British pundits. Those stats are used without context as a dagger through the heart of another "foreigner" who has taken "the job" of a promising British coach.
Richard Keys tweeted the updated version of this stat just after the Spurs loss. After Liverpool's draw against Newcastle in September, Tim Sherwood – in analysing the match – questioned whether the club has done any better under the German than they did under Rodgers. Many more have made similar comments. But I do not blame them. Klopp's stubbornness is fully behind his reputation being questioned.
When LFC fans were tracking Klopp's plane from Germany to Merseyside in October 2015, they were not expecting to be celebrating the second anniversary of his appointment with the mediocre spine he inherited still a prominent feature of his team. The hope was that being an elite manager, Klopp was definitely going to develop under-tapped talents (as there were a few) and discard the mediocre (there were many of those). Klopp, however, was not on the same page as the fans. He was going to be a miracle worker instead; turning average and mediocre into world beaters.

That approach is admirable if it comes off but with the level of talent he inherited his approach smacked of arrogance. Nothing more than the scorn fans pour on the excessive praise he gives his players hints the failure of his approach. One such ridiculous claim was calling Henderson the most under-rated midfielder in England. Klopp was justifying turning the ill-equipped Englishman into a number "six". In January, when fans were calling for reinforcement he uttered the ridiculous claim that the squad was too strong. "We cannot just get any player. These players are too good and the squad too strong", he said. He called Lovren an outstanding centre-back in April. He claimed there are not 5 centre-backs better than his incompetent bunch, suggesting top clubs would be interested in signing his defenders. Even Rodgers, the owner of some spectacular gaffes in his time at Liverpool, would be proud of such empty statements.
Pep Guardiola and other top managers purged their squad of average players in the summer. Meanwhile, Klopp was strangely justifying the trust he has in his average squad.
"….A big part of football and life is really putting faith in the people you work with –trust them-because they can all improve……I believe in trust. I trust people until they give me an opportunity or a possibility not to trust them anymore. That's how I understand life…." Klopp was quoted in September prior to the Burnley match.
No wonder he has a squad of over pampered average and mediocre players who talk big after one good game and shrink when the going gets tough.
Liverpool went into the summer window needing to address problems in central defence; inability of its midfield to deal with very defensive teams and a lack of leadership across the pitch. So far there is no sign that any of these have been resolved. Yet Klopp talks about his team been good enough to challenge for the title and not being "500 miles" behind Manchester City. Preposterous!
It is apt that Tottenham instigated the gloom being experienced now. Spurs take away the excuse of fat chequebooks been the only way to stay competitive. Smartness and having a plan have a place in the game too. So there is no excuse for not getting a player like Paredes (a €23 million signing for Mancini's Zenith who is a massive upgrade on Henderson) and Manolas (a player far better than Matip and Lovren) when doing a deal for Salah.
Of the eleven players that started the Spurs match only two were signed by the German. Klopp's stubbornness of persisting with mediocre and average players in the hope of improving them has reaped little rewards. This stubbornness of wanting to turn water into wine when most of the water he's holding needs throwing away will only continue dragging down with his reputation as an elite manager.