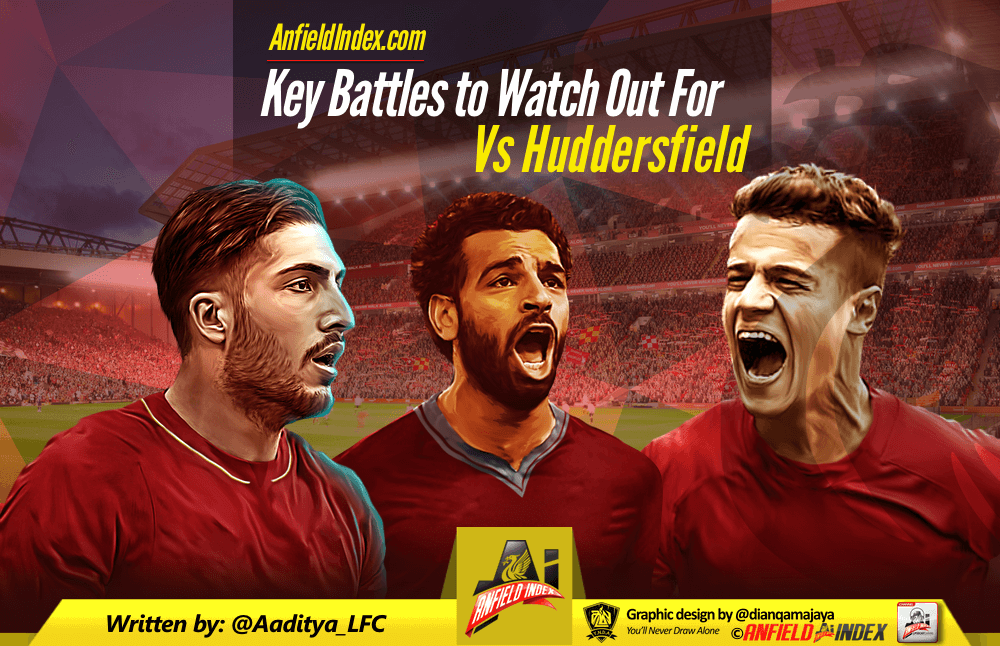 Liverpool v Huddersfield Preview - Key Battles
Jurgen Klopp and David Wagner are best buddies, and they couldn't have wished for more different circumstances than those facing them in the build-up to the first clash between the two as managers.
Liverpool were humbled at Wembley against a strong Spurs side, with shooting themselves in the foot being the most recurring theme. Huddersfield, meanwhile, pulled off one of their greatest victories beating Manchester United at home, in a result that is bound to send the Terriers' confidence soaring.
Klopp v Wagner is one battle that is bound to have most pundits (armchair or not) talking ahead of the game, but there is no exaggeration in saying that the ones on the pitch will have a much bigger impact on the game itself.

Liverpool need a reaction – for themselves, the manager and the fans. Will Anfield help them in getting that reaction everyone wants? That is anybody's guess. Patience is the most important virtue Liverpool will need on Saturday, as Huddersfield have already shown they are well-organised at the back, and the Reds will have to be on their A-game to break them down.
If the goal takes longer than expected to arrive, it is important that Anfield doesn't resonate with the impatience – added pressure from the stands is the last thing the Reds need at this stage.
Here are the key battles that could decide the outcome of the game:
EMRE CAN V AARON MOOY
The Australian has, by a distance, been Huddersfield's most influential player going forward, this season. He has got power on the ball, can pick a pass and has a mean shot on him, as he has already shown this season – the most pertinent example coming against Rafa Benitez's Newcastle.
The indications for Liverpool have been that Klopp is set to shake things up in terms of personnel, but his compatriot is one that will be expected to start this game. Can was ragged against Spurs, and it didn't help him that his position seemed to keep changing throughout the game. We all know what Can is capable of, but the challenge for him is to show what he is capable of, more often than he has shown in recent times.
His inconsistency is frustrating, but it could also be a cause for concern if it is seen in another way, which is completely justified. So far, he has gotten away with inconsistency citing his age, but is this a sign of things to come, and that his development has not been to the level everyone anticipated?
That is an interesting argument, but one for another day. For now, he has to put in a performance to revive what has been a ridiculous stop-start season so far, and one that has not been fun at all.
It is high time that Klopp finds one position and plays him in that position. The shuttling between no. 6 and no. 8 has not worked well for him, and it isn't like Klopp has undroppable players in either positions. So Klopp needs to make a decision as to where he sees Can's long-term position at, and plays him in that position.
In whatever position he starts, Can will have the legs to catch up with the opposition, but against Mooy, his positioning will be critical. The Australian loves picking up pockets of space and moving from there, so Can's duty, whether he is the 6 or the 8, will be to block those pockets.
MO SALAH v CHRIS LÖWE
Whatever anyone says about Liverpool's season so far, one unanimously accepted truth is that Salah has been a smashing signing. He already has nine goals this season, and has shown that his pace is the outlet for the Reds, even on the worst of days.
He will be up against Löwe, who has played for Klopp during his time at Dortmund. The German has already shown multiple times this season, that he can be susceptible to raw pace, and the 'King of Egypt' has got plenty of that to burn.
Salah has been criticised for his finishing, like the rest of the side, but his goal numbers so far are nothing that should concern anyone, although there is beef in the argument that it could already be much better than it is.
With nothing indicating a drastic change in Klopp's methods, Salah will be the out-ball for Liverpool again, particularly with Sadio Mane not back for a few more weeks.
Even apart from Löwe, none of the other Huddersfield defenders are particularly blessed in terms of pace, so it could be a good afternoon for him. Liverpool have recently shown that, at times, we play a sophisticated Tony Pulis method, wherein instead of banging the ball to a big man up front, we bang it long for the electric Salah to chase and create openings from there.
It is a method that may or may not be questioned, but one that has worked, at least for Salah himself. Wagner is a sharp man, so there is absolutely no question that he would have spotted everything that Liverpool do, and he will definitely make adjustments.
Whether Elias Kachunga or Rajiv van la Parra (Gini Wijnaldum's cousin) start on the left wing, to help Löwe double up against Salah, will be a very interesting point to ponder for the Terriers.
PHILIPPE COUTINHO v JONATHAN HOGG
So this key battle has been put in with the assumption that Liverpool will start with Coutinho in midfield and Alex Oxlade-Chamberlain on the left wing.
As usual, the little Brazilian is the one man through whom the play will pivot. He has started from the left side in recent games, to cover for Mane being injured, but Klopp has stressed often enough that he sees Coutinho as someone whose best position is in midfield, from where he can be much more influential on the game.
If the assumption made is indeed what Klopp also thinks, Coutinho will have no dearth of options. Both Chamberlain and Salah have the pace to burn, and get in behind the Huddersfield defense, and the magician has undoubtable ability to play those passes in behind.
Hogg had a fantastic game for Huddersfield against United last week, offering Mathias Jorgensen and Christopher Schindler enough protection in front of them, and not wasting too many passes.
But with United last week, there wasn't a starting midfielder who offered the kind of dynamism that Coutinho does. So Hogg faces a different kind of challenge. Hogg didn't waste too many passes last weekend, but United offered him time on the ball.
Typically, Liverpool don't offer you that time. Although there is enough statistical proof to back the claim that the press isn't in its best health, there is one argument that could ensure the press is in play against Huddersfield.
This is literally the first midweek break that Liverpool have got all season. So this is the first time, they have had more than 4 days in between two games, minus the international breaks. So one would imagine that the players have got sufficient rest, their mental and physical batteries are recharged, and as Klopp often says, they're ready to run.
Coutinho and Bobby Firmino will have to instigate the press from up front, because with the defense, Liverpool cannot take the chance of allowing too many balls to go through to Laurent Depoitre to bully the centre-halves.