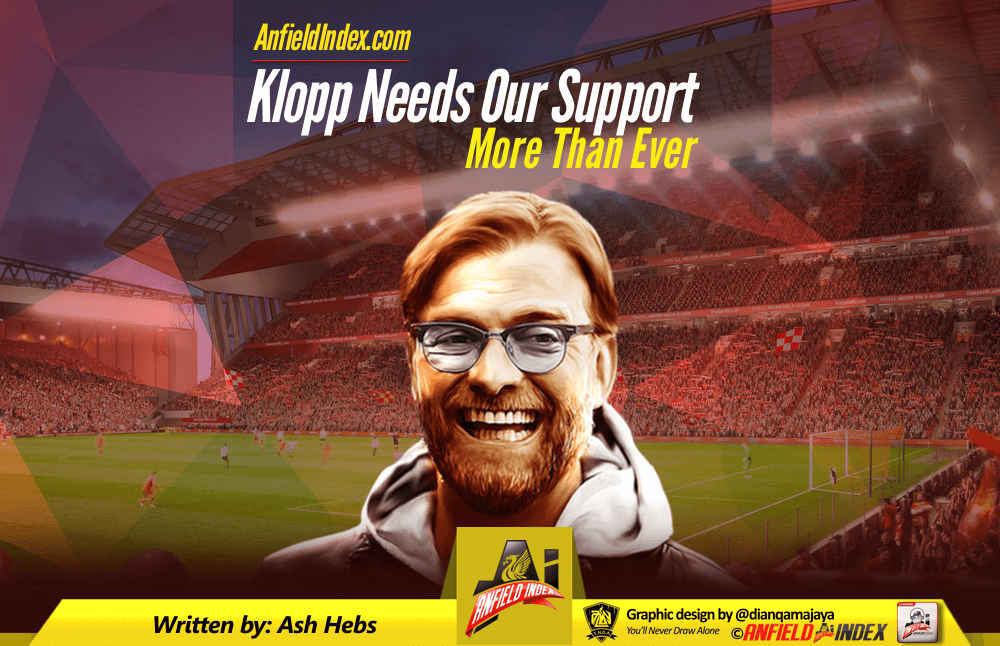 Klopp Needs Our Support Now More Than Ever
My 3 part series "The Klopp Project" discussed some of the context around the club's current position and fortunes. Context is one thing, but the Spurs debacle at Wembley (Huddersfield result notwithstanding) put some things into perspective.
It is undeniable that LFC and, perhaps more pertinently, Jurgen Klopp stands at a crossroad. It almost beggars belief that we're now broaching the subject of sacking Klopp. Especially considering it is only two years since the acclaimed, larger-than-life German walked into the club amid much fanfare.
The managerial hot seat: Sackings and Rafa 
In fairness, whilst personally delighted at the appointment of this box office manager, I did harbour some small reservations. Namely about his ability to lead Liverpool to the title, in light of his later struggles at Dortmund. Particularly in terms of player fitness records and the performance against defensive teams.

However, Klopp's ability to build a winning team without being solely reliant on big spending bode well for the club. He felt like the right fit, and still does, despite some of the recent problems. Short of us finding the next Pochettino, and I honestly wouldn't be able to name that person, I believe many managers would struggle. Especially under the very necessary financial restrictions the club operates within. I discussed this in "The Klopp Project" series.
Following on from last season's stodgy form once the new year arrived, I made peace with a realisation. The realisation that it's probably an unrealistic expectation for Klopp, or indeed any Liverpool manager, to win the title. It was good to see Jamie Carragher making similar observations recently. Carra should be commended for that attempt to manage expectations, even though his comments aren't always helpful. Unless some sugar daddy benefactor comes in and bankrolls a huge overhaul, we are where we are. I'm not sure this is even possible anymore under FFP.
Therefore, unless there is a very good reason for sacking Klopp I feel to do so would be an absolute folly. (Possible reasons might be performance levels falling off a cliff, or back to back seasons outside the top 4). If Klopp cannot succeed at Liverpool, it's likely that any other manager would struggle to do so. That would leave us with a pretty bleak, stark reality.
It worries me that sack talk has already started. We've crossed a dangerous point of no return and with each setback the calls will grow louder. Liverpool has one of the most active fan base in terms of media coverage. The reality is that very few people know what is going on at the club. We only have opinions. We cannot really influence decision making in terms of on-pitch performance. However, as momentum grows in a call to sack a manager, then, as we've seen with Roy Hodgson and Brendan Rodgers, supporters can have a real impact in forcing the owners' hand.
I've heard calls for Rafa returning and I'd love to see him return to complete what was, in my humble opinion, unfinished business. Ironically, now would theoretically be a good time for him to return; Klopp would leave him a decent base to work with and things behind the scenes are far more unified than the madness Rafa experienced under Hicks, Gillet, Ayre and Purslow.
but I think that the chances of Rafa returning under the ownership of FSG are between zero and nil. He did not have a good relationship with Ayres or Purslow. Rafa is on record as saying that they don't understand football. There is no doubt that these men poisoned FSG against the Spaniard. Had they not, I am sure he would have been re-appointed long before now. (If Rafa were to return, his enhanced media image, since his subsequent stints in England, may be a factor).
So who else is out there that would be willing, and possessing the gravitas, for the long term rebuild required at the club? And do we have a huge amount of confidence in FSG identifying such an individual given some of their previous appointments in various areas of the club?
The guys on the brilliant AI Pro "Under Pressure" podcast have demonstrated that the current underlying attacking performance of the team is close to title winning standard. We are creating high quality chances but the big problem has been chance conversion. This is not the stale, clueless, turgid football we saw towards the end of Brendan Rodgers' tenure. Klopp is finding ways to tackle the parked bus.
At some point there surely has to be reversion to a mean output level that sees us score the goals our build-up play merits. Put simply, our play deserved more points than we have on the board, in spite of the defensive issues that remain.
Nevertheless, it's interesting that critics of Klopp are citing Brendan Rodgers' superior record and there's no arguing with the facts. I do feel that Rodgers did benefit from a world class talent in Suarez who was reaching his peak performance levels. Suarez also benefitted from Coutinho and Henderson playing in positions that suited their game albeit in a different formation. We also saw Steven Gerrard enjoying his final swan-song in a role that brought out the best of his deep passing ability.
Klopp still has time to adapt his system and it will be interesting to see where he goes following the Wembley debacle. Also, the peak of Firmino, Salah and Mane is surely still to come, so exciting things potentially lie in wait if we are willing to be patient with Klopp. Of course all these things may never materialise. Football is a funny game after all, but as fans we need to give it a chance at the very least. Klopp is yet to exhaust all the possibilities open to him.
An unhappy fanbase
And yet the current dissatisfaction in the fan base is totally understandable and warranted. From the defensive issues that can be seen a mile off, to the lack of appropriate defensive signings in the summer (and by implication Klopp and FSG's role in those affairs). Some big mistakes have been made despite mitigating factors in certain cases.
At present the narrative for the season is headed towards "a campaign of missed opportunities". Much like the transfer window just gone. Missing top 4 at this stage in Klopp's tenure would be an unmitigated disaster. It would be one step forward and two or three steps back on last season.
Following the Spurs game, the time for excuses is well and truly over as far as I am concerned. Klopp would admit that and I'm sure FSG would as well. Both parties need to step up. But that does not mean they should leave the club. Even if they did, we would still need patience to see the club back on its perch; it would not happen overnight.
A fresh narrative
However, the narrative is still to be written. I sense Klopp is under no illusions that he now needs to balance spending with player development. The Premier League is just too brutal and unforgiving for the patient approach he adopted in Germany. Klopp has been let down through under-delivery in both this year's transfer windows by Michael Edwards. Klopp has spoken many times on the defensive issues, but it's clear fresh bodies are needed. Coaching can only go so far. New players in defensive positions haven't been too forthcoming. My next article will address this subject.
Despite all the problems last season we made top 4. Despite the problems this season we are still in top 4 contention and in a good position to reach the Champions League qualifying rounds. If you believe that we should be title contenders after failing to land Van Dijk and Keita (or any alternatives) last summer then you are more of an optimist than me! That said, to be out the title race already is simply shocking. All the same, expectations have only been raised because Klopp has already done a good job.
The Huddersfield result was a step in the right direction. Our finishing and game management showed the ruthlessness that's been missing of late. Early season fixtures have been tough. Huddersfield marked the start of an easier run, on paper. I see promising signs Klopp is adapting to the difficulties of the parked bus. But there's still a lot of work to do.
Conclusion
For now, the manager has to work with the players he has until January because, whatever the reason, the transfer window damage is done. But he has to be careful how he goes about it. Overhauling the entire back line or first XI could undo what relationships and cohesion have been developed. This would put the team in a far worse position. Klopp's team selection this weekend points to his acknowledgment of this.
Klopp is a visionary but has shown he's also a pragmatist in last season's run in. We now need to see more of the latter. I believe he now has no choice but to show it. Being a highly paid manager, he has to show that he's ruthless enough to make the necessary changes to salvage our season. My next piece will look at options available to the manager.
The fanbase can play a huge part here, in giving him the support he needs as he embarks on that process. There are a number of permutations available, but it is not going to be easy. If it works, then we are all winners.