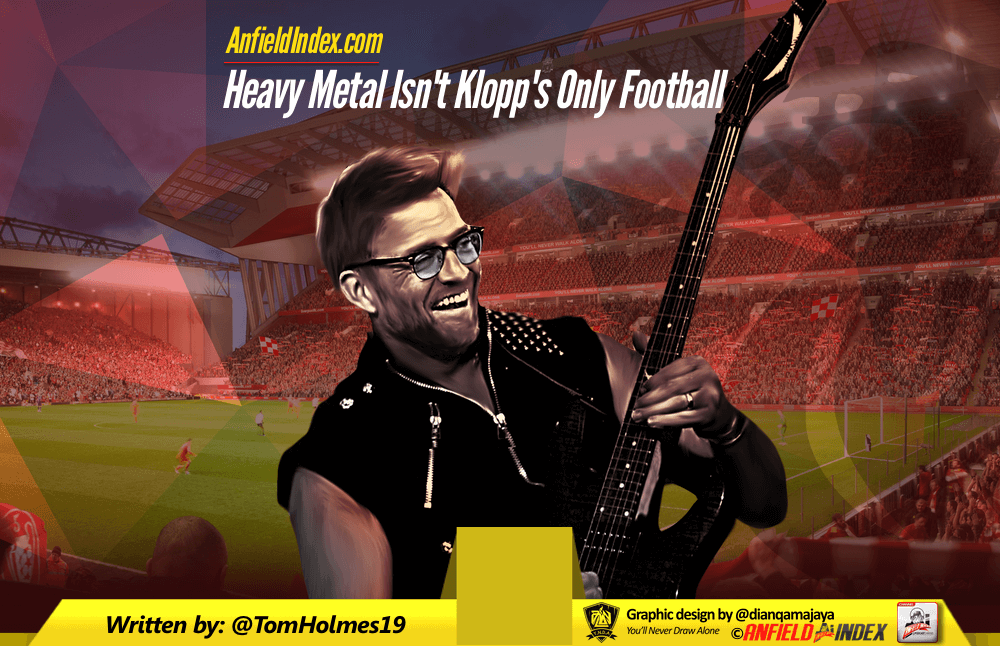 Heavy Metal Isn't Klopp's Only Football
On the Anfield Index Pro Post-Match show after Liverpool beat Huddersfield 3-0, Simon Brundish talked about how the idea of Liverpool needing to play fast, flowing football every single game is a complete myth. He also highlighted our excellent form at the back end of last season where Liverpool had to grind out results, rather than simply playing through other sides. The full soundbite is below:
https://twitter.com/AnfieldIndex/status/924673863308447745
One big takeaway from Liverpool's 3-0 win defensively has been how Joe Gomez has played deeper at right back than Alberto Moreno on the opposite flank, and how this offers more stability to a Liverpool defence that often finds itself overly exposed on the counter-attack. That's not where this tactical shift begins and ends, however.

There's an interesting comparison to be made between the opening 12 games and the last 12 games of Liverpool's campaign last season. In their opening 12 games, the period Brundish is talking about as being when we played our fast, free-flowing football, the Reds scored 30 goals, conceded 14, and picked up 8 wins, 3 draws and 1 defeat for a total of 27 points, or 2.25 points per game.
Compare this to the final 12 games of the season, where the Reds were, on the whole, more reserved, played with a more coherent defensive structure and arguably were less creative as a result. In this period the Reds scored significantly fewer goals – only 23 – but also conceded less at just 9. But, in terms of results? 8 wins, 3 draws, 1 defeat, 27 points. Identical.
Liverpool fans prefer to remember the 6-1 win over Watford, the exhilarating wins over Leicester, Hull and Crystal Palace, but the fact remains that the 1-0 wins over West Brom and Watford and the 2-1 wins over Stoke and Burnley count just as much towards the points tally. Yes, it would be a fallacy to suggest that the Reds didn't play some good football over the later period nor some awful football over the earlier one, but by and large there was a marked difference in the way that we set up.
This set up has helped us out again this season, first in the 1-0 win over Palace and then again in the 3-0 win over Huddersfield. Having at least one full-back play more defensively than usual is a key part of that – and certainly Gomez was deeper than usual in both games – but it's also about the midfield and ensuring that Henderson and Can/Milner/Wijnaldum are either not over-committing, or quick enough on the transition to ensure Liverpool aren't caught out.
Against Palace, the Reds were only caught out once or twice but against Huddersfield, it didn't seem to happen at all. The Terriers managed one shot all game, a wasted free-kick at 2-0, and never looked like testing the Reds. That's partly down to Liverpool not allowing counter-attacks, through having an extra man or two back, effective pressing in the opposition half and not giving the ball away cheaply very often. Of course, it's partly down to a woeful opposition but Huddersfield showed last weekend that they are not consistently a poor side, so the Reds do deserve credit.
The negative knock-on effect that Liverpool weren't as fluid going forwards, particularly in the first half, but what they were was patient, a skill that fans need to learn to adopt. Liverpool were superior to Huddersfield in every department and knew it, and as a result, they could wait for the opposition to make stupid errors, which they did.
Plenty will point out that Liverpool haven't been creative enough this season to warrant such a defensive approach, and argue that draws against Newcastle, Burnley, Manchester United and Spartak Moscow indicate the Reds can't always wait for the opposition to create errors.
But the only one of those games in which Liverpool failed to score was the United game. In the other three games, it was poor defending that cost the Reds three points and in all three matches if Liverpool don't fall behind in sloppy fashion, which can be at least partially mitigated by this patient, defensive approach, then at 1-0 the games are entirely different.
Against Huddersfield, after Sturridge's clinical but fortuitous goal, the floodgates were able to open. This patience, followed by a rapture of goals, was what got the Reds over the line against West Ham and Middlesbrough last season, although Klopp's approach in those games wasn't necessarily defensive either.
A great example of the sort of tactical shift we're looking at comes from Klopp's substitutions against Huddersfield. At 2-0, he replaced Firmino and Sturridge with Oxlade-Chamberlain and Emre Can. Ox for Firmino isn't an overtly defensive change but does favour more of a counter-attacking style with a pace option than a creative, fluid move. Can for Sturridge, on the other hand, is an overtly defensive move to shore up the midfield, leaving Can, Milner and Henderson with Wijnaldum and Oxlade-Chamberlain either side of them.
Brandish's point, as I see it, is that Liverpool fans expect their team to play the heavy metal football every weekend; that we need to see the team ripping teams apart in order to associate our side with being in form or playing well. But there's plenty of evidence to suggest that that isn't often the case, nor does it need to be the case. And the game against Huddersfield, where Liverpool showed patience, control and a bit more defensive nous, is the perfect example of this.
Forget heavy metal football, this was more like smooth jazz. But the Reds won, and comfortably so. Up the Reds. More of this please.