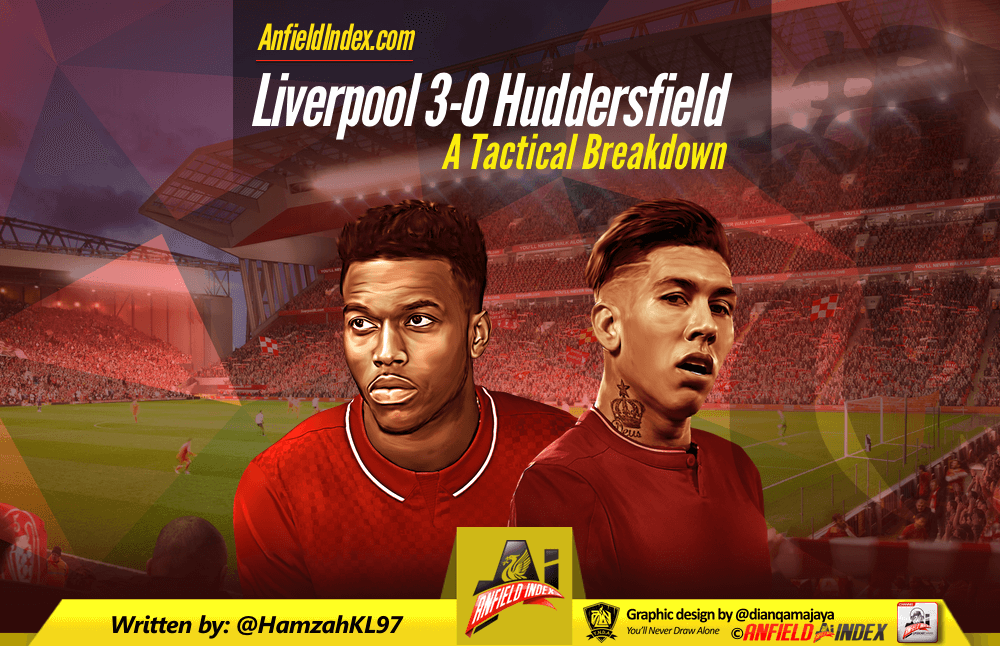 Liverpool 3-0 Huddersfield: A Tactical Breakdown
A calming remedy to the farcical display at Wembley against Spurs, but a hurdle which Liverpool were always expected to jump over rather comfortably. Liverpool's 3-0 victory, for the opening 45 minutes threatened to be a washout, as the Reds struggled, with an all-too-familiar drabness. In the second-half though, Liverpool sprung into life, with both Sturridge and Firmino scoring, and Wijnaldum capping the display off towards the end. But this was a break from some of the patterns we've seen emerge during this season; Liverpool were clinical with their chances – barring the penalty – and made few defensive errors – albeit Huddersfield did not put the Liverpool defence under pressure.
Stats
xG (Caley)
LFC: 1.8 (+1 pen)
HTFC: 0.1

Shots (on target)
LFC: 16 (8)
HTFC: 1 (0)
Possession:
LFC: 73.4pc
HTFC: 26.6pc
Henderson (11.6), Gomez (9.4), Klavan (9), Matip (8.4), Milner (8.3)
Again, when Liverpool dominate possession, and a midfielder has more possession than the centre-backs, Liverpool are usually better offensively.
Touches:
LFC: 933
HTFC: 454
Passes:
LFC: 766 (86pc success)
HTFC: 280 (62pc)
Matip (98), Oxlade-Chamberlain (93!), Gomez (91), Klavan, Moreno (89)
Key Passes:
LFC: 11
HTFC: 1
Milner (4), Firmino (2), Sturridge, Wijnaldum, Henderson (1)
Dribbles:
LFC: 8
HTFC: 7
Liverpool's dribbling was exceptionally low, with Firmino making three, and Oxlade-Chamberlain and Salah both making two. It's symptomatic of the drab and slow first-half performance in which Liverpool were nowhere near aggressive enough with the ball.
Attacking zones
LFC: 32pc/29pc/39pc (left/centre/right)
Shot areas 
LFC: 13pc/63pc/25pc (6-yard box/18-yard box/outside box)
Again, Liverpool do better when they take or create a larger number of shots inside the six-yard box, but Liverpool's share of shots from outside of the box is still too high. To score frequently, Liverpool should be taking a larger proportion of their shots from areas in which they are likelier to score/have higher xG. This is something that looks like it is being addressed, but is very much a work in progress.
xG map for Liverpool – Huddersfield. Let's say that Liverpool didn't find themselves under too much pressure here. pic.twitter.com/oJXYrzn853

— Caley Graphics (@Caley_graphics) October 28, 2017
Tactical Setup
As discussed on the Tactics Weekly show hosted by Dan Rhodes and Paul Dalglish, Liverpool setup in a different manner to what they normally do at home. Klopp tweaked both the offensive and defensive setup simultaneously, with Joe Gomez asked to refrain from going forward as much as usual, so when Liverpool were in possession, they would have a stable back three covering the Liverpool half, leaving less space exposed, less space to run into and less space between centre-backs, meaning individual centre-backs were less likely to be exposed in a one-on-one situation – something that Dejan Lovren, who was scheduled to start, struggles with, and perhaps this tactical change was meant to address that, and reduce the defensive burden upon him and Matip.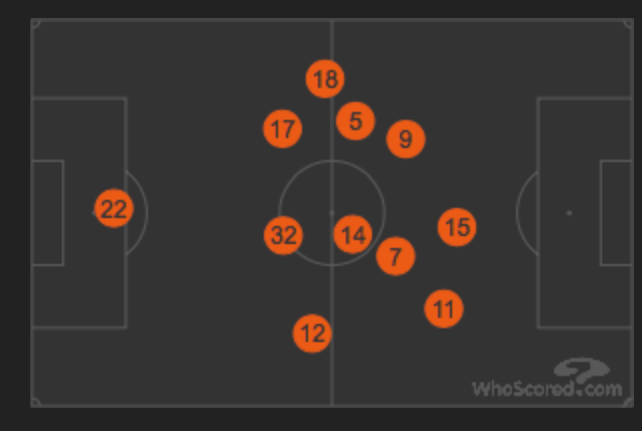 Indeed, usually, Liverpool's fullbacks, especially when the team dominates possession have their average positions far higher up the pitch than in the image above.
One of the features of this was that Liverpool lacked considerable width too – with only Salah (who functions as an inside forward anyway) providing it on the right, and Moreno on the left fulfilling both defensive and offensive wing duties. In the chance preceding the corner in which Firmino scores, as we'll look at shortly, we can clearly see how narrow and concentrated Liverpool's front line is. But this can be a strength too, as Liverpool can press far more effectively down the centre when the midfield is packed, whilst Firmino and Sturridge also thrive in more central areas, opposed to being out wide.
The lopsided formation though also has a number of benefits too, it creates an additional horizontal line in which the team can operate on, on the pitch, allowing for better exploitation of half-spaces, through concentrating on one particular side.
The Goals
1-0, Liverpool, Sturridge, 50′ 75
Liverpool's first goal started with some work from deep and completely cut out play in the area of the pitch between the CDM and STs. Matip plays it into Moreno, and Firmino sees that as a trigger to run from deep.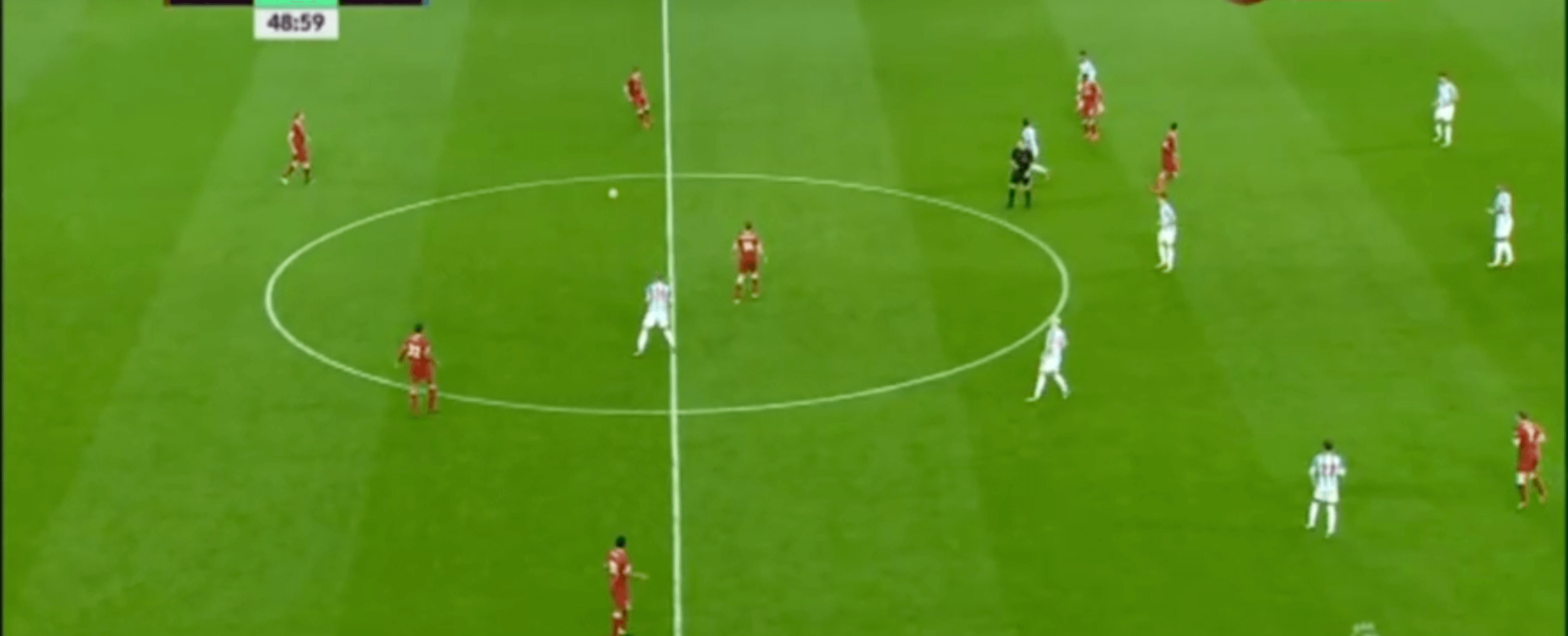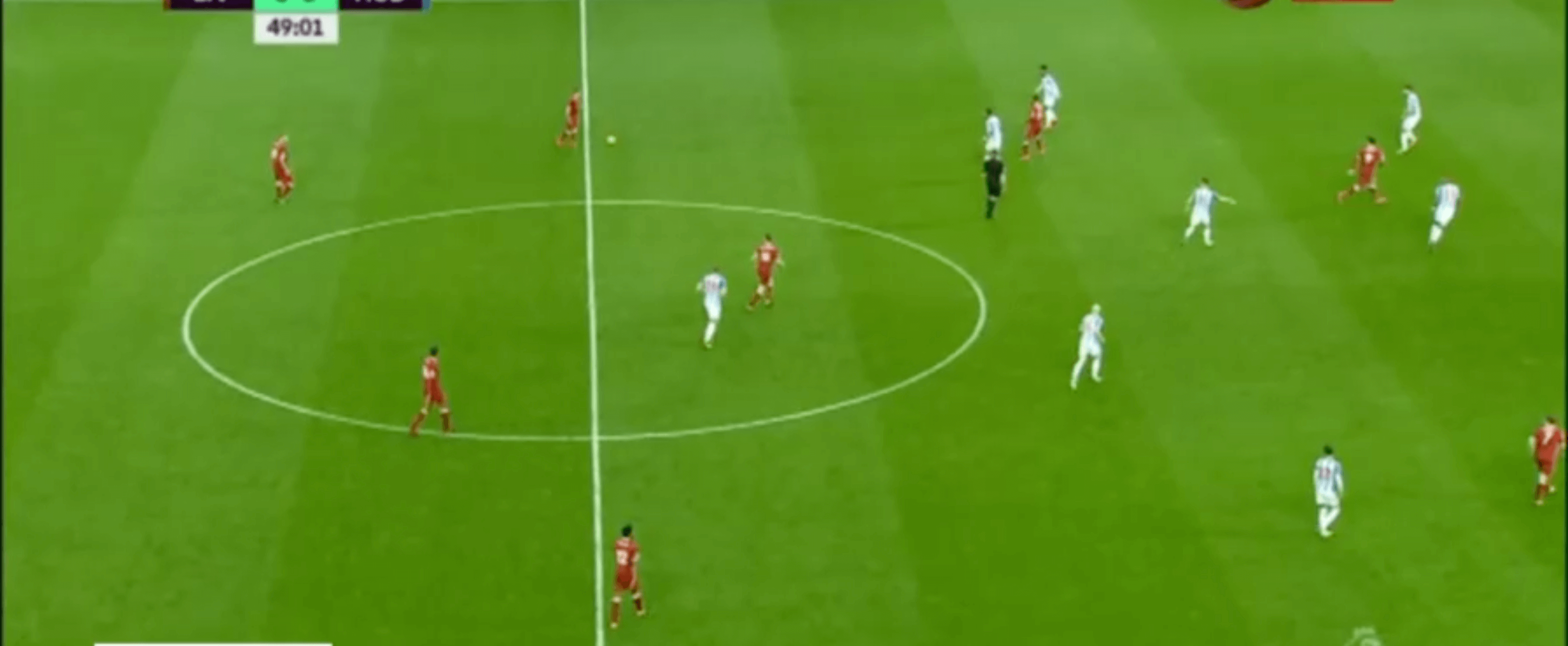 Firmino's run, and the ball into that particular zone, draws the right-centre-back, with Sturridge in an offside position.
But even here, whilst offside, we see the benefits of a more traditional striker playing, with him occupying an advanced position, in anticipation of a loose ball, or stray pass – being able to link up with Firmino in a manner that Salah and Mané – who obviously play wider – do not.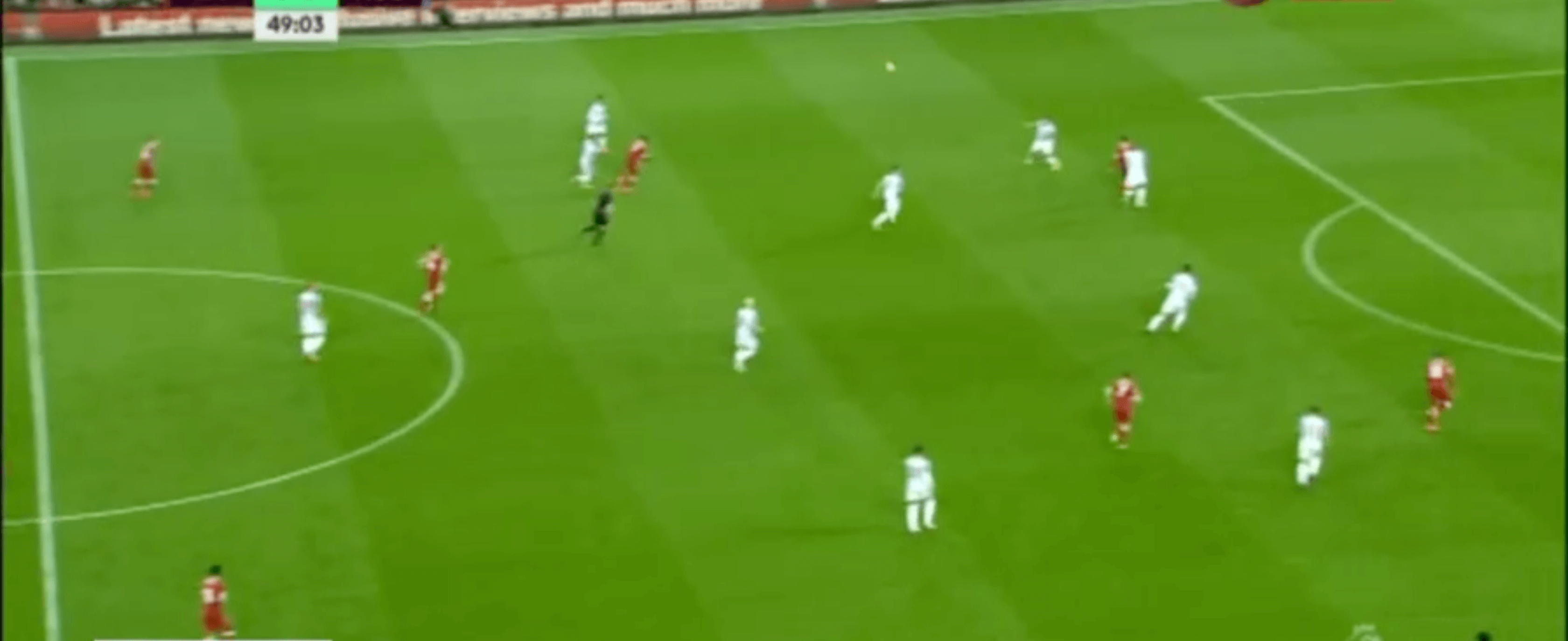 For Sturridge, it's an easy chance, and he seized the opportunity to score his 100th Premier League goal. And whilst fans' opinions with regard to Sturridge change like the weather, he continually proves his worth, when he can play – as he does here. Indeed, this is the clinical finishing that we have bemoaned about over several games this season and desperately needed. With Sturridge now fit and scoring again, this could be a key moment for him and the team to build upon going forward.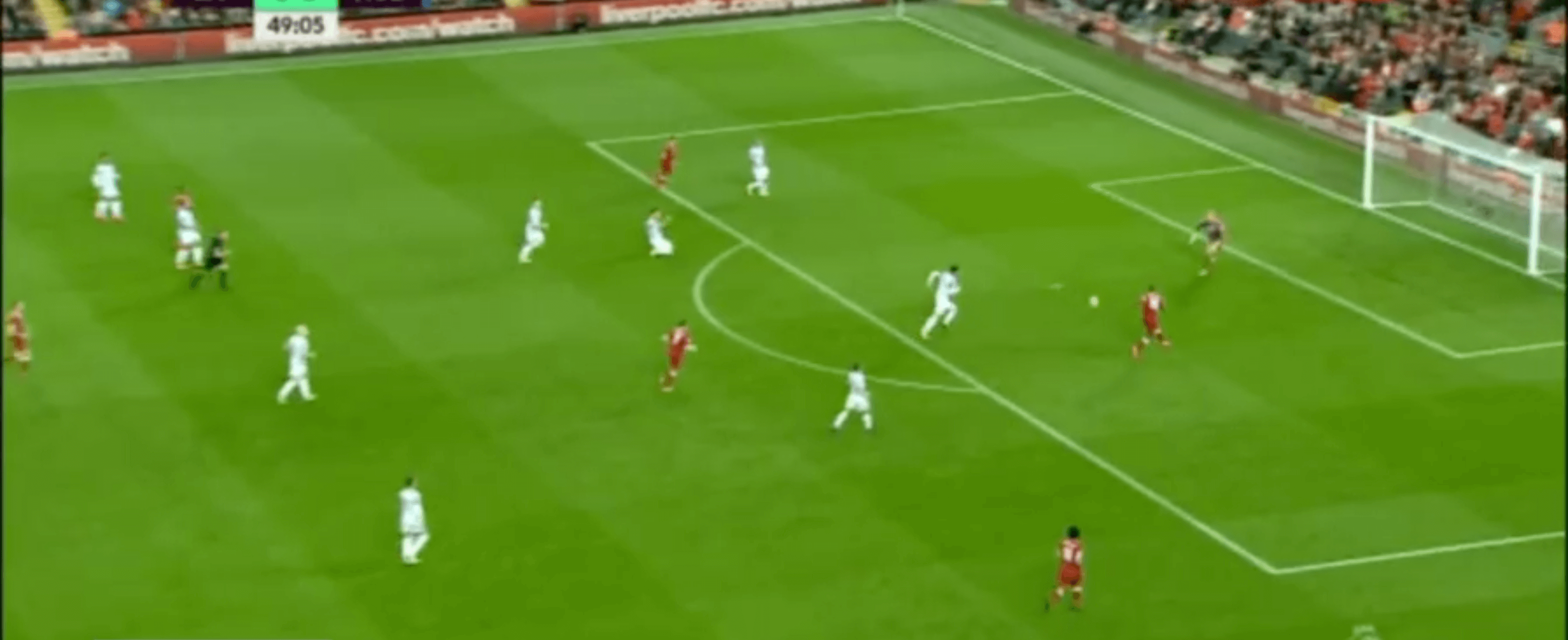 2-0, Liverpool, Firmino, 58′
Peculiarly, Liverpool's second goal came from a corner, but first, we'll look at how Liverpool earned the corner.
Like the first goal, it started with a long pass from deep – this time Firmino manages to get the ball under control from the diagonal pass.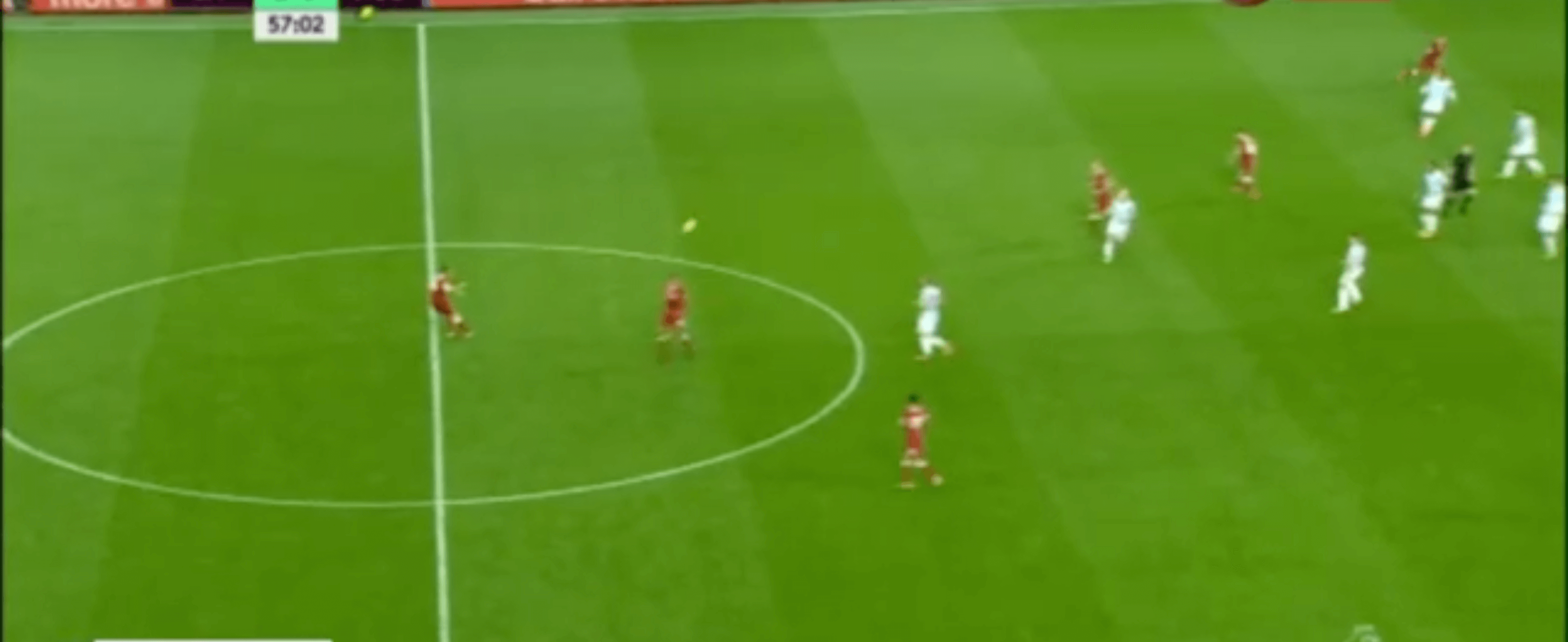 And here we can see the very compact nature of Liverpool's front three in this match: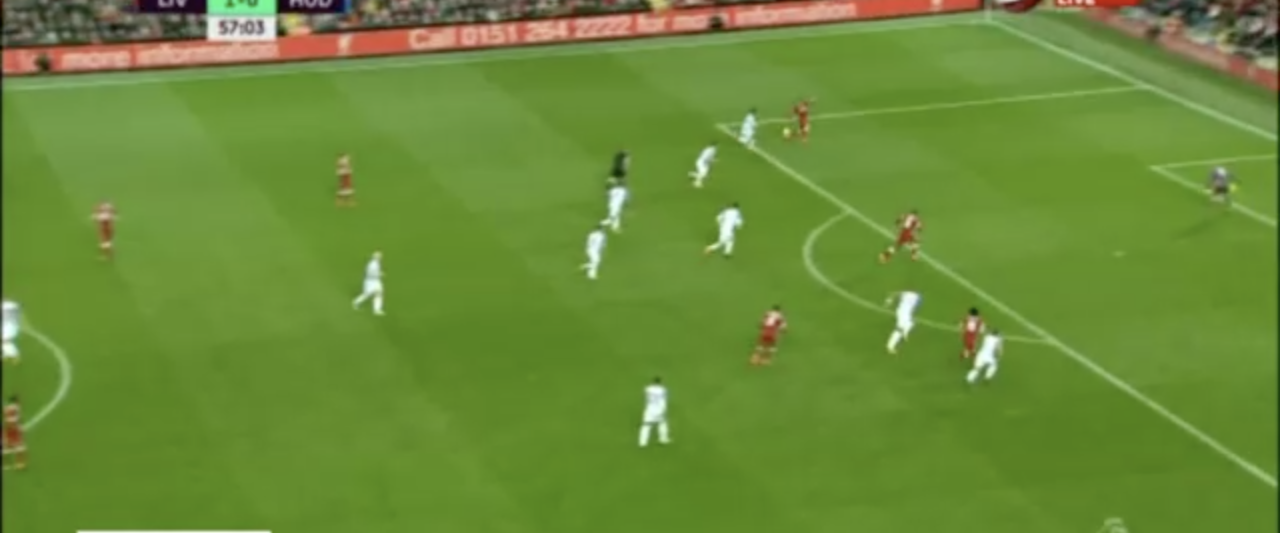 With the ball cleared before it reached Sturridge though, Liverpool took the subsequent corner, with two players contributing to Firmino's goal: Wijnaldum and Gomez.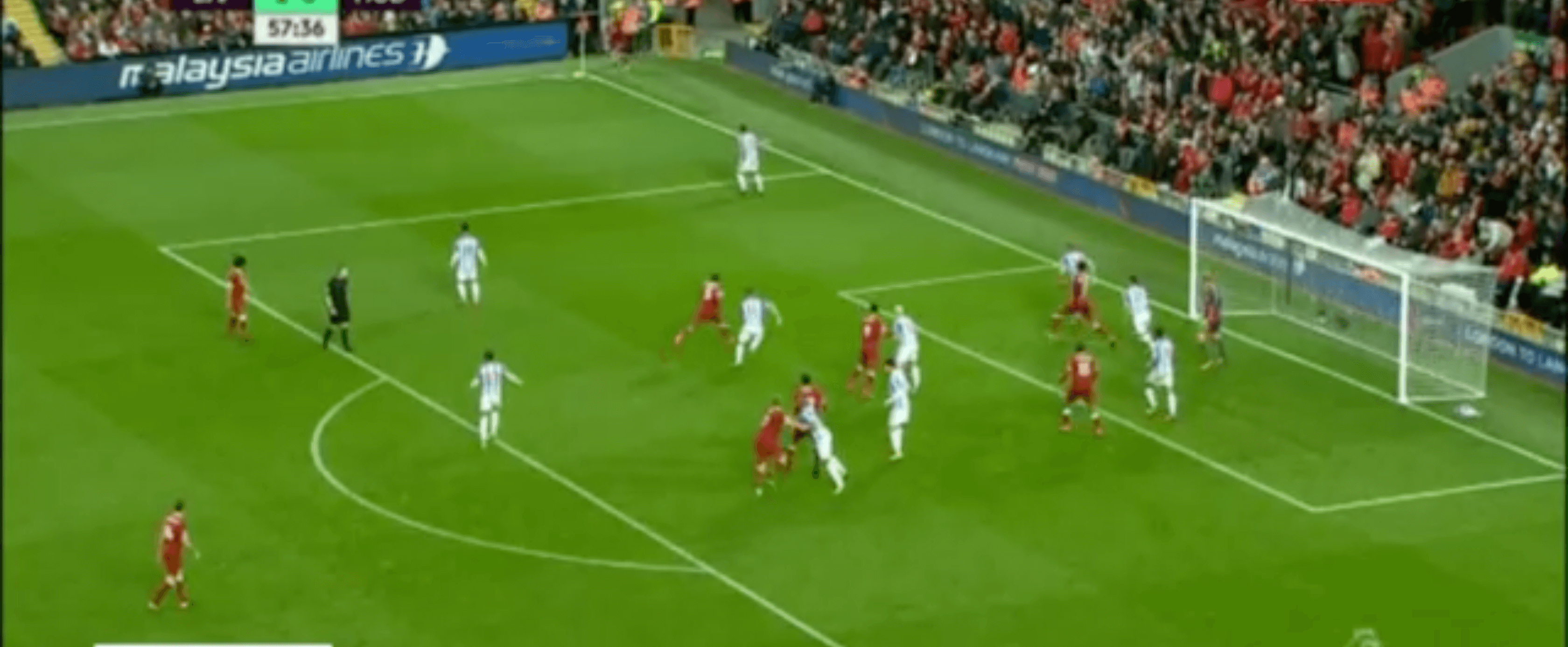 Initially, Huddersfield setup with a gap on the edge of the six-yard box, but first Wijnaldum makes a run towards the near post, then Gomez. In doing so they both attract defenders and obstruct the goalkeeper's movement to the front post, but Wijnaldum's run, in particular, allows for the ball to reach Firmino as the first man, without any players in front of him – giving him a clear heading opportunity.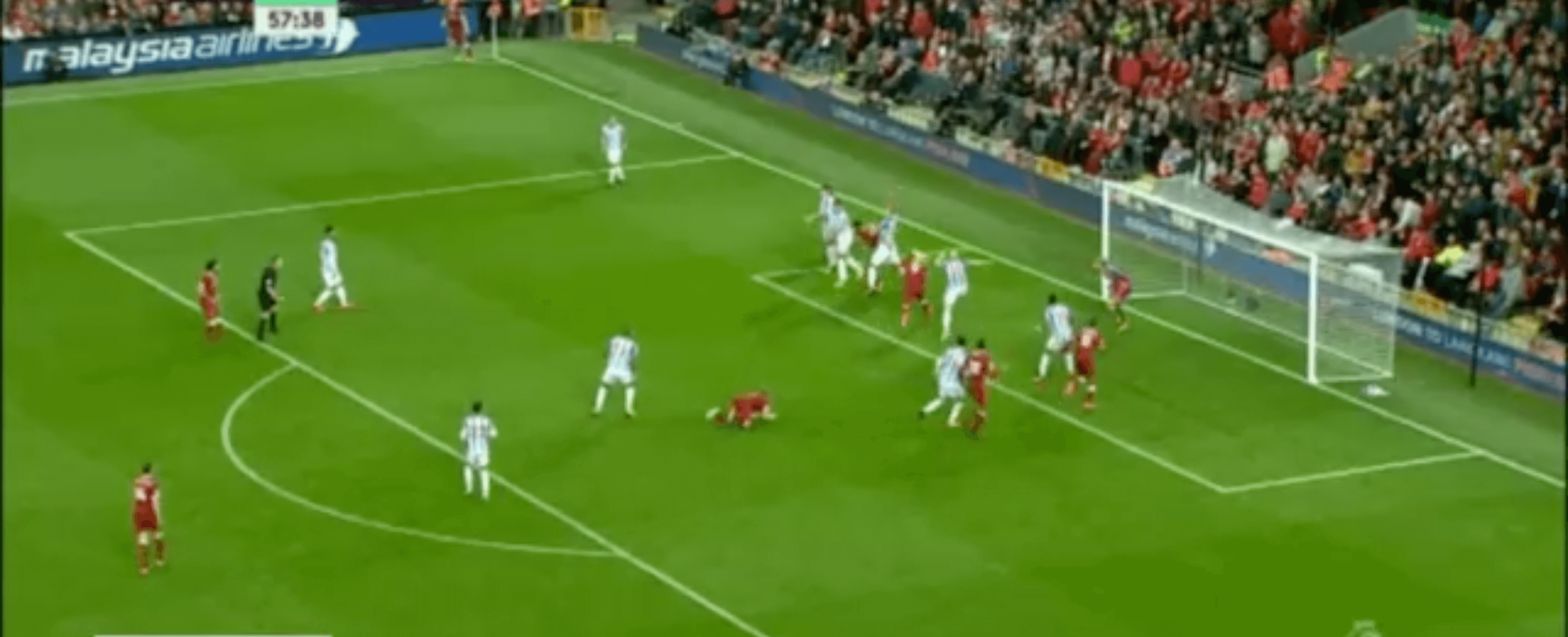 3-0, Liverpool, Wijnaldum, 75′
Liverpool's third goal started with a driving run from Oxlade-Chamberlain, who, in doing so, compacted the Huddersfield defence, pushed them back and gave Liverpool a scoring opportunity through moving forward at speed.
Whilst dispossessed, Winaldum picks up the ball, and then lays it off into Can.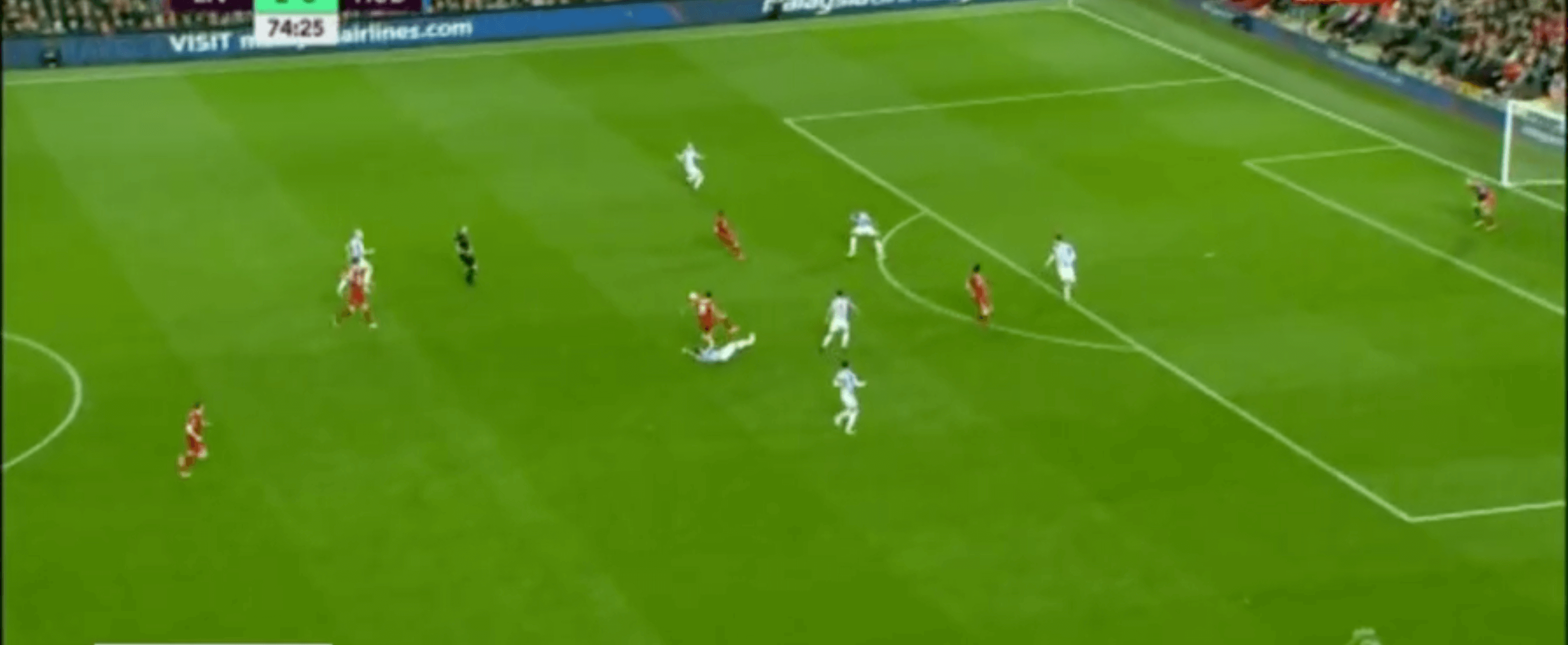 At this point, Can has a decision, whether to play the easier pass into Milner, on the right, and follow-up the subsequent cross, or, instead to play a riskier pass into Salah. He opts for the latter.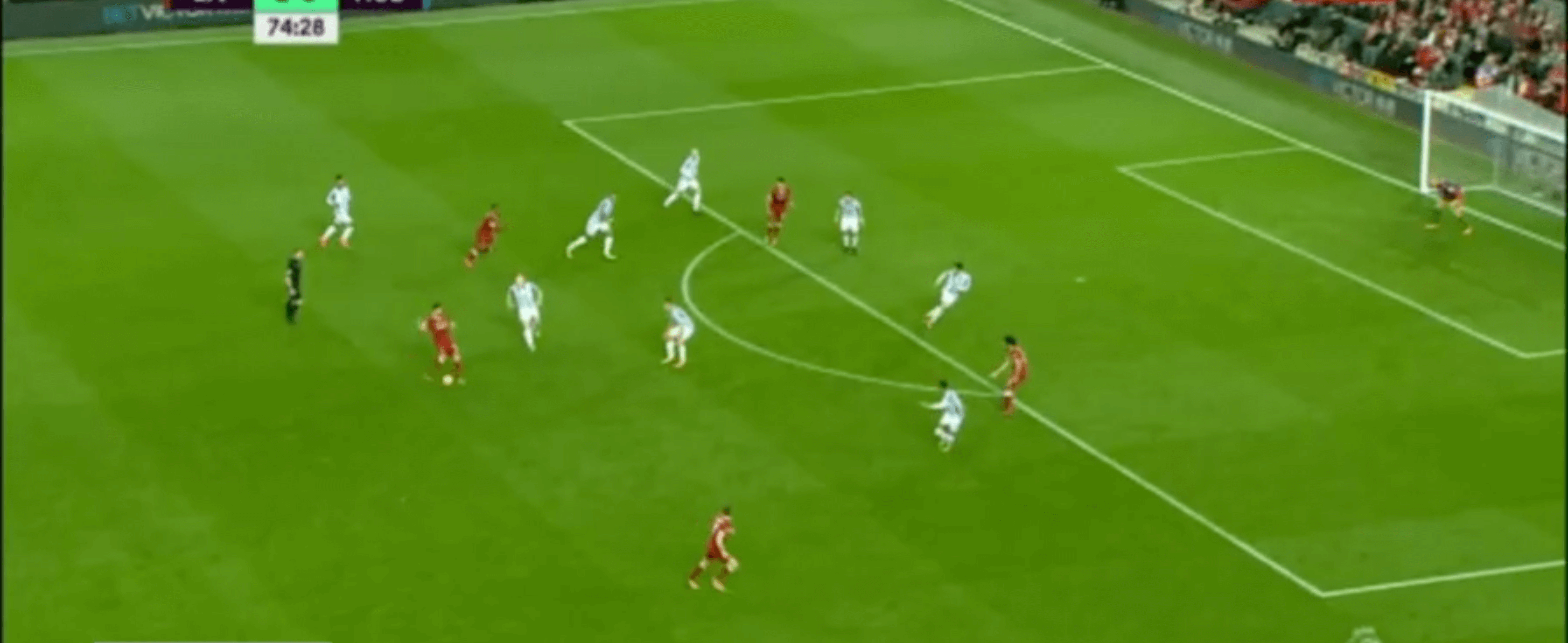 Wijnaldum comes inside, and Salah passes into him – but both he and Milner are still involved in the eventual goal.
Salah curves his run centrally, creating the eventual space that Wijnaldum runs into, whilst Milner's positioning causes the Huddersfield right-back to be hesitant in committing himself – leaving a gap which Wijnaldum coolly strolls into, before dispatching into the roof of the net. Even with nine Huddersfield players in the box, some intelligent movement and positioning undoes them.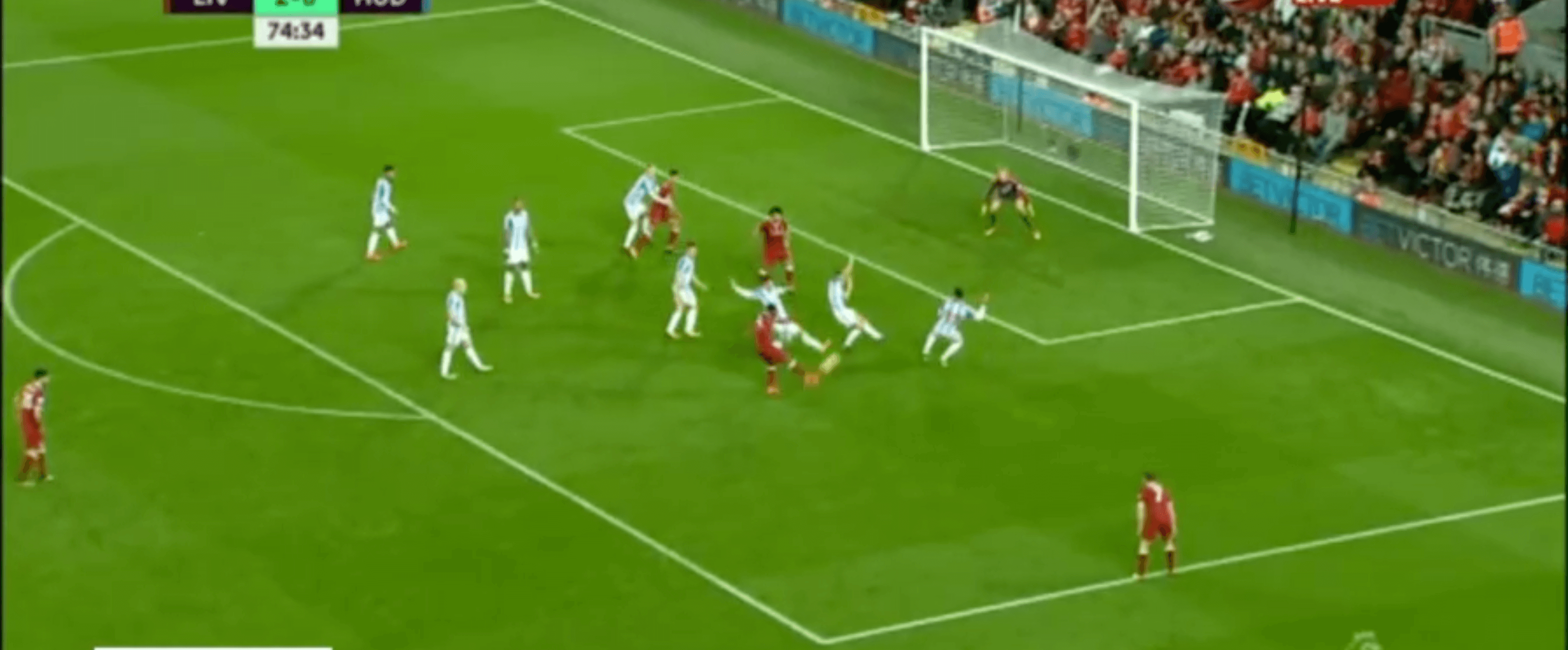 Final Thoughts
For a side lacking key players Coutinho, Lallana, Mané and Clyne, and under considerable pressure, the team responded strongly with a respectable performance. The overriding issue last season was that Liverpool could not break down defensive teams, instead now the issue is conceding goals, however, this new positional setup may go some way to alleviating that issue, but we will need a much larger sample size to really test that thesis.
The worrying thing for Liverpool was their passive first-half possession, but they were markedly more aggressive in the second half, and whilst it was certainly not a blitzkrieg performance it is worth remembering Liverpool are lacking their two most dynamic players, but managed to reduce their defensive errors, and instead waited upon Huddersfield to blink first – which they did, and Liverpool took full advantage.
A comfortable victory, with very little defensive threats, but a welcome clean sheet nonetheless. If Liverpool can bring some more of these second-half performances in during the coming games, there may still be considerable life in a season, in which fans have already written off.