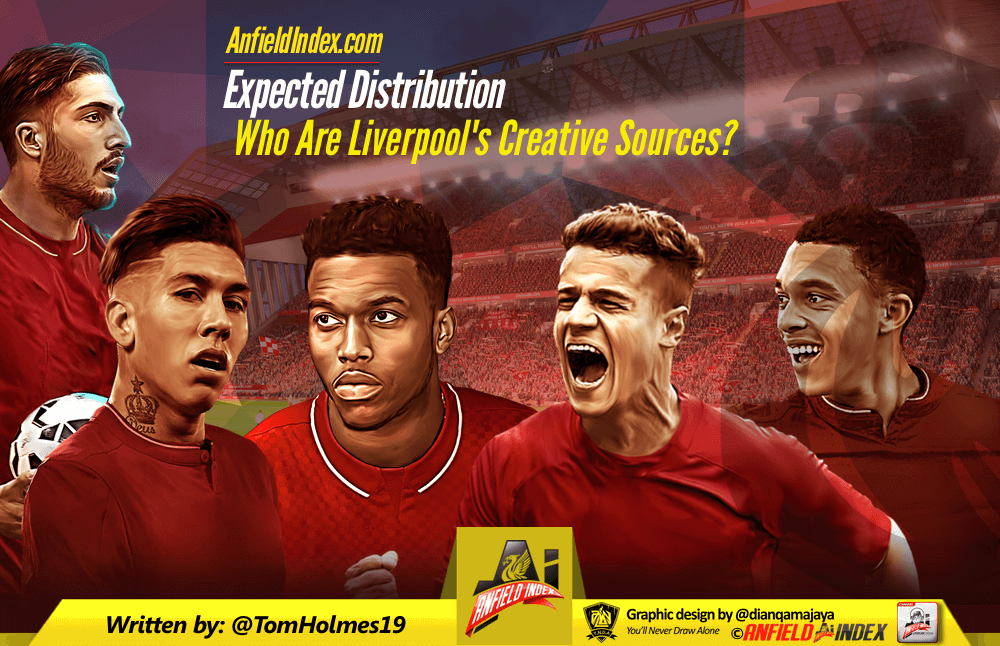 Expected Distribution - Who Are Liverpool's Creative Sources?
The AI Under Pressure team produced a graph showing what the ratio of expected goals per 90 minutes played and expected assists per 90 is for each player in the squad in the Premier League. Below is Simon Brundish's tweet with the attached graph (each line on the graph is 1.0 xG+xA p90). The purpose of this article is to attempt to draw some conclusions from it, with the immediate disclaimer of sample size attached.
attacking contribution by XG pic.twitter.com/ZaoBdOBP5O

— SimonBrundish (@SimonBrundish) October 28, 2017

Starting logically then, at the top and with the defenders. There isn't much to draw from the CBs, except that Matip has had some decent chances to score this season despite not taking one, but anyone who's watched the Man United game could tell you that much.
In terms of full-backs, here there are some more interesting conclusions. The one that sticks out is how high Robertson and Trent Alexander-Arnold's expected assist per 90 numbers are. It's not overly surprising that Robertson's is so high given the quality of his crossing in his limited Premier League appearances, but it remains impressive just how high that bar is.
The issue with comparing full-backs in the Premier League is that Robertson has started just two games, and Trent just three, compared to eight starts for Moreno and three for Gomez. So the numbers are skewed. Nevertheless, whilst it's expected that Gomez's xG and xA will be lower, what will be worrying for Liverpool fans is how low Alberto Moreno's stats are, with his xA significantly lower than even Gomez. Certainly, it adds fuel to the fire that Robertson deserves a chance, even though it has to be said, Moreno has been largely excellent so far this season.
Moving forwards then into central midfield, and it's certainly worrying that all the numbers are so low. It's hard to look seriously at Oxlade-Chamberlain who has barely had a sniff, but the numbers for Liverpool's four main central midfield options make for grim reading. Emre Can fares the best, with a reasonably high expected assists rate per 90 but still not overly high comparatively. Wijnaldum's lack of creativity and lack of goals is appalling, but the fact that his numbers are virtually non-existent is not a surprise. Milner's numbers are also about what you'd expect, and nothing special.
Henderson's numbers are for me the most interesting of the midfield set. Despite being on paper the most defensive of Liverpool's midfield, his xG is the highest of any player outside the front three, higher than Wijnaldum and Ox. Another interesting factor is that despite having easily the highest key passes of the midfielders, Hendo's xA is very low, indicating that he creates a much higher volume of low xG chances compared to say Emre Can, who creates low volume, high xG chances.
The big issue with the midfield isn't the individual numbers, but the collective lack of a standout individual. Whilst Can's xAp90 is relatively high, otherwise, there is no midfield option consistently creating chances or getting in position to score goals.
Moving forwards then into the front three and this is where the numbers escalate. Naturally this is to be expected, after all, it's your attackers who score goals and create chances. The first thing that jumps out is that the two players with easily the highest xGp90 are Sadio Mane and Mo Salah. This is largely unsurprising and underlines two things.
First of all, it underlines the importance and strength of the wingers in Klopp's system, which is something that we already knew about. Mane and Salah's almost identical xG of just below two indicates that we can expect them to be scoring regularly when they're playing. The second thing it underscores is how much Liverpool struggle without those two attacking threats in the side. The drop down from Mane to any other Liverpool attacking option is huge so when he's been missing, it makes sense that Liverpool have subsequently looked more toothless.
This ties in nicely with the role of Roberto Firmino. Bobby has the 4th highest xG per 90 in the side, below a goal per 90, but also has comfortably the highest xA per 90 of any player who has played at least five games. This underpins the same notion. That when the front three is at its best, it's Firmino dropping deep to create chances for the other two players, but when Mane is missing, Firmino is not going to step up and score as many goals as Salah or Sturridge. Firmino's role in the side is primarily a creative one, which works perfectly when he has players to pass to, but not so well when he has to be the scoring focal point.
This brings us on to Sturridge, whose xG is much higher than Firmino's, and also has a very creative presence with a very high xA. Whilst Sturridge is more of a goalscorers, so his higher xG per 90 is arguably to be expected, especially with roughly as many minutes as Firmino under his belt, his creative side is quite surprising with 2.2 key passes per 90, compared to Firmino's 2.4. It's certainly numbers to suggest we should see what Sturridge can do with a longer run in the side, especially with Mane out injured.
Finally, Phil Coutinho. I'm talking about Phil last for a number of reasons. Partly because his role in the side has fluctuated so far this season, and therefore it's difficult to talk to him as fitting any particular part of the LFC narrative, but also because his numbers make for interesting viewing.
In many ways, Coutinho's numbers make perfect sense. His xG is higher than the midfield but less than the forwards, which reflects his dual role, playing roughly half of his minutes in midfield, and half in attack. Likewise his xA is higher than most players in the team and only significantly lower than Firmino.
But equally, Coutinho's numbers are still slightly counter-intuitive. Coutinho is seen as our most important player, yet his combined xG/xA is lower than any other big players. This is clearly because he's adopted a deeper role this season, and also because Coutinho tends to score a lot of low xG goals – his two Premier League goals were both very low xG.
Nevertheless, Coutinho has a similar problem to Henderson in that he creates comfortably the most chances in this Liverpool team, yet his xG is nowhere near the highest. Despite having a higher key passes per 90 than even Alexander-Arnold at 3.5, Coutinho's xA is relatively low, especially compared to Firmino, who as mentioned only gets 2.4 per 90, and Can who averages just 1. So despite creating three and a half times more chances than Emre Can, Coutinho's expected assists is almost identical to the German midfielder.
This isn't a problem either for the record, we're still dealing in numbers between 365 minutes for Mane and 810 minutes for Henderson with Matip on 900, Trent 270 and Robertson 180. So these are too small a sample size to pick out definitive answers, but there are nevertheless some interesting trends emerging.
If I had to draw any conclusions from this it would be: maybe rotate the full-backs a bit more because Trent and Robertson have more to give; get Sturridge on the field more because he's still got a lot to offer; and our midfield looks significantly more balanced with Emre Can in it compared to Gini Wijnaldum moving forwards. But these are small numbers, so it'll be interesting to see how the numbers after 20 or 30 games, rather than 10.