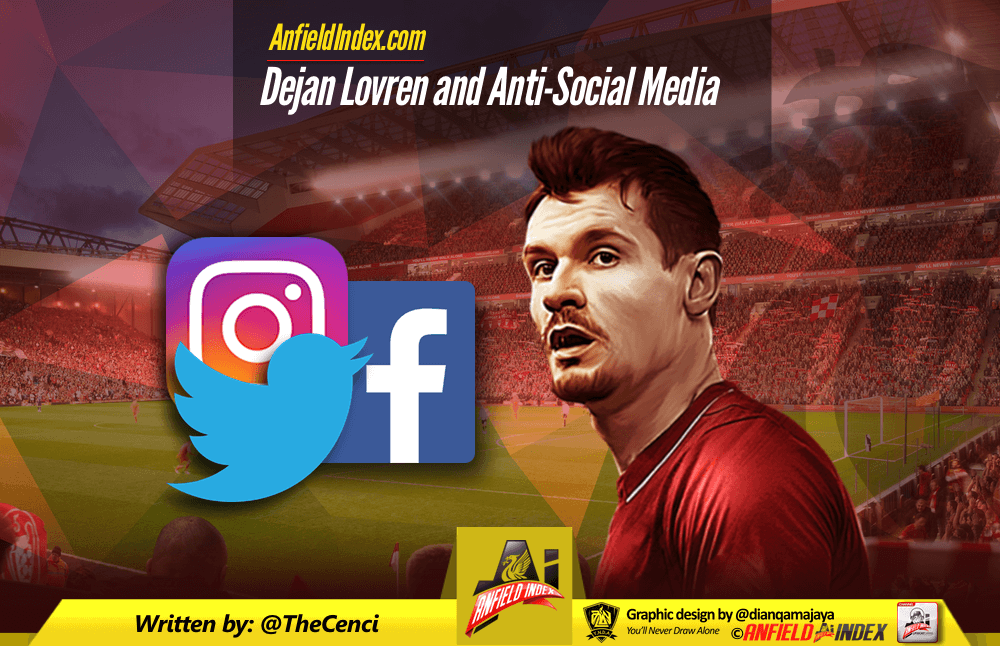 Dejan Lovren and Anti-Social Media
A few years ago I was working for a media sales company in London.
It was the standard setup. I was charged with bringing in a set amount of revenue every quarter from a predetermined number of clients, both existing and warm. On top of that, I had to convert a number of cold contacts into regular sales and customers. It was a tough environment and the pressure was always high.
One quarter saw me miss my target by a substantial distance. I blamed myself for this and fell into self-analysis about why I had failed. I reasoned that I simply lacked the ability to do what I'd been asked to do. They wanted the world and I could only give them London and the Home Counties. I just wasn't good enough.

Though I wasn't pleased at this failure, I figured that I must have been good enough for them to employ me in the first place so maybe, just maybe, I wasn't utilised in the right way or the sales training wasn't able to take me to the next level. Ah well.
A few days later I was surprised to see that the shareholders of the company had expressed their fury at my lack of success. The vitriol was extraordinary. One of them sent me a Twitter message threatening my family – actually threatening to murder my loved ones! Another – a man who wouldn't dare say such things to my face – told me that I was the worst employee he'd ever had. You can add several expletives to that sentiment to see how furious he was.
And they kept coming. Many weren't that bad, but they went on about the company's loss of market share and attributed it solely to me. Some of the comments were as vicious as they were misspelt.
You're ahead of me here, aren't you?
Yes, okay. I'll put my hands up.
None of that is true. Not a single word (though I did miss a few targets).
It would be preposterous for an Account Manager to collect death threats for not being a particularly good Account Manager.
So why is it acceptable for Dejan Lovren to receive them?
His crime? That of not being a particularly good centre back or, at least, not one who comes up to scratch in a Liverpool shirt?
Following the Spurs debacle at Wembley, the Croatian removed the LFC hashtag from his Instagram bio and disabled the comments section. Later he wrote:
'I don't mind when people talk shit about me, it says more about them!

But I can not (sic) just ignore when my family is threatened. I just can't and won't accept that.

Disgusting.'
Fair comment.
I was at Wembley last week and I, like many, wanted to see him taken off after only a small number of minutes. I sarcastically applauded when he finally gave way to Alex Oxlade-Chamberlain. I don't rate him as a centre back and I would be happy not to see him play for the club again. In an ideal world, he would be the fourth choice centre-back at the very most. But, threaten his family? Come on. Really?
Of course, the reason people do that is the no way they can be traced. I wonder how many would like to confront the 6' 2" Lovren in a dark alley and asked to explain those remarks. That would never happen of course. A keyboard is the coward's only choice of weapon.
When David Beckham was harangued by the nation following his red card in the World Cup game against Argentina, I was confused though not surprised. On his return to the domestic game, his Manchester United side played West Ham at Upton Park. Some Hammers fans had hung an effigy of him from a post in a mock hanging. Inside the ground his every touch was booed and there was a constant song of 'You let your country down.'
I'll admit that I enjoyed this ludicrous display from a sense of inverted pride. I reasoned that Liverpool fans would never do that. That behaviour was 'wool' in the extreme. Oh, we'd later boo Owen and Torres for their perceived treachery, but it would stop there. Death threats and that sort of thing were for other clubs and their dickhead fans. Not 'the Liverpool way'.
I would still like to think that now – that we're above that sort of thing.
This behaviour has been rightly panned even though some of it comes with the rather patronising term 'so-called fans' which makes my teeth itch. Fan hierarchy bores me stupid, to be honest.
Look, we all have our favourites and we all have players who make us frown, but they can be dealt with in a much lighter way.
There was a perfect example of this a few years ago when Liverpool played Standard Liege in a Champions League qualifier. Far from being the walkover, we'd hoped it to be the Belgians were holding their own and the tie was looking at injury time with both legs deadlocked at 0-0.
Dirk Kuyt was having a nightmare. Every second touch was a tackle. The ball bounced off his milk-white shins all night and every pass unerringly found an opponent. The ground groaned with every error. The ground groaned a lot that night.
I was low down in the Kemlyn stand and close to the pitch. At one point, Ryan Babel had the ball in the middle of the pitch and was looking around for a pass.
A Scouse lad behind me shouted 'GIVE HIM AN OPTION, SOMEONE'
Kuyt was only a handful of yards from us on the touchline. He dropped off his marker to make himself available for a pass from his compatriot. The lad behind saw this as the ball was duly played. I'll never forget the exasperated whine of his next shout.
'NO! ANOTHER OPTION!'
Laughs from all around us. A beautifully nuanced putdown.
I mention this because Kuyt heard that comment as he played the ball. His usual studious face broke into a shy grin. The fan had made his point with humour. Dirk was playing shit and he made sure that Dirk knew it. No death threats, no histrionics, no drama.
Liverpool won 1-0 in the dying minutes of extra time. The goal scorer? Yep. Dirk Kuyt.
We're all disappointed with the way the season's gone and none of us think the defence is a good enough to represent that shirt. Dejan Lovren did not leave the pitch and head straight to a party with a 'Who's arsed?' shrug. He was mortified at his appalling display. He was rightly slated and his manager was equally correct in protecting him. He doesn't need death threats or shithouse comments on his Instagram feed to remind him that he let the club and its fans down that day. He's a human being. One who actually knows what it's like to lose a family, bearing in mind his home village was repeatedly bombed and casualties were numerous during the Bosnian war. He told LFC TV:
"Zenica was attacked because it was a bigger city, but it was in these small villages where the most horrific things happened …people being brutally killed. My uncle's brother was killed in front of other people with a knife. I never talk about my uncle because it's quite a tough thing to talk about, but he lost his brother, one of my family members."
So when these people threaten him, he can envisage this eventuality – not just take it as an empty threat made by a twelve-year-old with WiFi.
By all mean criticise, but let's leave that other shite to wool clubs and moronic fans. Let's try to at least be a bigger club with a better support.