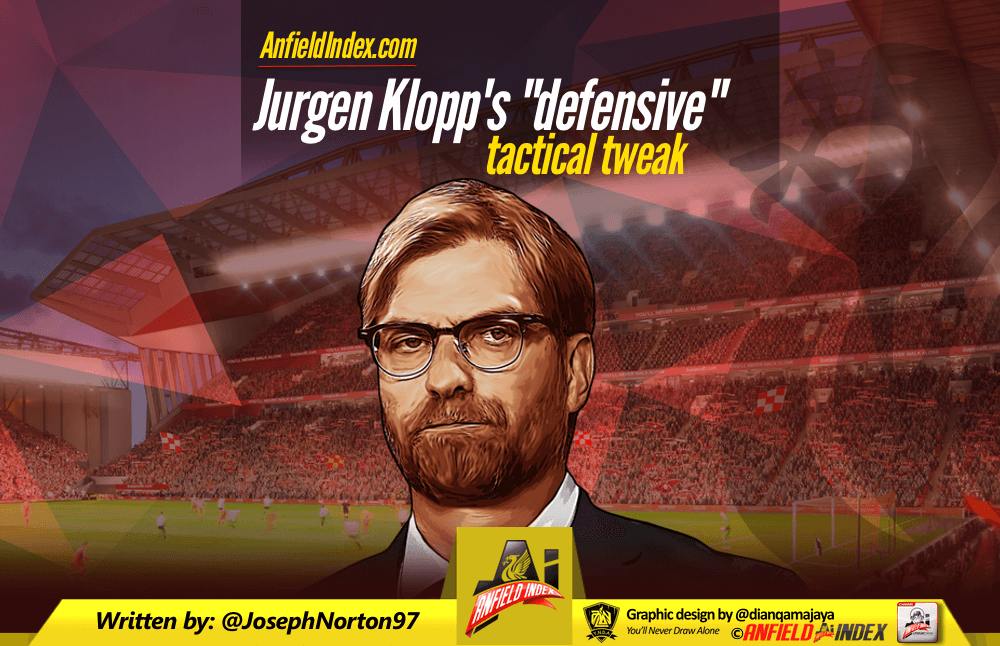 Jurgen Klopp's "defensive" tactical tweak
Coming off the back of that defensive implosion at Wembley, something had to change. Personnel, defensive set-up, a mixture of both, just something. Throughout the week there was talk of Klopp making sweeping changes to his back line, Karius in goal, Gomez at CB and Trent back in at right-back were all credible suggestions but all fairly unlikely. Despite an enforced late change with the injured Dejan Lovren being replaced by Ragnar Klavan it looked as though the Reds would be playing in a very similar fashion to what we'd seen already this season, cue Klopp's tactical shift. Joe Gomez has been very solid at right-back this season, growing into the role game by game but he has his limitations, as a result, Klopp decided to use him as a sort of false centre back when we had the ball. Despite usually not playing as high and wide as our other attacking full-backs, Gomez was definitely playing a lot narrower than usual. The Reds have often been criticised for leaving their two centre-backs isolated which leaves us susceptible to dangerous counter-attacks, amplified by the fact those two defenders don't cover space particularly well. We saw Tottenham exploit this time and again with Kane and Son running our defence ragged and it certainly wasn't the first time we've seen a team counter us with ease this season and on a wider level under the leadership of Jurgen Klopp. As a result, the boss has recognised that whilst he has two centre-backs who aren't complete defenders he needs to tweak his defensive set-up, stopping us from being counted on so easily and that leads us to the role of Joe Gomez on Saturday.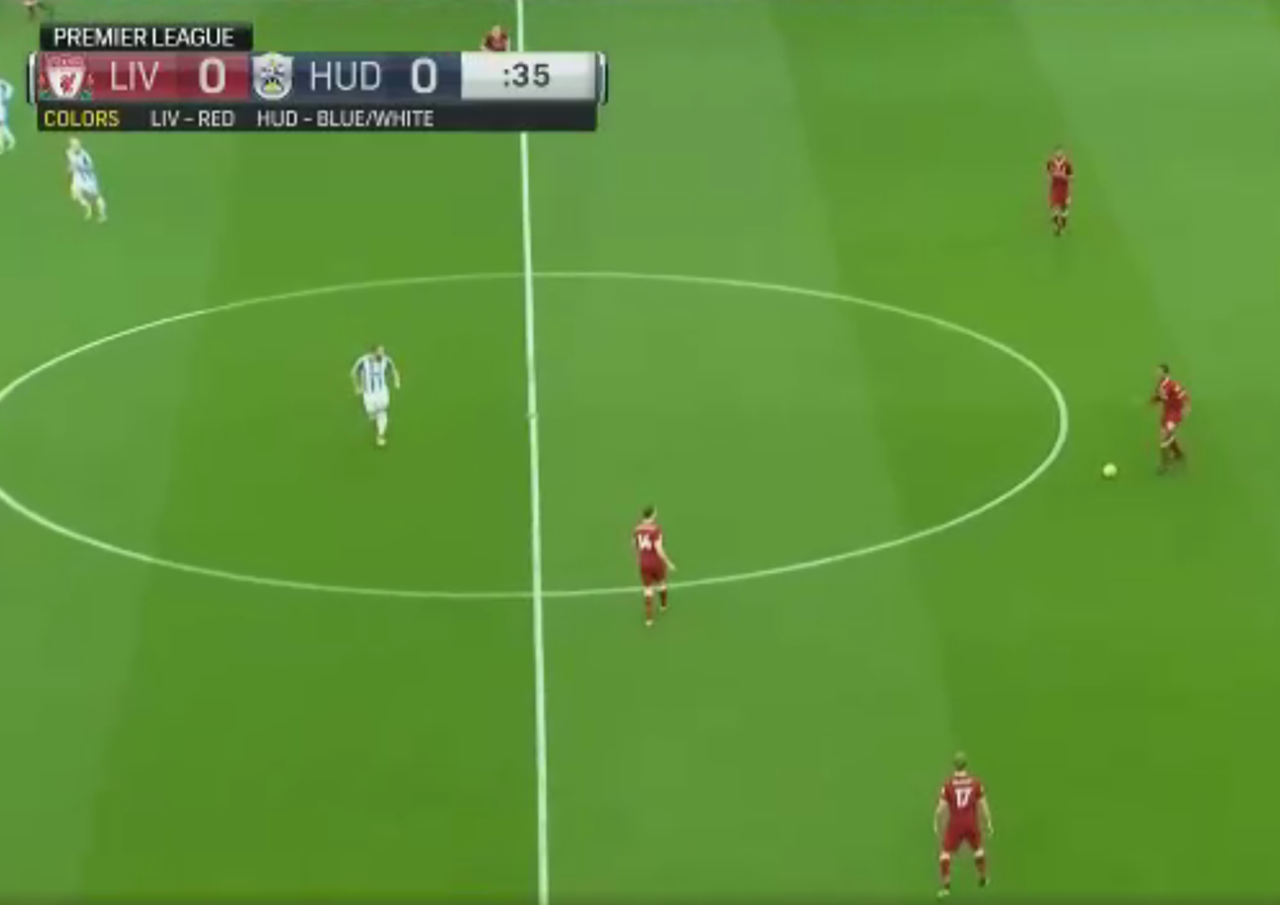 We can see from the graphic above that when Liverpool had possession of the ball Joe Gomez remained fairly narrow and close-by to his centre-backs which is a contrast to what you would normally expect a full-back playing in Klopp's system to do particularly at home against a team like Huddersfield. Despite not being as extreme as what Guardiola does with Delph – he operates in a more central midfield position rather than dropping into the backline – there were similarities. Although the young Englishman wasn't quite as deep as our two centre-backs, he was certainly being a lot more conservative than in recent games. It's quite apparent how beneficial this is for Liverpool in a defensive sense, we effectively have three defenders behind the ball every time we lose it which means there is less room for the attacking side to counter us in. Rather than two players having to defend the width of a pitch which is what we've seen a lot with our CB's this season, having Gomez in a more central position means the defense has an extra man to cover them which clearly makes it more difficult for the opposition to break in, as shown by the graphic below. Klavan goes up to win the header knowing he's got the security of Matip and Gomez to back him up.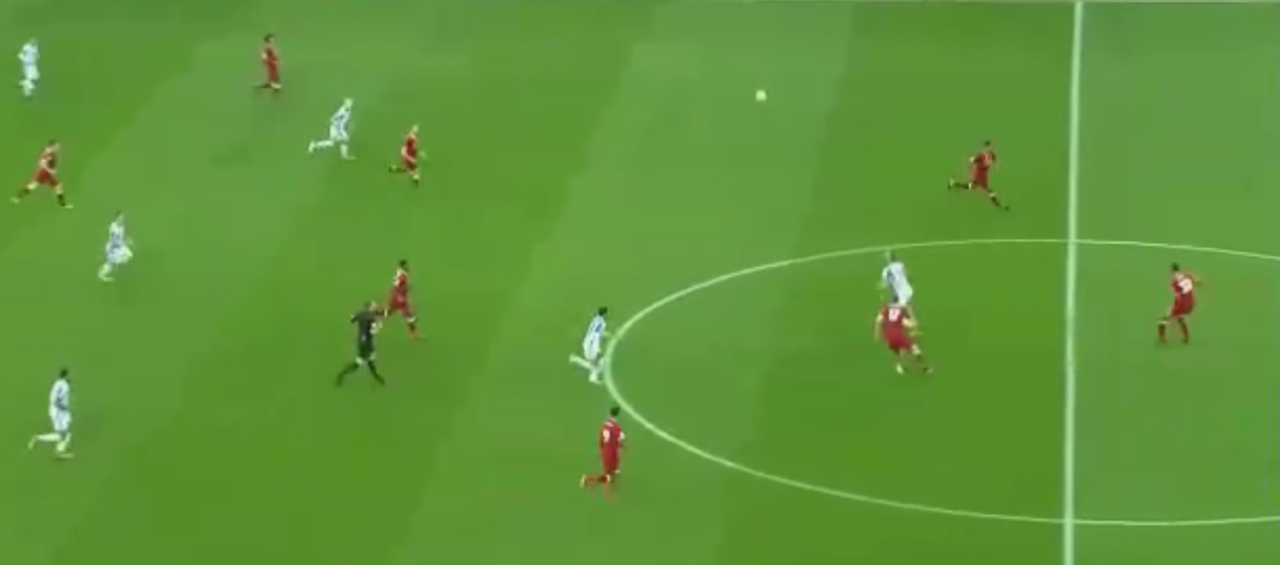 Some people may only look at this tactical tweak in a defensive sense but Klopp's philosophy is all about the team and being effective as a collective unit, therefore, it's important we look at what kind of impact this alteration had in an attacking sense. Because our full-backs usually provide our width with the two wingers coming inside, Gomez playing much narrower than normal meant that Salah was asked to hold his position out-wide a lot more than usual. In my opinion, this can only be a good thing. One of the criticisms that can be labelled at the way we play is that our wingers don't isolate themselves against the opposition full-backs enough and with us having two quality wide men we should do more to get them in 1v1 situations – they'll only ever be one winner. Which defender in the Premier League wants to be left isolated against either Salah or Mane….I can't think of many. Although Salah's starting position was much wider than usual it didn't mean he stayed there the whole time, when we got into the final third he drifted into more central positions, interchanging with our front line causing the Huddersfield defenders no end of problems. Look how effectively City's wingers, Sterling and Sane hold their width and drag the opposing defence out of position. Not only did Salah holding his width create more 1v1 situations but it also helped to create more overloads in the half spaces as there was more of an emphasis on our midfield getting beyond Salah creating passing lanes for him to bounce off. This space was created for them as Huddersfield had to mobilise towards Salah ensuring he didn't have too much time and space to run into creating more room in dangerous central areas for our creative players of Milner, Sturridge and Firmino to operate in. As Moreno played his usual game, he provided the width on our left-hand side allowing Bobby to drift inside, interchanging with Sturridge creating problems for Huddersfield.
Klopp may not choose to persist with this slight tactical tweak, however, with Huddersfield not even registering a shot on target and rarely looking dangerous on the counter-attack, I definitely think it's something the German should consider. Although I appreciate the increased stability it gives us defensively I was equally impressed with the impact it had on us in an offensive sense in spite of that terribly uninspiring first-half performance. As I've mentioned, the more times you can get the likes of Salah and Mane isolated against the opposition full-backs the better. The wider our wingers start the more room there is centrally for the likes of Firmino, Coutinho, Sturridge and Lallana to operate in the half spaces. This can only be beneficial as opposition teams coming to Anfield, playing in a low block will find it difficult to deal with individual quality in 1v1 situations and intricate play around the box which is what this tweak gave us, particularly in the second half. The Reds have needed to find a way of managing counter attacks and breaking down the low block and there's every suggestion that this tactical shift could go a long way to solving both. It's early days yet though.