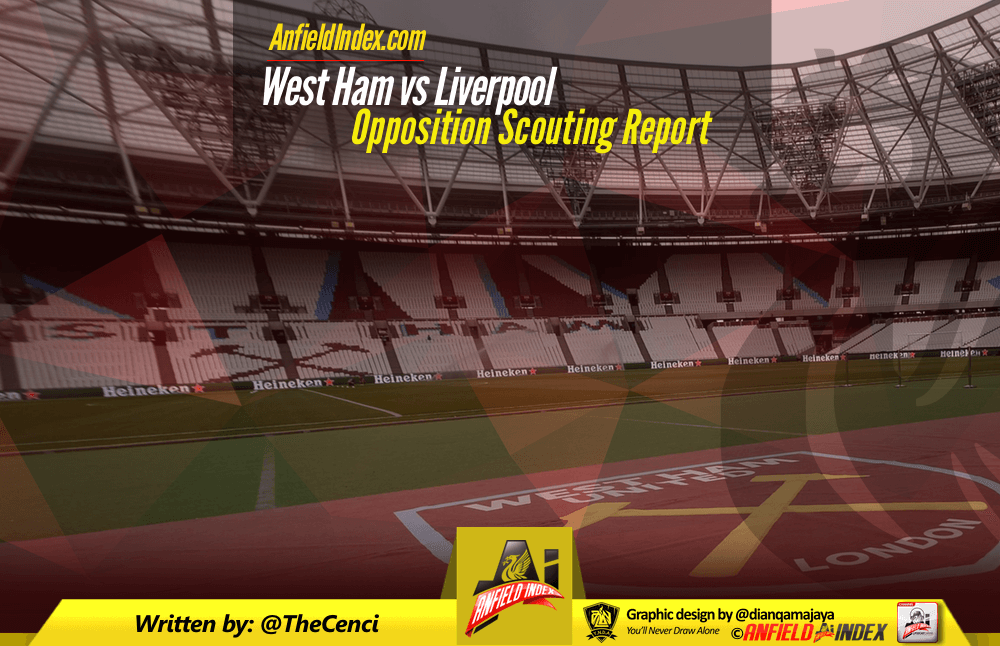 West Ham United V Liverpool: Opposition Scouting Report
Liverpool's visit on Saturday sees them encounter a team with a baffling array of form.
Many Reds will look at the Hammers' incredible turnaround at Wembley against Spurs in the Carabao Cup and wonder just which West Ham will turn up. That night, on the same ground where Liverpool failed miserably days earlier, Andre Ayew (2) and Angelo Ogbonna overturned Spurs' 2-0 half-time lead in an inspired comeback. Such was the Hammers' form coming into that game that it looked for all the world that manager Slaven Bilic would barely make it back to East London without being shown the door by the club's hierarchy, but a fine win against a local rival seems to have bought him some time.
And yet despite that victory, they have struggled in the league, winning only two games.  Only Huddersfield Town and Swansea have succumbed with both matches being played at their new home of the London Stadium. They have drawn three and lost the other five. They have the third worst away form in the league.

This is a side used to losing and Liverpool should take full advantage of their weaknesses.
Last weekend saw them squander a two-goal lead away of their own, this time at Crystal Palace and though they may think themselves unlucky to drop points to a 97th-minute equaliser, it does point to an inability to finish off an opponent.  In their 10 league games they've conceded seven goals in the last 15 minutes so if Jurgen Klopp's men can keep up the press in the final stages, there will be rewards.
As for personnel, the Hammers only have a few minor injuries with only three on the treatment table, though all of them are defenders. Winston Reid looks set to miss out through a calf strain while James Collins has an ankle injury and won't be back for a couple of weeks. At the time of writing, Jose Fonte should be able to shake off a foot injury. Pablo Zabaleta is suspended.
Slaven Bilic tends to prefer a 3-4-3-1 formation with Andre Ayew and Manuel Lanzini tucked in behind a lone striker in Javier Hernandez. Captain Mark Noble and Edimilson Fernandes operate in the centre of the pitch with the width coming from the wing backs. Former Red Andy Carroll has started just four league games this season, but given Liverpool's defensive frailties, it's likely that he'll play some part in the game.
So where can Liverpool take advantage? Well, Joe Hart is an ever-present in the League this season and though he boasts 74 England caps, he is still susceptible to the odd howler and, though Liverpool have no shortage when it comes to their own dodgy goalkeeping displays, it would be worth testing him out early on.
West Ham have conceded 19 league goals this season, though only Spurs and Brighton have scored at the London Stadium.  This is certainly an upturn in form as last season they had a nightmare start at their new home, winning just seven times. Jurgen Klopp's side won handsomely there last May when the German played the diamond formation. It will be interesting to see if they employ the same tactic this time out though last year it was mostly due to player availability.
Their top goal scorer is Javier Hernandez, who moved from Leverkusen for £16m in July. 'Chicharito' has three goals against the Reds from his Man Utd days, netting twice in the Premier League and once in the EFL Cup. He also appeared in Real Madrid's 1-0 win over Liverpool during Brendan Rodgers ill-fated Champions League campaign in 2014.
Though Hernandez will likely lead the line, Andre Ayew remains a huge threat. Whereas he would often play off the right during his spell at Swansea, he plays much more centrally for the Hammers. It seems to be working too as he was the chief architect of the EFL Cup win at Tottenham and scored again last week at Selhurst Park. A boyhood Liverpool fan, Ayew is West Ham's record signing though he has found it difficult to play consecutive games due to injury. He too has scored against Liverpool –twice, in fact- when Swansea beat the Reds 3-1 at the Liberty Stadium in May 2016.
West Ham, though capable of surprise wins, should be viewed as a three-point prospect for Liverpool. Just one point above the drop zone, they are finding life difficult and it is worth noting that when they faced Brighton – a newly promoted side at home – they collapsed to a 3-0 defeat.
As for the Reds, an early goal would surely calm nerves and if they can secure that, they should be climbing the table before the night is out.