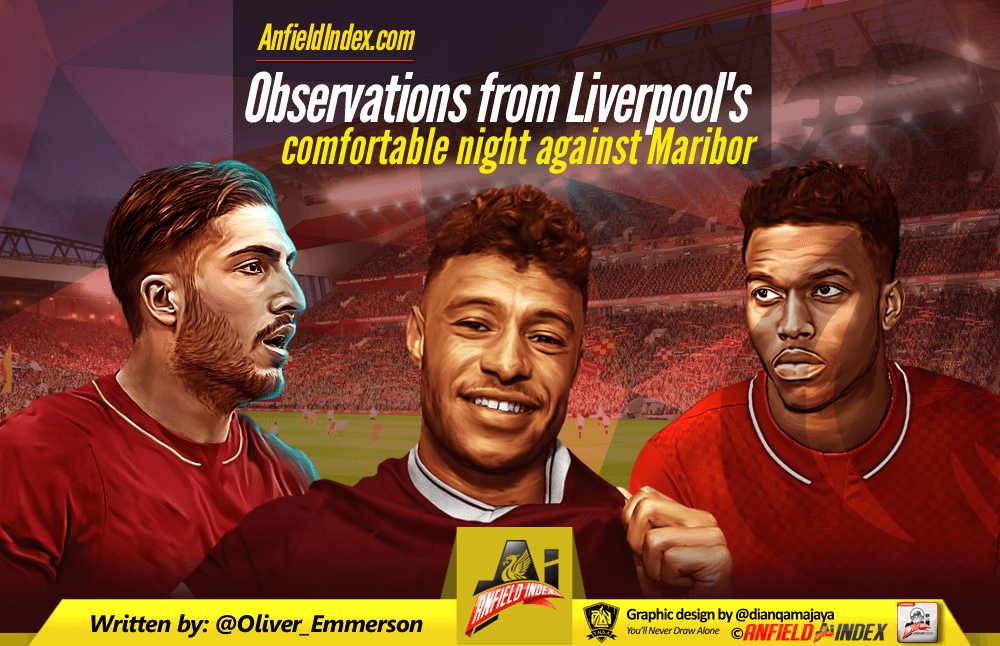 Observations from Liverpool's comfortable night against Maribor
Three goals, three points and an efficient performance. The Reds are back, kind of, with the Champions League last 16 well in sight.
From the top of the main stand, where I sat for the first time (pleasantly surprised at noise), what did I observe?
Daniel Sturridge
Yes, I'm starting with a substitute scoring in the last min. Sturridge is the real story of the night. After all, he's been through, he finally gets his Champions League goal, and a lovely one at that, finishing finely. You could tell from his celebration that it meant a lot to him and, with two goals in as many games, it's clear to see that Klopp is getting impressive use out of him at the moment. A start at West Ham, where he scored last season? Maybe. For now, though, it's a night for Sturridge to enjoy.

Oxlade-Chamberlain
Yes. Yes. Yes. No, he wasn't amazing, nor even 'very good' but he did enough on a first 'big' start to show evidence of why we bought him. Some lovely tackles early on to get the crowd on side, pace and power throughout, the Ox showed and showed and showed some more, always looking to get on the ball. Some of his deliveries were lovely too, you get the feeling he may profit from some game-time with Dominic Solanke.
Routine wins
Much has been made of how Liverpool aren't a 'normal' top side. We make things difficult for ourselves, we win, we lose, it's always complicated whatever the outcome. So, in a week where Chelsea have been battered, United were made to sweat and Spurs went from 0-100, it's been nice to have two simple 3-0's. Fans a little tentative at half-time, players full in the knowledge they'd get the job done. A feeling at full-time that it was never in doubt. Long may they continue!
Emre Can
It's clear, to me at least, that when Liverpool are looking to break down a low-block then Emre Can must play. Bar when Coutinho is utilised in the midfield three, it's fair to say that Liverpool lack a ballplayer to carve open a deep defence. What they don't lack though, is a German with the determination, technique, power and intelligence to barge past a few players and suddenly turn attack vs defence into 4 vs 4. Can again did that on Wednesday, mostly in the second 45, daring to do something that Henderson and Wijnaldum so often lack in beating a fellow midfielder. Rewarded with his goal, and ooooh that knee slide and nod. 10/10 for execution.
The last 16
An observation is a slightly more impressive way to say 'I saw something'.
Tonight, I saw the last 16. It's coming, the Champions League knockouts.
One more win, Reds.