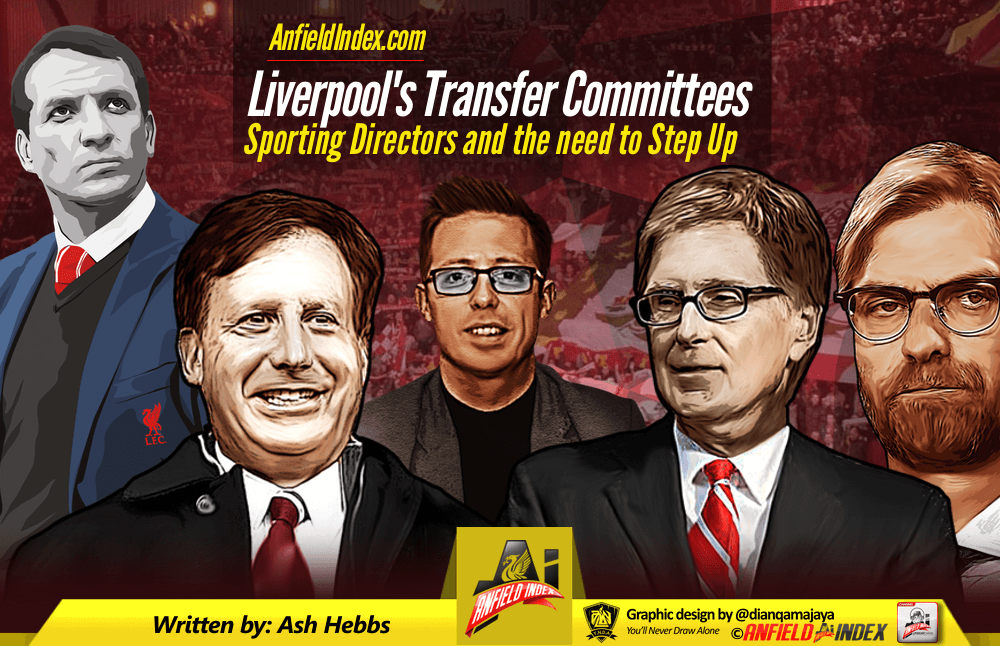 Liverpool's Transfer Committees, Sporting Directors and the need to Step Up
Since FSG have come into the club, transfers have been a mixed bag. There have been some resounding successes in the likes of Sturridge, Coutinho, Mane and Salah. There have also been some real flops like Lovren, Lambert, Balotelli and others. Michael Edwards has had to play a big role in all of this.
Edwards arrived as Head of Performance and Analysis and, more recently, worked with Brendan Rodgers as part of the now infamous Transfer Committee. This was one of the most dysfunctional set-ups seen at the club, mainly of FSG's own making, with Rodgers feeling undermined by Edwards. Ultimately, both parties failed to work from the same page.
One such example of this was Edwards opting for Markovic and Rodgers buying Lallana in the same summer. Markovic was clearly unwanted by Rodgers and never got a proper look-in, instead of being deployed in a totally alien left wingback role (which he actually didn't make a bad fist of!). Under Klopp's stewardship, Lallana has gone on to become a key component in his tactical set-up.
When there's such a lack of harmony around transfers it's difficult to say for sure how many of the flops that were let go were real flops, given that the manager didn't want those players in the first place. Therefore to assess Edwards requires a closer look at his recent performance under Klopp's tenure as manager.
FSG made a mistake in appointing a glorified chief scout in Damien Comolli as Director of Football working with Kenny Dalglish. Frankly, I was amazed when they seemed to be making the same mistake when Edwards was appointed as Sporting Director. Edwards' credentials were questioned in comparison to the likes of Begiristain at Manchester City. Whilst the latter is clearly knowledgeable about football I think his performance at City has left much to be desired. The likes of Giuseppe Marrotta at Juve and Sebastian Monchi at Roma are better examples for comparison.
With a wide-ranging and more strategic remit, I wasn't sure a stats man and analyst were qualified for the role he was taking on. Especially at such an important stage in the club's evolution. I've written about the financial challenges LFC faces versus key rivals, so to bridge the financial gap, our transfer activity needs to be superior. Bringing in a rookie for such a key role comes with serious risk. People will use Klopp's endorsements of Edwards as vindication of the appointment. However, with the power of a 6-year contract and the final say on transfers, Klopp calls the shots. Edwards is absolutely no threat to Klopp in the way he was to a mistrusted Rodgers.
To be fair to Edwards, he has made positive improvements to football analysis at the club and has taken steps to restructure Melwood and the Academy. However, for me, there are some big question marks around his performance since he took over the role of negotiating and closing transfer deals. The latter is outside his comfort zone. Is he really qualified for these activities because he did a good job in other areas of the club?
In my piece "KLOPP NEEDS OUR SUPPORT NOW MORE THAN EVER" I made the observation that the lack of progress this season was down, in part, to transfers. I feel Klopp has been let down through under-delivery in both the 2017 transfer windows. It is clear for all to see that a naturally defensive-minded midfielder and dominant centre-back would improve this team immeasurably. Having had two windows to address an issue which is clearly holding the team back, to not even sign a stop-gap squad player beggars belief. Especially in light of Matip and Lovren's poor injury records and the clear lack of backup quality.
Klopp will argue that he doesn't want short-term fixes but there are affordable players on the market that could do a job and bring better decision-making and specialism. If we were to land first choice targets later on, then those stop-gaps would simply become squad players. And there's absolutely no guarantee we will ever land VVD after this summer's shambolic non-negotiations, which were clearly on Edwards.
To compound the issue Edwards offered Lovren a stonking new contract at the back end of the last campaign. If ever there was a case of disproportionate reward for mediocrity, then that's a stone wall example right there. As with Sturridge, Milner and Mignolet, when players are on big money it seems they need to be used, even to the detriment of the team at times.
My other gripe with Edwards is the fact that we overpaid on Salah so heavily after an original bid of £28m. It was well known that Roma were desperate for cash this summer. They would almost certainly have had to make the sale. Just because the deal proved good value in hindsight doesn't detract from what seems like poor negotiation once again.
I sense Klopp is none too happy with the lack of defensive options presented to him this summer. After all, it was clear Lovren would lose his place. So for Klopp to have to backtrack and make the claim that there weren't five better defenders available (in order to manage expectations) is nothing short of embarrassing. If he had more time I am sure he would have looked at other options. My feeling is that he was led to believe that Van Dijk would be joining.
The other alternative is that the stats-driven identification of players is too limited. Is our scouting up to scratch? Why is it that Southampton seem to identify players at the right time yet our scouts and stats men don't, resulting in us having to pay huge premiums to Southampton? Anyone who watches European football will know there are better defenders out there than Lovren. Every single signing is a calculated gamble but you need to speculate to accumulate, as the saying goes.
The failings of the summer window mean the team has stagnated and is behind the targets of genuinely challenging domestically and in Europe. How many years it will ultimately cost the club remains to be seen, but we're probably behind where Klopp wanted us to be on the critical path. Once we missed out on Van Dijk and Keita this summer and didn't attempt to bring in alternatives mean the title was not an option. Add to that the improvement of United and other rivals and even top 4 is going to be a tough ask.
While summer 2016 was heralded as a good window (and it was) the successes of that window are looking less good with time (Karius, Matip, Wijnaldum). These players, particularly the latter pair, were upgrades to make us top 4 contenders. Were they good enough to make us genuine title contenders? Time will tell. Again it's important to note that Klopp was probably the key driver behind these signings although Edwards may well have had equally capable reserve options. They were part of the steady upgrade of the first XI. However, Salah aside, signings in 2017 have not been of the level needed to push this team up a notch.
Clearly Klopp bears some blame for the past 2 windows as part of his role in transfers-in. However Michael Edwards is in charge of identifying transfer options and negotiation. There is massive room for improvement. If we continue to see inertia in the January transfer window with regards defensive reinforcements, then FSG need to take a hard look at both Klopp and Edwards. And assess what is going wrong with the execution of the club's transfer strategy, making changes where they deem necessary.