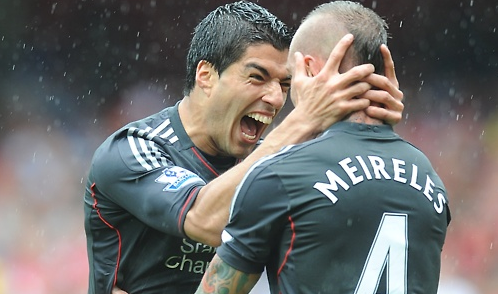 Where the game was won | Liverpool FC Vs Arsenal
For the first time in eleven years Liverpool FC recorded a victory away at Arsenal, whether that be at the Emirates or Highbury. It was the first time ever that Liverpool had won at the Emirates so it was a very sweet moment regardless of quality of side that they were pitted against.
It was widely recognised that this was Liverpool FC's best chance at gaining this victory and this was proved correct with Arsenal looking a shadow of the side that possessed an excellent passing game. The fact that Liverpool FC had more possession, the only side to do so on two occasions now in the last eighteen months, shows that this was not the Arsenal that many have come to admire. Their passing game wasn't at the same level and they didn't carry that level of threat that they had in the past.
Arsenal were hamstrung (pardon the pun) with injuries and suspensions to many of their first team squad which meant Liverpool FC actually went into the game as slight favourites.

As news filtered through about the starting line ups there was a sudden surge of tweets on twitter about Samir Nasri, had he finally left? Nope, he was starting for Arsenal, was this a sign of desperation from Arsene Wenger? Or has Nasri's move to mega bucks City really hit the rocks?
So what happened? Well everything that could go wrong for Arsenal, did (in addition to losing their captain, on the verge of losing one of their better players and losing half a team to injury and suspensions). We, as Liverpool fans, have experienced this ourselves over the last few years so can sympathise, however it's a competitive sport and you have to beat what is put infront of you which is exactly what Liverpool did.
There were two areas in which we the game was won for Liverpool. The fullbacks and the central midfield was key for us. So here's a few of the key moments from our fullbacks:
In the first few minutes Enrique held off Walcott and really stamped his authority on that battle.
Enrique next involved at 19 minutes where he put in a pinpoint cross for Carroll only for Szczesny to parry away for a corner.
At 22 minutes, again Enrique was the catalyst for a chance as he chipped the ball over Jenkinson for Kuyt to rampage down and put a lovely cross for Henderson to head at the Arsenal keeper.
At 53 minutes, Martin Kelly started a move at the right back position and charged forward. His pass went to Kuyt who overran his first touch but was able to win the ball to Henderson who played in Charlie Adam. Adam played a beautiful disguised ball, which fooled Carroll too as he was not ready for it. Carroll eventually got to the ball and placed it back onto a marauding Kelly who hit the post with a powerful right foot shot. An example of what may be to come this season from Martin Kelly with him improving his offensive play, as there are no questions about his defensive displays.
In our opinion Kelly and Enrique were the key yesterday and both were excellent against their opponents. Enrique kept Walcott in his pocket and Kelly rendered Arshavin, pretty much, useless. The two players that have been thorns in Liverpool's side in the past were kept very, very, quiet and I believe that was because of the fullbacks. The fullbacks were as strong as I have seen in quite a while at Liverpool FC. Let's have a look at their heat maps via Guardian Chalkboards.
Looking at the Heat Maps give you a clear indication of where our full backs made their passes. 64% of Kelly's passes originated or were in Arsenal's half whilst 46% of Enrique's passes were in Arsenal's half. That's quite impressive and really countered their wingers. We saw times where Enrique was whipping in crosses or overlapping Downing, whilst on the other side of the pitch Martin Kelly got forward far enough to hit the post. It's all looking good in a position that we were really worried about last season and if Martin Kelly is called up for the England squad it would be a boost to his confidence which will only benefit him.
Let's take a look at Arsenal's wingers. In the first half Walcott was totally absent, a few followers were sending tweets that they didn't even know he was on the pitch. Such was his absence. Take a look at the chalkboard for the first half. Not very good viewing at all if you're an Arsenal fan.
Two passes and two crosses there meaning four passes in total with only 50% of them reaching their intended recipient. A shocking first half really and it shows that his teammates did not find him in space nor could they get the ball to him. The midfield and full backs did their job and didn't allow Walcott into the game at all.
Also if we look at the stats for Andrey Arshavin you can see that he completed 11/18 passes in the final third (61%), which is quite a poor number. A lot of Arsenal fans will put this down to the fact that he's out of form but we'd like to credit our young defender Martin Kelly for really pressurising him and not giving him enough space to make any progress down Arsenal's left.
The other two players that we thought had interesting games were Charlie Adam and Lucas Leiva. Adam's pass completion was up from last weeks 75% and he registered an 81% pass completion against Arsenal. The chalkboard below shows the range of passing from Adam.
Let's break some of Adam's passes down as Charlie once again made the most passes in the game for Liverpool FC. A trend I believe will continue as he sits in the middle and dictates play.
Through Balls
Adam played two through balls and both were accurate. One of them was a brilliant pass, slicing Arsenal's right side apart, to send Downing through who forced a save from the Arsenal keeper in the second half.
Chipped Passes
Liverpool's newest playmaker also made four chipped passes of which only one was successful (25%).
Long Balls
Out of his five long balls attempted two were on the money equating to a 40% success rate for his long balls.
Long Passes (from defence to attack)
Adam attempted six long passes from defence and four of these were successful giving an accuracy of 67%. Another sign that he's going to be taking the role of Alonso in the Liverpool team.
I also believe that Adam compliments Lucas and gives him more support in the battling stats. We've compiled the stats below.

As you can see Lucas and Adam combined to put in 55% of the whole team's tackles. They also made a combined 41% of the team's interceptions. Together they made 31% of the side's ground duels (50-50 challenges). An amazing set of statistics and it shows that these two could become an excellent central midfield partnership. Adam can add the creativity that was missing last season when Lucas and Spearing were playing however he also adds in excellent tackling skills.  Adam has made eight tackles so far this season and has won every single one of them. He's not really known for his tackling but we really hope this will point out to everyone that he has this in his locker.
There is no doubt that the sending off had a major impact on this game. It really looked like it was going to be scoreless draw as both teams weren't really threatening each other too much and it was a stalemate with two players really playing their heart out for Arsenal; Frimpong & Vermaelen. Once Frimpong was given his marching orders and Liverpool sent on Meireles and Suarez, Arsenal were in real trouble.
Instantly the ball was zipping around the midfield. This is where Henderson and Adam come in as they fit into a fast passing game. If you watch Jordan Henderson closely, his one-touch passing is sublime. If you haven't noticed, please keep an eye on it and you'll see what I mean. With Suarez passing and moving and Meireles obliging with the accurate passes back the inevitable happened, and in a manner that Arsenal fans would want to forget – a horrible own goal off of a very tired look Ramsey.
The second though was not a fluke. The chalkboard below shows the passing move that Liverpool FC put together before it the ball eventually ended up in the net.
Nine passes in this move which started from a throw in from Suarez to Meireles and finished with Meireles passing back to Suarez to tap it in. One thing we can definitely see is that when Meireles and Suarez are in the same team the football played is totally different. Go back to March last year when Liverpool hosted United at Anfield and these two were once again instrumental against the eventual Champions and really made them look like chumps that day.
If we look past the weakest Arsenal side we've played in years, the loss of their Captain, the sending off and the injuries I believe the game was won in the central midfield and full back areas. As the saying goes, you can only beat what's put in front of you and Liverpool FC did exactly that.