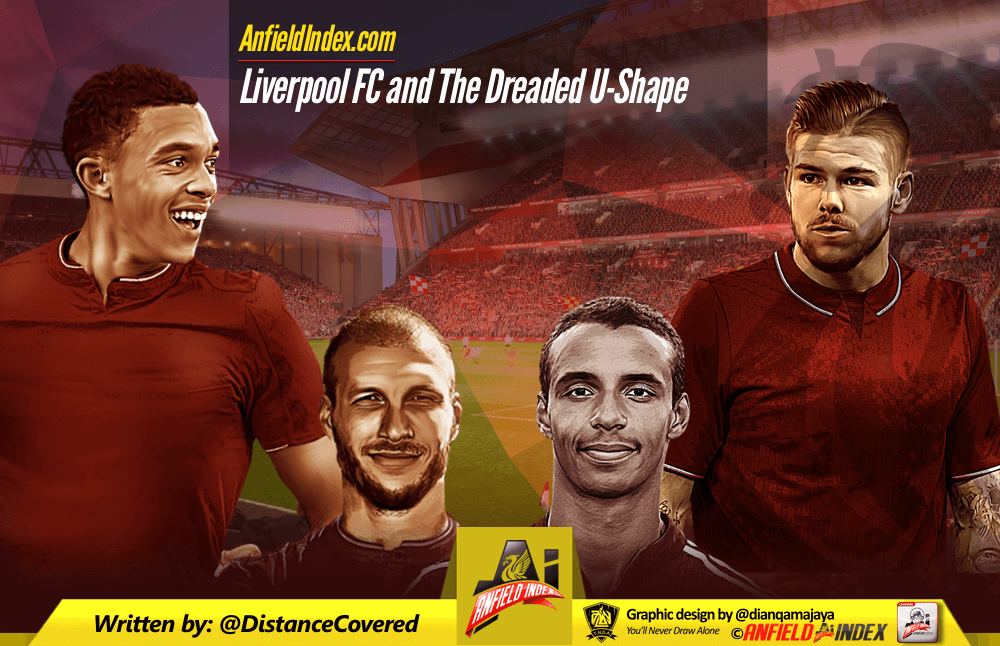 Liverpool FC and The Dreaded U-Shape
Liverpool's last two matches have both ended with impressive score-lines, with six goals and none conceded. However, despite the two 3-0 wins, both of Liverpool's performances have been somewhat flat and lacklustre. The opponents in these past two matches both opted to employ low defensive blocks with no real intention to play or score a goal, so Liverpool had the relatively simple task of having 90 minutes to basically break those teams down.
However, although that may appear simple, and although a total of six goals were eventually scored, Liverpool struggled. Rather than breaking through the opposing defences with dynamic attacking play, incisive build-up or verticality, Liverpool instead broke through almost by means of luck. Against Huddersfield and after a dire first half, Daniel Sturridge scored a tap-in after a hopeful cross by Alberto Moreno was headed directly into his path by Huddersfield's Mathias Jorgensen. Against Maribor and again after a boring first-half, Mo Salah found the breakthrough by getting on the end of one of the endless number of crosses hit from the wide half-space. Liverpool's breakthrough against Maribor was more a case of 'we'll score one of these eventually' rather than choreographed attacking play.
The U Shape
Now, the U shape that I'm referring to is demonstrated below in Liverpool's recent pass-map for the match against Maribor, courtesy of the fantastic @11tegen11. The thickness of the lines represents the number of passes, and as you can see, Liverpool have formed an extremely defined U shape. This is done through excessive sideways passing and circulating the ball in deep areas from side to side, needlessly with no real penetration. Unfortunately, Liverpool's pass-map against Huddersfield is unavailable, but I'm fairly certain the U shape would be just as prominent. The U shape highlights the current problem with Liverpool's build-up play in that there's a reluctance to break lines and make vertical passes, which consequently leads to a serious lack of penetration and boring football.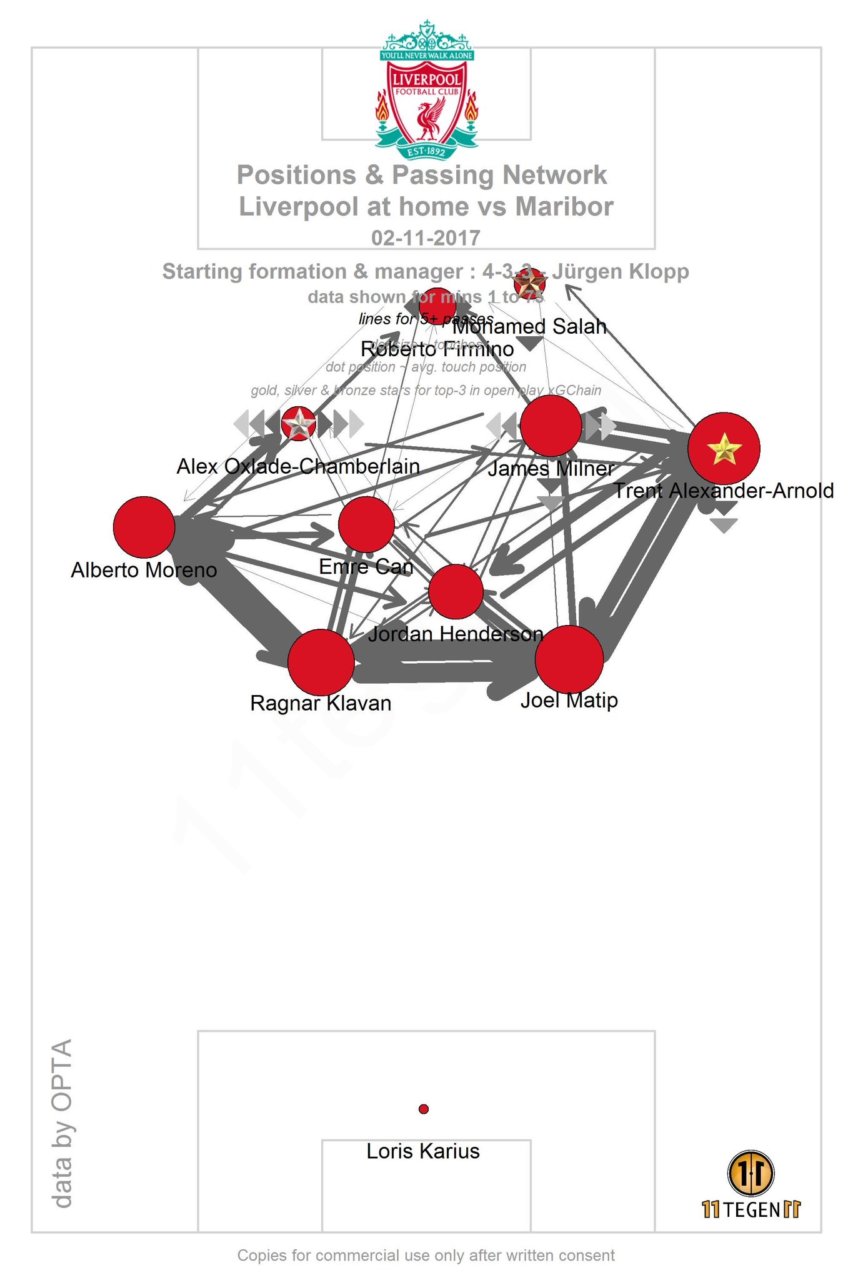 During the early stages of his tenure at Bayern Munich, Pep Guardiola had the same problem with his players having the reluctance to break the lines with passes, so Pep used videos to demonstrate this. In the videos, the images showed that Bayern repeatedly restarted the play from the back in a predictable manner with sideways movement that takes the team nowhere. Liverpool have done exactly this in their last two matches but have fortunately found breakthroughs and thus, results.
To capture my point further, I've included a few screenshot examples (apologies for the awful quality). Below, is a rough example of Liverpool's current U-shaped problem, as Matip has control of the ball from deep and looks to pass to the flank rather than passing forwards through Maribor's midfield line of four. This may seem harsh as the pass is relatively fine to an extent, but when this is the approach for 95% of the match, things become sterile. The example could be better, but even when vertical options are available, the ball still goes sideways.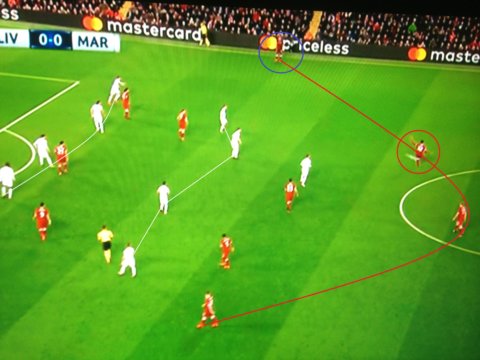 Below is another example, with Matip in possession once again and this time he has better options ahead of him. Firmino is an open forward option, and Salah is also looking for a pass into his feet which Matip could've made before the screenshot was taken. Matip instead opted to pass wide to Alexander-Arnold who's at the bottom of the screenshot.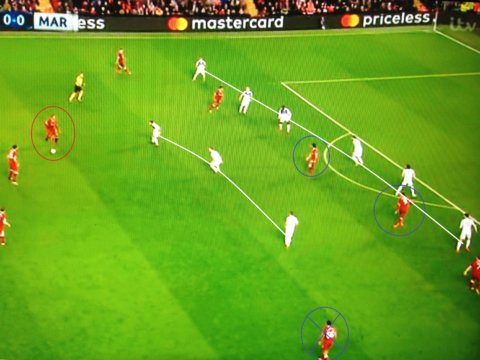 These examples aren't necessarily a criticism of Matip, as he's generally Liverpool's most adept player at breaking lines through passing, but I've used them to show Liverpool's current approach and how it's missing verticality.
Below is the final example I'll use from the Maribor game, and it's to showcase Liverpool's 'attacking' play. In the image, Ox-Chamberlain has just crossed the ball into the box after receiving the ball in the right half-space. Again, this is fine to an extent, but this occurred so frequently that it became predictable and repetitive. Crossing from the half-space area appeared to be Liverpool's only means of attacking against Maribor, and although Salah scored from one of those crosses, it's not very encouraging, it won't always work and it's certainly not Klopp's Liverpool.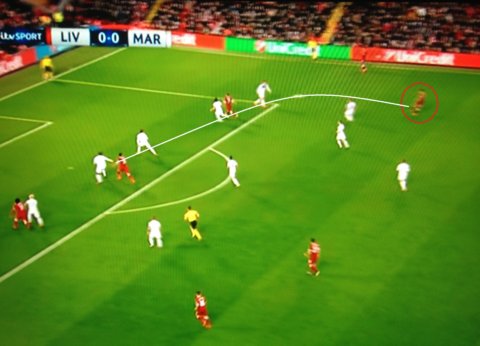 Why?
Oddly enough, I actually think this basic means of attacking is a tactic that's been intentionally employed by Klopp to a degree while Sadio Mane and Phil Coutinho are out injured. Jose Mourinho has been criticised for a similar reason recently at Man Utd, as their play has been much more focused on balance and results since the injury to Paul Pogba. Alongside the injuries to key players, I think Klopp is also aware of the style of the teams we've played recently and how they would've most likely scored – through counter-attacks. By playing safe and sideways and attacking through half-space crosses, Liverpool are much better equipped to manage immediate counter-attacks and that has shown significantly. Maribor and Huddersfield have barely had a shot at goal since Liverpool have played in this manner, and effectively all the play has been in one half of the field.
To conclude, Liverpool's current lucky sideways passing approach and almost refusal to pass vertically cannot bring success in matches for much longer. However, I believe the approach to be premeditated in order to get results without key players against inferior defensive sides. Hopefully, soon, Klopp's verticality will return and Liverpool's dismal U-shaped football will be a thing of the past.