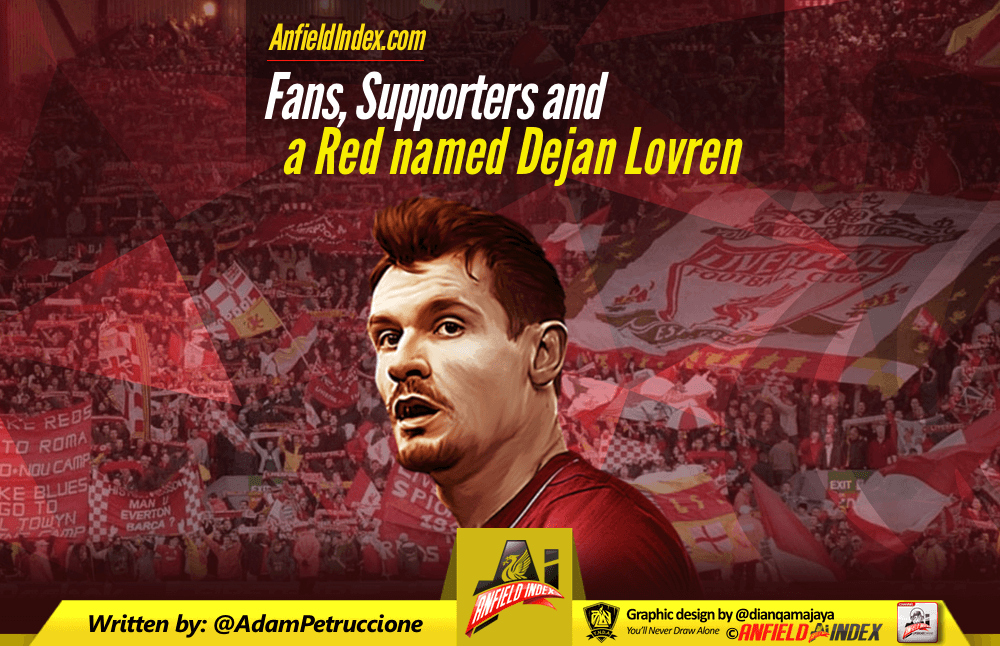 Fans, Supporters and a Red named Dejan Lovren
Liverpool centre-back, Dejan Lovren, was named the club's Player of the Month for October via popular vote through the team website. Lovren received a full 33% of the vote, edging out favourite Mo Salah and setting off a vociferous debate on the appropriateness of the award going to a player in the middle of a career-defining crisis; one that has cost the club in recent weeks.
Just one of thousands of tweets read:
"The people who voted for Lovren as player of the month are exactly the people who have made our support embarrassing. Fucking pathetic." – @Mick_Birchall
That word… "support," is a curious one. Originally following Liverpool from New York, then from Cartagena and now from Madrid, I understand that a fan follows a club to be entertained while a supporter is part of the experience. A fan might follow a favourite player from team to team, while a supporter only cares about the players wearing their club's kit. A supporter is an extension of the squad on the pitch, singing at full voice to will the team to a positive result.
Dejan Lovren is a Liverpool player and will be one for the foreseeable future. He had his home in Croatia robbed this summer while his family slept, had internet tough-guys threaten his family last week and had an attempted burglary at his Allerton home while the team was playing Maribor on Wednesday night.
This is a player who arrived at Liverpool a very highly touted athlete who cost the club £20 million back when that was a serious premium for a defender. If the club is to recoup a significant portion of that sum or better yet, have the player contribute for the Reds the support of those of us shouting from the stands or from behind our keyboards can't hurt. It may not be necessary. Lovren is a big boy and even a severely bruised ego is usually solved by a simple bear-hug from our manager.
But, if we want to really call ourselves "supporters" then as I understand it we should want to do something extra to ensure the individual success of Liverpool's players, that of the club, and the image of the club as a whole. This small gesture by a few thousand of us takes nothing away from anyone else. October wasn't a particularly stellar stretch for the team, so no one footballer was so outstanding where this could be considered an oversight.
Instead, the club ends up doing something nice for a player that probably didn't need it. He probably has all of the emotional support he needs from his friends, family and teammates, but I would like to think that a message was sent to each player at the club, from Phil Coutinho to the youngest academy kid that while you wear the liverbird crest on your shirt you're part of something bigger and that at least a few thousand supporters out there will have your back regardless of your standing with the club or your performance on the pitch.
With each recent controversy, LFC has endured the refrain has been that the club should do more. Be it ticket prices, a changed jersey number or a dispute with a shirt vendor we demand that the club does more and acts more like a community that reflects its "you'll never walk alone" credo than a business out for pure profit. Maybe this time the supporters who are upset with an embattled player receiving this award should ask themselves if they're acting more like cut-throat businessmen or like members of a tight-knit community when they make statements like the tweet above, refusing to allow for the tiniest bit of sentimentality.
I understand that Dejan Lovren is not going to return Liverpool to the glory years. He is unlikely to turn things around here, but Liverpool is an unusual football city. Winners of so much silverware of years past, Liverpool is a small city, no bigger than Florence, Toulouse or Gdansk. In order to bring home European trophies again, we'll need to have players come here and fight for something that doesn't exist in Paris, Madrid or Munich. They'll have to believe in the city and the millions of us around the world who support the team in red. It might seem like nothing or even an embarrassment to some, but this gesture for a player who doesn't deserve praise for his actual play is an incremental step in the right direction for a club and a fanbase desperate to reach the summit again.
"Yes, we make mistakes. Dejan made a mistake or two in a game, but that's not a problem. We still can show togetherness." – Jurgen Klopp