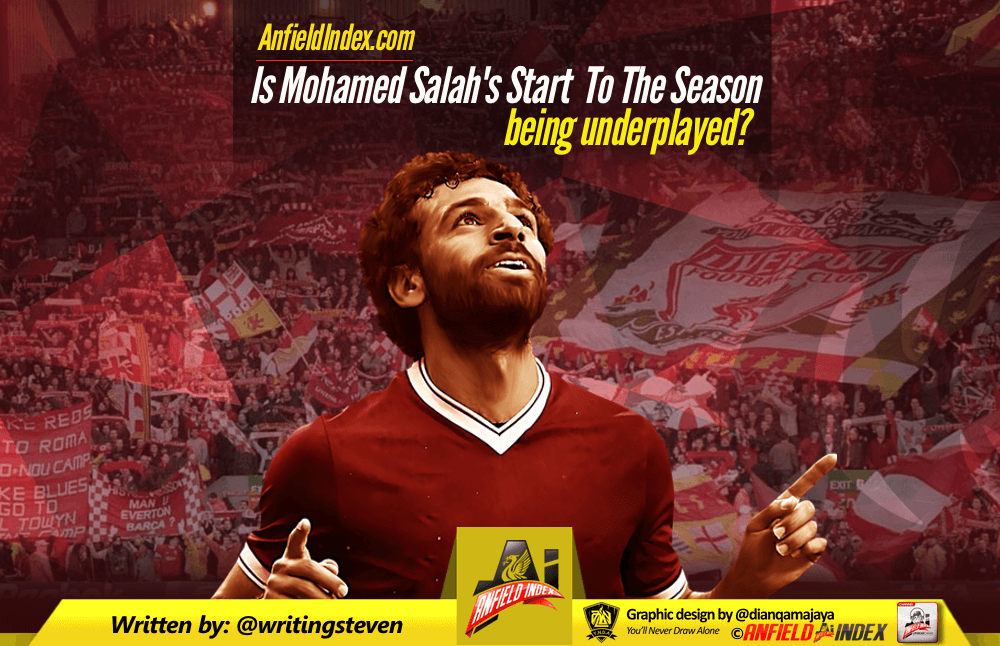 Is Mohamed Salah's start to the season being underplayed?
When Liverpool signed Mohamed Salah for £36.9m on 22nd June 2017 it wasn't to the kind of fanfare one would expect for a club record signing. Sure, many Liverpool supporters were made up with the transfer, but it didn't feel huge in its magnitude. It didn't reverberate around the league. Certainly when you consider what was to follow.
By the end of the transfer window, Mo Salah would prove to be only the 10th most expensive signing of the summer. Even Everton spent more cash on Gylfi Sigurdsson than Liverpool did on the pacey Egyptian forward.
What's more, If Liverpool had gotten their way – and if the reported transfer fees and rumours were to be believed – Salah would have been Liverpool's 3rd most expensive signing. Both Virgil Van Dijk and Naby Keita having higher speculated fees. And that's without considering all the deadline day stories surrounding Thomas Lemar.
November has now rolled around and a player who entered with little fanfare is seemingly still unable to generate it. Despite 5 goals in 10 Premier League appearances and 4 goals in 4 Champions League group games.
So, why, despite his flying start to his debut Liverpool season, is Salah – and his immense quality – still seemingly flying under the radar? Can his comparatively low transfer fee be to blame for his lack of credit? Does his failed stint at Chelsea colour the view on his ability? Or is it simply a matter of perception?
Within the supporter base, it's most certainly a matter of perception. You'll regularly see or hear him described as "wasteful" and a player who needs "6 or 7 chances to score". In the Premier League, this observation is – on the face of it – correct. According to stats website Squawka, Salah averages 6 shots per goal (5 goals, 10 games, 30 total shots, 16.7% conversion, 6 shots per goal).
Converting chances, is therefore not where the problem lies in regard to the perception. The problem lies in the perception that needing 7 chances to score isn't good enough. Because it is good enough. Especially for a player who is ostensibly a winger and playing in his first season at the club.
Were he to continue at his current rate, Mo Salah would finish the season with around 19 goals. If you completely ignore the number of shots he needs to get those goals, that's more than a healthy return for a player who is adapting to a new team and playing style and isn't the focal point for his teams attacks.
Yes, he's got a long way to go to match the Premier League's other top forwards when it comes to his conversion rate (Kane – 8 goals, 9 games, 37 total shots, 21.6% conversion, 4.6 shots per goal, Aguero – 7 games, 7 goals, 24 total shots, 27.3% conversion, 3.4 shots per goal, Lukaku – 10 games, 7 goals, 28 total shots, 25% conversion, 4 shots per goal).
But why should he be expected to match them? These are players who are out and out strikers and have had more than one season in the Premier League. Even Luis Suarez didn't match them in terms of conversion and shots per goal.
In 2012/13, Luis Suarez, in his third (but second full) season at the club, managed a conversion rate of just 16.1% at 6.2 shots per goal, for his 23 league goals. That's a conversion and shots per goal rate lower than current Mo Salah. And the only reason that Luis Suarez was able to break 20 league goals is due to the sheer volume of shots he had over the season, averaging as he did, 4.3 shots per game (that's 143 in total over his 33 appearances) whilst Salah averages 3 shots per game. Even at his free-scoring best in 2013/14, Suarez only got to 20.1% conversion at 4.9 shots per goal, for his 31 goals.
Making his task more difficult is the fact that Mo Salah has also been operating in a team that has been missing it's two biggest performers from last season, Phil Coutinho and Sadio Mane. Expectation – and the focus of the opposition defence – has been very much upon his shoulders. This could be considered another factor that is being underplayed in its importance toward his goal return. Imagine Kane without Alli and Eriksen, or Aguero minus De Bruyne and Silva. Their impact would be significantly reduced.
Despite the burden upon him to score goals, Salah has still managed to create more chances in the Premier League for his teammates (1.3 per game) than Kane, Morata or Gabriel Jesus per match.
Given time to settle and integrate fully into this team – as well as the opportunity for more starts alongside Coutinho and Mane – I expect Salah to improve upon his conversion rate. Both in this season and especially the next. Because the indicators are there.
Of the ten players who have scored 5 or more Premier League goals this term, only Jamie Vardy (73%) and Alexander Lacazette (69%) have better shooting accuracy than Salah (68%). So he clearly doesn't have a problem hitting the target.
And when it comes to Champions League goal scoring, he's head and shoulders above all his Premier League contemporaries, Harry Kane aside. I believe it's these performances – 4 goals, 4 games, 16 shots, 25% conversion, 4 shots per goal – that give a glimpse towards the true potential that's waiting to be unlocked.
So let's celebrate his current achievements, not underplay them. He's started the season in blistering from by almost any measure apart from shot conversion. And hopefully, he's only going to get better.