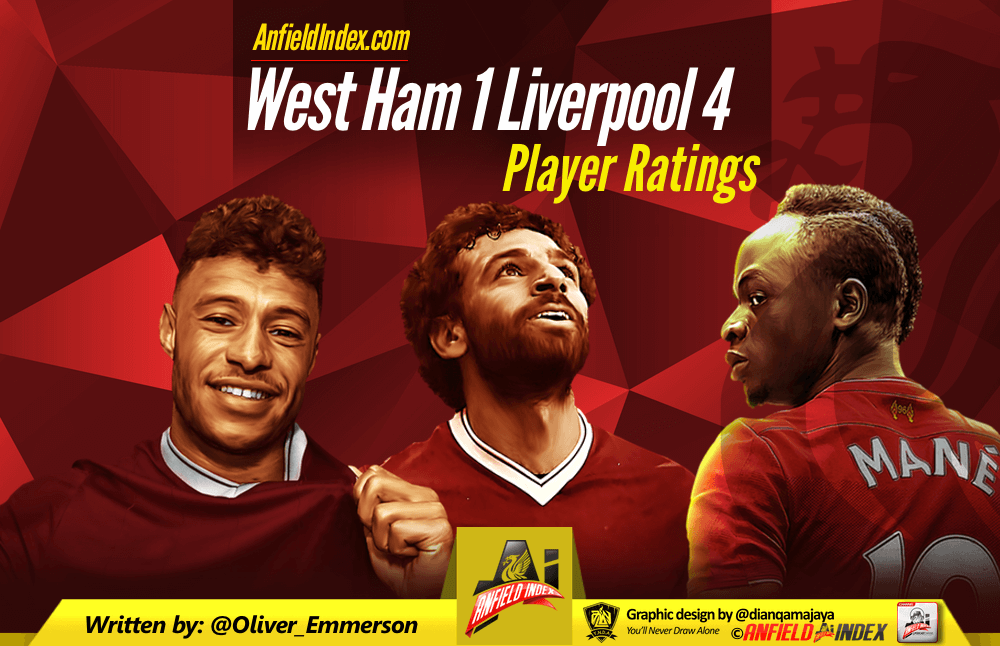 West Ham 1-4 Liverpool - Player Ratings as the Hammers are crushed
Well in, Reds. After a couple of routine 3-0's, a fairly hair-raising 4-1 got the heart rates back up whilst still providing a healthy kick to the goal difference.
It looked bad, then it looked oh so good. It looked bad again for exactly 57 seconds, and it was more than good by the end.
Roll on some dropped points on Sunday! Here are the ratings.

Defence
Simon Mignolet – 5: Why the *bleep* doesn't he come and get the ball when Ayew hits the post early on, why the *bleep* bleep does he rush out to Lanzini and leave half the goal open when Gomez could still tackle, why the *bleep* is he nearly giving away a penalty? Escapes with a five as he claims some crosses and we win. Maybe the armband left him unbalanced?
Joe Gomez – 5: Decent 45 minutes and then his head falls off, proceeding to roll past the Emirates, Stamford Bridge, Wembley and pretty much every other London based ground. Muscled off the ball by Manuel Lanzini. Come on, Joe.
Joel Matip – 7: He was getting a six for a meh defensive performance but he finally decides to use his massive body in aid of scoring from a corner, albeit a tap-in.
Ragnar Klavan – 6: Always feel as if he's on the urge of giving away a free-kick and then he doesn't. Is that a good thing, a bad thing? Quite pro-active in pushing Hernandez backwards with his tackling in the first half. There's some cutting-edge defensive analysis for you.
Alberto Moreno – 6: He's just sound now, isn't he? Left-back boxed off. Good outlet going forward, one really good interception from a (Lanzini?) pass fairly early on.
Midfield
Emre Can – 6: Giving him a six seems harsh but he was just that. Kept it tidy, nothing spectacular and showed good energy until the end. Maybe we should play him in his best position more often, you know.
Georginio Wijnaldum – 5: Yes, that's it. We've won 4-1 and I'm dishing out three 5/10's. Soz. Gini was okay, but I hadn't really clocked on he was playing until I started writing down names for this. I think that tells you all you need to know.
Attack, midfield… they were everywhere!
Alexander Mark David Oxlade-Chamberlain – 8: Wanted to give him a ten. But then Mo Salah was Mo Salah and I felt (spoiler alert) he needed to be in a category of his own. Good tenacity, especially for the goal. Some nice dribbles at 0-0, kept driving forward. Seems to have a ruthless edge, not in terms of his finishing, but in wanting to win 8-1 rather than 4-1. Liverpool lack that.
Sadio Mane – 8: He really is a magician. Back from a six week injury inside four weeks, and within 21 minutes he's hurtling up the pitch and putting it on a plate for his other fast mate. And then just as he's knackered and ready to plod off, he serves up another assist.
Mohamed Salah – 10: Oh yes, the King of Egypt does it again. For someone who 'doesn't score the easy one's', he made the first look very easy. And the second, oh the second. The touch, the finish, the sheer beauty. Chelsea reject, though.
Roberto Firmino – 7: Misses a couple, sets up Oxlade-Chamberlain, still racing around in the 80th minute. When Firmino plays well, so do Liverpool.
Substitutes
James Milner – 6: Watching him join in the counter-attack's with the cheetah's was a laugh. Did alright though.
Dominic Solanke – N/A: Dead cute of Liverpool to send Solanke on for eight minutes and spend those 480 seconds doing everything they can to get him a goal.
Dejan Lovren – N/A: Did we send him on so he got a clap? Not having that it's a tactical thing at 4-1 with five minutes left.