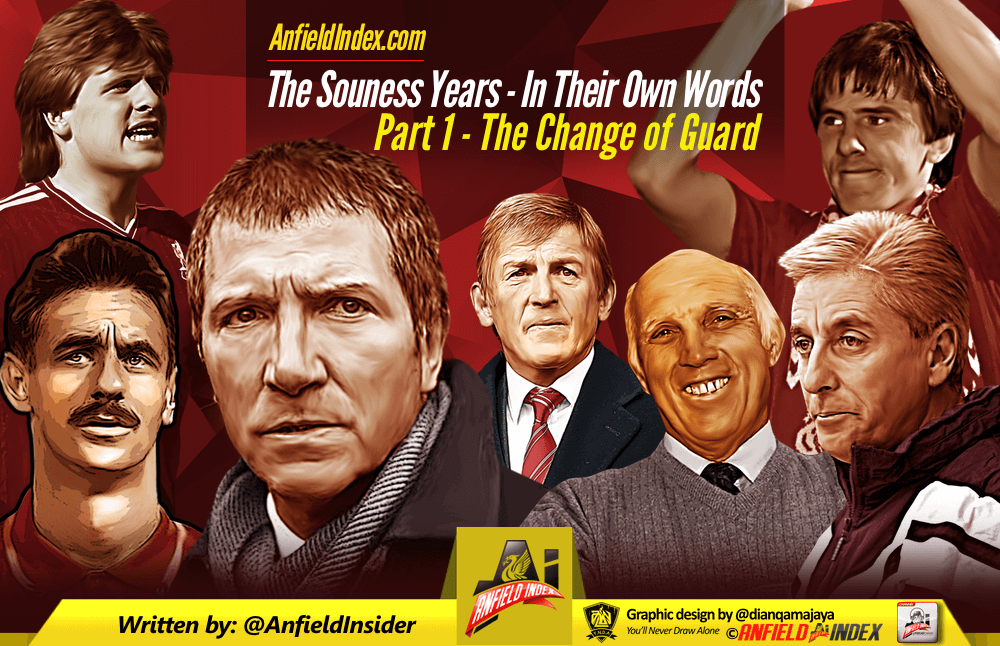 The Souness Years - In Their Own Words: Part 1 - The Change of Guard
The rise and fall of Liverpool football club is one of the most unique in the footballing world. Built 'up and up and up', in both Bill Shankly's words, actions and design, Liverpool dominated British and European football for the best part of two decades.
In the eighteen years marking 1973 to 1991, Liverpool finished in the top two of the English top flight no fewer than seventeen times and were crowned champions of England eleven times. They also collected four European cups. Then, on the 22nd February 1991, Kenny Dalglish resigned as manager of Liverpool. After a brief caretaker-ship of club stalwart Ronnie Moran, Graeme Souness was appointed the manager on April 16th.
Liverpool finished in the top two for the tenth year in a row that season – a record still yet to be surpassed. But they were about to go on a run that would see them finish in the top two on just three occasions in the next twenty-six years.

If the period of 1973-1990 was the clubs most successful, the period of 1991-1994 could perhaps be its most interesting. It's a fascinating period, especially to modern fans as they simply will not have been alive during the club's most imperious spell.
In an excellent recent podcast by David Amoyal, Rory Green of the New York Times spoke of what he called 'the democratisation of commentariat'. Smartphones and the internet have spouted an ocean of free opinion pieces online penned by regular supporters. That definitely has its time and place. But this piece is about the views and opinions of all the main players on the inside. The heroes, villains and clowns from that period: discussing, rationalising and sometimes arguing over where and to whom the blame should lie for the club surrendering its own crown.
All of these quotes are real, taken from autobiographies or authorised biographies only, to ensure that the voices remain faithful. All of these men had a hand on the wheel on this road to ruin. Their insights are both unique and fascinating to me, and I hope, also to you.
KENNY DALGLISH: After I'd resigned, I'd taken the family to Disney World. If Liverpool had asked me to carry on as manager the moment I returned from Florida, I'd have jumped at the chance because I felt my head had cleared, and my batteries were recharged. Sadly, Liverpool never asked.
PHIL THOMPSON: The obvious person (for the job) was Ronnie Moran. He was the caretaker manager and it seemed the ideal time for him to take the next step. He had all of this experience that stretched right back to Bob Paisley and Shanks. I just felt it was time for Ronnie to step forward, but he was saying "I can't handle the Press. I don't want it."
JAN MOLBY: Roy Evans' name was mentioned but it was thought he wasn't quite ready to take over. John Toshack, Steve Heighway and Phil Thompson were also talked about, and then there was Jockey (Alan Hansen).
JOHN BARNES: Everyone thought and hoped Alan Hansen would take over as manager. I certainly did.
JAN MOLBY: We were sitting in the dressing room and he walked in.
JOHN BARNES: 'The board have offered me the manager's job and I've taken it', he said.
RONNIE WHELAN: 'There's going to be a lot of changes around here. No more days off'.
JOHN BARNES: 'Your drinking has got out of hand, and it's going to have to stop. Every Sunday after every match, we are going to come in and watch the video of the game, and we will be training every day.'
JAN MOLBY: We just looked at each other in amazement. Were we hearing things or was this for real?
RONNIE WHELAN: You could've heard a pin drop. Then he walked out, and Ronnie and Roy followed him.
JAN MOLBY: 'What's he playing at?' cried Steve Nicol. 'He's been here for God knows how many years, and he's going to change all the rules? The one rule at this club is that you don't change anything!
JOHN BARNES: A minute or so later, he walked back through the door, laughing his head off. 'Only joking,' he said, 'I'm not going to be manager. I'm just retiring.'
RONNIE WHELAN: Caught rapid. Hook, line and sinker. Hansen was a brilliant windup merchant, but this one was a classic.
JOHN ALDRIDGE: I remember Toshack telling me that he had been in for the Liverpool job once but instead the people in charge decided to make Joe Fagan the manager. They didn't even let Tosh know that the decision had been made. He was very angry and annoyed by the way they treated him. After Kenny left, they asked him to take charge again. He agreed before changing his mind and not telling them. The club had treated him badly in the first place so Tosh didn't feel he owed them anything and wanted to get his own back on the people who had lied to him.
JOHN TOSHACK: I found it very flattering Liverpool should be interested in me, but when I signed with Real Sociedad I was happy to commit myself to them for five years.
GRAEME SOUNESS: A couple of weeks after Kenny had left there was a call from a third party at Liverpool asking if I would be interested in the manager's job. I immediately answered 'thank you very much, but no'. But the seed had been planted. Across the road from Ibrox, at the Swallow Hotel, I told Walter and Phil about my decision to join Liverpool. I said 'we have been offered the Liverpool job'. I deliberately said 'we', because my intention was to take them with me.
PHIL THOMPSON: As things moved on, Ronnie Moran realised he could actually handle the press as well as all of the other things that come with the manager's role. It was clear that his attitude towards the job was changing. He actually went to Peter Robinson and said: "If you want me, I will take the job." Peter said: "oh, if only you had made that clear earlier. We have appointed a new manager. We have asked Graeme Souness to come back."
KENNY DALGLISH: During our stay in Orlando, I received a phone call to tell me Graeme Souness had got the job, and I felt a tinge of regret.
RONNIE WHELAN: I thought he was exactly the manager Liverpool needed. I was thrilled he was coming back.
JAN MOLBY: Souness fitted the bill.
IAN RUSH: It had been seven years since Graeme had last set foot in Anfield and many of the players didn't know him. 'Don't worry, he'll be perfect', I told them, 'He's right for the job. Graeme will carry on the traditions of the club, keep us at the top.' Famous last words and all that.
ROY EVANS: I don't think we really expected anything other than for it to just carry on as that's the way it had always been. Managers changed but things carried on as they were. That's the way Liverpool had always been.
GRAEME SOUNESS: As soon as I walked through the door, the first thing Peter Robinson said to me was 'You do know what you're taking on, don't you? We are not a good team, and we don't have many great players. In fact, we only have one – John Barnes'.
STEVE NICOL: We had lost our way. I don't think Graeme understood the situation when he first arrived back at Anfield. I'm sure he thought the old guard – players like me, Rushie, Barnesy, Bruce, Ronnie Whelan and Ray Houghton – still had the same sort of control over the dressing room that he had when he was a player. That was no longer the case and I think it surprised him. What he actually inherited was a team on the decline.
GRAEME SOUNESS: Peter Robinson asked me if I wanted to take charge of negotiating player's contracts and I said yes. It turned out to be a mistake because it put me in an awkward position with some of the players.
PAUL STEWART: Souness was as tough in negotiations as he had been in the tackle in his playing days.
PETER BEARDSLEY: My days as a Liverpool player were numbered from the day Graeme Souness returned to the club as manager.
To be continued……
References
John Aldridge – Alright Aldo (2011)
Arnie Baldursson – Ronnie Moran – Mr Liverpool (2017)
John Barnes – The Autobiography (1999)
Peter Beardsley – My Life Story (1995)
Kirk Blows – Terminator – The Authorised Julian Dicks Story (1996)
Jamie Carragher – Carra: My Autobiography (2009)
Jan Molby – Jan The Man (2004)
Kenny Dalglish – My Liverpool Home (2010)
Rob Jones & Paul Hassall – Robbed
Dominic Matteo – In My Defence (2011)
Steve McManaman – El Macca (2005)
Neil Ruddock – Hell Razor (1999)
Ian Rush – Rush: The Autobiography (2009)
Graeme Souness – The Management Years (1997)
Graeme Souness – Football: My Life, My Passion (2017)
Paul Stewart – Damaged (2017)
Phil Thompson – Stand Up Pinocchio (2005)
Ronnie Whelan – My Life In Red (2011)