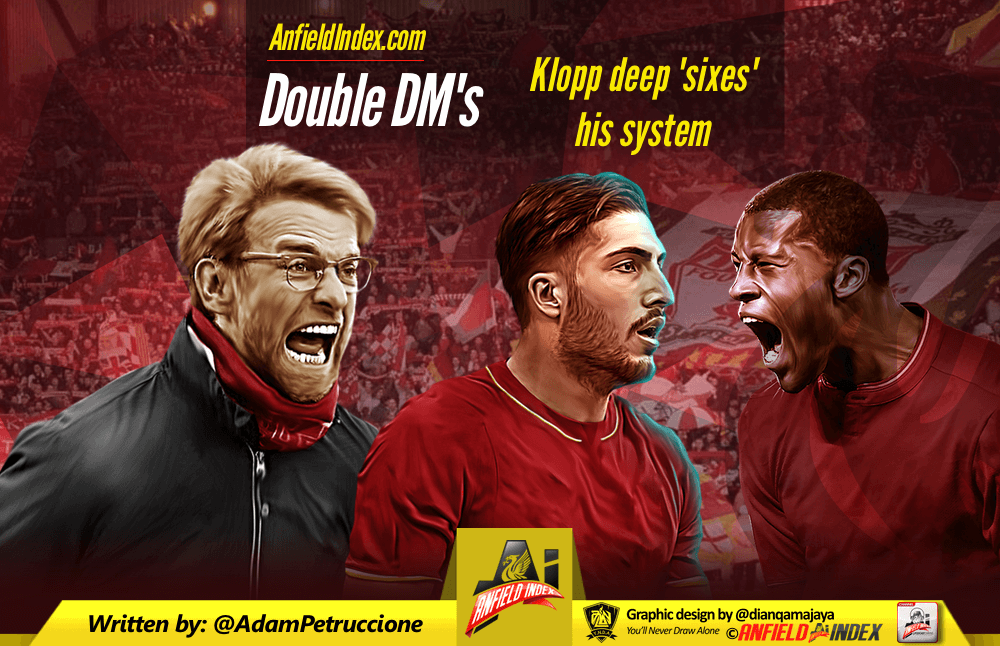 Double DM's - Klopp deep 'sixes' his system
"It looked like an offensive lineup, but it was a defensive lineup. Two sixes, two clear sixes!" – Jurgen Klopp
A surprise lineup pleased Liverpool fans as soon as it came out, even if we weren't exactly sure why. The inclusion of Mané was the big shock of the afternoon since even the manager had said he might be ready for 20 minutes. His dynamism and speed take the Reds to another level, but with Bobby Firmino, Oxlade Chamberlain, Mo Salah and Gini Wijnaldum also included, where would everyone fit?
Would they all be somehow shoehorned into Klopp's persistent 433 formation? The diamond which had torn apart West Ham in back in May? Three at the back with Moreno and Chamberlain on the wings?
Shortly after kickoff, it was apparent that most predictions were wrong, and when Klopp is keeping us guessing, that's usually when he's at his best. The manager who had seemingly struggled to find a way to optimize this group of players over the past month had figured out a way to put eleven men in positions that matched their skills.

Oxlade Chamberlain and Sadio Mané were on the wings, both able to impact the match with their speed and cut in whenever the opportunity was there. Salah was shifted slightly more central, while Firmino was left with a free roll to do what comes naturally to him, winning the ball back and converting pressing situations to sudden attacks for the Reds.
Certainly, the front four was the sparkle and the sizzle, but Klopp has found plenty of ways to put four or more attacking players on the pitch before. What he designed for the back six felt revolutionary in its simplicity. The fullbacks held their ground and defended whenever called upon and the centre-backs were shielded by two, count them, TWO defensive midfielders.
The front four pressed their hearts out whenever possession was lost, but rather than a situation we've seen again and again this season where a failed press meant an instant one v one with a centre-back, this setup had a backup plan. Whenever West Ham could get past the initial press from Salah, Firmino, Chamberlain and Mané they encountered an organized Moreno, Can, Wijnaldum and Gomez behind them with Matip and Klavan only involved in emergencies.
"I changed the system without proper training. We wanted to defend deeper, more compact. We had to get used to it. It was difficult." – Jurgen Klopp
Liverpool were at times operating as two separate teams on the pitch, one attacking and fluid, one rigid and restrained. However, the passing ability of all six of the rearguard made it possible for the team to be divided without looking disjointed.
It worked. Quite well in fact, but the question Liverpool fans are now wondering if this was just a one-off? Was this a tactical switch just to get through the mighty blowers of bubbles or was it a successful test of a system that might be employed more consistently down the road?
One possibility is that this was the beta test for a post-Coutinho Liverpool. Whatever Klopp wants to call this, a 442, 424, 4231, it didn't have an obvious spot to insert the Brazilian where he would be better suited than any of the participants against West Ham. He isn't fast enough for the wings, or sturdy enough for either of the 'six' positions.
If Coutinho isn't an obvious fit, Lallana may have issues supplanting any of the front four as well in this system, but could easily fill in for Firmino or Chamberlain when required.
Of the players who started, Moreno felt like the only awkward fit. In a fullback role where defensive abilities were stressed, he didn't stand out as much as he has in the 433 and nearly was at fault for a 9th-minute Ayew strike that went just wide.
With the international break coming up Klopp and his staff will have an opportunity to further investigate this new scheme or plan other ways to patch and plot his way through the next few weeks until the squad returns to something approaching full health.
The rest of November will bring Southampton and Chelsea to Anfield with trips to Sevilla and Stoke away. Each of them winnable in our current form, regardless of the formation. How Jurgen Klopp chooses to line up will be fascinating to see, but at least he's now deciding from a position of strength rather than the desperation the club was feeling two short weeks ago.