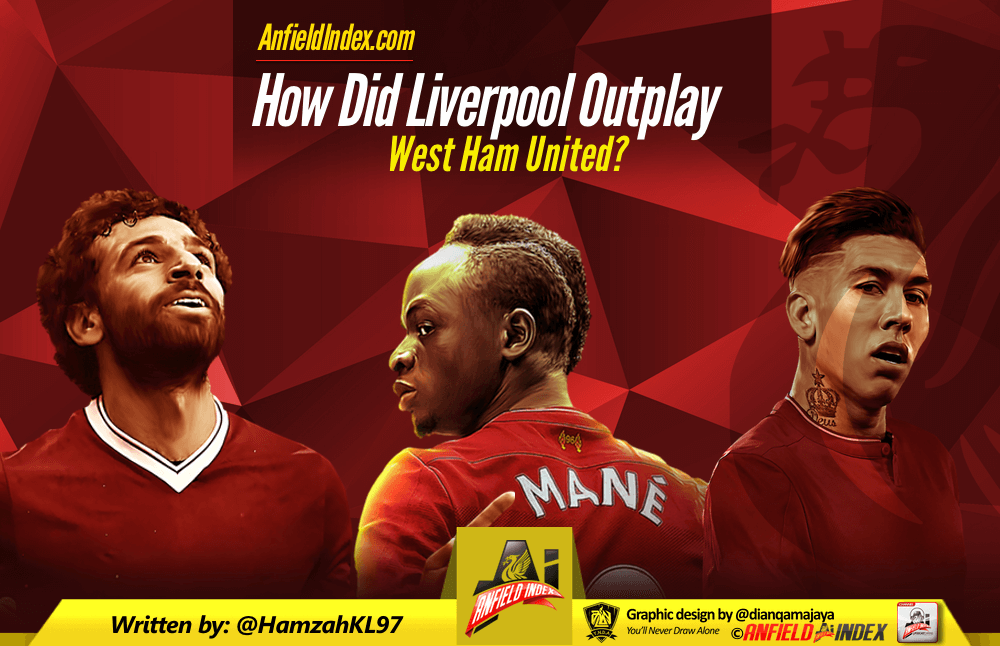 How did Liverpool outplay West Ham?
Whilst watching Liverpool thrash West Ham, I didn't quite know what was going on, but I liked it. Now, I've rewatched the game to get some semblance of what happened, and why it panned out the way it did. Instead of looking at the goals today, we'll be looking essentially at the story of the game – how Liverpool set up, what they took advantage of, and differences compared to other recent games.
A good place to start when looking tactically at the game is not at the formation that we suspected at kick-off, but at average positioning. We're looking at average positioning for two reasons: one being that Liverpool's formation changed, and the other being that formations, as we understand them classically, really are not that important anymore.
At one point I saw what was clearly a 4-2-2-2, then a 4-4-2, and then a 3-3-4, before a 2-4-4 and lastly a 4-2-3-1. The only correlation amongst these, and visibly from what I saw was that Liverpool definitely had two centre-halves and two rather rigidly positioned centre-midfielders ahead of them; from there a great deal was flexibility.

A characteristic we've seen in recent matches – and highlighted on the Tactics Weekly podcast, with Daniel Rhodes and Paul Dalglish – is that Joe Gomez, instead of committing himself forwards on attacks, actually sits back, with the other two centre-backs.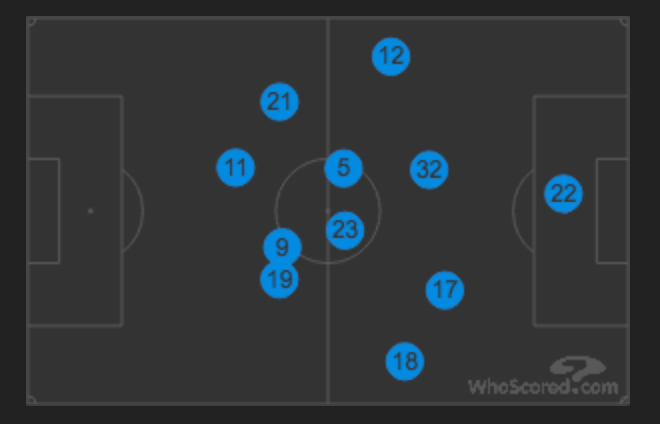 What we saw in this game, and what the graphic illustrates is a far greater degree of protection for the CBs and goalkeeper, as Moreno and Gomez restrain themselves – they often verge on the half-way line for their average position – whilst Can and Wijnaldum sit directly in front of them.
This particular tactic, in part, harks back to the early days of Klopp – in which he used a 4-2-3-1, however, here, the full-backs are nowhere as offensive.
Passmaps & xGplot for West Ham against Liverpool. #passmap #xGplot #autotweet pic.twitter.com/zamsKwmIbz

— 11tegen11 (@11tegen11) November 4, 2017
But the key to understanding the system Liverpool played is the fourth graphic from the tweet above: in which Emre Can and Wijnaldum feature as the heart of the team.
Initially, the team struggled and appeared to find it tough getting to grips with the system, with Wijnaldum and Can in particular not being able to exert control.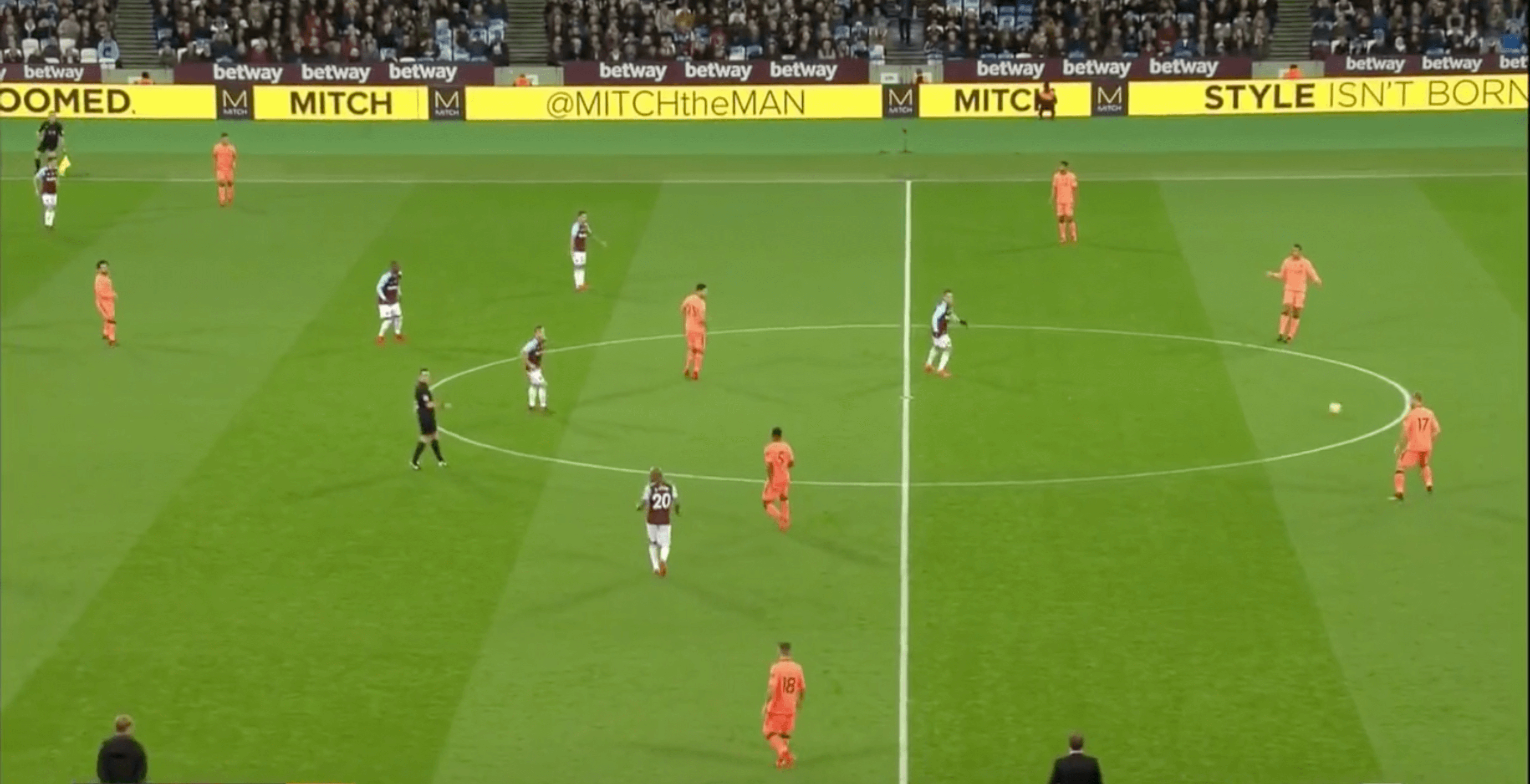 One particular issue was that both Can and Wijnaldum were operating on the same vertical line for a while – instead of a staggered positioning in which they could work their way through the West Ham midfield.
At this point, Liverpool's wide players, Mané and Oxlade-Chamberlain were also disconnected from general play, as the six outfield players in defence and central-midfield did not have a bridge or connection to the forwards.
This changed though in the minutes preceding Liverpool's goal, as Firmino dropped deeper, to try to link up play.
After Liverpool's goal though, we finally began to see some variance in the CM's positioning: with Can taking a deeper position in the frame below (22mins in), as Wijnaldum moved up.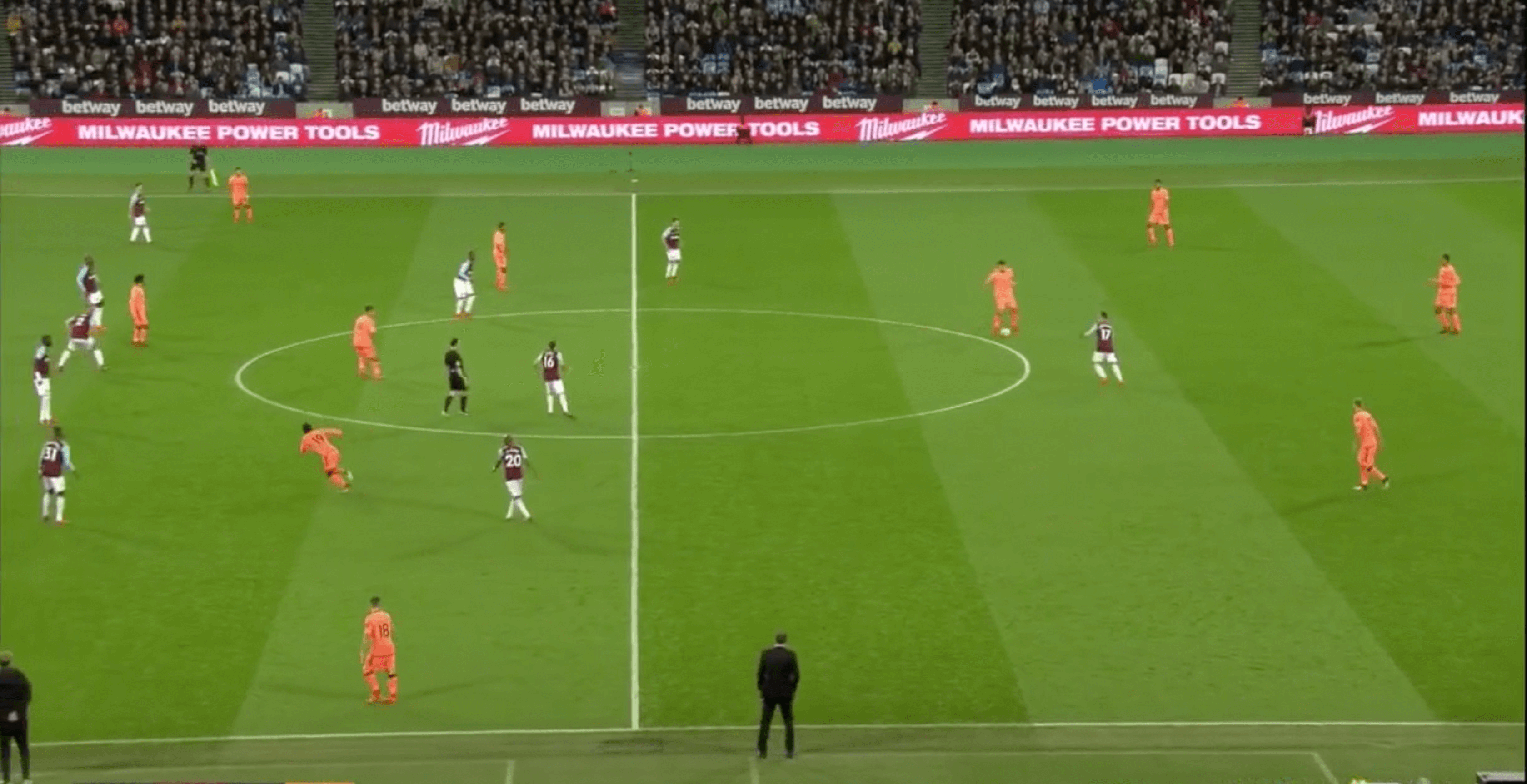 What's the value in one CM dropping and the other going forward you may ask? Well, there are a number of benefits that this can offer; one is for Liverpool offensively in terms of short passing – it's far easier for an opposing team to block passes or passing lanes for two players that are along the same vertical line (from the camera viewpoint), with a varied distance and positioning, Liverpool's defenders have an extra outlet, whilst it also helps cultivate passing boxes/triangles.
Another advantage is in terms of space and positioning: as Can drops and Wijnaldum moves up, one West Ham midfielder has to mark and track Wijnaldum, and with four advanced players anyway, this is additional stress upon the West Ham defence – should any one of the defenders lose their respective man, a simple long pass could be their undoing.
On this occasion, in the 26th minute, after the second goal, Can goes forward, with Wijnaldum dropping, offscreen.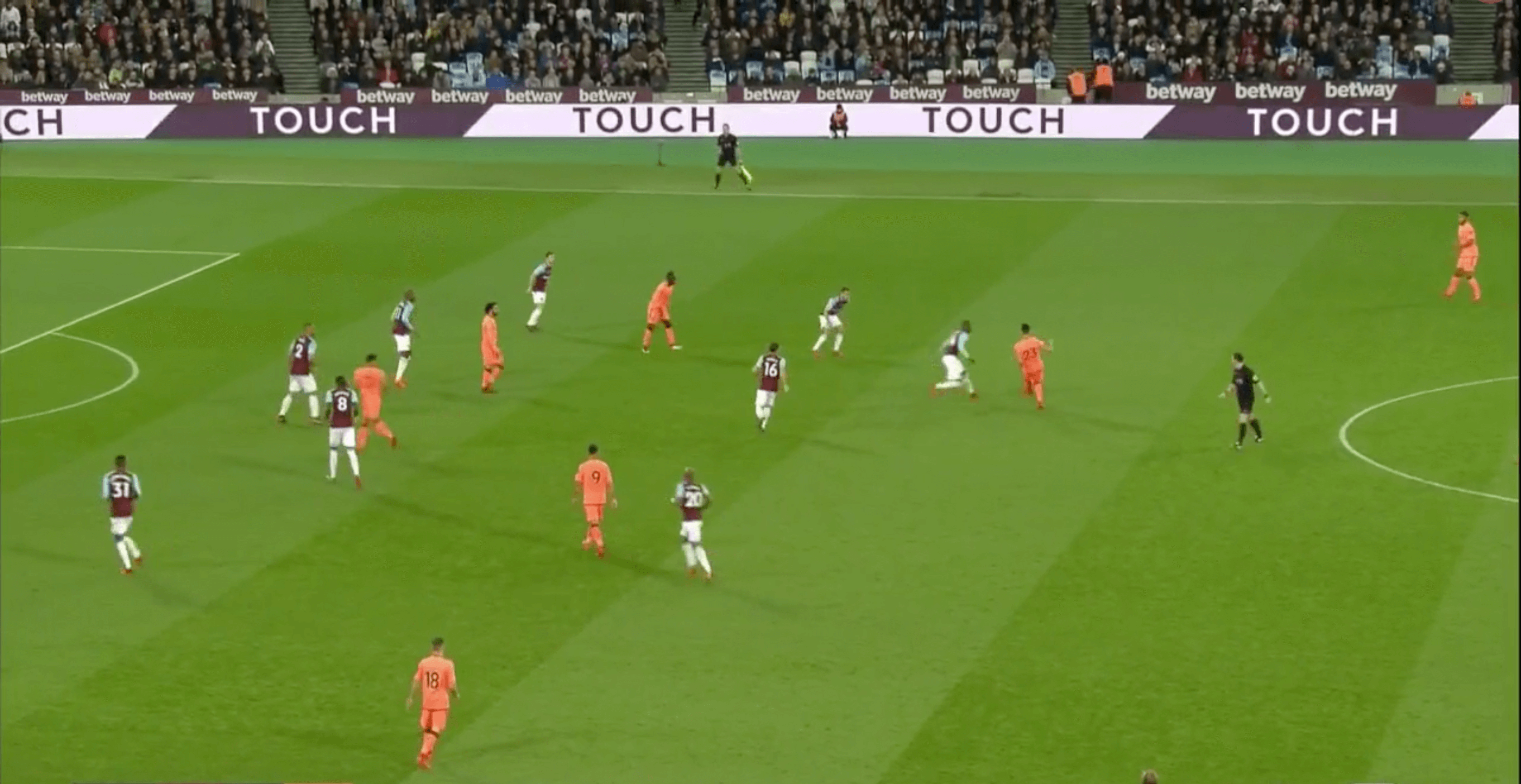 But the overriding feature from the front four was fluidity and a freedom to roam – Firmino and Mané in particular used this license to full effect, with both dropping deep on occasions to speed up or invigorate play from deep, while Firmino used this to good effect up front, playing as an SS at times, with Salah, and then as a 10 – working between the lines to great effect.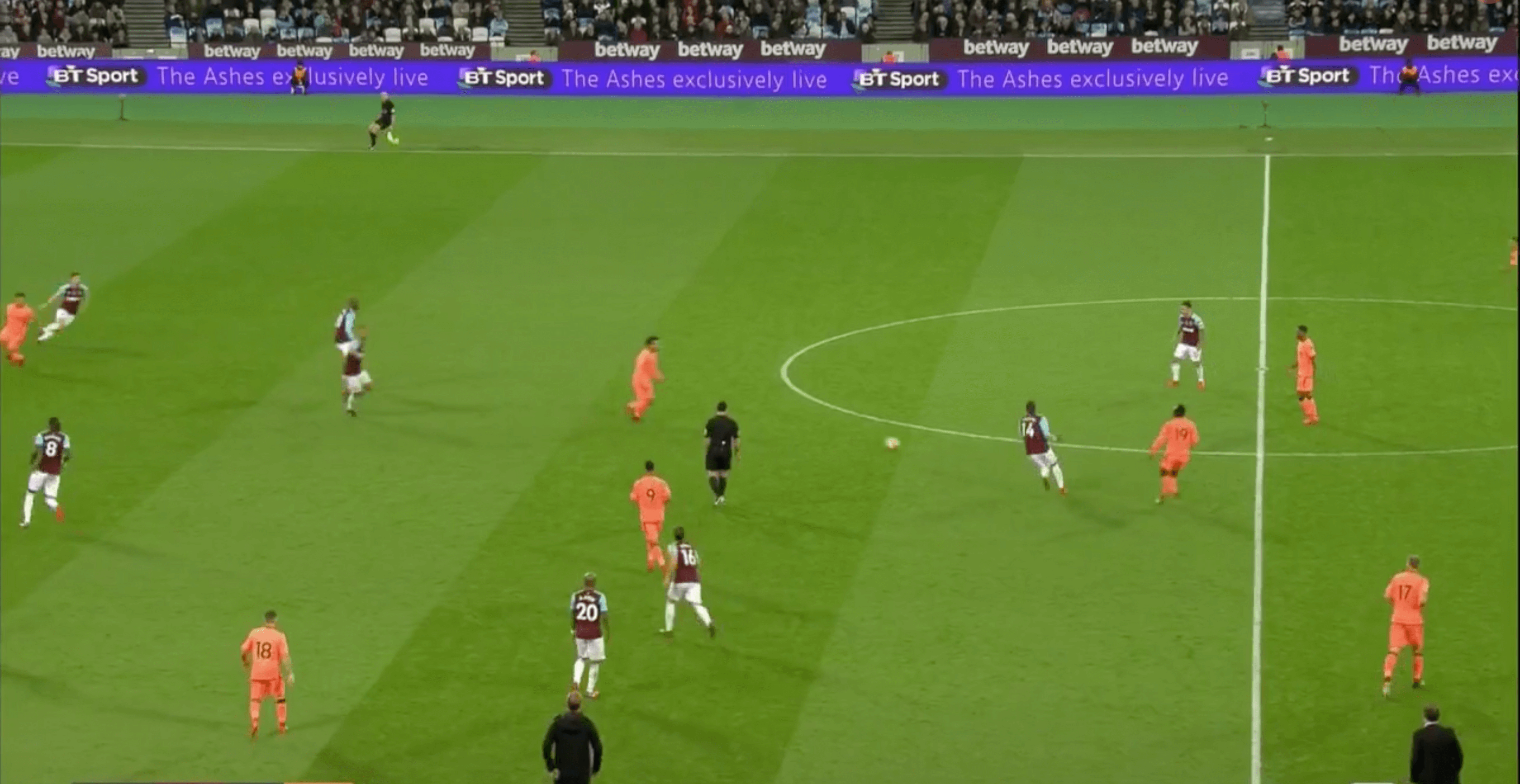 Firmino may not have got on the scoresheet, and probably should have, but his overall game was magnificent, as he facilitated and underscored the brilliance of Salah.
It's remarkable how the front four played though; in the 32nd minute, for instance, Salah dropped and played a ball in behind to Mané, and within a few seconds, Mané had dropped back in, and Oxlade-Chamberlain was the furthest forward. This must have been something Liverpool had been working on, and whilst Mané may have only had a single full training session, he clearly had done a great deal of tactical and positional work during his time on the sidelines.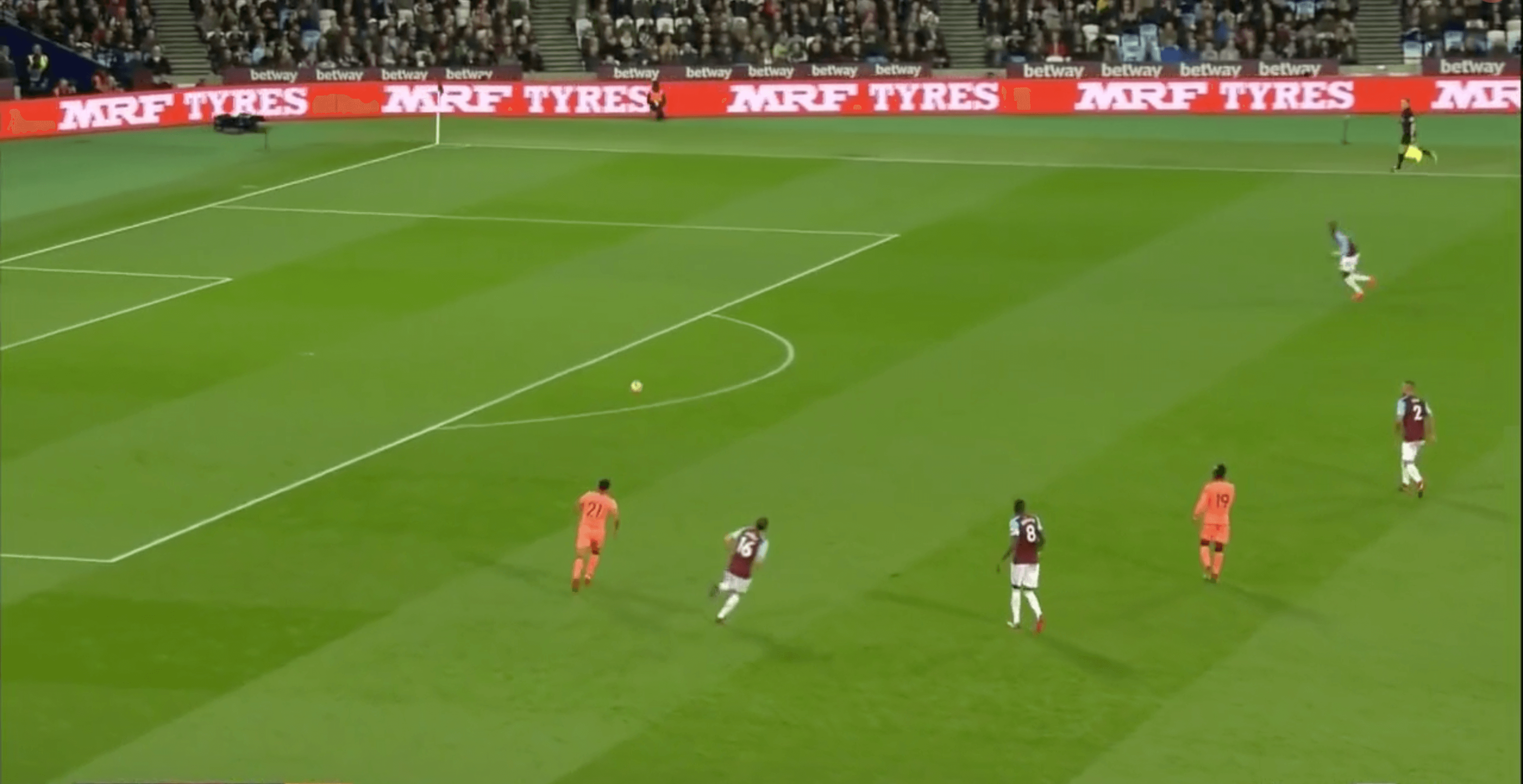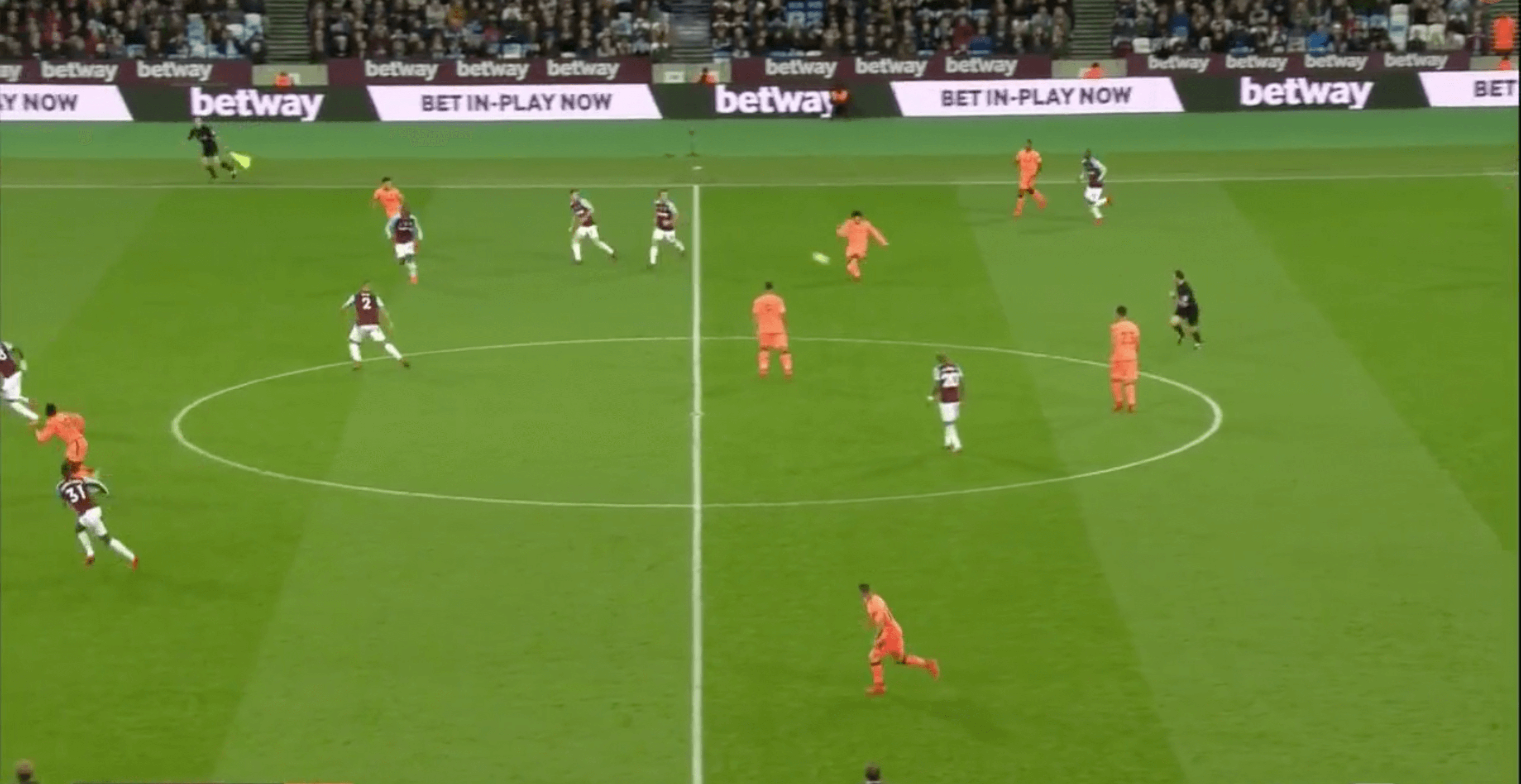 Quick transitions and targeted support play was key to Liverpool's dominance in this game: Moreno would burst forward on occasion, as would Can/Wijnaldum – choosing the best moment to create an overload and push the opposition back, but the rapid transitions, through short quick passing, and drawing players out as they did allowed Liverpool to carve West Ham apart, and that's without even considering the counter-attacking setup, which was nothing less than archetypal.
If we take Liverpool's third goal as an example, we can see just how the front four cause havoc, as Oxlade-Chamberlain and Mané break at speed out wide, whilst Salah's run down the middle pushes them back, and both this and Firmino's presence compacts the defence, allowing Oxlade-Chamberlain the space to shoot from inside the box: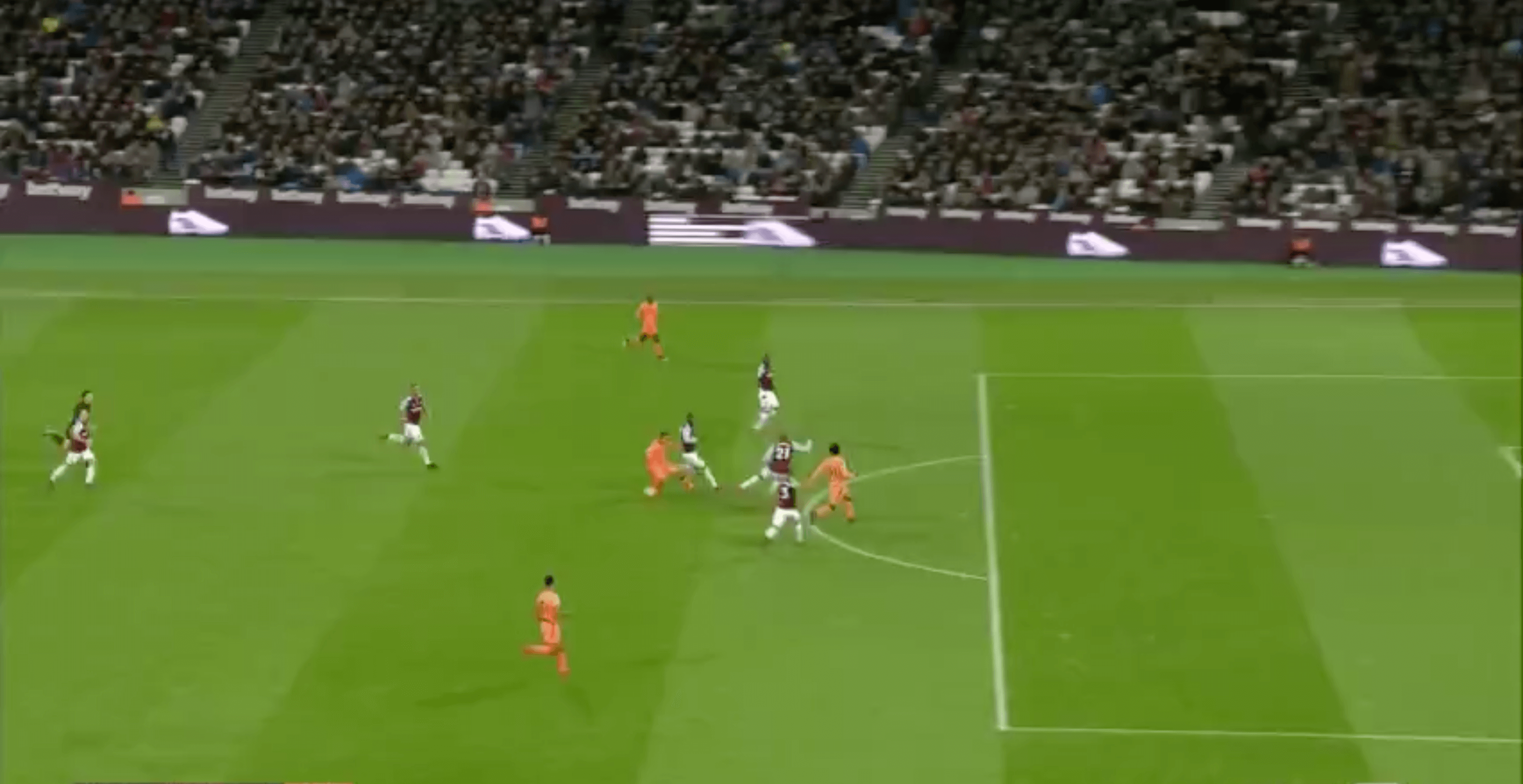 We've looked at Liverpool's shape with the ball, but what about without it? This is slightly simpler, with a 4-4-2 characterising Liverpool's off-ball setup – and whilst either Firmino or Salah may press at times, making it a 4-4-1-1, or a 4-2-3-1 as Oxlade-Chamberlain and Mané joined in with the press, these formations are not that useful in detailing the players' roles, as Mané covered the left side, with Moreno, and tucked in to defend that space, whilst Oxlade-Chamberlain did the same on the other side, as Wijnaldum and Can covered the central spaces – with Salah and Firmino the first line of defence, not allowing a direct break onto the two LFC CMs.
What then can we take from this performance? There's a number of things we can do, but it is worth bearing in mind, Liverpool's performance, was in part, facilitated by some dreadful work by West Ham. But it's also worth wondering whether this was a genuine tactic, considering it may have been brought about because of Henderson's injury, but to that point, I would disagree.
If Klopp simply wanted to play the same system that he used when Henderson was available, Can simply would have slotted in as the 6, and Milner as part of the midfield 3. But this setup very much seemed deliberate, and Klopp noted a 4-4-2 of sorts in his post-match presser.
Liverpool's pressing was also far higher than the average this season, and back to some of the best that we saw last season. This system though appears great for counter-attacking football, and blitzing teams, but Liverpool's edgy start is something to note, as is the question of how Coutinho and Henderson may fit in this system. What can be said though, is that this is a far better system for Wijnaldum than the 4-3-3, in which he often goes missing, as his involvement (touches, passes etc.) were much higher than his averages for away games, in which he is often accused of going missing.
What this game illustrated more than anything though is how Klopp has more than just a simple plan A and B, but several plans that can get the best out of certain players, and also how much of a difference having Sadio Mané makes to the team.
With the international break coming up, it'll be of paramount importance that Liverpool's players come back injury free, and from there we can be sure Liverpool's season will be firmly back on track.