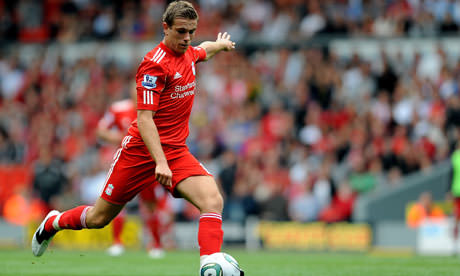 Progress Report: Jordan Henderson
As Jordan Henderson left the field in the 61st minute against Sunderland, Lucas Leiva would have been excused for breathing a sigh of relief. The heat is off, a new whipping boy is in town.
Henderson has received some harsh treatment on radio phone-ins, message boards and on Twitter since his first competitive hour in a Liverpool shirt.

In assessing whether this criticism is justified, the first place to look at is his distribution. His pass completion rate against Sunderland was 88%, the highest in the team. Here is where stats can be deceptive. Henderson only made 31 passes in the entire game. As a point of reference, Charlie Adam made 63. Of his 31 passes, just 8 were played forwards (24%).  To use Adam as the reference point again, of his 56 passes 33 were played forwards (59%). This is a remarkable difference. The high pass completion rate emphasises where things went wrong for Henderson: he was so afraid of making a mistake that inertia set in.
His ineffectiveness with the ball proven, let's look at how he performed when we were chasing the game. Henderson was involved in just 4 50-50s. In comparison, Adam was involved in 17. Adam won 47% of his possession duals whilst Henderson won none. This adds weight to the rants about Henderson being a bit frigid when it comes to getting stuck in. It would be great to see how Henderson performed in aerial duals, but he was not involved in any. The same goes for shooting: he had no shots on or off target. Tackling? One, and it was unsuccessful.
The verdict watching the match was that Henderson did not do a great deal against Sunderland. The verdict from the statistical analysis proves this point conclusively
Kenny Dalglish is the type of manager who will put his arms around the shoulder of a player who is struggling. He understands better than most the importance of confidence. Dropping Henderson after that display could have set him back months. It was no surprise, then, that Henderson got a chance to redeem himself against Arsenal.
An analysis of his first full game for Liverpool helps us understand whether Kenny was right to stick with Henderson despite his abysmal display against Sunderland.
Henderson made a total of 59 passes against Arsenal, double the amount he managed against Sunderland. Impressively, his pass completion was 90% and importantly 24 of his passes went forwards. The improvement here is exponential and shows that Henderson has the ability to understand his development areas and make positive changes.  This is a very important attribute for a young player to possess.
Henderson's all round display was better against Arsenal than it was against Sunderland. He created 2 chances, made 2 successful interceptions and even managed a shot on target.
However, Henderson still has a long way to go if he is to become the complete midfield powerhouse. He lost all 5 of the 50-50s he went in for, meaning that he now has a record of attempting 9 50-50 challenges and losing every single one of them.
He was not involved in any aerial duals meaning that, astonishingly, he is still to attempt to jump for a header against an opponent in a Liverpool shirt. He failed to make a single successful tackle in the entire match.  Henderson again offered plenty of ammunition for those fans looking for a new whipping boy.
The key point to take away is that he is improving, and will continue to improve. At the age of 21 he has time on his side. Patience is vital. We have to be really careful as fans not to crucify Henderson the way we did with Lucas. Stick by him and we could have another Steve Gerrard on our hands. Turn against him and we could be left with Steve Sidwell.
Follow me on Twitter @joescouse_LFC