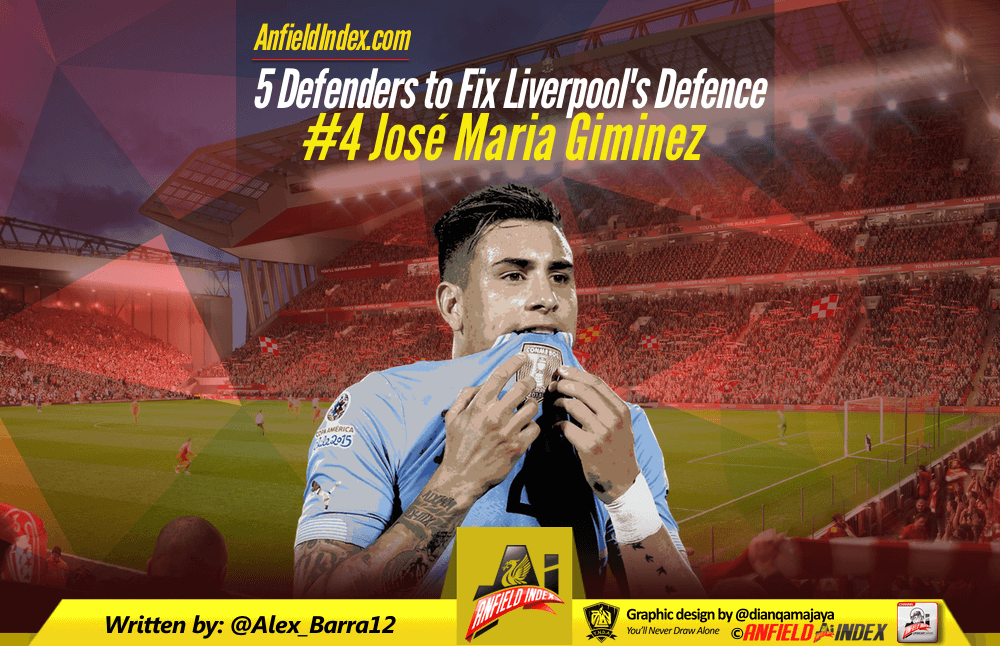 Five Defenders to Fix Liverpool's Defence - #4 Jose Maria Gimenez
A pair of gilt-edged centre-halves at the base, ensuring a stable last line of defence. Liverpool has seemingly needed them for an eternity. No matter the populous' opinion of Joel Matip, who harbours some concerns for the long-term, Liverpool simply must sign a centre-half of the utmost quality if they have any hope of continuing to move in an upward trajectory under Jürgen Klopp.
Considering Liverpool looks set to lose midfielder Emre Can on a free transfer, come the end of the season, there would be some poignancy to curing their woes in central defence in a similar way. The centre-half in question? Atletico's Jose Maria Gimenez, who's the second of this writer's five centre-back choices to fix Liverpool's defence.
Style
It's seemingly been a millennium since Jamie Carragher's grit and tenacity graced Anfield – the former stalwart seemed to relish physical challenges and never backed down from a physical battle. The same can be said of the Spaniard, with Gimenez lauded for his overtly combative style. Given Spanish football's emphasis on grace and guile (see Ramos, S and Pique, G as evidence) Gimenez's traits are a refreshing change, but then simply labelling him as a brute akin to a fetish of Tony Pulis would be unfair.

Indeed, Gimenez' naturally inclination for the tackle is offset by a football intelligence that sees him make few mistakes in possession – a trait likely drilled into him by manager Diego Simeone. When you're deployed as a centre-half by a manager who once laughed as Luciano Vietto vomited at training following a rather demanding training session, you learn not to make mistakes. That is the exact kind of attitude which would aide Liverpool's tendency to shoot itself in the foot.
Currently only 22, Gimenez burst onto the scene early after being rejected by Uruguayan football giants Peñarol. Atletico Madrid scoped out his potential and signed him from FC Danubio – the Uruguayan side where he made his debut at the age of 17, and made his full debut for Atletico Madrid a year later, after arriving for €900,000. He's also the youngest Uruguayan to make his debut at a World Cup – starting his first game against England in the group stage of Brazil 2014 – and has made 37 appearances for the national team since.
However, being a third choice centre-half, with the potential to drop even further down the pecking order, has very much aggrieved the man who was seen as the eventual successor to Diego Godin. Having lost his starting position to Stefan Savic, Gimenez has played a grand total of 497 minutes this season – and two of his five starts have been at right-back.
Strengths
That potency for tackling holds the 22-year old in good stead, given Liverpool's lack of fieriness (or "bite", as it's colloquially known) as a team in recent memory. Despite an injury-riddled season in 2016/17, he impressed when he could, making 2.4 tackles per game in his 17 La Liga appearances (which also included a few as right-back). That's more than Lovren and Matip (with 1.4 and 1.6 respectively), not to mention more than all of Virgil van Dijk, Toby Alderweireld, Jan Vertonghen, Gary Cahill and Laurent Koscielny.
Perhaps combative isn't a strong enough word, then.
Coupled with that feisty instinct is an excellent recovery pace, however, and an innate intelligence to prevent easy shots on target. It helps to have Jan Oblak behind him, of course, but Atletico's ethos is to stop those high-quality chances from happening on the counter-attack – something which both Lovren and Matip have a nasty habit of allowing. Gimenez is ingrained with that Simeone doggedness – always looking to prevent dangerous players from obtaining easy opportunities, sometimes to an overzealous extent.
Similarly, he doesn't over-complicate situations – opting to simply "hoof" the ball clear when under pressure, as opposed to trickily playing his way out of a precarious situation. Optimally, he'd be paired alongside a ball playing centre-half, who can split the midfield when comfortable in possession, while Gimenez deals with oncoming threats calmly and quickly.
Then comes, to top it all off, his vertical leap. He stands at 6 ft 1, which is by no means a "small stature", and yet his immense leap gives him the edge in almost all heading contests. Should he arrive in England, it's the kind of trait that would see him stand out.
Weaknesses
With his assertiveness and aggression comes a tendency to over-commit. The word used previously in the piece – over-zealous – tends to come up a lot with Gimenez. Whether it be "that" horror game against Bayern Munich in the semi-final of the Champions League or a simple foul that shouldn't have happened, Gimenez's "win at all costs" attitude can manifest itself negatively in some of the silly decisions he makes.
Brain-fades they are not, but discipline is not something Klopp would want to be worrying about should Gimenez partner Joel Matip in the heart of Liverpool's defence. While his staunch, resolute attitude has helped form an exceptionally gifted centre-half, he is simply lacking the composure of Virgil van Dijk. And that can be a problem sometimes.
Still, he is only 22, and that same forceful initiative that lands him in trouble is the same mentality that breeds the last ditch tackles and gritty tenacity that has become a hallmark of Atletico Madrid under Diego Simeone.
He was also being courted by the likes of Juventus, Manchester United and Inter Milan. With Gimenez refusing to sign a contract extension and Atletico likely more open to selling him in January than losing him on a free, the opportunity is there to take a prodigious centre back and fix Liverpool's greatest weakness.