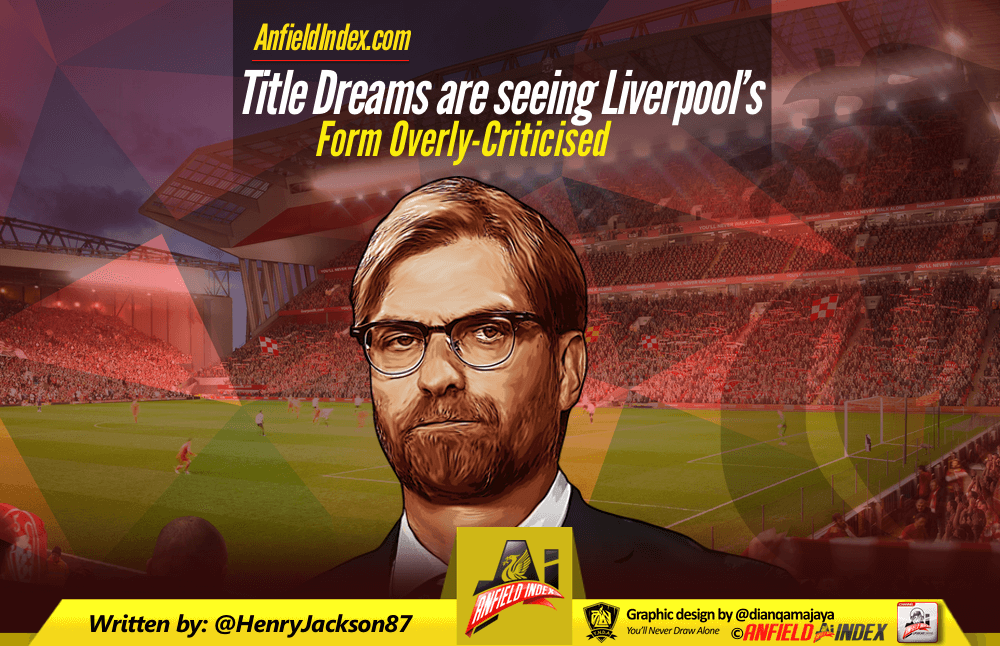 Title Dreams are seeing Liverpool's Form Overly-Criticised

Is there a set of football fans who crave a league title quite like Liverpool fans?
I'm sure there are supporters of other clubs out there who feel similarly desperate – Napoli's last triumph also came way back in 1990, for example – but it is almost hard to put into words what it would mean.
It is an achievement that would take the biggest weight off both the club and our shoulders, bringing with it an unrivalled amount of joy and ending over a quarter of a century of mocking and hurt.
It has been 27 long years since the Reds could lay claim to being the best team in the country, and for a generation of devotees, mediocrity has been the order of the day too often.
Those of us below approximately 35 were either not born when Kenny Dalglish's side sealed glory in 1989/90, or too young to remember it, and the painful dominance of Man United, as well as successful spells for Arsenal, Chelsea and Man City, have been tough to witness.
A club of Liverpool's stature should always be aiming to be crowned Premier League champions before I get it in the neck for "lacking ambition", but we also have to be realistic about it all. There are better teams at the moment.
Barring some sort of miracle, or a major collapse on their behalf, Pep Guardiola's Man City will be the deserved champions this season, and year number 28 without a title will be upon us.
City look comfortably superior to any side in the league, and given the manager, players and wealth at their disposal, there should be no shame in admitting that.
The problem is, our almost unhealthy desperation to win the league is clouding our judgment of this current Liverpool outfit, who remain a top-four side not quite managing to match the money and quality of some of their adversaries.
In many peoples minds, only the title will do, and it is wrong that anything else seems to be deemed a failure.
Jurgen Klopp is building something very good at Anfield, regardless of speed bumps here and there and a fairly mediocre few months, but expecting too much is unfair on both him and the team.
Even the most positive Reds supporter would struggle to call this start to 2017/18 impressive, but it has also been a long, long way from the disaster it has been painted as by many.
There have been poor performances, most notably Newcastle and Tottenham away – the 5-0 defeat to Man City was even until Sadio Mane's sending off – and issues at the back not being addressed beggars belief. Liverpool could be better, without question.
Mo Salah looks a sensational signing, though, and youngsters Joe Gomez and Trent Alexander-Arnold are thriving. The quality of football has been excellent on a number of occasions, and no defeats in six Champions League matches has seen Liverpool reach the group stages and top the table.
City's unstoppable march is masking what has actually been a solid if forgettable, first 11 games by Klopp's men, which takes us back to our title obsession.
Everything seems gauged by that holy grail, unfortunately.
City's form has been freakish, winning 10 matches and drawing one in the league, and they are on course to beat Chelsea's Premier League record of 95 points in a season, as things stand.
People are deeming Liverpool being 12 points adrift as a disaster – it's not good, don't get me wrong – but since the Premier League came along in 1992, no side has had a more impressive tally (31) and goal difference (+31) than Pep's men right now.
The Reds are now only four points adrift of second and third-place Man United and Tottenham, which given the rave reviews they have both received at times, sums up why any current overreaction is uncalled for.
Liverpool have already faced four of their top-six rivals, and they have also had to make do without Mane, Philippe Coutinho and Adam Lallana – three of their five most important players, along with Salah and Roberto Firmino – for lengthy chunks of time.
In their 18 matches in all competitions, the Merseysiders have been beaten just three times. One was with 10 men against City, another was with a second-string team in the League Cup against Leicester, and the third was at Spurs, which was admittedly dreadful.
Given the constant moaning from some, you would think Liverpool were in Everton's current plight, battling relegation and having almost nothing to shout about.
It would be negligent to simply paint Klopp and his team as faultless in all of this – that is far from the case – but such negativity has been needless.
There are some understandable reasons for it, in fairness, from frustrating summer transfer business to Klopp showing too much faith in average players, but there is still too much restlessness spread throughout the fanbase.
Ultimately, it is the lack of a league title that is arguably the main reason for the ongoing meltdowns and impatience, and until that incredible day finally arrives, supporters are going to have a skewed view of things.
Andy Murray is a good comparison to make, with the Scot continually deemed a failure until winning his first Grand Slam tournament.
Despite consistently reaching semi-finals and finals, essentially making him one of the four best tennis players on the entire planet, he would be criticised.
This is where Liverpool find themselves, albeit not as close to Murray was to glory pre-2012.
It is nice to know that we dream big and that accepting mediocrity is not in our DNA – I'm aware some of you reading this will be accusing me of exactly that – but we must also appreciate that winning the league is going to be unbelievably tough for the time being.
Reaching the Champions League again, as well as making a mark in this season's competition, has to be the aim, and winning the FA Cup would also be big, in terms of ending Liverpool's trophy drought.
It is only early November, and the Reds are fifth in the table, on course for Champions League knockout qualification and have their best players coming back into the side – there is plenty to feel happy about.
Has it been the ideal start to 2017/18, in terms of progression under Klopp? No. Are the positives overriding the negatives? Yes.
That elusive title will come one day, but for now, we shouldn't be using it as a way of judging the current side.
They're doing fine, and will do better.