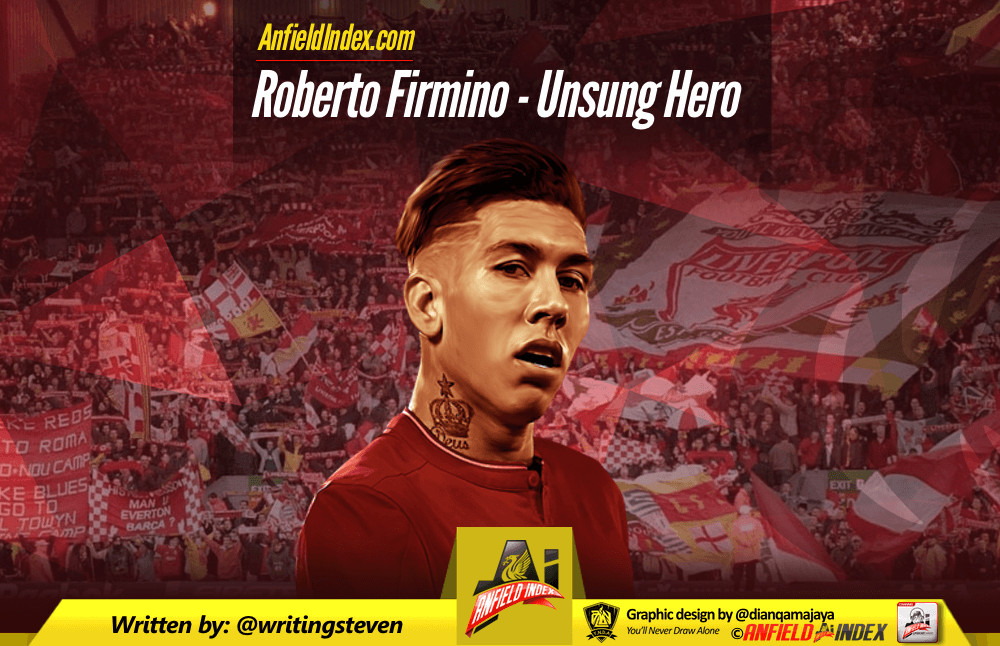 Roberto Firmino - Unsung Hero
"I really like to talk about these two players (Salah and Mane), but please do not forget about Roberto Firmino on a day like today," Klopp said following Liverpool's 4-1 away triumph over West Ham United.
"I know he didn't score – he was really angry about that actually when I took him off. I said: 'What a performance!' He said: 'I didn't score though!' It's very important to have these players. You can have the best match play in the world, but if the players are not good enough for it. Players decide the games, especially the good ones."
Jurgen Klopp loves Roberto Firmino. So does Phil Coutinho. "Roberto is a clever player," says Coutinho. "He makes those diagonal runs that are so important to our play at Liverpool. He's always available to receive the ball on his own up there and, even if he doesn't get a chance on goal for himself, he helps to create opportunities for us."

I love Bobby Firmino, too. He's endearing. Maybe it's because of the super white teeth? Or the unashamedly garish fashion? Maybe it's because he's almost the complete player? He's definitely the hardest working flashy player in the league. Or the flashiest hard working player in the league, depending on how you want to look at it.
Because he grafts. And I mean really grafts. There are those diagonal runs that Coutinho mentions. From in to out. The kind that draws a centre-back away from his position and leaves a nice little space for Mo Salah and Sadio Mane to exploit. The kind of space that helped get Mane 13 league goals last season. The kind of space that's helped Salah get 12 goals in all competitions already this season
There's more attacking graft too when he's chasing down long forward passes to help the team retain possession and push up the pitch. There's defensive graft as well.
Cutting off passing lanes, making interceptions. Tackling opposition players. Last season he had more tackles than defenders Jan Vertonghen, Gary Cahill and Joel Matip. And ball winning midfielders like James McArthur and Steven Davis. He had 4 succesful tackles against West Ham alone.
When in form, his touch is immaculate. Defenders can't get near the ball as he brings it effortlessly out of the air, before shifting it seamlessly from one side to the other, to leave them off balance and too far away to get a touch on the ball. Somehow, he's an effective target man.
He's smart too. The running isn't aimless. It's filled with intent. Always for a purpose – normally that purpose is helping others to score goals. So too is his passing.
Because Roberto Firmino has created 28 chances for his teammates this season. More than any other Liverpool player. He created the initial chance that put Oxlade-Chamberlain in for his goal against West Ham.
He doesn't score enough goals though, they say. And they really do say that. Klopp's heard them. "People say he does not score enough. What?!" said Klopp in July. "He is the best player without scoring with how well he reads the game for the benefit of others. Outstanding! What if he starts thinking 'oh, I need more goals' and starts shooting from all over the place when usually, he would play a clever ball and make a run to open up the space?"
This talk of not enough goals seemed to have gotten to Bobby this season. His comment to Klopp post West Ham reveals as much. "I didn't score though!" Prior to this week, his form had faltered. He had missed a penalty. His level had dipped. He seemed to be wrestling with his responsibilities towards the team, versus his own measurable contributions. But despite what he said at the weekend, if not scoring as much as people might expect is playing on his mind, he seems to be back on top of things again.
His performace against West Ham was as Bobby Firmino as it gets. Selfless, tireless, tenacious, oozing classy touches. He may well have been disappointed not to score. But he can't have been disappointed with anything else. Because he's Roberto Firmino: The Unsung Hero.