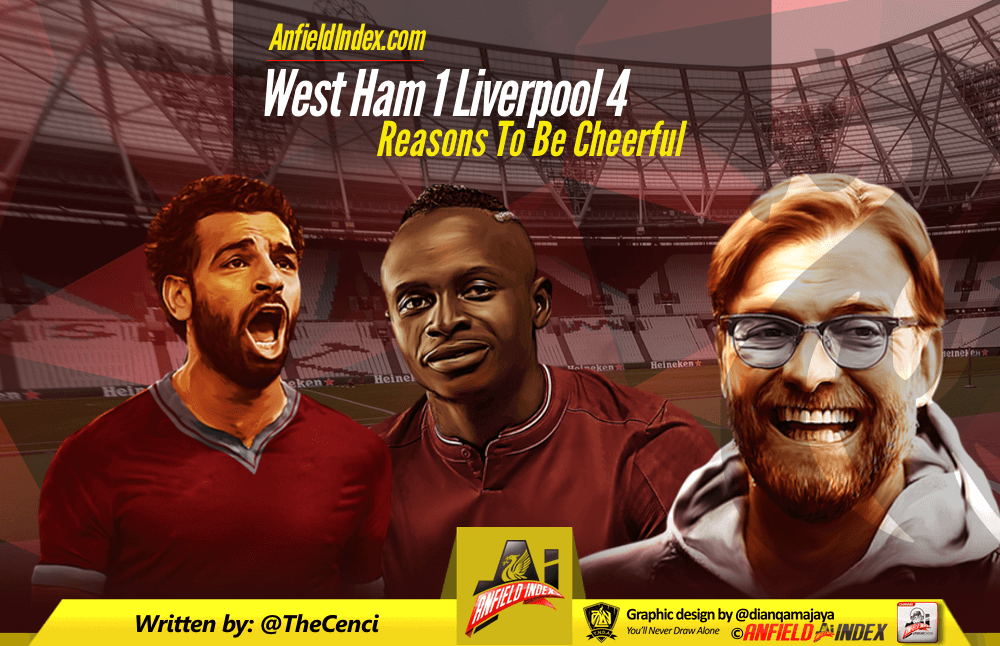 Reasons to be Cheerful - West Ham 1 Liverpool 4
Well, didn't that feel better?
Following the nightmare that was Wembley, the Reds/the Shocking Oranges returned to the capital and tore apart a side who were asking to be beaten into submission. True, things could have been different if Andre Ayew successfully dinked a fairly simple chance past Simon Mignolet, but once Mo slotted past Joe Hart there was only one outcome.
And yet, we did let them back in. We often do. Joe Gomez could have done better with Lanzini's challenge, but sometimes it's easier to charge into a player than stand your ground so there can't be too many complaints. Could the keeper have done better? Well, standing at the other end of the ground my initial reaction was one of 'good finish' rather than the half hour invective directed at the keeper as I'd issued at Wembley a fortnight ago so that might be telling. Sometimes the first reaction is the correct one.

But the game turned back our way. The 'GOAL' graphic (which was required as some of us might have missed it. Seriously, why do they do that? We're all watching the same thing) was still onscreen as Oxlade-Chamberlain stabbed in the third before subsequently going mad in front of our fans as the Hammers considered that age-old adage of being at risk once you've scored.
It was the moment which ended the game. That turn into space by Roberto Firmino was nothing short of wondrous and that alone told of the difference between the sides. While West Ham huffed and puffed with Noble and Fernandes in the centre, Liverpool were deft and focused. The new formation of somewhere between a 4-2-4 and 4-4-2 gave many of us pause before the kickoff, but it was exactly what was needed as West Ham were pedestrian all over the park. A midfield containing Wijnaldum, Can and Oxlade-Chamberlain doesn't exactly scream 'hard midfield battle' but push them further up the park and they can be dangerous. Emre -one hideous drop off in the first half aside- was in one of those moods where he wants to punish players rather than mop up or destroy moves and, for the first time in a while, the German can look at two consecutive strong games for the Reds.
Saturday's was not a formation we'd use against the top four – we'd be overrun too easy – but it worked well against a side low on confidence. The manager got this one right. Not sure about his choice of captain though.
The game saw the return of Sadio Mane and it was a joy to see him and Salah together again, absolutely ripping the heart out of the opposition. The opening goal was obvious to all even when the pair were seventy yards from goal and Mane seems incapable of overplaying a pass like that. Seriously, almost all of our squad could over-hit that ball but he always seems to weigh it perfectly. Look at the ball for Mo's second too. A lofted ball knowing he had half an hour to bring down before being swept in a fashion reminiscent of Luis Suarez's second goal against Norwich at Carrow Road in 2012. Sadio knew where his man was and the timing is perfect. It's not just about the pace with him. What a player he is.
The day clearly belonged to Salah. He can be maddening at times. Put the ball on the penalty spot and he'll contrive to lash it anywhere but the goal yet give him a harder chance and he's almost insouciant about his ability to get it in somehow. His goal in midweek against Maribor was a perfect example of this. In the first half, he could have taken out a sniper on the Anfield Road roof with a fairly simple chance while Trent's ball in for the opener, great as it was, was much trickier. Result: No problem at all. 1-0.
And yet he has 12 goals already including 7 in the league. That's only one fewer than Kane and Aguero yet he is hardly mentioned. Personally, I'm fine with that. Keep him under wraps, I say.
The three wins have helped no end. Such was the darkness of that Spurs game that people were gunning for Klopp – myself included – so it's nice to be able to wake up and not worry quite so much about the team. Huddersfield and Maribor may not have been the best of opposition but good teams always have to beat the lesser teams.
What's more encouraging is the manner in which we did it. West Ham were begging to be put to the sword and, for once, we duly obliged.
With Mane back and Lallana and Coutinho to follow, we could finally be looking at the return of a full Liverpool side, albeit without Nathanial Clyne. We're certainly going to need it after the international break.
Southampton and Chelsea will be tough games and neither will give us quite the room we've enjoyed since Wembley. We'll need the rest, but we'll also enjoy the prospect of what is to come – hopefully, that of a full-strength Liverpool playing with confidence.
One last point about West Ham. The London Stadium is a fantastic arena for athletics but not for football. Such was the comfort of the concourse that many chose to stay there rather than taking their seats and building an atmosphere. With seven minutes to go before kick off the ground was practically empty. You could never accuse Upton Park of that and West Ham, with Moyes on the way, need all the help they can get.