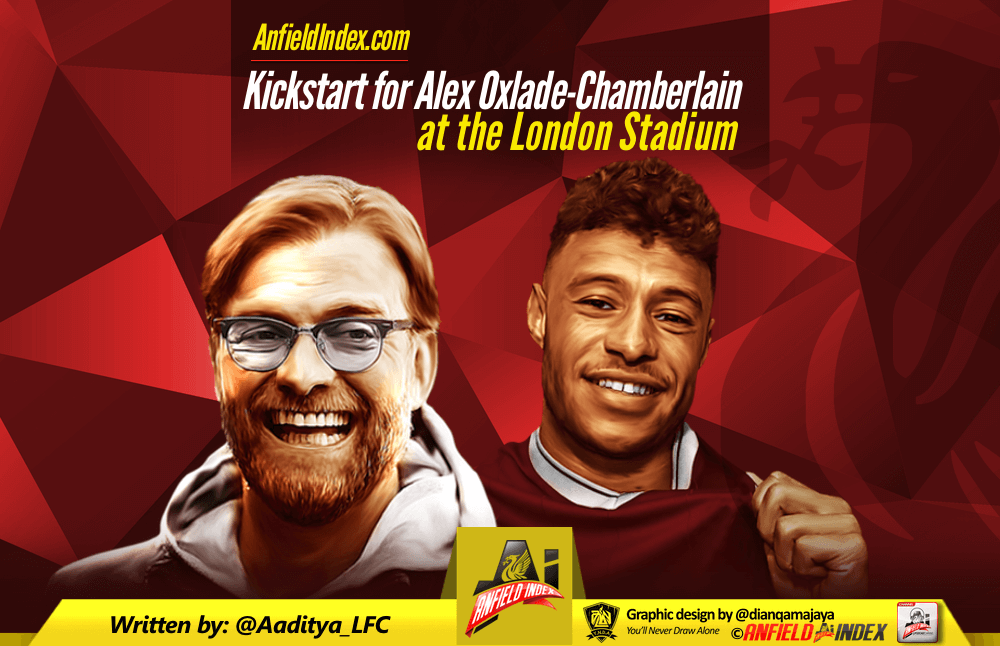 Kickstart for Alex Oxlade-Chamberlain at the London Stadium
From 2007 until the last summer, Liverpool had no. 21 who divided opinion. A little-known Brazilian kid came from Gremio, the jeers from his own fans made him stronger, and when he left for Italy in the summer, the jeers turned into love.
No one has quite divided Liverpool fans' opinion in recent times like Lucas Leiva has, and the man who inherited Lucas's no. 21 jersey split opinion even before he kicked a ball wearing the famous red shirt.
It has been a tough initiation to life at Anfield for Alex Oxlade-Chamberlain, there is no questioning that. He made the move from Arsenal in the summer, and his arrival at Liverpool coincided with the Reds going through a wretched September, that saw just one win in all competitions.

Chamberlain himself was getting ten minutes here, fifteen minutes there, and in the one start he got against Leicester in the League Cup, he played poorly.
That meant more time to bide on the sidelines, but since coming on against Man United last month, he has looked lively and spirited whenever he has taken the field for Liverpool. That meant that he got himself a first Champions League start for the club against Maribor and that was quickly followed by his first Premier League start against West Ham.
He got himself a goal in the drubbing in Slovenia, that would no doubt have done his confidence a world of good, but his performance against West Ham was surprising – the pleasant kind of surprising.
Chamberlain did for Jurgen Klopp something that nobody in the current side, bar Adam Lallana has done. In many ways, Chamberlain played the Lallana role, at least in terms of the pressing.
His off-the-ball performance was as good as any seen in Klopp's Liverpool. 45 pressing actions, 85% efficiency, 70 sprints. That is the Klopp prototype for a midfielder in his system. Run, run and run some more. And run, he did!
Look at Liverpool's first goal against West Ham for example. When the corner is cleared, Chamberlain is in the middle of our own defensive area and Winston Reid has a good headstart on him.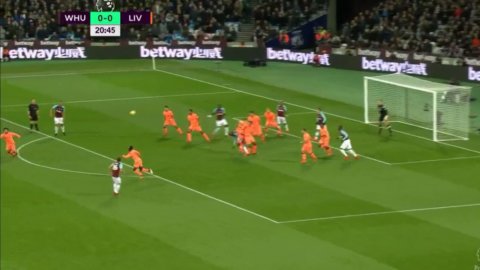 But the sequence of images shows just how quick he is. For footballers, their speed with the ball at their feet might be more important than without it, but that straight-line speed was just something else.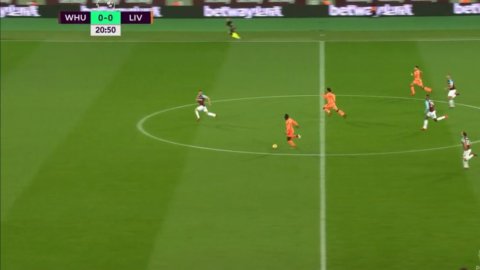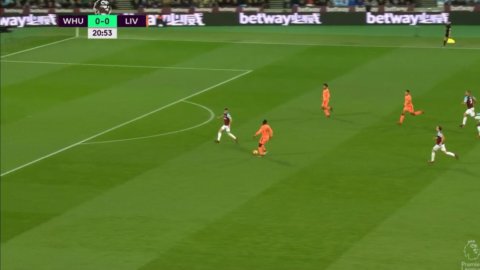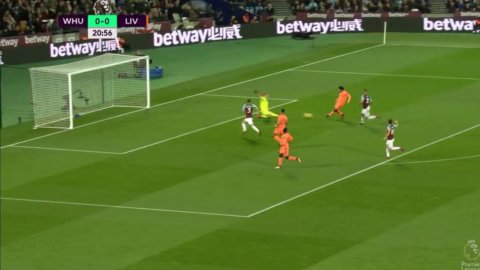 It was 12 seconds between the ball getting cleared and Mo Salah putting the ball in the back of the net. In those 12 seconds, Chamberlain had gone from the middle of his own defensive box, to the middle of the opposition's box. And the best part about it was that it wasn't just running in one line.
The way he makes his move from one post to the other, dragging defenders with him and ensuring Salah has space is what ultimately makes that goal look as easy as it was. By my rough estimates, that is touching 100m of full-throttle sprinting and he did that in around 12 seconds.
So, as the latest AI Under Pressure podcast put it, we don't have two lightning-quick players in the front line, we have three. We knew Chamberlain was quick, but this was the first time he actually got the opportunity to show just how quick he is.
So, when Philippe Coutinho and Adam Lallana do come back, does Chamberlain have a place in this side? Does one of the best off-the-ball performances in recent Liverpool history give him the right to start Liverpool's next game? Only one man knows that answer.
But Jurgen Klopp now knows that when called upon, Chamberlain can do the job. The cooling in period is definitely over, and now it is time for Chamberlain to put in defining performances.
And that was the big problem, well-documented, at Arsenal. He played one or two ridiculously good games and then went off the boil for a while. It is that inconsistency which has plagued him throughout his Arsenal career.
But, on the plus side for Chamberlain, he now plays in a side that is suited to his strengths. As much as Arsenal played some beautiful football at times, the speed of foot was never something that was central to their play. Arsenal were more a side that relied on intricate passing, subtle movements and the technical ability of their front players. And most certainly, I've never seen the Arsenal press as manic as a Klopp press can sometimes be.
So the stars do align for Oxlade-Chamberlain in his quest to "be the best he can be". He has got a manager who trusts him enough to have spent big money to bring him to the club. He has a style of play that he is more naturally suited to, a style that suits his strengths better than maybe Arsenal's did.
But most importantly, Chamberlain has the wealth of Premier League experience that he built at Arsenal behind him. He has been around for so long, it is not hard to sometimes forget that he is still only 24, and is approaching what is generally considered a footballer's peak years.
For Alex Oxlade-Chamberlain now, we like him. Maybe, in a couple of years, like the no. 21 whose squad number he inherited, we will also "f***ing love him".