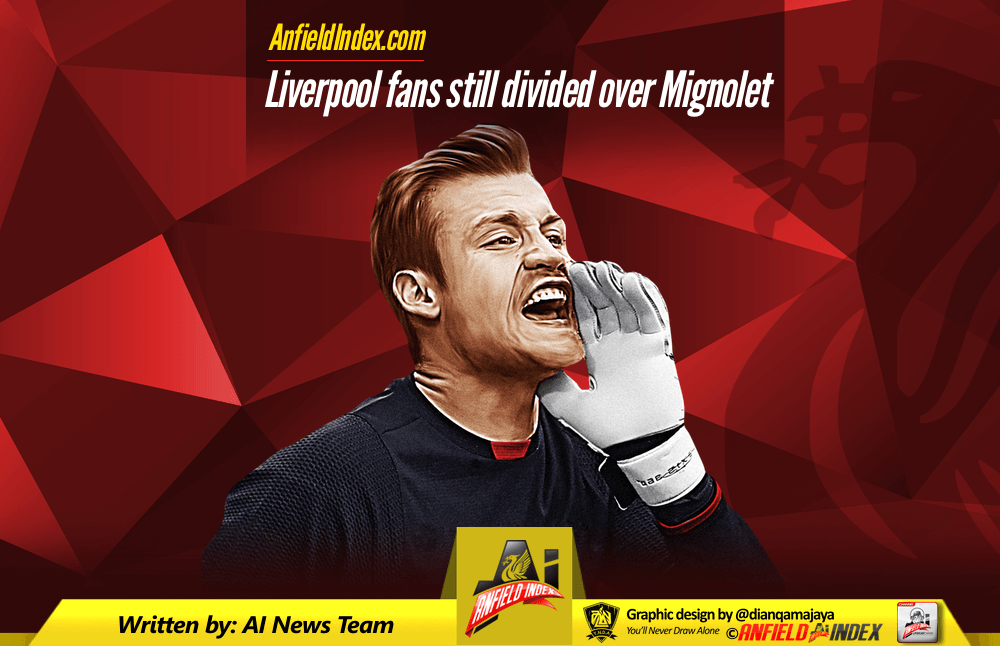 Liverpool fans still divided over Mignolet
In the future when discussions are held concerning Liverpool's greatest-ever goalkeepers, names such as Ray Clemence, Bruce Grobbelaar and Pepe Reina will no doubt figure, but the name of Simon Mignolet is much less likely to. In every Liverpool roundup Mignolet's form is continually under constant scrutiny.
There were signs last season that four years on from his move from Sunderland, Mignolet was finally showing signs of becoming one of the best goalkeepers in the Premier League. However, the 2017-18 season has not been so kind to the Belgian stopper so far, and the divided nature of Liverpool fans' opinions on their number twenty-two was on full display when Jurgen Klopp named Mignolet as captain for the recent match at West Ham In Jordan Henderson's absence. Very few fans applauded Klopp's decision, and many fans were non-plussed by the selection.
The last few weeks of the 2016-17 season were by far the best of Mignolet's career at Anfield, so it's a mystery as to why the Belgian has been less effective this time around. Mignolet's critics are always quick to point out the weaknesses in his game, such as his unreliability at dealing with crosses and the lack of physical strength which at times can see him bullied by opposition strikers. His positives, such as being an effective shot-stopper, are repeatedly brushed aside (if you're a goalkeeper shouldn't stopping shots come naturally to you?).

It was Brendan Rodgers who bought Mignolet to Anfield, despite rumours that Rodgers wanted a 'sweeper keeper' in the style of Barcelona's Victor Valdes or Marc-Andre ter Stegen. Mignolet having the ball at his feet with an opposition striker bearing down on him is enough to terrify anyone. To be fair, Mignolet was brilliant when at Sunderland, but that's probably because when you have a leaky defence in front of you, you have to remain alert all game. When Liverpool are playing well a goalkeeper may not have a single thing to do for minutes on end, so keeping concentration levels high is a must. It's no wonder Jordan Pickford is doing well at ailing, relegation-threatened Everton since moving from Sunderland himself.
Maybe it was the signing of Loris Karius last season that finally caused Mignolet to up his game. Karius became Klopp's first choice keeper in October 2016 but lasted only until the beginning of December, when Mignolet was recalled and never looked back. With Karius and Danny Ward only taking European and League Cup roles so far this season, Klopp seems to have much more faith in Mignolet than he did last term.
It must have been an honour for Mignolet to captain the Reds and maybe Klopp chose him as skipper in order to instil some confidence in the guy. Aside from one moment of madness with an unnecessary step-over Mignolet had an effective game and wasn't to blame for West Ham's goal. He still though has a long way to go before he's convinced the entirety of the Anfield faithful that he's the long-term solution to Liverpool's goalkeeping issues.