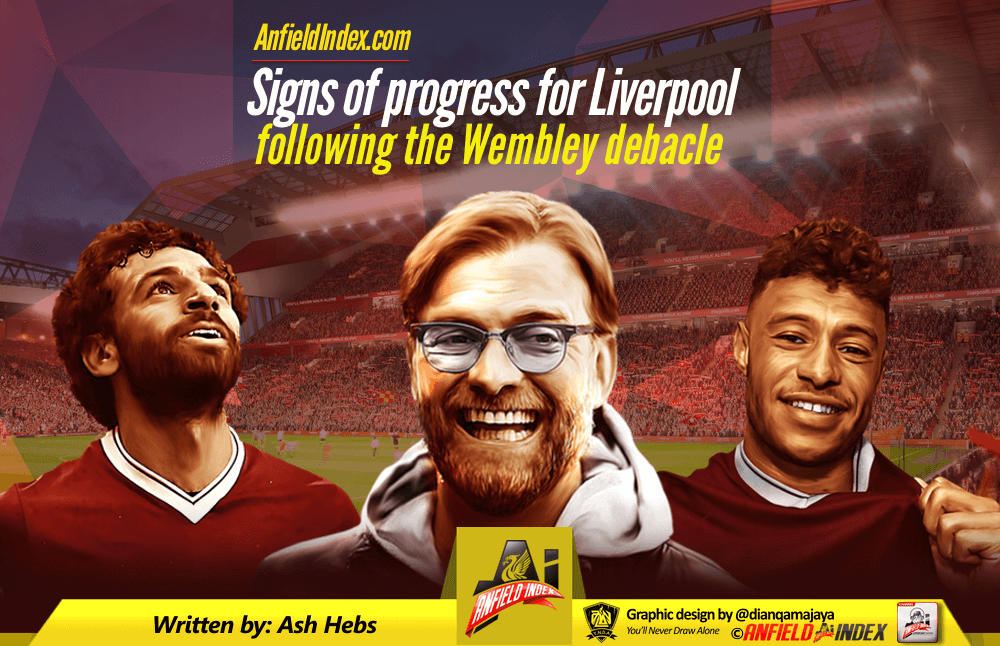 Signs of progress for Liverpool following the Wembley debacle
After the horrible result against Spurs scrutiny has been on Jurgen Klopp to see if he could get a response from his players. 3 games later, with 10 goals scored and 1 conceded, it is fair to say that Klopp has the ability to get a reaction from his players in times of adversity. There is no better example of this than in his final season at Dortmund. The German overcame a shocking start to finish the campaign with some semblance of pride.
The expectations are clearly greater at LFC. Despite the unique challenge of having 5 genuine rivals for a top 4 spot, let alone the title, Klopp has to look at recent history for a solution to this unique problem. For me, it is about striking the right balance between tactics and player quality. In recent seasons, Spurs, Leicester, Chelsea and now Man City have tapped into something special to overperform. The latter pair have the ability to spend big giving an added advantage. Nevertheless, a strong tactician with strong players is a winning combination and this has to be Klopp's aspiration. Maximising the tactical potential of our players whilst fielding our best players is the key to the club finishing the season with heads held high. Even if the title is gone.
The ability to potentially include all of Can, Coutinho, Lallana, Mane, Salah, Firmino and Oxlade-Chamberlain in the match-day squad gives us sufficient variety to get a positive result out of any game. The extent to which Klopp can keep them fit at the same time, although difficult, will go a long way to influencing the outcome of our season. That is when the tactics can be used to maximum effect.

Does formation matter?
The table below shows my calculation of our performance in competitive games under Klopp:
Formation                          W           D          L        Total games
433                                     53%      28%    19%                     53
442 (or variant 4231)      43%      32%    25%                     53
4D2 (diamond)                 64%      27%      9%                     11
It is a vindication of Klopp's preference for a 433 approach. I maintain that this is the best formation in overcoming the low block, by virtue of the passing angles offered in this shape. However, Klopp needs to ensure that this formation offers sufficient defensive protection, which has been the biggest failing. Better defenders would also have shown our performance in the 433 in a far more favourable light. The defensive issues are, in the main, down to individual error rather than systemic. I think Klopp realises that a 433 offers better attacking potential and better use of the players on the books.
However, recent results have shown him that we don't yet have the quality to fully maximise the potential of this formation. Increasingly, the additions to the squad have added to the tactical potential of this team to adopt a horses for courses approach. Adding Keita will only improve our ability to alternate between a 433 or 4231, even within game. But let's not look too far ahead. With a 442 or 4231, we also need to bear in mind that relying on Daniel Sturridge to be regularly fit is a big ask.
As for the 4D2, given it is not the optimum system for our pressing game I think it remains a plan B or C option, despite a good record (albeit from a small sample).
It is too early to say that the 442 employed at West Ham was a fundamental shift in Klopp's thinking. What is important is that he's shown his willingness to be tactically flexible. I feel he went for the best approach with the players available and anticipated a lot of second balls. So he set the team up with a more defensive mindset. For example, Mane was coming back from a lengthy injury layoff and his deeper role enabled him to make runs only when necessary. Mane's role also allowed him to offer Moreno sufficient defensive protection.
Giving the wingers and front men license to roam and press, prevented West Ham going long (that is, playing the game that suits them best). It was the surprise factor that caught West Ham out. We didn't open up too much,  then when they tried to use the ball, we didn't let them play. You can bet that this secret won't remain so for long, as teams work out ways to combat this approach. Gab Marcotti best summed it up for me this week, when he wrote:
It's not progressive, it's not Klopp-ian and it's academic: he won't do it, perhaps rightly staying true to his philosophy. But as a Plan B in the right situations, it could be absolutely devastating.
Regardless of formation, Klopp needs to improve his win percentage. He has never gone on a winning run of more than 5 games in two years at the club. He needs more consistency in performance. So what can Klopp do in the short term to maximise our win record?
Sign a centre back in January
Even if the guy isn't Van Dijk, we need better options and do have the finances to bring in fresh blood. There is no indication that we've approached Southampton, or that they would entertain an approach for the Dutchman. A new, competent centre-back will increase competition for places and should theoretically improve everyone's level. Every signing comes with risk, even Van Dijk, so I hope Klopp shows a pragmatic approach. Bringing in nobody leaves Klopp open to further abuse and calls for the sack.
As Rafa Benitez has said in the past, sometimes you need to bring in signings to keep the fans at bay and improve squad options. That is clearly the case here and could be the difference between making top 4, or not. Not to mention the possibility of really giving a good account of ourselves in the Champions League. World club football's finest stage. Better defensive solidity gives a platform for our attackers to flourish, with more confidence in the protection behind them.
Play Karius as sweeper keeper
I think Karius is a better keeper than Mignolet. His shot-stopping has been shown to be superior despite a small sample. Karius allows us to play a high line with a bit more insurance if teams get in behind. I would definitely put Karius back in as Mignolet hasn't shown he can push us to the next level. Karius deserves a chance to show he can do so before next season is upon us. At that time, there will again be the expectation to challenge for the title. Coming in and out the team does him no favours in terms of getting solid form. I don't see that Klopp has anything to lose.
I think Karius is a more natural athlete than Migs, although smaller and less dominant. But then look at how well Ederson is doing at Man City. His aggressive sweeping when teams launch long balls has paid dividends for Man City this season. So much so that the opposition think twice before by-passing a press with a long ball. Imagine what such an approach would mean for our gegen-press, if our keeper regularly had the same effect? Allied with Karius' superior distribution, the impact on our attack would be considerable.
Klopp seems to be sticking with Mignolet, which suggests he feels Karius is not ready. That being the case, I support Klopp's decision but should a keeper be identified in January then we should consider a bid.
Attacking fullbacks
Regardless of whether we play a 433 or 4231, at least one of our fullbacks has to push up the field and offer width. There are ways to offset the gaps in behind left by the roaming fullback. This is either via a more disciplined approach by the number 6 (or a 4231 double pivot). Or, it can be achieved by utilising a natural centre back in a defensive fullback role, a la Joe Gomez. If we expect the West Ham approach to be a regular success against teams employing a low block, then I think we will be disappointed. Fullbacks are essential to adding attacking width.
Play-making midfielders
With the signings of Oxlade-Chamberlain and Salah, our attack now has more options. To make the most of these options requires fast transition of the ball, through midfield, using vertical diagonal passing. This means we need to get Coutinho or Lallana, or both, into the midfield, as soon as possible. Coutinho in a deep role, dictating play with the fullbacks using intelligent width in tandem with pacy, mobile forwards. It's a set-up to maximise entry to the inner channels or half-spaces. It has the hallmarks of attacking brilliance, but we haven't yet had enough chances to see this on the pitch (due to injuries and Barcelona's troublemaking).
Maybe the game changer against teams with zero attacking ambition, like Huddersfield and Maribor, is to copy Guardiola's approach at City. In other words, playing both Coutinho and Lallana in attacking midfield in a 433. It increases our threat between the line. Also, before the opposition is fully set in its block, we can get the ball to our forwards quicker. The ability to manipulate the ball in tight spaces, by virtue of the world-class technical ability of Silva and De Bruyne, has made City unplayable. A similar approach is a possible solution for Klopp to consider in un-picking the lock of the parked bus.
Conclusion
Three games on from the Spurs debacle. So far so good. Clearly, Klopp is on the right track, but he has a number of options open to him as the games come thick and fast. A long winning run after the international break would be most welcome. Encouragingly, Klopp has the buying power, personnel and tactical options to enable us to have a respectable season.