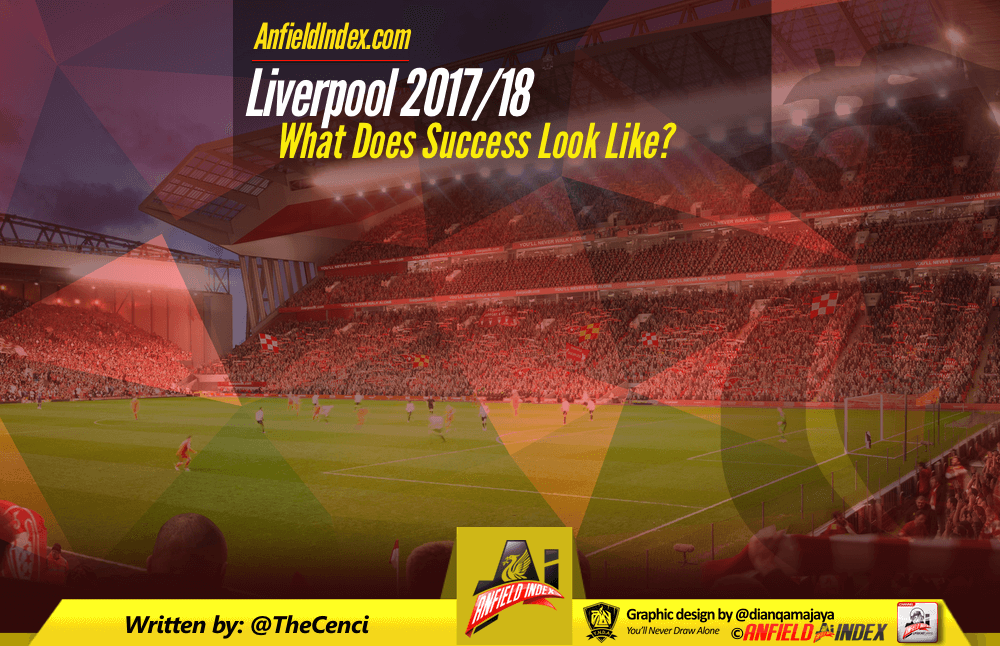 Liverpool 2017/18 - What Does Success Look Like?
The Goodison derby is and will always be my favourite game of the year.
I've been to pretty much every ground in the division (I'm already hoping Huddersfield stay up as I can't make that game this season) and nothing comes close. I've seen us win, draw and lose there since the 1980s and the atmosphere is still palpable. Derby days matter.
And the best bit of that day comes before kick off when we bawl at each other from adjacent stands. I'm singing songs at my cousins and close friends from the distance of a handful of metres, people I'd happily go for a pint with on any day other than that one. They've become transformed from family to a part of the Blue whole and therefore must have the piss ripped out of them unmercifully. They're doing the same back to me.

And what about those songs? Sure, there are some which can be too aggressive and crass to a non-footballing ear, but my favourite is a simple one.
'You haven't won a trophy
You haven't won a trophy
You haven't won a tro-o-phyyyyyyyyyyyyyyyyyy!
SINCE 1995!
SINCE 1995!
SINCE 1995!
You haven't won a …'
Okay, it's hardly Oscar Wilde, but it brings the day down to its essence. We win things. They don't. All arguments end there.
And yet, it's been five years since Liverpool won a trophy and eleven since we won one of the major one.
True, that's not quite as bad as the 22 years since Paul Rideout won the Cup Final for Everton against Man Utd, but the opportunity of us adding another to the list of honours seems remote just now.
The League Cup has gone and, given the team we put out in our final FA Cup encounter last season (Woodburn, Randall and, latterly, Ejaria), it seems that the FA Cup may not be considered a serious competition.
In January most clubs tends to take stock and see what is obtainable. Last season was a perfect example for Liverpool. We had a terrible January, exiting the cup to Wolves, and winning one in nine. The chance of a League title went when the club decided we could do without Sadio Mane and didn't need a replacement so, when the writing was on the wall, the club prioritised a fourth place and Champions League qualification. Quite understandable, of course. Roy Evans once summed this up by saying 'Liverpool without European football is like a banquet without wine.'
The previous season we pretty much gave up on even a top four finish once qualification to the Champions League looked possible through winning the Europa League. You start with one target, re-forecast your season and then chase another.
But there is a danger to this. Liverpool haven't won a trophy since 2012.
And this is where the narrative has changed.
I brought this up on a WhatsApp group of A.I writers this week and learned that the majority would always champion a top four finish over the F.A Cup. I'm by far the oldest member of that group (it gets brought up from time to time) and though I want to see the Reds in Europe, I do like the feeling of leaving Wembley with the trophy itch well and truly scratched.
What frightens me most is the possibility of a freak Everton FA Cup win and five more years of us gamely making a top four finish the limit of our ambition. Then the boot would be on the other foot. Only fair, of course, but the scariest element of that would be if the general consensus around the club would be that qualification was enough. If the club announced tomorrow that we were only interested in top four and that the domestic cups were to be relegated then I'd have some pretty difficult decisions to make. I'm in this for winning things.
Kenny Dalglish was, of course, sacked for his league position rather than celebrated for reaching two finals in the same season and winning one, so maybe that's a question I don't want answered just yet.
The last two FA Cup winners –Arsenal and United – failed to make the Champions League in the year they won it. Wigan and Portsmouth have also won it recently and now they occupy second and eleventh place respectively in League One. The importance of the competition has waned and though I don't think that we should be in any competition which contains the initials 'FA' in it (guess), it would be nice to run around a big stadium with a shiny thing.
There's another reason too.
When Jose Mourinho first came to England he took his cast of expensive signings all the way to the League Cup final and won against that year's European champions. Yes, the lowly League Cup was his first crown. When he went to United, the first competition he won was also the League Cup. He took it seriously when no one else did. Why?
Because he wanted his players to get used to the idea that hard work ends with cups. He wanted to make them believe that they were good enough to win trophies. I like that thinking.
Of the eleven starters at the West Ham game, only Oxlade-Chamberlain (three FA Cups) and Salah (given a Premier League medal by Mourinho despite not playing enough games) have won domestic competitions. Roberto Firmino has never won a medal in professional football. Ragnar Klavan's only trinkets were from 2003. It would be something if this side, which has so much talent despite its obvious frailties, could make their mark. Up to now, Charlie Adam has won more medals for Liverpool than them.
Of course things happen in increments, of course stability means we can, one day, applies ourselves to the big competitions, but that should never be at the cost of the here and now.
I want two things from LFC. Firstly, I want every single game and training session to be a step to winning the League – not just scraping fourth, but winning it. Then I want Liverpool to be relentless in their ambition. I want games to be won before a player has stepped onto the park such is the fearsome reputation of the men from L4. A trophy now means trophies later and it's that and that alone by which teams are measured. I don't want ten years of fourth place and I certainly don't want that dressed up as success.
I want this statement from Bob Paisley to ring out.
"Mind you, I've been here during the bad times too – one year we came second." 
A bad year should be a trophyless year. That's the standard which we're aiming for.
So, Jurgen, how about a concerted effort in the Cup this year? We all like trophies after all.