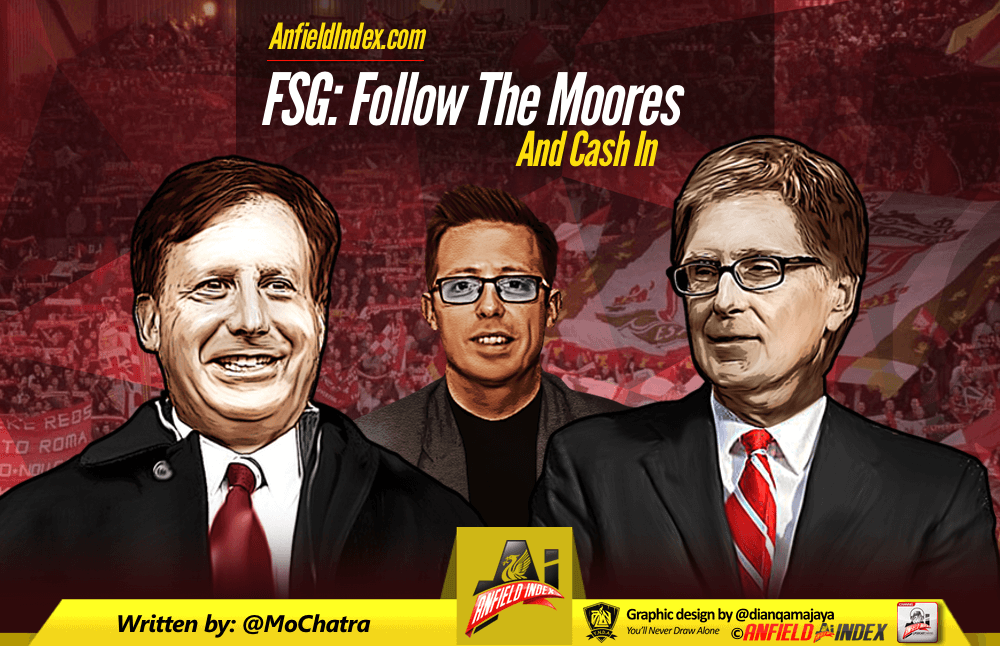 FSG – Follow The Moores and Cash In
When the Moores family put their majority stake in Liverpool Football Club up for sale in 2003, it was largely driven by an acceptance that they simply could not compete with rivals' riches. Writing to The Times in May 2010, just over three years after his ill-fated decision to sell to Tom Hicks and George Gillett, David Moores explained, "The decision to sell was taken in 2003, when it became clear that greater investment in the club was needed than (we) could provide… The Abramovich era was upon us, and I knew that I could never compete."
Moores tried to operate Liverpool as one that was self-financing; of funding transfer spend from the revenues raised by the club. Sure, the Moores had money but nowhere near the sums Roman Abramovich held and was prepared to part with to turn Chelsea into footballing bourgeoisie.
The Moores family eventually found a buyer they were willing to sell to and handed the reigns over to Tom Hicks and George Gillett in February 2007. Yet here we are nearly eleven years on in essentially the same position- with owners who do not wish to use their own wealth to support the club's activities and who can't compete with the truly elite in the Premier League.

In this writer's view, though Fenway Sports Group (FSG) have done a lot of good for Liverpool Football Club, the time has arrived for the Boston-based group to cash in on its asset. For all the positive developments that have occurred during their seven-year reign, they have struggled to keep up with rivals – both domestically and abroad – and the abject failure of Financial Fair Play (FFP) appears to have struck a hammer blow to their plans for returning Liverpool to the top echelon of club football.
Now if you're looking for far-fetched conspiracy theories, baseless speculation about asset stripping and a misinformed diatribe about FSG, stop reading now. If you're interested in continuing to read a reasoned, evidence-based argument for why I think FSG have not achieved enough and why it's time they do cash in, then read on…
Talking a Good Game
To help set the scene for this piece, let me present a selection of quotes from FSG figurehead and Liverpool's principal owner – John W. Henry – made when what was then New England Sports Ventures bought the club in October 2010 and then a few months later:
"With the financial fair play rules coming in it's really going to be revenue that is going to drive how good your company is going to be in the future. That's one thing that we think we're good at. There is no constraint on us going after revenues. But we look at revenues in sport as being the ability to send out a strong team on the field." – John W. Henry, Telegraph interview, October 2010
"I was surprised Monday morning to receive an offer [from Chelsea for Fernando Torres] in that amount [£50m] at the same time they were announcing such large losses [£71m for 2009-10]. The big question is just how effective the financial fair play rules are going to be. Perhaps some clubs support the concept to limit the spending of other clubs, while implementing activities specifically designed to evade the rules they publicly support. We can only hope that UEFA has the ability and determination to enforce what they have proposed." – John W. Henry, Guardian interview, February 2011
"We've always spent money we've generated rather than deficit-spending and that will be the case in Liverpool. It's up to us to generate enough revenue to be successful over the long term. We have not and will not deviate from that." – John W. Henry, Guardian interview, February 2011
Financial Fair Pray?
Clearly, Henry said all the right things and his strategy seemed to make eminent business sense. Michel Platini and his band of merry men at UEFA convinced many that their plans for FFP would essentially end the days of multi-billionaire owners buying their way to silverware and success.
Henry et. al. clearly believed this would have a significant impact on the likes of Chelsea and Manchester City, who were racking up eye-watering losses season after season. Had it been properly implemented, FSG's view was that FFP would leave a triumvirate of clubs – Manchester United, Arsenal and Liverpool – battling for football supremacy in England.
As the intervening years have proven, FFP was a monumental damp squib and this past summer demonstrated just how ineffective the initiative has proven to be.
What's more, clubs that Liverpool might consider rivals domestically and around Europe are either swelling their revenues through direct injection of capital from mega-rich owners (see: Manchester City, PSG) or those that are aggressively seeking and securing huge commercial deals off the back of global appeal achieved through a consistent accumulation of trophies (see: Real Madrid, Barcelona, Manchester United, Bayern Munich).
Quite frankly, FFP is little more than an empty gesture that has proven to be as effective as huddling in a World War Two air raid shelter to avoid the impact of a nuclear bomb. As such, FSG framing its masterplan for Liverpool around the effective implementation of UEFA's much-vaunted but ultimately ineffective financial leveller has proven to be a severe misjudgment.
Commercial Coasting
One aspect of Liverpool that supporters of FSG often point to is the club's commercial operation. The wide-held belief is that FSG have made great improvements to it. Granted, there is no question the club has strengthened commercially, but as the table below shows, others have hardly stood still:
| | | | |
| --- | --- | --- | --- |
| Club | 2010-11 | 2016-17 | Percentage growth |
| Manchester City | £49m | £218m | 445% |
| Arsenal | £33m | £117m | 355% |
| Manchester United | £103m | £272m | 264% |
| Chelsea | £57m | £117m* | 275% |
| Liverpool | £62m | £116m* | 87% |
| Tottenham Hotspur | £32m | £58m* | 81% |
*2015-16 figures
The table is compiled by figures from the clubs' annual accounts or, where commercial revenues aren't clearly provided, the Deloitte Football Money League has been used an alternative source for the figures.
A number of caveats need to be noted with the above figures. Firstly, the latest available accounts for Chelsea, Liverpool and Spurs relate to the 2015-16 financial year (all three clubs will report their 2016-17 financial results in the early months of 2018). That said, none of the three clubs' commercial revenues were expected to show notable growth in the previous financial year, but it's a different story for 2017-18.
Both Chelsea and Spurs' new deals with Nike kicked in at the start of this season with the reigning Premier League champions earning over £60m from their association with the American sports brand. Spurs, too, have fared well through partnering with Nike, with that deal worth £25m a year to the North London club.
What's more, Spurs penned a new multi-year deal with their shirt sponsor – far-East insurance company AIA – which is reportedly worth £35m per annum. The result of these and other deals mean that Chelsea's commercial revenue is expected to be north of £150m whilst Spurs will close in on £100m in commercial revenue this season. Meanwhile, Liverpool's commercial revenue is expected to be similar if not slightly lower than the figure reported for 2015-16.
Another notable caveat much be attached to Manchester City's enormous commercial revenue of £218m. Though the club doesn't provide a breakdown of this figure in their accounts, you don't need to be Stephen Hawking to conclude that the bulk of that income is from companies with, ahem, a close association to City's owners. Nonetheless, such considerable commercial revenues are vital to ensuring City have the funds to sign and remunerate football's elite talent without falling foul of UEFA's flimsy FFP rules.
In contrast, Liverpool's commercial revenue has shown relatively modest growth. Whereas in 2010-11 the club was second only to Manchester United, it now also trails Chelsea, Arsenal and Manchester City. Heck, even Spurs – with a far smaller global fanbase – is fast closing in on Liverpool's commercial revenues. That's why Liverpool is towards the bottom of that table (ranked in order of percentage growth in commercial revenue), and if it were based on this season's projected figures, the Anfield outfit would sit at the foot of the table.
Granted, Liverpool's shirt and kit sponsorship deals do expire in the next couple of years but are they able to secure a kit deal at the level of Chelsea's £60m per year agreement with Nike or anything approaching Man United's gargantuan £75m per year contract with Chevrolet for shirt sponsorship? It's difficult to see that transpiring, especially off the back of only one trophy in the last eleven years.
Another area that FSG has struggled with on the commercial front is naming rights. They talked about it as far back as 2011. During construction of the Main Stand extension, there were reports that John Henry went to Dubai to try and convince potential investors to splash their name over Anfield's largest structure. Fourteen months since the expanded Main Stand was opened, all has gone quiet on the naming rights front.
Where current club sponsors are concerned, long-term shirt sponsor Standard Chartered commenced their association with Liverpool before Henry and co. arrived on the scene. The kit manufacturers are New Balance, a company with close links to FSG. Meanwhile, deals with three of the club's biggest sponsors – Garuda, Subway and Dunkin Donuts – quietly ended in the last year or so.
This would all seem to suggest the club struggles to market itself as a brand that companies might want to associate with, and the lack of success over the last decade certainly doesn't help. Added to that, the fact Liverpool had the second highest commercial revenues in the Premier League when FSG took over and now sit in fifth place in the pecking order is hardly proof that FSG's efforts on the commercial front have been all that effective.
Given all of the above, arguments that FSG have done a fine job for Liverpool on the commercial front don't wash with this writer, especially when the progress of domestic rivals is taken into account.
LFC Recruitment – The Gift That Keeps on Giving… to Opposition Fans
More than ever in the history of professional football, owners can make an enormous difference to a club's fortunes. The worst owners can run long-established, successful teams into the ground and leave them confined to the football wilderness. At the other end of the spectrum, owners can transform the fortunes of teams beyond fans' wildest dreams. Long-time Chelsea and Manchester City supporters can attest to that.
Key to Roman Abramovich and Sheik Mansour turning their respective clubs into serial trophy winners was recruitment. Both individuals needed to part with excessive amounts of their own wealth to achieve that for their assets- something FSG made clear from day one they wouldn't do.
However, Liverpool have hardly been paupers in the transfer market as noted in the table below which identifies money exchanged in transfer activity for the Premier League's Big Six since FSG arrived (all figures to the nearest million):
| | | | | | | |
| --- | --- | --- | --- | --- | --- | --- |
| Club | Transfer Spend | Player Sales | Net Spend | Net Spend Per Annum | Average League Position | Trophies Won |
| Manchester City | £881m | £286m | £595m | £85m | 2nd | 5 |
| Manchester United | £731m | £201m | £530m | £76m | 4th | 4 |
| Chelsea | £854m | £455m | £399m | £57m | 4th | 6 |
| Liverpool | £560m | £362m | £198m | £28m | 6th | 1 |
| Arsenal | £404m | £231m | £173m | £25m | 4th | 3 |
| Tottenham Hotspur | £415m | £437m | -£22m | -£3m | 4th | 0 |
Source: transferleague.co.uk
The table above makes for grim reading if you're a Liverpool fan. The club has been one of the top ten biggest spenders in Europe yet has won less silverware than nearly any major team in Europe over the last decade. The clear conclusion to be drawn from that is simple: Liverpool recruit poorly.
Sure, during FSG's time there have been successes on the recruitment front- Luis Suarez, Daniel Sturridge, Philippe Coutinho, Roberto Firmino, Sadio Mane and Mohamed Salah have proven to be exceptional signings. Sadly, that's only six of fifty-two players recruited on FSG's watch, and a twelve percent success rate is frankly appalling.
That's not to say the remaining near-ninety percent have turned out to be dross; far from it. The likes of Jordan Henderson, Gini Wijnaldum, Emre Can, Adam Lallana and even, more recently, Alberto Moreno, have entered stellar performances in Liverpool colours. Others, like Joe Gomez, are young and are yet to develop to their full potential. However, most of the rest – Christian Benteke, Charlie Adam and Dejan Lovren most notably – turned out to be downright poor signings.
More notably, the way Liverpool have conducted themselves in the transfer window has often been the source of high comedy for fans of the club's rivals. The famous FSG apology in the summer of 2012 (after failing to sign a striker, leaving Luis Suarez as the club's sole front-man for the 2012-13 season until the arrival of Daniel Sturridge), Ian Ayre's fruitless excursion to the Ukraine in an ill-fated effort to sign Yevhen Konoplyanka, the acquisition of Mario Balotelli as Suarez's replacement in 2014 and the shambolic pursuit of Virgil Van Dijk this past summer are just some of the many instances of Liverpool behaving like amateurs on the transfer front since FSG arrived on the scene.
Consistent under-performance on the recruitment front during FSG's reign has been blamed by on many factors. Managers, Chief Executives, a Director of Football, a Sporting Director, the scouting department, lack of Champions League football and the ostentatious spending of rival clubs (how dare they spend more money than us in a relentless pursuit of success!) have all copped it from journalists and fans. All those factors have played their part, sure, but the golden thread and the biggest single factor is the ownership.
The transfer strategy comes from FSG. Spending decisions ultimately come from FSG. They are chiefly accountable and there is no question that recruitment has been Liverpool's biggest single failing during FSG's tenure at the helm of this great footballing institution.
In fact, credit can be given to a slight softening of their original strategy which was all about recruiting players young and before they had reached their prime. That model, as has been proven by the loss of Raheem Sterling in 2015 and the impending departures of Philippe Coutinho and Emre Can, has effectively resulted in Liverpool becoming a finishing school for football's hottest young prospects before they are ready to then move onto football's serious players. No surprise, then, that Liverpool has made more in player sales than nearly any club in world football during FSG's time in charge.
In recent times there have been changes on the recruitment front with Michael Edwards appointed as chief of negotiations with a promotion in November 2016 to Sporting Director. Edwards' background is analytics and he may well be exceptional at using data to identify transfer targets. However, identifying targets and negotiating deals that result in players hitting the now-famous 'lean' pose at Melwood are two very different skill-sets and in his first summer transfer window, his performance hardly inspired confidence.
Sure, the recruitment of Mohamed Salah proved to be good business, even if he ended up paying Roma's full asking price. However, failure to sign at least one high-calibre centre back was criminal and we've all seen the impact that has already had on Liverpool's season.
Many have pointed at Jurgen Klopp as the reason for failing to acquire any alternatives to Virgil Van Dijk. However, a Sporting Director should have the gravitas and tenacity to drive through such a critical recruitment of a suitable alternative in the face of stubborn resistance from a manager- especially when it was patently obvious a centre back was needed. The fact Edwards was unsuccessful is cause for concern.
That aside, though, it's just another chapter in the ever-growing tome that tells the story of FSG's woes on the recruitment front. They have never managed to get it right, and case in point is that since they arrived, they haven't brought a single player to the club that had the fans unanimously excited (even the signings of Suarez, Mane and Salah had many fans feeling underwhelmed when said players put pen to paper). As custodians of Liverpool, transfer failures are on them.
Mismatched Ambition?
Liverpool is a club synonymous with silverware and success. Until last season the club was the most decorated in the history of English football and still is amongst Europe's most successful ever across the continent's biggest leagues. That is one of the key reasons why Liverpool is one of the world's most popular teams.
Rightly or wrongly, the expectations of Liverpool fans are heavily influenced by the club's past. Aiming for top four and picking up a trophy every few years is not what most fans want or expect of the Reds. They demand silverware every season, despite the club – 2001-2006 aside – having endured many barren seasons over the last quarter of a century.
The big question is, do the owners share that ambition?
Ostensibly, FSG of course make carefully-worded public pronouncements of wishing to restore Liverpool to the European elite. They talk about ambition to turn Liverpool into a trophy-collecting machine that it once proudly was. However, do their actions really suggest that's what they want to achieve?
When new managers have been appointed under FSG's watch, Dalglish, Rodgers and Klopp were not set the winning of trophies as objectives; instead it was about restoring the club back to be a regular top four finisher that brings with it lucrative Champions League football. That's not the case at rivals like Manchester City, Chelsea and Manchester United, where winning the league is always the main objective- and if managers go two or three seasons without achieving that objective (often less), their prize is a P45.
Amazingly, Liverpool's net spend over the last three years is less than it was during the preceding three years. That does help to explain why Liverpool have regularly finished outside the top four, though it's worth noting that it's the only major club in the Premier League that uses the "it's difficult to attract top-class talent without Champions League football" line when finishing fifth or lower- something that hasn't appeared to be much of a problem for Manchester United, Chelsea and Arsenal when they missed out on Europe's top competition.
It's little wonder, then, that Liverpool has become a hard-sell to elite players and their agents. Instead, the club can only try to entice younger footballers who haven't quite hit their prime with the unsaid lure of the Anfield outfit being one of Europe's best stepping stones to the truly elite clubs. Is that really what Liverpool fans see as being their club's place in football's pecking order? Of course not, but that's exactly what it is at present.
This point is further demonstrated by examples of when other clubs were taken over by highly ambitious owners that had a fierce determination to turn their new acquisitions into footballing royalty.
When Roman Abramovich bought Chelsea he splashed out over £150m during the summer of 2003. To put that into context, applying the Tomkins Transfer Price Index model, in the context of 2017 football finance, that would be the equivalent of spending well over £500m today. Straight away, Abramovich's money (tainted as its sources may have been) turned Chelsea into a powerhouse overnight and the cream of football's crop were all too happy to state that they'd grown up wanting to follow in the footsteps of their childhood idol, Dennis Wise.
It's a similar story with Manchester City and Paris Saint-Germain. When Sheik Mansour took over at City in 2008 and Nasser Al-Khelaifi in 2011, both owners made their ambitions clear throughout football, and top footballers and their agents were enticed by their riches and the wages and fees the Middle Eastern pair – backed by their governments – were able to offer.
FSG and the individuals that comprise it are wealthy in their own right. Unlike the aforementioned owners, they have not and will not part with their own wealth to try and make Liverpool successful. They want to operate Liverpool like a proper business. That's completely understandable except for the fact that football is unlike almost any other business.
This is why FSG find themselves in a quandary. Spend a lot on transfers but not as much as others who end up signing more of the best available players. Pay amongst the highest wages in world football but not as much as those who win trophies most seasons. Quite frankly, FSG can't compete with the big boys, but there are those that can and still do well with less money.
Spurs are a good example of that; a club with a strict cap on wages and one that only spends proceeds from player sales (thanks largely to the £800m cost of building the new 61,000+ seat White Hart Lane). Key to all this is Spurs' chairman Daniel Levy- a man with more footballing nous in his little pinkies than Liverpool's entire management structure. Even then, Spurs have won only one trophy in the last 26 years. Monaco is another such example, but their unexpected Ligue 1 championship triumph this year resulted in a number of their key talents being picked up by Europe's big-hitters.
Another example of a lack of ambition is the expansion of Anfield. Sure, the grand extension to the Main Stand was a fine accomplishment but even that identified the questionable intent of the owners. Liverpool is one of the two biggest supported clubs in England and demand for tickets is insatiable and ever-growing. Despite this, the owners talked about wanting to gauge demand for tickets after the Main Stand expansion was complete before determining whether to expand the Anfield Road End. To nobody's surprise, demand is staggeringly strong and it's no exaggeration to say that if Anfield was expanded to 70,000+ capacity, it would still sell out for every game.
Look at other clubs. West Ham occupy a stadium that can accommodate 60,000 fans for football matches. Manchester City – who rarely sold out the Etihad Stadium when its capacity was 48,000 – expanded a couple of years ago to 55,000 and have plans for a further expansion that will increase capacity to in excess of 61,000. Spurs' new stadium will accommodate slightly over 61,000 fans too. The size of those three clubs' fanbases pale into comparison with that of Liverpool. Yet for FSG, expanding beyond 54,000 makes them quiver.
Before anyone suggests that FSG funded the Main Stand expansion with their own money, that simply is not true. They secured additional borrowing with further borrowing secured to fund the training facility redevelopment in Kirkby.
In a nutshell, then, what evidence can be pointed at to argue FSG have a burning desire to restore Liverpool to the position it once occupied and, in turn, match its fanbase's ambitions? Precious little.
Not Knights in Shining Armour
Let's get one thing straight- FSG did not buy Liverpool Football Club because they are compassionate philanthropists who didn't wish to see a football institution they knew little of wither away. This was a very simple case of opportunism.
This is not speculation. This is all on record through e-mails publicly released as a result of the court case between Mill Financial (a US hedge fund) and George Gillett. E-mails from John W. Henry revealed quotes direct from the man himself, such as, "In some ways (Liverpool) really are in the dark ages — especially competitively", "we would probably take the same approach we took to Fenway Park. But we'd be looking to limit investment in (Anfield) to 8 figures" and "I don't want to say this beyond this small group, but if we could acquire (Liverpool) for the debt, I really feel like we would be stealing this franchise".
The purchase was purely driven by seeing a potentially lucrative asset with worldwide name recognition that could, with a bit of care and attention, be sold in the future for a whopping profit. What's more, talk of the club going into administration was also misreported in many circles, and besides, there were several interested parties who were looking at buying the club. So, for all the sentimentalists and idealists who passionately defend FSG for little more than 'saving us' seven years ago, the quotes from FSG should make clear to the most blinkered out there that purchasing Liverpool Football Club was purely business.
Summarising The Evidence
To bring this admittedly lengthy article to a conclusion, I set out the following:
Commercial improvements have occurred but not at the pace of other clubs, and we've lost big sponsors and failed to secure naming rights despite trying for six years
FFP has been an abject failure of a concept; something FSG were hoping would be properly implemented
Recruitment has consistently underwhelmed and has had a significant impact on the pitch- FSG are ultimately responsible for this
There is little evidence that FSG have the determination and desire to turn Liverpool into the top football team in the land; something nearly all Liverpool fans want yet something owners of several of the club's rivals demonstrate regularly
Ownership of Liverpool came about because of opportunism, not benevolence.
When the Moores family decided to sell up all the way back in 2003, it was a reluctant decision made because they knew they couldn't match the ambition, desire and hunger for success of Liverpool's gargantuan fanbase.
It's clear FSG bought the club as an investment to one day make a sizeable return on. Some critics argue "who is out there to buy out FSG"? There are parties who are interested and furthermore, individuals and groups who are willing to part with their wealth to turn Liverpool into a viable contender and competitor at the elite level. However, it's for FSG to make the decision to sell. It's clear their approach – as noble, worthy of respect and full of integrity as it is – has not delivered for Liverpool Football Club.
They have in certain respects done well for the club but they've taken it as far as they can. The ugly truth is that sustainable success is increasingly dependent on excessive amounts of cash. FSG aren't willing to part with their own and for various reasons cannot generate as much as others through commercial and other operations.
The last seven years has not been a successful period for the club- one minor trophy is evidence of that. What exactly is there to suggest that FSG's model will suddenly achieve a radical turnaround in Liverpool's fortunes? Sadly, there is very little other than hope that everything magically clicks, the team becomes greater than the sum of its parts whilst rivals crumble. That happens once in a lifetime- and Leicester benefited from that alignment of the football stars.
Simply put, the time has come for FSG to accept this and in the interests of a fanbase that has largely been both supportive and appreciative of the owners, put the club up for sale.