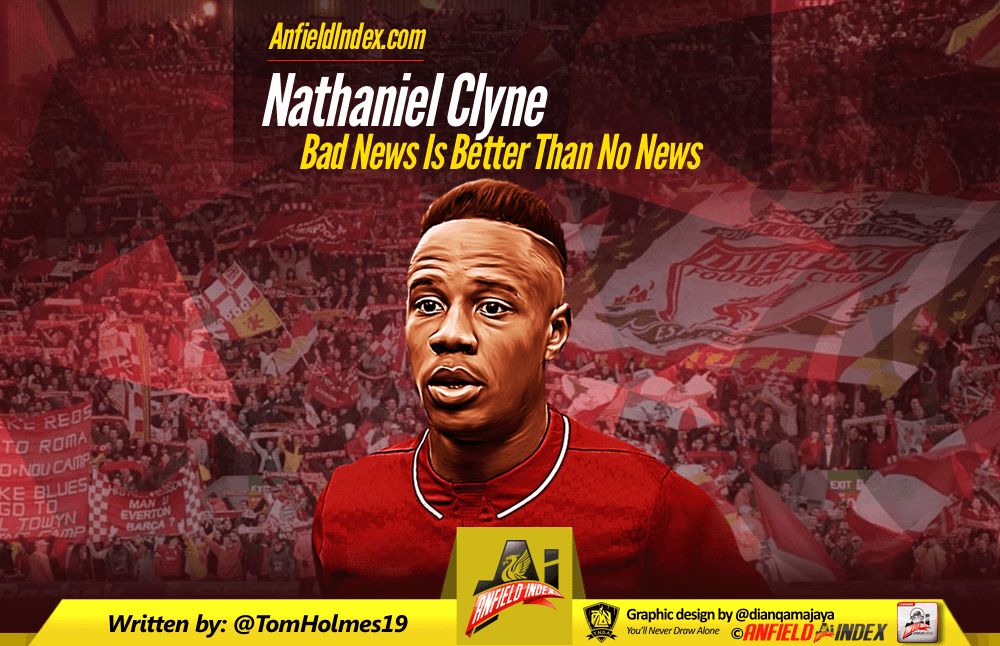 Nathaniel Clyne - Bad News Is Better Than No News
On the face of it, the prospect of Nathaniel Clyne, Liverpool's first choice right-back and valuable first team player, being injured for up to three months after having surgery on a back injury is definitely not a good thing. The reasons why it's a bad thing are inherently obvious, and this article isn't here to be balanced. Obviously the prospect of missing an experienced first team player who is easily the best option we have in his position for a further three months, on top of the three months of the season he's already been missing is a bad thing.
But I would argue that actually, when the news broke through the likes of Paul Joyce that Clyne had in fact finally undergone surgery on his back that would keep him out of action for a further three months, with early 2018 the set date for his return, my underlying feeling was actually relief.
And here's why. First of all, beyond anything else, the idea of a football player having surgery is always somewhat of a good thing. For the last four months, we've found out next to nothing about Clyne's actual injury. And whilst we still know nothing, what we do know is that he's had surgery. That means that the physios and doctors have hopefully identified the source of his issue and have (again hopefully) worked to fix it.
Secondly, the idea of a timeframe is something that is extremely good news. Up until this point, we've heard absolutely nothing committal in terms of a timeframe for Clyne's return to injury. In fact, the closest thing we've had to a timeline up until this point was the fact that he wasn't included in Liverpool's Champions League squad, which indicated at the time that there was very little chance we'd see him in a Reds' shirt in 2017.
The way I see it is this: if you'd asked me even two hours before I wrote this article when I would expect Clyne to return, I would not have been able to give you a sniff of an answer. I would have said that it was almost guaranteed he wasn't going to play until January at the earliest and truthfully that would have been optimistic to the extreme. I would have considered it more likely that we wouldn't see Clyne at all in 2017-18, but as I say, that would have been pure speculation.
So whilst this may be taking an optimistic view of what is a bad situation, Klopp was never going to turn around next week and name Clyne in his squad for the Chelsea game, stating that he was back. The lack of any positive news (or any news at all for that matter) regarding Clyne has ensured that any news at this stage is good news. Simply knowing that Clyne has a timeline to return is an improvement.
Moreover, whilst three months on paper looks like a devastating blow, truthfully it might end up being a best case scenario from where we're sitting right now. Simon Brundish said on the AI Pro + podcast before the West Ham game that for Clyne's back injury to keep him out as long as it had done, Clyne would probably be looking at surgery and the best case scenario for his return would be the middle of January.
So here we are less than two weeks later and Clyne has had surgery, with the best case scenario for his return being mid-January, probably a bit later. So whilst on the face of it three months is a long time, in context of the sort of injury we knew that Clyne had, three months is about as close to best case scenario as we were going to get.
As I mentioned above, I'd have been absolutely flabbergasted if Clyne had returned from what sounded like a nasty back injury in 2017, and even a basic sense of how these sorts of injuries go indicated that the end of the season was probably more likely than Christmas, which puts a February return as far from as disastrous as it could have been.
Overall, the natural reaction to seeing a player who is integral to Liverpool being missing for another three months is absolutely a cursing, frustrated reaction, but I prefer to look at it as a relief that after nearly four months of complete radio silence and growing panic and confusion over Clyne's recovery, we at least now can see light at the end of the tunnel.
Bad news is better than no news after all.