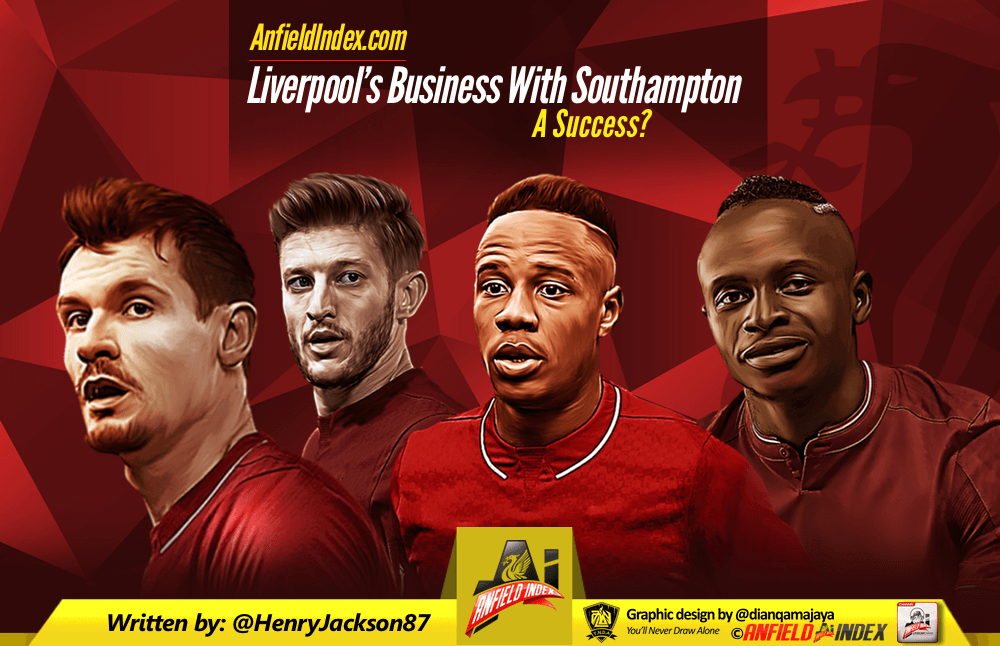 Liverpool's Business With Southampton: A Success?
This weekend see a surprise rivalry take place at Anfield – one that has only really caught fire in the last three years.
Liverpool and Southampton do battle, in what has become commonly known as the "We're Sick Of You Taking Our Players Derby".
Saints have, perhaps understandably, been irked by the Reds consistently snatching their star men away from them in recent times, and there seems to an added effort on their part whenever the two sides meet. You can almost taste the bitterness.

If, as an example, Man City were signing Liverpool's best players every summer, I suppose it would lead to plenty of resentment, in fairness.
In total, the Reds have acquired five new faces from Southampton since the summer of 2014, and with Virgil van Dijk still a major target, who's to say it won't become six soon?
The quintet to have made the move from the South Coast to Merseyside are Sadio Mane, Adam Lallana, Nathaniel Clyne, Dejan Lovren and Rickie Lambert – it's fair to say they have enjoyed contrasting levels of success for the Merseysiders.
Mane has been a sensational signing – one of the best Liverpool have made in the Premier League era – and has added so much to an attack that lacked plenty prior to his arrival.
It's easy to forget how poor 2014/15 was, having witnessed such brilliance in the final third the year before, with Brendan Rodgers' side scoring 49 goals fewer in the Premier League.
It is Mane's blistering speed that earns him the most plaudits, but unlike so many quick wide men, whose legs often work faster than their brain, there is so much more substance to his game.
His movement is intelligent, his vision is improving all the time and, most importantly, he finds the net regularly. Sixteen goals in 39 appearances is an influential return from out wide.
Lallana made a very uninspiring beginning to life as a Liverpool player, with his £25million weighing heavily on him and supporters seeing him as just another Charlie Adam or Stewart Downing.
His revival started when Jurgen Klopp replaced Rodgers, and if you ignore some frustrating injury layoffs, he hasn't looked back since.
Liverpool simply look a more slick, effective unit with the 29-year-old involved, and he remains vastly underrated, even if he can be improved upon. Too many disliked the Englishman at the start, and have shown too much pride to change their mind about him.
If Mane and Lallana are undoubted success stories, the jury is still out to some extent on Nathaniel Clyne, which does seem slightly harsh.
The right-back is currently out injured with back troubles, and will be until 2018, and his reputation has actually grown a little during his absence from the pitch.
There will never be anything spectacular or fashionable about Clyne, but he has been one of Liverpool's most consistent players since he joined in 2015. We could do with more like him, in terms of knowing what you're going to get every week.
He can be upgraded, unquestionably, and both Joe Gomez and Trent Alexander-Arnold have more potential, but it would be unfair to label him as a failure. He has been a six-and-a-half-out-of-ten signing, which is fine.
Now we come to the bad stuff.
Lovren, for all of the unfair accusations about him being "no better than a pub player", has been a major disappointment.
He arrived with a big reputation, having starred for Southampton in 2013/14, with pundits and supporters both deeming him to be the man to fix Liverpool's leaky defence. Let's not forget how highly Jamie Carragher rated him.
There has one disastrous performance after another, however, and he is now such a liability that an ageing Ragnar Klavan is being selected instead.
The Croatian hasn't helped himself, with too many ill-timed interviews and a lack of connection with the supporters, and his days at Anfield are surely nearing an end.
Lovren isn't terrible – as I said to a friend recently, if he turned up to play in your local seven-a-side match he would eat you alive and wipe the floor with everyone – but he is not close to being good enough for the Reds.
Finally, there's Rickie Lambert, who at the time, didn't feel like the worst signing in the world.
Brought in at the age of 32, the striker was seen as a possible Plan B from the substitutes' bench, offering the height and general target man skills that none of the Reds' other strikers possessed at the time.
The fact that he was a boyhood Liverpool fanatic added a romantic edge to the move, too, giving us wonderful images of Lambert firing home a title-clinching goal the following May.
As it turned out, he was a million miles off the pace, and managed just three goals in 36 matches. He was a great lad, but a desperately poor buy.
Having assessed these five individuals, the question is: can Liverpool's transfer business with Southampton be seen as a success?
The best term to describe it would be hit-and miss, but although Lambert and Lovren have been failures and Clyne has not exactly set the world alight, the positives outweigh the negatives.
Mane has the potential to become a truly world-class footballer under Klopp's stewardship, and to sign him for £30million is a bargain in the modern transfer market.
Lallana has also been very good, particularly in the last 18 months, and the manager's admiration for him is undeniable. He is a player of great quality who will make a real difference when he returns to the team.
To have acquired one superstar, another top class player and an admirably consistent full-back is good work by Liverpool, but Lovren has failed badly and Lambert was a surprise purchase that backfired.
Could the business have been better? Yes. Would you have taken this level of combined success from the five players back in 2014? I believe so.
Matches between Liverpool and Southampton had been relatively insignificant fixtures until recently, but that has changed since the Reds decided they were big admirers of many Saints players.
Expect a more feisty clash at Anfield on Saturday afternoon, with the visitors upping the game against a team they have grown to dislike.
A Mane winner would be nice, or maybe even a last-gasp header from Lovren, just for the sheer madness of it.