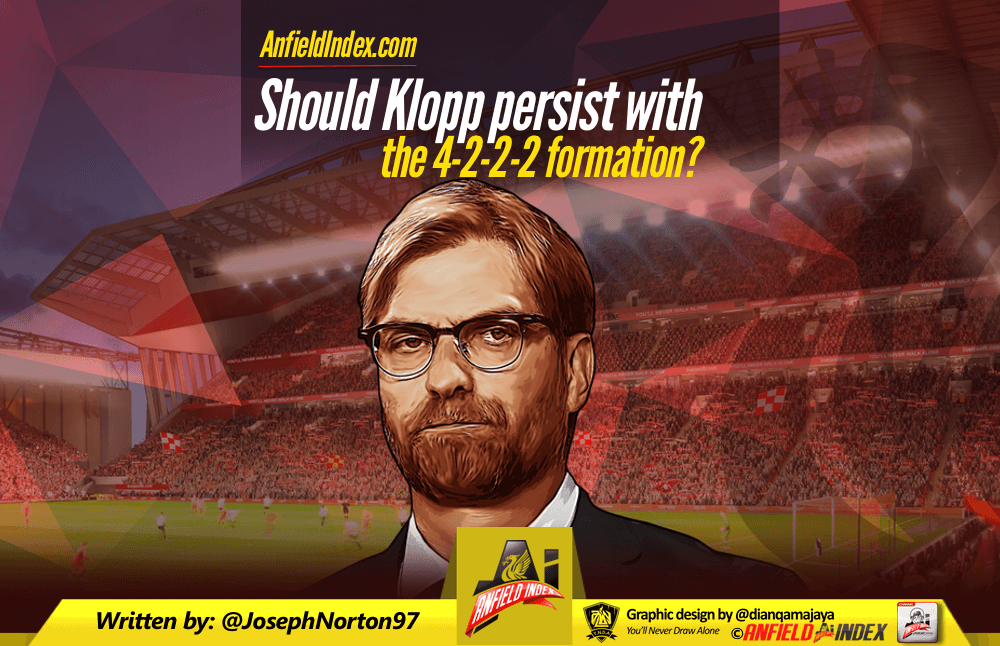 Should Klopp persist with the 4-2-2-2 formation?

In recent months and weeks, many Liverpool fans have become increasingly frustrated with the Reds predictable 4-3-3 formation. Opposition teams seem to have worked out that if they sit back in a low block and wait for counter-attacking opportunities to arise then they will get their chances and it's worked for many of them this season. Although I am a big fan of the 4-3-3 system, the Reds have lacked any real creativity from midfield and defensively when asked questions, we haven't been good enough, as a result, it was extremely refreshing to see Klopp shake things up at the London Stadium and try something a little bit different. We saw the boss make a subtle tactical tweak a few weeks ago when we played Huddersfield with Joe Gomez operating as a sort of false centre back when we had possession, providing us with more defensive stability as well as allowing Mo Salah to stay wider, isolating his fullback. The team on paper looked like a very attacking line-up against West Ham but the way the Reds set-up surprised almost everyone. You can make a case for calling the formation any one of a 4-2-2-2, 4-2-3-1 or a 4-4-2 but the reality is it was a very fluid formation and the position of the players depended on where the ball was on the pitch. Although Liverpool never really controlled the game, there were many aspects of the new formation that brought the very best out of this side, so is it something we could see again in the future?
The initial signs of the new formation were slightly concerning as the Reds struggled to assert their dominance on the game and when the opportunities came to get forward and be an attacking threat things just weren't clicking. Sadio Mane looked massively off the pace, Mo Salah wasn't good enough in tight spaces and neither Emre Can or Gini Wijnaldum were asserting their dominance in midfield. But as soon as the Reds countered to devastating effect from that West Ham corner this all changed….or did it? One of the biggest positives to come out of the formation change was how brilliant we were off the ball. It's been well documented on this site that Liverpool's pressing numbers have been well down this season but WOW did this formation change that. If you've listened to the amazing AI Under Pressure podcast after the game available to AI-Pro customers, then you'll be well aware of how well we pressed them, with two players recording pressing actions that got them into the top five pressing performances ever recorded. We also recorded by far the most pressing actions this season as well. Although not all of this can be put down to the formation as we've seen Liverpool press really well in the 4-3-3 what it does highlight is that the Reds, in particular, the front four were more confident pressing in this formation knowing their teammates still had cover defensively. I along with many other fans believe we look a lot more threatening when we put teams under pressure by pressing them high and forcing them to make mistakes which allows us to create chances from the opposition's lack of quality on the ball. There have been many times this season when we haven't been able to do this as teams tend to be very direct against us, nullifying one of our main strengths, however, there have been countless times also this season when the opposition's defence has been allowed to have the ball without us putting any pressure on them whatsoever. If this formation allows the Reds to return to their high-intensity pressing game then there is no doubt it will bring a lot of success for the rest of the season, something we'll all welcome.
Another aspect of the formation which worked brilliantly was Liverpool's ability to counter-attack at pace, again not all of this can be put down to the formation as having the likes of Mane, Ox and Salah in your side will always provide you with speed on the break but having these two banks of two in the forward line really allowed the Reds to penetrate the West Ham defence as directly as possible. Every time the midfield or defence won the ball back they had four really good options to use on the counter which we saw used to devastating effect on a number of occasions. Sometimes in our 4-3-3 formation, we have lacked the ability to effectively break at speed as we rarely have more than our striker and two wingers as out balls. However, because of the defensive stability of a flatter back four and the double pivot in midfield, the four forwards had a license to support the attack as soon as possible when we turned over the ball. Of course, if we changed the personnel in this system by bringing in the likes of Lallana & Coutinho then we may lose some of this counter-attacking threat but a combination of the personnel and system at the London stadium really allowed the Reds to cause havoc on the break.
One final positive the change of system brought was Liverpool's improved defensive stability. As we essentially had four attackers operating in fairly high positions the full backs were both asked to be slightly more restrained than usual keeping close-by to their centre-backs. This meant less pressure was put on our centre-halves as they weren't left so isolated and with as much ground to cover. Both Can and Wijnaldum were a lot more withdrawn in their double pivot roles protecting as more of a shield for the back four rather than adventuring forward too often. Again this only helps to improve us defensively as we had more players behind the ball, also meaning we were able to stop West Ham's counter attacks much more quickly allowing our forwards to stay higher and look for those opportunities to counter.
The main concern with this system is the lack of control it gives you particularly in the centre of midfield. Because we were playing with two midfielders fairly square of each other and a rather flat back four every time we won the ball back the passing lanes which are usually very clear in a 4-3-3 were not so obvious. This lead to the Reds trying to force the play and looking for the killer ball in behind too often which on many occasions didn't work, particularly in the first half an hour of the game. Should we play the formation again we'll need to see a lot more composure on the ball giving the players on the pitch more time to find angles for each other and control the game with the ball. Having said this, it could be argued the Reds did a good job at controlling the game by allowing West Ham to have possession in good areas of the pitch, encouraging them to be more positive and commit men forwards allowing us to pick them off on the counter. However, if the Reds want to be successful over a sustained period of time with this formation they'll have to learn how to dominate the game and control situations by having the ball which they didn't do particularly well against West Ham. We have the players and ability to do this but it's about having the confidence to stay composed and wait for those angles to be created rather than looking for the killer ball over the top all the time.
Questions remain as to whether Klopp will persist with the 4-2-2-2 going forward and I think it works particularly well away from home against teams outside of the top six where having less control in the game can often be positive. If Liverpool can draw the lesser teams onto them by managing the areas they go into then we've got the pace and quality to pick them off on the break. This is more likely to happen away from home as the opposition will have more pressure on them to take the game to Liverpool. This is not to say the formation can't work at Anfield against these sides and I for one would be intrigued to see how Southampton deal with it on Saturday should the system remain. If the Reds initially give them time to play the ball into midfield then will they start to commit more men forwards or try to play out from the back more often giving us more pressing scenarios? It's difficult to predict how opposing teams will alter their approach and playing style accordingly but it will be very interesting to see what Southampton do should we deploy the same formation on Saturday. The lack of numbers in midfield raises alarm bells when it comes to using this formation in the big games as you would expect top teams to be able to overload the midfield and play through us quite easily which is why I would expect Klopp to be extremely cautious of playing it against the likes of City and Tottenham. All formations have their strengths and weakness but this system seemed to really get the best out of the personnel we had available before the international break, so should Klopp wish to play the same players going forward he should definitely consider playing the 4-2-2-2 again. Even if the German doesn't anticipate this to be a long-term solution then at least it provides us with another way of playing should we need it. After all every team needs flexibility.