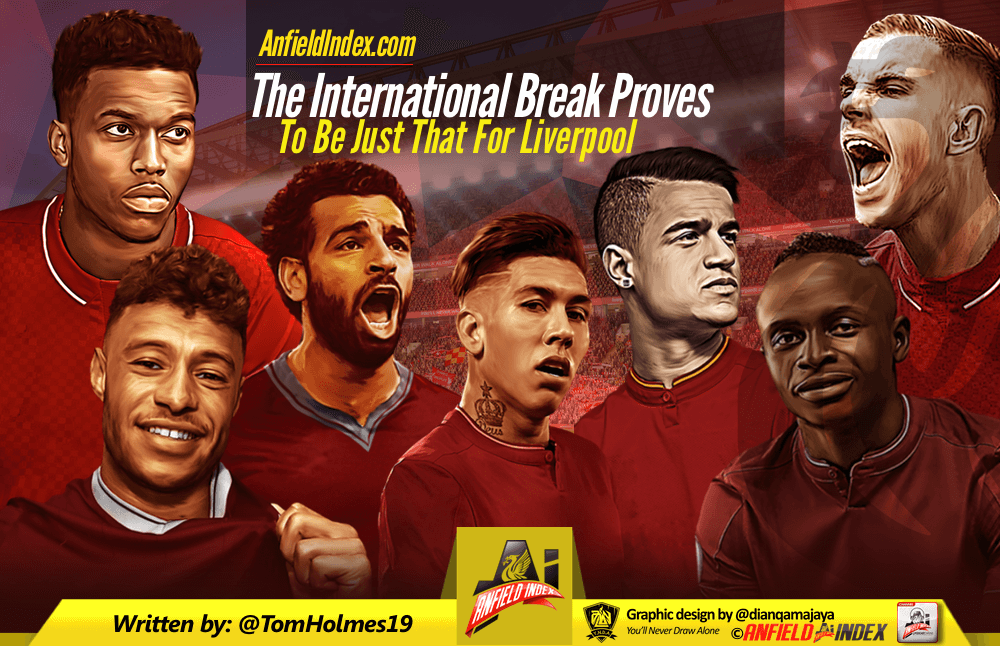 The International Break Proves To Be Just That For Liverpool
A lot has been made of Liverpool over the international break. A lot has been made of the potential use of a new formation, a lot has been made of the return to fitness of our full squad and what that means, something that this article will address quite heavily, and a lot has been made of where Liverpool's season is at after a good run of results following a disastrous defeat to Spurs.
But this article is more focused on the international break itself, and how it's come at the absolutely perfect time for Liverpool. Yes in terms of form it's always nice to go into the break in good nick and with a bit of momentum, if that term can be applied. And it's definitely nice to see the Reds test out a new formation that we can pour over for two weeks. But most importantly, the international break has been able to ensure Liverpool can ease off their injury worries.
By the time that the international break came along, Liverpool had injury concerns linked to Lovren, Henderson, Wijnaldum, Mane, Lallana, Coutinho and Clyne. Whilst not all of these players were totally unfit by the end of the West Ham, all of them were at various stages of recovery.

And most of them have benefitted from a more limited schedule over the last two weeks. Dejan Lovren played the full 90 minutes in both of Croatia's play-off legs against Greece, but none of the other players featured more than once in the last two weeks.
Coutinho was an unused sub in Brazil's first game, making his return from injury against England on Tuesday night; Mane played against South Africa last Friday for Senegal before returning with a "minor injury" that isn't expected to keep him out of Saturday's game against Saints. Funny that. Wijnaldum played for Holland against Scotland, but was an unused sub in their second game, after returning from injury against West Ham.
Meanwhile, Jordan Henderson and Adam Lallana both sat out the international break as they recovered from their respective injuries, both returning to full team training on Tuesday as they look good for Saints at the weekend as well.
The net result is that between the West Ham and Southampton games, Liverpool have seen potentially six players benefit from not missing club fixtures, and could return to the Saints game (or if not then the Sevilla game) being only one player away from having a fully fit squad.
Moreover, there are other players who will have benefitted from the time off. Both Daniel Sturridge and Alex Oxlade-Chamberlain are injury prone players who were left out of England's squad, a boost for Klopp as both need to be carefully managed, something England are incapable of. Mo Salah was also given time off by Egypt, which is a huge relief given how many minutes he's already clocked up in his short time at Anfield. Emre Can played about 110 minutes across Germany's two friendlies, Joel Matip, of course, has retired from international football. Firmino played almost no minutes at all for Brazil.
So over the last two weeks, of Liverpool's regular starters, only Lovren has picked up 180 minutes of game time, which will be massively beneficial to the Reds as they look to gear up for a critical phase of the season.
Overall, this break has come at a good time for Jurgen's Reds, allowing the likes of Henderson and Lallana time to recover and be ready for the next run of fixtures, whilst also giving the likes of Salah and Matip much needed rests. Hopefully, the Reds can kick on moving into the next stage of the season.