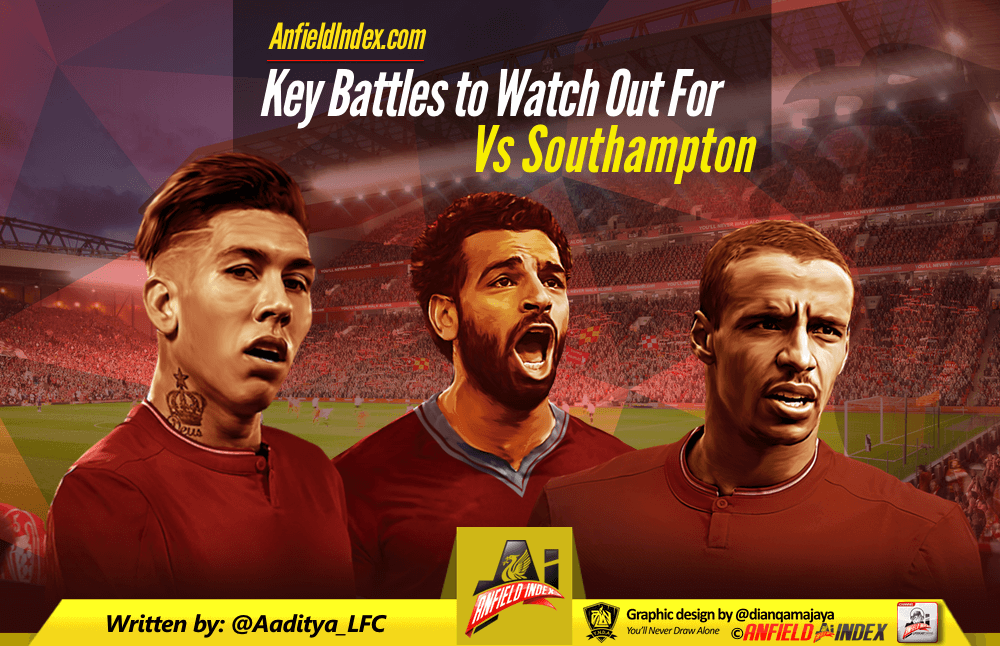 Liverpool v Southampton Preview - Key Battles
Let's rejoice! There is no international football for four months. And Virgil van Dijk is coming to Anfield! Just not the kind of Anfield visit we'd have hoped for.
The Reds host Southampton on Saturday and will look to pile the pressure on former assistant manager Mauricio Pellegrino, as Jurgen Klopp looks for momentum heading into the busiest period of the season. The next two weeks are a defining part of the season, with the Premier League game against Chelsea coming up soon, and the Reds' fate still to be decided in the UEFA Champions League.
Sadio Mane is back fit, so is Philippe Coutinho. Adam Lallana is also back in first-team training, but the visit of his former club might just be a bit too soon for him to push for a starting spot.

Mo Salah, Jordan Henderson, Alex Oxlade-Chamberlain and Daniel Sturridge had no international duty in the break, which meant that they have had enough time to recharge their batteries ahead of this gruelling period that awaits them.
Here are the key individual battles that will define the outcome of the game.
ROBERTO FIRMINO v VIRGIL VAN DIJK
It is a Liverpool game at Anfield, but somehow the cynosure of all eyes is going to be a player from the opposition. What happened with Liverpool and van Dijk over the summer can only be described as a farce, and he will no doubt want to put in a good performance to kickstart what has been a rocky season for the Saints so far.
Firmino has had his fair share of detractors for the lack of goals he scores, but as he showed against West Ham, even when he is not scoring, he does so much positive work, on and off the ball, that it is hard to see a more important player in this system for Klopp.
If the system employed at West Ham continues, it is likely that Firmino will be employed as the slightly more withdrawn of two central attackers, and that will help his cause. If he is dropping deeper to gain possession, it means he will have the runs of Salah and Mane to keep feeding, and with Chamberlain showing at West Ham that he is blending in with the squad, there is no dearth of options.
For Firmino, it will be important that he doesn't stay static or too passive, which he generally isn't, in any case. With his movement, he will be able to shuttle van Dijk and Wes Hoedt about all over the pitch, and that will not be a pleasant scenario for Southampton to face. Ideally for Southampton, they would want to press the Liverpool back four in an attempt to make them go long to Firmino or Salah, in which case van Dijk can use his aerial ability to dominate, being as much bigger as he is than Firmino.
So, will van Dijk win over the fans that were, in all possibility, going to be singing his name at some point this season with another solid defensive performance? Or is he going to win them over by being as generous as he can, and send 50,000+ Scousers home happy?
MO SALAH v RYAN BERTRAND
Salah could start either on the right wing or through the middle, but it clear that the run he enjoys making is the one that starts on the right touchline and cutting in. The thing with Salah is that he times both the in-to-out and out-to-in runs really well, which means that he always leaves a defender guessing as to what his next move is going to be.
Bertrand is an experienced defender now, and has been one of the most consistent left-backs in the league for a few seasons now. So you'd think he'd know what to expect from Salah.
But the concern for Bertrand, as with so many other defenders is that it won't too much of a blip to lose Salah and for him to be straight through on goal. The Egyptian's pace means that a split-second's loss of concentration will let him in.
12 goals in 17 appearances quantifies the impact that Salah has had on this Liverpool side, and in a front line ravaged by injuries and poor form, he has been the one true exception, with his output already world class, if not his overall play.
The King of Egypt needs just three more goals to be the highest scorer for Liverpool in a single season since Luis Suarez banged 31 in 2013-14. Can he do it on Saturday? Maybe not. But you really wouldn't bet against it.
JOEL MATIP v MANOLO GABBIADINI
Gabbiadini was part of a nightmare during the international. A World Cup without Italy is like pizza without cheese, they said. Gabbiadini was part of the match that ensured no cheese was going on the pizza.
So the morale would undoubtedly be a bit low, but the truth is he was among Italy's better performers on that wretched night in Milan, and he is exactly the type of player that Matip and the Croatian-who-must-not-be-named – who is likely to come back to the XI – could have problems with.
He is constantly in motion, very aware of his surroundings, has an excellent touch on him, and has a wand of a left foot. Perfect to spoil a comfortable Saturday afternoon then?
But Matip won't be low on confidence going into this game. Liverpool have conceded one goal in three games since losing 4-1 to Spurs at Wembley, and the tangible switch in tactics from Jurgen Klopp has helped.
Matip will have an invigorated Joe Gomez for company and he'll have the said Croatian too. But Gomez is still a kid and that other guy is just not good at the footie. So it is important that Matip ensures the entire defence is on the same page, because of the intelligence of Gabbiadini's movement and the presence of players around him such as Soufiane Boufal and Dusan Tadic.
Also, this will probably be the first time Liverpool's Player of the Month for October will start in November. Can he, for once, not make the fans who actually still back him look like fools? Who knows? Up the three-point Reds, though!