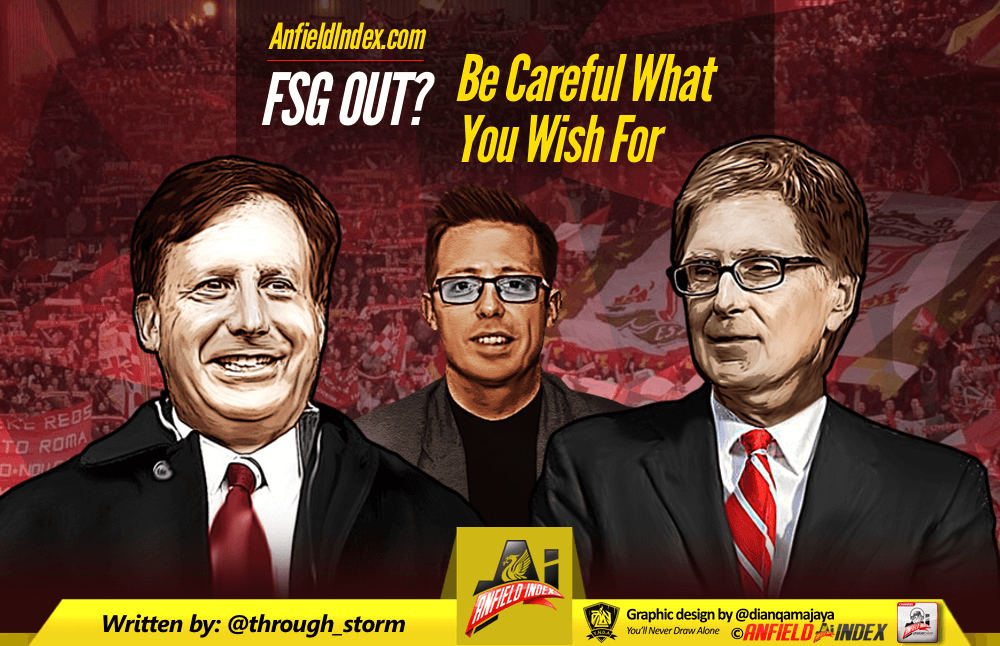 FSG Out? Be Careful What You Wish For
There is no doubt that Fenway Sports are investors first and sports fans second, but new owners would be far less likely to bring the riches of Gulf oil or Russian politics to the table and much more likely to take the club in the same direction as Aston Villa, Cardiff City and Portsmouth.
Mo Chatra wrote for The Anfield Index an article called "Follow The Moore's and Cash In". It essentially made the case that Fenway Sports should sell Liverpool and move on, allowing bigger and more competent investors to come in. I found the article factually deficient in a number of areas, as I also find the growing clamoring for new owners to be rooted in an unrealistic passion.
The driving force behind this is the obvious 1 trophy in 6 full seasons. Only nice guys finish 2nd the saying goes but people forget this has happened 4 additional times under FSG and while the club is not the best, it has held its own against the other "Big 6" clubs during that time in terms of 1st and 2nd place finishes combined. Indeed if it were not for the artificial rise of Manchester City then LFC presumably would have won the League in 2014 and the League Cup in 2016 making this a very different conversation.

Mo states that LFC have "owners who do not wish to use their own wealth to support the club's activities and who can't compete with the truly elite in the Premier League."
But this is now true of every club with the exception of Manchester City. When Roman Abramovich bought Chelsea he paid £140m, approximately £200m today, then splashed out £150m on signings. It doesn't matter what the Tomkins Transfer Index says that is worth, it matters how much money investors actually have available today. Based on that Abramovich would have had about £400m total to spend today, less than half the purchase price of Liverpool today and less than PSG paid for Neymar. In other words he could only buy a minority stake in Liverpool if he were getting in the market today for the first time.
This falls right into line with the £300m being bandied about when it comes to Amanda Staveley and her pals trying to buy Newcastle. In short, despite Mo's claims that "There are parties who are interested and furthermore, individuals and groups who are willing to part with their wealth to turn Liverpool into a viable contender and competitor at the elite level"- he fails to mention anyone that is willing to plonk down a cool £1b to buy the club and then an additional £500m for the suggested player injection followed by another £150m for stadium expansion.
Could John Henry put in more of his own money? Not significantly! He's worth $2.3b most of which is the valuation of the Red Sox and Liverpool that don't yield annual returns. Of course he lives well but all of his available money would probably only upgrade Liverpool at 1 position.
Mo is critical of Liverpool's commercial growth in sponsorship deals and uses the percentage increase from 2010-2017 to illustrate. But the figures show that it was Liverpool who were ahead of the game in 2010 and since then others have caught up. Sponsorship should reflect the size of the fan base since that is who sponsors are aiming for. The fact that Liverpool hold their own against Arsenal and Chelsea is an achievement while Manchester City's figures are awfully suspect. Mo's claim that Spurs are gaining on Liverpool is demonstrably false as The Reds deal is £26m and 6% larger than it was in 2010.
Likewise there is criticism of Liverpool's failure to land a stadium naming rights deal despite the club having specifically stated they are not seeking one. There were supporters in Newcastle ready to fire nukes at "The Sports Direct Arena", and where Mo makes it sound as if Liverpool have missed the boat on this currently only 4 Premier League clubs have sponsor named stadiums and 2 of those are by sponsored by the owners.
The author then states "Meanwhile, deals with three of the club's biggest sponsors – Garuda, Subway and Dunkin Donuts – quietly ended in the last year or so." Yes they did but Liverpool have new sponsorship deals with Malaysia Air, Western Union and others. Deliberately ignoring this is, in my opinion, just a smear. Sponsorship is cyclical! After a time the sponsor feels they've got their money's worth from the exposure. However it's worth more to a new sponsor who doesn't have the name identification from that outlet and so the sponsor's turnover. The claim that "the club struggles to market itself as a brand that companies might want to associate with" is simply not supported.
Mo turns his sights on our recruitment, a favorite subject for our critics. Failed transfers are an easy target but are mostly only relevant in comparison to others. According to Paul Tomkins approximately half of all transfers don't settle in their first season and about half of those never do. So out of the 52 signings the author mentions we would expect about 13 failures. Mo mentions 12 relative successes and 4 failures, 2 of whom were only around for 1 season. The clubs net spend over the period in question is comparable to Arsenal so it's difficult to agree with his conclusions.
Taking potshots at any and all things that went wrong is just that. Clubs make mistakes and sometimes things just go bad. David De Gea would be a Real Madrid player if it wasn't for a faulty FAX machine. Schalke failed to get a transfer fee for Joel Matip. Manchester United paid over £50m for bust Angel De Maria. Everton sold Romelu Lukaku and failed to sign a striker to replace him. Yet it is only Liverpool's shortcomings that are highlighted as if it only happens at Anfield.
Barcelona tapped up Phil Coutinho, Liverpool did it to Oxlade Chamberlain, three teams did it to Van Dijk but it was Klopp who got photographed with the player. When the club tried to sign Konoplyanka it was the selling club that wouldn't honour a binding release clause and being Ukrainian they got away with it. Transfers fall through for different reasons but through the narrow lens of a loyal fan perspective these things are painted as inept Liverpool and in this case blamed on inadequate owners.
"Rightly or wrongly", Mo writes, "the expectations of Liverpool fans are heavily influenced by the club's past. Aiming for top four and picking up a trophy every few years is not what most fans want or expect of the Reds." This is absolutely true! "They demand silverware every season, despite the club – 2001-2006 aside – having endured many barren seasons over the last quarter of a century. The big question is, do the owners share that ambition?"
The answer is yes as demonstrated by their refusal to sell Coutinho for an astonishing amount over the summer. But like Mr. Moore in times past not to the point of throwing silly money into the hat that they don't have a lot of. But that doesn't mean they should sell either. Liverpool has the 5th biggest fan base of English clubs worldwide and this is an international game when it comes to sponsorship and merchandising. To raise their game the key (as Manchester City understands well) is to build the supporters base.
Liverpool have had to rebuild along the way during the FSG era! John Henry didn't exactly ride in on a white horse to save the day with Linda riding side-saddle, the club was there for the taking and FSG (then NESV) made the best offer of those in a position to assume all of the liabilities. (They were the only one that seemed to tick all the boxes before a default occurred). They did it because they are both investors and sports fans. The strategy was to make the club solvent and take it as high as they could go, investing what they thought they could recover.
That's in stark contrast to Randy Lerner at Aston Villa who oversaw his clubs march to debt and relegation. Or the Cardiff owner who changed his team, nicknamed the Bluebirds, to a red based strip. The guys at Hull wanted to add Tigers to the name to make them sound more American.
FSG made missteps along the way. Imagine Bill Kenright the Everton owner buying into a Baseball team! But FSG learned as they went. Comolli was replaced by more modern thinking; the management passed from Hodgson to Dalglish to Rodgers to Klopp. With the departure of Ian Ayre Liverpool seem to have all the pieces where they want them.
The team is on the cusp of Champions League Round of 16 for the first time since 2009 and is in the hunt for consecutive Top 4 spots also not achieved for 9 years. Transfer money is available and even if Coutinho and Can depart, big talents are being sought for the first time in a decade while Naby Keita has already been signed. Sell the team? – it looks like it's about to experience one of its finest hours.