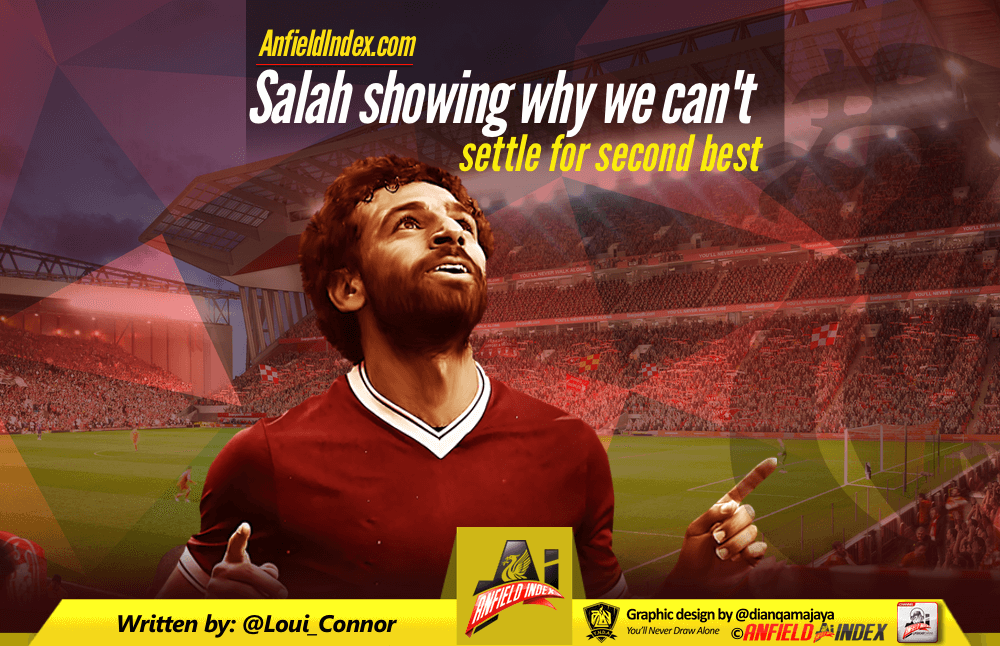 Salah Showing Why We Can't Settle for Second Best
Another game another Salah masterclass, the Egyptian has been the signing of the season by far and his two goals against the Saints puts him at the top of the Premier League goal scoring charts ahead of the likes of Aguero, Morata and Kane. There was a wave of apprehension surrounding the £35 million deal; his form in Italy was eye catching but he had failed to set the Premier League alight the first time around. Klopp was clearly a huge fan of Salah and knew what he would add to the team which is why the first task of the transfer window was to sign him from Roma and he is now added to the illustrious list of "Chelsea rejects" that are actually pretty good at playing football.
Salah kick-started Liverpool's transfer window but it was quickly derailed by the Van Dijk saga as the club were embarrassed and had to apologise to their Premier League counterparts for how they had approached the player. If that wasn't frustrating enough for the fans Liverpool seemingly decided there were no other capable centre halves and by the end of the transfer window the only defensive addition was Robertson from Hull.
Fans were outraged, how could Klopp not add a defender after their performances in the previous season; and how dare he come out and publicly back those centre backs that he has no choice but to trust for the next four months?

In his usual way, Lovren didn't help Klopp's cause with some dodgy performances and whilst he hadn't done a bad job for a £3 million signing, Klavan is also at the forefront of this backlash. In the middle of our bad run this season; we couldn't find a way to beat teams and had already exited one cup competition at the hands of Leicester, some fans were already calling the season a failure. Two months into a season and fans were already looking to next summer when Naby Keita would ascend from the Bundesliga and make everything all right.
As it goes, there's method to Klopp's "madness"; since the summer window Liverpool have been repairing the ties with Southampton in the boardroom and it seems certain that they will be going back in for Van Dijk in January. The Dutchman is Klopp's number one target and whilst he didn't get him at the time he had hoped, it would have been stupid to rush into signing a player who Klopp would have seen as less superior just because we didn't get our man at the first time of asking.
Overall, Klopp has a good track record with his signings at the club. Mane and Salah our among our best players, Wijnaldum has been a welcome addition to the midfield, Klavan has done more than a sufficient job considering how much we paid for him and the jury is still out on the likes of Robertson, Karius and Oxlade-Chamberlain so if you ask me, if Klopp is prepared to wait a transfer window to get his man then we should probably trust that this signing will add a great amount to the team.
The frustration from some of the fan base is that they are focused on the present, they want to be winning trophies now and have the team to do that right now. Klopp isn't as rushed as some of the fans; the evidence of this is agreeing the Keita transfer for 2018 and the continued pursuit of Van Dijk. Since we haven't won anything in a while it's understandable to be frustrated at the lack of success because one trophy in the past five years isn't good enough; what must be remembered is that whilst it's been a little amount of success in the past ten years for Liverpool, its only two years of no trophies into a long-term project for Klopp and in that time, we've played in two cup finals and got back into the Champions League.
So, whilst it's not ideal to not have all the players to solve our problems now, it's better to wait a bit for the right players instead of making sub-par additions earlier. Klopp's signed a contract that's going to keep him here for the long term and those long term plans are what's going to build a strong Liverpool team that can hopefully bring success and silverware back to the club.