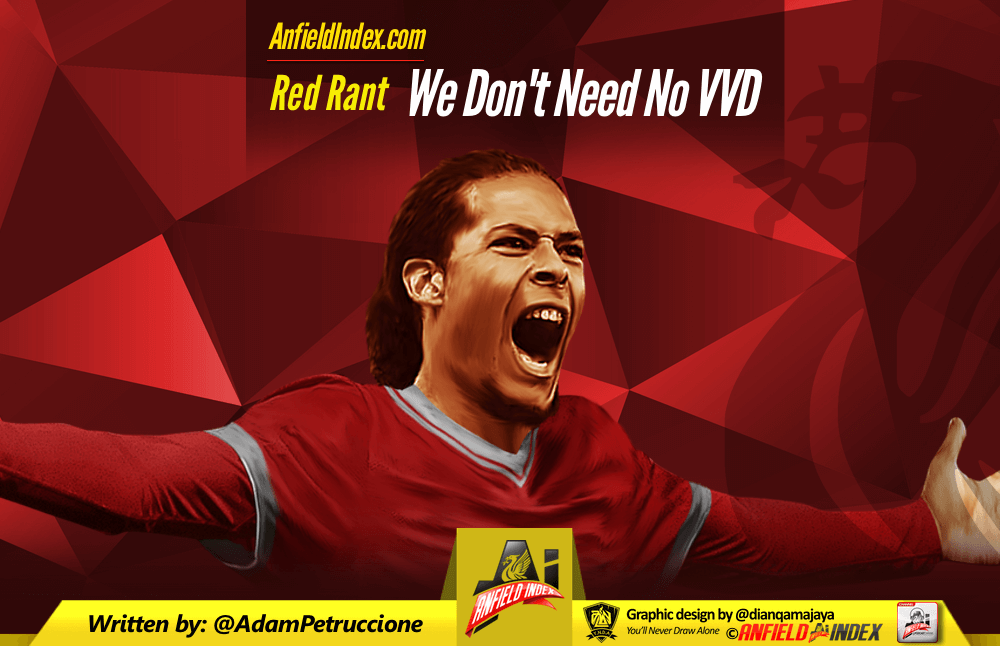 Red Rant: We Don't Need No VVD
I'm all for the unsubstantiated transfer rumour. Football itself and certainly Twitter wouldn't be the same without them.
The incremental steps, when Liverpool is rumoured to be monitoring a player, continuing to monitor, then comes the inquiring, then considering a bid, then surprise competition comes in from a rival club, and on and on… it's all part of the romance, right?
But for clubs at the level of Liverpool the rule has to be that the romance period can only last one summer. If it doesn't work out by August 31st, then it just wasn't meant to be. At the very least, if it is going to happen, the transfer deadline had to be the cut-off point for any continued media and/or ITK flirtation in the case of one Virgil Van Dijk.

Still, we see articles praising club president, Mike Gordon, for "repairing the relationship with Southampton." On the scale of football transfers, repairing the relationship with the selling club comes a few steps before monitoring. We're basically preparing to consider flirting with the player again. Consider me unimpressed. I'd rather not even read about these microscopic signs of progress nearly a year after we started the original approach for Van Dijk. Just let us know when it's over, thank you. Either with the signing of an alternative defender or VVD himself leaning on things at Melwood.
There were whispers during the Southampton match that placed Van Dijk's wife in a blacked-out van, touring Liverpool's facilities in advance of a possible consideration of a potential move. Really? More van rumours? Surely we had enough of those in August.
Liverpool hold themselves up as a giant in world football, yet we seem completely dependent on this one player for our future success. Not a dominant midfielder. Not a prolific striker. A centre-back.
Where strikers and midfielders can win games through their creative genius, a centre-back's focus should be functioning in the system in a manner that doesn't lose Liverpool games.
And that's what really has me concerned. After the Tottenham debacle, we've gone on to win four straight and outscored our opponents 13-1. But that tally hasn't been achieved through Klopp's all-or-nothing, all-out attacking system. Instead, we've gone conservative, provided a clean platform for the front four to attack from and stopped leaving our centre-backs alone one the half-way line like sacrificial lambs waiting for slaughter.
Are we still pursuing Virgil Van Dijk so that we can pick up where we left off and start Klopp's experiment again? Does Jurgen Klopp believe that VVD can perform the task he was asking Dejan Lovren to do? Why can't we simply take a lesson from our own success and continue to build on it? Is that project not exciting enough for our manager? If we sign the Dutchman in January and go back to zero protection for the centre-backs we will be doomed to learn the same lesson over again.
Liverpool's pure pressing system worked wonderfully for four months at the start of last season, but at this point, we have to see that as the exception, not a beacon that we're always trying to get back to again. The rest of the EPL had time to work out that system. We have much more fixture congestion with the demands of the Champions League. We're not covering the same extreme distances anymore. It simply isn't worth throwing away seasons trying to reach this imagined Eden of gegenpressing.
The top six (and Burnley) are already separating themselves from the rest of the EPL. This race for Champions League spots will be an epic battle. Any additional stretches of poor form from Liverpool and we might as well pack it in and turn out the lights. We are going to have to take down two of United, Spurs, Chelsea and/or Arsenal from here until May and that is a serious undertaking.
We've seen that with even modest protection from the fullbacks, the midfield or both in the case of the West Ham match, we still have plenty of potency from just our front four to score goals and suddenly our defenders look competent.
Whatever defender we target in the coming transfer windows, be it another "upside" player like José Giménez, a returning hero like Javier Mascherano, or a hand-picked, statement signing like Virgil Van Dijk, it has to be to fine-tune a squad that can win consistently if set out in a responsible manner, rather than to enable a helter-skelter, experimental system that nobody else in football runs, probably for good reason.
If Jurgen Klopp sees this player as the key to unleashing the perfect footballing system; pressing and attacking like you've never seen before, then I fear Rafael Honigstein's next book will be about how it all went wrong for the German at Liverpool. On the cover, silhouetted behind Klopp's face will be the distinctive, pony-tailed profile of Virgil Van Dijk.
Honestly, I'd rather we passed. I'd prefer that Jurgen Klopp designs the system around centre-backs that he knows have certain flaws, rather than bearing witness to a manager discovering that after £50+ million, embarrassing the club and pursuing a player for a year that his ideal system has flaws that no player can cover up.
We know you're a genius Jurgen. Plenty genius enough to win silverware with relatively conventional systems at Liverpool. Reinventing the game is not required. Virgil Van Dijk is not required. Surely the "Normal One" can win the normal way.